By: Keyur Seta
M S Dhoni – The Untold Story is a biopic on India's legendary cricketer and the most successful captain, Mahendra Singh Dhoni. The film portrays his journey from his birth till the time he wins the 2011 World Cup for India.
In his three films so far, Neeraj Pandey has proved himself to be a terrific storyteller. He shows his class here in the first half. Even if you are unaware about Dhoni, you can easily predict such sports biopics.But this won't affect you in this portion whatsoever due to some high quality narration filled with winning moments that are real and entertaining.
The story of a small town boy and his struggle to make it big against all odds moves you. You feel the pain of the protagonist and start rooting for him. Chances are that you feel cheering for him when he starts off playing at local and domestic levels.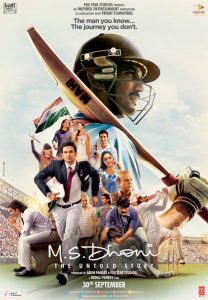 Unfortunately, M S Dhoni goes downhill in the second half. The following are 5 points that stop the film from being a must watch.
— A film so unconventional in the first half suddenly starts treading on the filmi path post-interval. If both romantic tracks aren't tedious enough, the use of songs make it worse and gives a typical Bollywood feel.
— Conflict plays an important role in any story but that's completely lacking here. This point affects more here since, as mentioned before, the film is predictable.
— But what hurts the film the most is the decision of not including some very important incidents and achievements from Dhoni's career. So, you feel good in the climax only because it brings back memories of the 2011 World Cup. The film hardly has any emotional impact though.
— Strangely, Dhoni's relation and rapport with fellow cricketers is also absent. His rivalry with Yuvraj Singh (Harry Tangri) is built interestingly in the first half. But there is just no mention of Yuvi later on. This is indeed strange as both players played a key role in India's World Cup triumph.
— To see Sushant's face placed on Dhoni's body through VFX is silly and unintentionally hilarious. It is understandable in the first half when Dhoni is a school kid. But later on, it becomes too much. The director just makes the audience revisit moments from team India's past matches, which cricket fans must have seen umpteen number of times.




M S Dhoni is high on technicalities (cinematography, background score and editing). The songs are a disappointment though. Plus, they seem unwanted in a film of this nature.
Some performances become turning points in an actor's career. For Sushant Singh Rajput, it is his act as Mahendra Singh Dhoni over here. He not only gets Dhoni's traits and mannerisms right but also delivers a mature performance by portraying various emotions effortlessly. However, Sushant's voice and style of speaking is nowhere similar to Dhoni's.
The rest of the actors get to play supporting parts. Out of these, Anupam Kher, Rajesh Sharma and Kumud Mishra are laudable while Disha Patani, Kiara Advani and Bhumika Chawla fall in the decent category. The actor who plays Dhoni's boss during his railway job and the ones who play his friends deserve special mention. Herry Tangri (who plays Yuvraj Singh) doesn't say a word but leaves behind a terrific impact. He is a lookalike of the cricketer.
Overall, M S Dhoni – The Untold Story has an excellent first half but the film drops post-interval. With the hype and Dhoni's popularity, it stands a chance to earn well at the box-office in the first weekend. Whether or not it will sustain in the long run and earn above Rs 100 crore will depend on how it performs in the weekdays. Going by the content, there isn't much chance of that happening.
Rating: * * *
Director: Neeraj Pandey
Writers: Neeraj Pandey and Dilip Jha
Producers: Fox Star Studios and Friday Filmworks
Cast: Sushant Singh Rajput, Anupam Kher, Bhumika Chawla, Disha Patani, Kiara Advani, Rajesh Sharma
Music: Amal Mallik and Rochak Kohli
Genre: Biopic/ Drama
Runtime: 190 minutes