Director: Reema Kagti
Producers: Excel Entertainment, Aamir Khan Productions and Reliance Entertainment
Writers: Zoya Akhtar and Reema Kagti
Cast: Aamir Khan, Kareena Kapoor, Rani Mukerji, Nawazuddin Siddiqui, Raj Kumar Gupta
Music: Ram Sampat
Genre: Thriller
Rating: * * *
Plot: A Bollywood superstar is killed in an accident under mysterious circumstances. Police Inspector Surjan Singh Shekhawat (Aamir Khan) takes up the investigation of the case. As he digs deeper into it, he finds himself entangled in a web of confusion and mystery which becomes worse due to his troubled married life with Roshni (Rani Mukerji) and the constant haunting of his dark past.
Shekhawat's investigation gets him in contact with a prostitute Rosy (Kareena Kapoor). He also gets to know that a roadside criminal Taimur (Nawazuddin Siddiqui) is linked with the superstar's death. Will these two leads be enough for Shekhawat to solve the case?
Review: (No spoilers whatsoever) In every whodunit thriller, the suspense at the end needs to be both shocking as well as convincing. In the case of Talaash, while the writers (Reema Kagti and Zoya Akhtar) manage to get the shocking part right, they disappoint with the conviction of the finale. This is the biggest reason, along with others, for Kagti's film falling in the strictly one-time-watch category, which is surely below expectations.
'Muskanein Jhoothi Hain' song sets the right mood for the film right at the start. Apart from the lyrics, the picturisation is truly praiseworthy! The main point is brought soon which leads on to an intriguing narration in the first half as the case gets more complicated. The pace is deliberately kept slow but that in no way gives rise to boredom. In fact, it helps in building up excitement, mostly due to the sub plots. Some of artistically crafted scenes are a work of brilliance from the point of view of both writing and filming.
Unfortunately, the script starts going downhill in the second half with more importance being given to Shekhawat's personal life than the case in question. The prolonged scenes between Shekhawat and one of the main characters test your patience. Lastly, the all important suspense at the end doesn't live up to the excitement. Of course, there is no doubt that the final revelation will shock you and might even jerk you out of your seat but it lacks believability and conviction. (Personally, I feel the final outcome is harmful for the intellectual development of India!)
For the way she has filmed the story, Kagti deserves applause though. She is just let down by the proceedings of the second half that stop the film from being a commendable thriller. Another disappointing factor is that the main 'hero' is hardly given any heroics to perform. This is largely felt at the ending moments.
Mohanan's cinematography is one of the biggest plus points. He has even captured the dark underbelly of Mumbai with perfection. Ram Sampat's background score adds thrill. The editing is adequate. Songs don't have much scope in such a film. 'Muskanein Jhooti Hain' is the only track that has a strong effect.
Aamir Khan succeeds in carrying the film on his shoulders. However, he is not at his best. The writing should be blamed for this for keeping his character too serious and depressed at times. Rani Mukerji does full justice to the character of a traumatic wife and mother. Kareena Kapoor is the one who steals the show. She perfectly moulds herself into the character of a prostitute and even manages to speak through expressions.
Nawazuddin Siddiqui once again shows why he is currently one of the finest character artists. He deserves many more films! Raj Kumar Gupta, Shernaz Patel and Sheeba Chaddha give mature performances in supporting roles.
Overall, Talaash is good but unfortunately it falls in the could-have-been-better category. Due to the hype and Aamir's popularity, the film will garner very good collections at the box office.
By: Keyur Seta
After watching the trailers of upcoming films Talaash (Hindi) and Pune 52 (Marathi) many times, I have found a lot of similarities in both the films. In fact, I am surprised I haven't seen anyone else pointing this out. Hence, I can't help but list them out here.
But before doing that, I would like to make myself clear that I am in no way trying to indicate that both films have the same story or one film is copied from the other. I haven't seen any of the two films and these are just my observations from the promos.
These are the similar points from the promos of Talaash and Pune 52: -
Both films are thrillers with one male lead and two female leads.
From the two female leads, one plays a traditional Indian lady (wife of the male lead) who mostly wears sarees while the other plays an attractive, young girl.
The character of the wife is hyper and blunt. She constantly taunts her husband.
The male character is investigating a complicated case.
The case makes life hell for him.
The case brings him in contact with the character of the attractive, young girl.
The girl becomes a part of his life.
His married life starts going through a rough patch.
Having listed these points, I am quite sure both films are vastly different from each other. As I said before, these are just my observations from the promos that I found very interesting. Here's wishing both movies critical as well as box office success.
Director: Reema Kagti
Producers: Excel Entertainment, Aamir Khan Productions and Reliance Entertainment
Writers: Zoya Akhtar and Reema Kagti
Cast: Aamir Khan, Kareena Kapoor, Rani Mukerji, Nawazuddin Siddiqui
Music: Ram Sampat
Genre: Thriller
Release Date: November 30, 2012
Analysis:
Star Value: Aamir Khan is not only a highly respected superstar but he is also someone who keeps his exclusivity alive by appearing onscreen just once in few years. These two factors, plus the fact that the film also has big stars like Rani Mukerji and Kareena Kapoor, make sure that the star value for Talaash is sky high!
Hype: Just like every Khan movie, Talaash has been in the news before the shoot commenced. And as expected, the promos garnered high excitement for the film's release. A unique feature noticed is that the hype for this film is not about instant gratification which we see for Salman Khan's movies. People are expecting a high degree of satisfying experience from this motion picture.
Music: The music hasn't been that popular yet but it is expected to climb the music charts if the film does well. The song 'Muskaanein Jhooti Hain' is becoming known though.
Prediction:
It is easy to guess that Talaash will get a very good opening at the box office. This is a type of film that is expected to stay in theaters for a longer duration if it impresses. It won't follow the silly trend of cashing in on the first weekend by booking almost every theater in the country which a lot of big budget movies do these days. This can also act as an obstacle for Akshay Kumar's Khiladi 786 which releases on December 7. Like all Aamir movies, this one caters to both multiplexes and single screen theaters. Even if it gets decent initial response, it will surely enter the Rs 100 crore club.
(For more news, reviews and information on Marathi cinema, click HERE. To join us on Facebook click HERE)
When Barfii was selected as India's official entry for the Oscar Awards this year, there was a sense of disappointment among the lovers of Marathi cinema since the film's selection dissolved all chances of Deool, a Marathi movie, to be nominated for the highest honors. However, the fans have found another lease of hope with an opportunity for director Wasim Maner's Hou De Jarasa Ushir in the Mainstream Competition at the Oscars.
Speaking about the news, the film's producer Tahir Maner tells Halti Chitre, "We were confident about the story of our film. During the making, we never thought of Oscars. But when we showed the film to few people, they were very impressed. So we thought why not take it to the Oscars? Currently, the film is in the qualifying stage."
Maner also explains that one shouldn't confuse this with Best Foreign Language category. "This is not Foreign Language category. So we won't be competing with Barfii. We will be competing with mainstream films like Skyfall. The result will be declared after the screenings that will take place from 16 to 22 November in California. Our film will be world premiered over there on the 22nd. This might be the first Marathi film that has applied in this category."
Naturally, this has created an air of excitement among the cast and crew. "We all are very happy and excited for it. As we all know, Oscar is the biggest honor for a movie. We are eagerly looking forward for the result."And so is the Marathi film audience. Fingers crossed!
(For the song promo and preview of Hou De Jarasa Ushir, click HERE)
Direction: Ashwani Dhir
Producers: Ajay Devgn Films, Viacom Motion Pictures and Eros Entertainment
Writers: Ashwani Dhir and Robin Bhatt
Cast: Ajay Devgn, Sanjay Dutt, Sonakshi Sinha, Juhi Chawla
Music: Himesh Reshammiya, Sajid-Wajid
Genre: Action/ Comedy
Release Date: November 13, 2012
Analysis:
Star Value: Ajay Devgn and Sanjay Dutt are two of the biggest superstars of Hindi cinema. This fact coupled with Sonakshi Sinha's presence makes sure that the star value for Son Of Sardar is very high.
Hype: There has been a good amount of hype for the movie due to the interesting promos. But the film's controversy with Yash Raj Films' Jab Tak Hai Jaan has also indirectly helped in the publicity.
Music: The music is becoming known. Apart from the title song, 'Rani Tu Main Raja' is making heads turn. The track 'Po Po' is also gaining popularity recently due to Salman Khan's presence.
Prediction:
Son Of Sardar will surely get a very good opening. However, since Yash Raj Films' have gone bezerk while booking theaters for their highly awaited Jab Tak Hai Jaan, the Ajay Devgn starrer has managed to get only few screens. What's worse is that it has got very few single screen theaters where it is expected to do best business.
Plus, SOS will also face very tough opposition from the Shah Rukh Khan starrer due to the high excitement for the latter. Hence, it is vital for the movie to impress with its content. So a film which could have enjoyed high returns in the first few days due to the hype has to now rely on its content to make high profits. Overall, SOS has a chance, particularly in north India, but the collections will be highly affected due to the presence of JTHJ.
So far Devgn has entered the 100 crore club thrice (Golmaal 3, Singham and Bol Bachchan). SOS could have easily been his fourth if it was a solo release. Now it looks difficult although not impossible.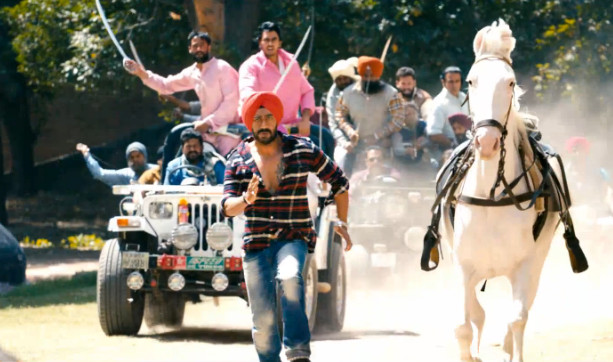 Direction: Yash Chopra
Producers: Yash Raj Films
Writers: Aditya Chopra and Devika Bhagat
Cast: Shah Rukh Khan, Katrina Kaif, Anushka Sharma, Rishi Kapoor, Neetu Singh, Anupam Kher
Music: A R Rahman
Genre: Romance
Release Date: November 13, 2012
Analysis:
Star Value: Needless to say, when a film has Shah Rukh Khan, Katrina Kaif and Anushka Sharma as main leads, the star value of the film is supremely high. And since Yash Chopra has directed it coupled by the fact that it is his last film, it adds more star value to Jab Tak Hai Jaan.
Hype: Naturally, the hype for the movie was created ever since it was announced. As expected, the hype kept on increasing when the promos and the music of the movie were released. I feel sorry to say this but Chopra's tragic death has made the film more popular. However, the film hasn't created one of the highest excitements ever which was expected.
Music: The songs of Jab Tak Hai Jaan, mostly 'Challa', 'Saans', 'Ishq Shava', 'Jiya Re' and the title song, have been appreciated by the audience as expected. But none of the song has become an anthem which is expected from such a romantic film.
Prediction:
Jab Tak Hai Jaan will surely get a very good opening at the box office. It has a chance of scoring in both single screen theaters as well as multiplexes. The six day Diwali holiday period will make sure it earns very well and even reaches the Rs 100 crore. Its business from Monday (November 19) onwards will be determined on whether it has succeeded in impressing the audience with its content. We also can't rule out the fact that its collections will be affected by Son Of Sardar, which is releasing alongside.