By: Keyur Seta
Veteran actor Anupam Kher was booed quite a few times yesterday from a large crowd during a debate at Tata Literature Live festival. The topic of the debate was – Freedom of Expression is under imminent threat.
Sudheendra Kulkarni and Shobha De were for the motion while Anupam Kher and BJP's Nalin Kohli were against. Kulkarni and De put forth their points related to recent incidents and statements by politicians. Kulkarni specially stressed on the statement against the protesting authors by Arun Jaitley. "If the government thinks this is a manufactured protest, they are mistaken."
Kulkarni also condemned the act of Shiv Sena members who had inked his face for launching a book by Pakistani author Kasuri. He also appealed to Prime Minister Narendra Modi of making sure the atmosphere of intolerance is nullified.
"The PM and his colleagues should ask themselves why the President of India Pranab Mukherjee had to appeal for peace and remind India of its 5000 year old history of tolerance?"
Kulkarni was most vocal against the fringe elements demanding a Hindu Rashtra. "The idea of Hindu Rashtra violates the idea of secularism, which is against the Constitution of India. India never was and will never be a Hindu Rashtra."
Kohli gave a clichéd government whataboutery response by citing incidents of the past. But his response was quite peaceful. But the arguments put forth by Anupam Kher draw huge outrage from the audience. He was booed regularly and rightly so.
Here is the gist of Kher's arguments:-
- Firstly, he said he wasn't told the debate would be in English and he is weak in it. Everybody knows such literature festivals are always in English. Plus, we have seen him debate in English on news channels regularly.
- He started going off track right away by personally attacking De for editing a gossip magazine decades ago and mentioning who slept with whom.
- Then went on to call her pseudo-intellectual, just like those Bhakts.
- He expressed his disappointment towards Kulkarni for agreeing to launch a book of a Pakistani by citing how our neighboring country has been executing terrorist attacks here. Once again, completely off topic. Somebody should remind Kher that he acted in Veer-Zaara where he preached harmony between both nations.
- He said, "People returning the awards have an agenda. They can't handle a chaiwala becoming a PM."
- Here comes the KILLER. Towards the end when he realized most people from the audience are against his views, he accused organizer Anil Dharker, a respected figure, of having a PAID AUDIENCE!!!
What else do you expect other than boos? Never expected this great artist to debate or argue like those Twitter trolls.
Other highlights of the debate:-
- Reacting on the point raised by Kher and Kohli as to why people didn't protest against the atrocities in the past, an elderly person from the audience said, "You mean to say, just because we were quite earlier, we should continue to remain quite? How long shall we remain silent?"
- Kiron Kher, BJP member and wife of Anupam Kher, took the mic to defend her husband. However, her arrogant ways also garnered boos from the audience.
- Before the debate, most people from the audience voted for the motion. After the end, close to 90% took that stand.
By: Keyur Seta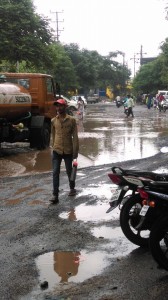 It's the season of festivals in India. But along with festivals like Diwali, the citizens of Mumbai's Ulhasnagar locality are celebrating a one-of-its-kind carnival. It's called Ulhasnagar Potholes Festival (UPF). Yes, you read it right. It's a festival 'celebrating' the menace of potholes in Ulhasnagar in a sarcastic manner.
The movement is started by two residents of Ulhasnagar, Bhavna Chhabria Nainani and Professor Rekha Thakur as, like numerous others, they too are fed up with the problems faced due to the potholes and the innumerable false promises by the Ulhasnagar Municipal Corporation (UMC). The movement is initiated under Manch TV, a local TV channel.
The whole idea is to ask people to send photographs of potholes in Ulhasnagar, which would be posted on the Facebook page – Ulhasnagar Potholes Festival (visit it here). Following this, a team from Manch TV will worship the pothole and give it a name. This will, obviously, put the authorities to shame and they will be compelled to fill them.
The residents have instantly started sending in pictures of the potholes they came across and things have gone as per planned. In fact, the UMC has already started the temporary repairing of potholes on Bhatia Chowk Road, Nataji Road, Ulhas Flyover and Hira Ghat Road (as seen in the pictures below).
Says Rekha, who is also the local corporator, "The roads of our city are in pathetic condition and in spite of the numerous complaints sent to the concerned authorities, nothing was being done to resolve the issue. Fed up of all this, we decided to do something unusual to get the attention of media, authorities and citizens and it has really worked!"
Bhavna adds, "Frequent major accidents took place in Ulhasnagar due to the worst condition of roads. As nothing worked, we finally decided to do a mockery of system through our Ulhasnagar Potholes Festival and within few days maximum roads of the city were repaired."
Although the movement has already started achieving favorable results, it is certainly not the end. Change, after all, is a never-ending process.
Pictures after the roads were repaired: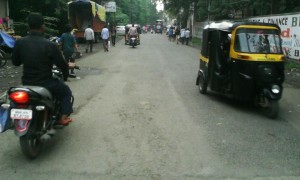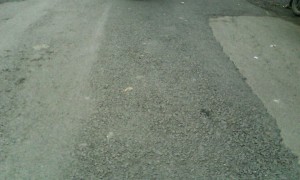 All pictures sourced from Ulhasnagar Potholes Festival Facebook page.
By: Keyur Seta
Remember how Aamir Khan's character felt in PK when he landed on our planet? The scene was similar when a workshop on electrical engineering was attended by someone like me, whose experience in electrical stuff is limited to changing bulbs and batteries of TV remote. The only difference is that I didn't have to cover myself up with a transistor or radio.
The event was INK Live 2015 in Mumbai at the Indian School of Design and Innovation (ISDI). It was the 7th edition of INK, which was attended not only by the students of the institute but also by people from all walks of lives and age groups. I got the privilege to attend for being a blogger registered with BlogAdda.
Thankfully though, my experience after the commencement of the workshop, titled Art & Technology Workshop, was no way similar to that of PK. Although I was quite out of sorts at the start with the materials provided in the form of a battery, few wires and a device (don't know what it is called), there wasn't a problem later on.
In fact, it turned out to be a fun activity. We were taught to pass current through our hands and arms and create music out of it (see the video). The friendly nature of the teacher and his helpful volunteers largely helped. But my partners at the exercise, Nilesh and Saurabh, made things very easy for me since they had studied electrical stuff in the past.
This was probably the first time I had such fun inside a classroom after finishing school, despite feeling like Shah Rukh Khan's character in Main Hoon Na since almost everyone out there was a teenager.
Here is the video glimpse of our fun experience at the workshop:-
INK also provides a platform to students to showcase their scientific innovative skills. This is where I met a couple of 12th standard students from Chennai, Yogesh Kumar and Shubham S, who have invented a miniature Landmine Detector or Landmine Detection Robot with some help from their teacher from Surana Jain Vidyalaya. As the name suggests, the device can help locate landmines in war-torn areas. Their passion and knowledge was visible from the way they answered all queries like professionals.
Interactive talk by well-known personalities and intellectuals is also an important feature at INK and this year was no different. The likes of Irrfan Khan, Ayushmann Khurrana, Kiran Rao, and Gingerr Shankar were among the many speakers at the event.
It was pleasing and motivating to listen to Babar Ali, who is the Youngest Headmaster in the World, according to BBC. While narrating his success story, he revealed that once he couldn't speak at an event as he didn't know English. But he vowed to learn English and speak at the event next year and did that. Today, he is doing his Masters in English Literature.
Pranay Chulet, the founder of Quikr, spoke about his upcoming film on terrorism. It's a genre never-tried-before for it combines a feature film and video game. The user will have to choose playing any one of the characters and the film will move forward according to the choice s/he makes.
But then came Josh Radnor, the creator and actor of the hugely popular TV series How I Met Your Mother, where he plays Ted. He received the maximum applause for his interaction, which was both hilarious as well as thought-provoking. His humble and down-to-earth nature won over the audience.
So, all in all, it was an interesting and enlightening experience. It reminded me that there is always so much to learn in the world and learning is an unending process. It was my first INK experience and certainly not the last.
Director: Meghna Gulzar
Producers: A A Films
Writer: Vishal Bhardwaj
Cast: Irrfan Khan, Neeraj Kabi, Konkona Sen Sharma, Sohum Shah
Music: Vishal Bhardwaj
Genre: Crime Thriller
Release Date: October 2, 2015
Rating: * * * *
Review By: Keyur Seta
The infamous Aarushi Talwar Murder Case is by far the most complicated one India has seen. Some botched up investigation by our authorities added to the complications. So, naturally, it requires a truly talented and skillful filmmaker to portray the case, its consequences and the various layers attached to it on screen as they happened.
Filmmaker Meghna Gulzar has, over the years, shown some glimpses of her talent. But through the movie Talvar, she has proved herself as a seriously talented filmmaker. The film has achieved a new benchmark for presenting and narrating crime thrillers in Indian Cinema.
Although Talvar is based on the murder of Aarushi Talwar, the names of the characters are changed. The story commences in 2008 in Delhi when the 14-year-old Shruti (Ayesha Praveen) is found murdered in her bedroom. Her parents (Neeraj Kabi and Konkona Sen Sharma) are quite sure that their servant Khempal committed the act.
But their claims fall like a pack of cards after Khempal is also found murdered on the terrace. After some poor and clumsy investigation by the police, the case is handed over to the CDI team headed by Ashwin Kumar (Irrfan Khan). His task is cut out as three different versions of the same incident come to the forth. So, who really killed Shruti and Khempal? And why?
Having said this about the direction, such films achieve such results only if the writing rises to the occasion. As a writer, what Vishal Bhardwaj has achieved here is pure excellence! Through a gripping screenplay, which doesn't let you look off the screen, and some deeply meaningful as well as hilarious dialogues, he has given a tutorial on how crime thrillers are written. Showcasing three different versions of the same incident so intelligently is the highlight of his work. The Dharam Prachaar Awastha scene surely deserves special mention.
But apart from keeping you glued, the film will be remembered more for raising some serious and disturbing questions. Examples – The hypocrisy of the respectable urban class. The gross apathy of police and agencies. The over-desperation of our television media.
The technicalities ably complement the subject here. The film is well captured and edited. The background score adds more intensity.
But there are some minor areas of concern. The manner in which the story culminates should have been more natural. The climax appears abrupt. There are few issues with the reaction of few characters too.
Lastly, as is the need in such films, some terrific performances raise the level. Irrfan Khan continues not to deviate from perfection. He is simply outstanding, like always. After Ship Of Theseus and Byomkesh Bakshy, Neeraj Kabi is once again outstanding. He deserves to be included in the list of the most talented artists currently. Konkana Sen Sharma also lives up to her image of a fine actor.
Sohum Shah, who was also impressive in Ship Of Theseus, is once again flawless. Gajraj Rao, Shishir Sharma, and actors playing Khempal and Kabi's assistant deserve high praise too. Atul Kumar, well-known theatre personality, is spectacular towards the end. Tabu shines despite playing a cameo.
Overall: Talvar is one of the best crime thrillers to have come from Hindi cinema. The film is a must watch even for those who don't prefer this genre. The positive word-of-mouth will fetch good collections for it at the box office, mostly in the urban centers.