I am participating in the #SachchiAdvice Contest by MaxLife in Association with BlogAdda.
By: Keyur Seta
I firmly believe that films are a reflection of our real lives. This also includes some larger-than-life Hindi films. The only difference is that situations are dramatized in such films for entertainment purpose, sometimes to an unbelievable extent.
But if you take away the larger-than-life elements from Bollywood films, you would be able to relate with them because the situations or challenges faced by characters remain the same. So, similarly, the phrase "Kahani Mein Twist," is also applicable in real lives. I am sure many of you must have encountered at least some major turn in your life, quite unexpectedly.
Needless to say, I too have encountered such a twist, which was born out of a #SachchiAdvice. But it would be an understatement to say that that advice made a difference to my life. It simply changed my life… completely… and this is not a larger-than-life element.
The story began 15 years ago. Circa 2000. I passed 10th standard with first class. As per the silly mentality of our society, all high rankers go into Science, average ones in Commerce and low rankers in Arts. I belonged to the second category so I went into Commerce. Also because most of my friends took Commerce.
The decision turned out to be my worst ever. I soon realized I am not meant for Commerce and my interest lies in writing instead of tallying numbers. I felt like Veer Pratap Singh (Shah Rukh Khan) of Veer Zara, who visited his girlfriend's place, not knowing he would be jailed out of nowhere. I somehow passed 12th. I spent those two years like Veer spent 22 years in prison.
Despite passing HSC, I wasn't happy at all as I dreaded at the thought of continuing Commerce, which was going to be even tougher now. In other words, I thought I would have to spend more jail time like Veer. The sight of the balance sheet and those crazy numbers gave my nightmares.
But then I happened to meet one of our family friends. It was just a chance meeting that turned out to be divine intervention as it changed my life forever. I visited the middle-aged couple to hand over something on my mom's behalf. While speaking about various issues, our conversation turned towards my career plan (or the lack of it).
The couple had read some of my writings and they happened to like them a lot. So, when I said I am having a pathetic time in Commerce, they not only suggested that I should switch over to Arts but also urged me to do so. In the words of the uncle, "Tum yeh baniyagiri mein kahan chale gaye?"
In the present day, although I might not be greatly successful, I have made an identity for myself in the field of writing. But it surely wouldn't have happened without the advice of those two people. After returning home from that fateful meeting, I thought about it long, discussed with my parents and finally went ahead and changed my stream to Arts.
From then onwards, study was no longer study for me as I felt completely at home with theories. It was more like a knowledge-gaining process that I greatly enjoyed. I used to look forward to studying in the morning. I can't recall this happening ever before. This increased my interest and skills and writing. It became my biggest or, rather, only professional skill.
Today as I look back, I am utterly scared to even think of what would have happened to me had I not implemented that #SachchiAdvice and switched over to arts. You wouldn't be reading this blog post for sure.
Finally, it won't be wrong to say that the couple turned out to be Samiya Siddiqui for me. She was Veer's lawyer in the film (played by Rani Mukerji), who helped him come out of jail and get reunited with Zaara. These two individuals did the same for me.
By now, you must have guessed that Zaara symbolizes my interest in writing, from which I got estranged during those years in Commerce. Today I am the happy Veer Pratap Singh seen during the end credits of the film, although definitely not that old.
Directors: Rajen Kothari and Dayal Nihalani
Producers: Mukti Entertainment
Writer: Shaiwal
Cast: Yashpal Sharma, Pratibha Sharma
Music: Amod Bhat
Genre: Drama
Release Date: TBA
Rating: * * * ½
Review By: Keyur Seta
Corruption has had a long standing relationship with Hindi cinema. But most of these films are about a 'hero' taking on a mighty corrupt politician. This is where directors Rajen Kothari and Dayal Nihalni's Das Capital: Gulamo Ki Rajdhani differs. Although the film centers around the common theme of corruption, it provides a mature and realistic take on the issue in an honest manner and leaves behind few serious questions.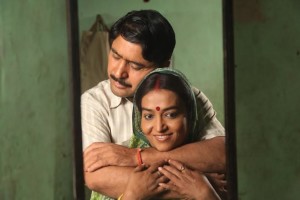 The film is based in the early 1980s in the interiors of Bihar. Purshottam Ram (Yashpal Sharma) is an Accountant working in a government office. He lives with his wife (Pratibha Sharma) and two kids. In Ram's office, like other government offices, corruption is a way of life. Wanting to lead a proper life with his family, Ram has no other choice but to merge in the system. However, the system itself haunts him later on.
Normally, a Hindi film of this subject focuses on the corrupt practices by politicians. But Das Capital brings to light the corruption practiced at the most micro level in government offices. It gives you a mild shock when you realize that corruption is not only accepted but is also an unwritten rule.
But the film isn't a serious affair despite such a theme. It maintains a light-hearted mode for a majority of its duration. There is constant use of situational and dark humor, which gets you in splits on few occasions. In spite of this, you easily get involved in the world of the protagonist and feel sympathy for him.
The only issue here is the change of mood. As a lot of humor is served to the audience, the drastic change to tragedy later on generates inconsistency. Thankfully, the honesty through which the story is narrated keeps disappointment at bay.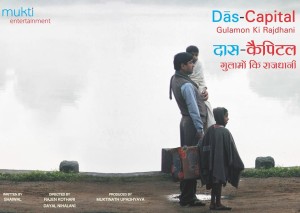 Despite the low cost of production, the technical aspects appear sound. Chandan Goswami's camerawork and Mangesh Dhakde's background score succeed in generating the desired effect. Amod Bhat composed songs go well with the region in question.
In such performance-oriented films, it is vital that the actors rise to the occasion and this is exactly what happens here. As expected from an artist like him, Yashpal Sharma perfectly molds himself as Purshottam Ram. In the role of Yashpal's wife, Pratibha Sharma is praiseworthy too, especially when it comes to displaying pain.
Jameel Khan, as Ram's boss, is fully believable. K K Raina and Ravi Jhankal also show their goodness. In a cameo, Pratik Kothari is superb while playing a difficult character of a psychotic youngster. Rajpal Yadav leaves behind a solid impression despite a one-scene role.
Overall: Das Capital: Gulamo Ki Rajdhani is a well-made realistic saga that does justice to its subject.
By: Keyur Seta
I became aware about the existence of various pro-Hindu groups around a decade ago. Interestingly, I got enlightened about them only because of their opposition to certain Hindi films, which, according to them, hurt their religious sentiments. In fact, if you look back closely, you will realize that almost all their protests have only been against films and, at times, books.
Now, let us focus on a harsh and disturbing reality regarding one of the most important Hindu festivals. People staying in Mumbai even since few years would know how the Hindu festival of Ganeshotsav is grossly insulted each year. A single experience at Mumbai's Ganesh Visarjan is also enough to realize this.
The following scenes are witnessed each year during the festival:-
- Liquor consumption during Visarjan is not new in Mumbai. You will find a lot of these over-enthusiastic 'devotees' dancing during Visarjan high on daaru.
- Eve-teasing of girls/ women during Visarjan with vulgar terms or slogans is also on display while bringing the idol and also during immersion. I have heard harrowing experiences of my own friends.
- There has been uproar against playing of sleazy item numbers during the festival; sometimes right beside the Ganesh idol. But this has had no effect on the organizers. Songs like 'Sheila Ki Jawani', 'Munni Badnaam', 'Fevicol Se', 'Baby Doll', and some even worse continue making rounds each year.
- Firecrackers worth thousands are burst during Visarjan, which hugely increases the level of air pollution. Roads always appear hazy during some big Visarjan. This also has numerous health hazards.
- Noise pollution is the major turn off for residents of Mumbai. In fact, the term 'noise pollution' is too mild to describe the menace caused. Plus, the commotion with super loud DJ music moves at a snail's pace, which adds to the agony. Torture caused towards infants, aged, ill, heart patients, students and animals is ignored by these so-called devotees of the Lord.
The above-mentioned activities take place right in the open. So, it is impossible for the members of these pro-Hindu groups to not know about it. This brings a lot of uncomfortable questions for them.
Why there hasn't been a single agitation against the shameful insult of the Hindu festival? Leave alone protest, why nobody from your 'religious' groups has not even spoken against this ever? Have you ever thought about the real intention of Lokmanya Tilak behind starting this festival? On the other hand, ardent members and followers of your groups literally go up in arms while demanding bans on harmless films, sometimes even resorting to violence.
Are your religious sentiments only limited to objecting Hindi films? The fact that you are not coming out against these shoddy practices in the name of a Hindu festival defeats the very purpose of your existence.
By: Keyur Seta
After studying History in school, me, and many others, believed that the highest credit for India's freedom should go to Mohandas Karamchand Gandhi and Jawaharlal Nehru. But as I grew up and read various books on revolutionaries like Netaji Subhash Chandra Bose, Bhagat Singh, etc., doubts started cropping up in my mind on whether we were taught real history in school.
Later on, with the advent of the internet, I found more information on these uncelebrated great figures. Naturally, this further increased my doubts. Why a man who succeeded in the mammoth task of creating a huge army, called Azad Hind Fauj, and frightening the British was given such minor footage in History books? Why was there just a small paragraph about Bhagat Singh and his group's activities and that too with false information, which made them look like criminals?
But yesterday, on September 18, 2015, all doubts were put to rest after Mamata Bannerjee, the Chief Minister of West Bengal, declassified 64 secret files related to Subhash Chandra Bose. Now, it is clear that the entire nation in the post-independence era is been fed with false and fabricated version of Indian History.
Read more about the files HERE.
The secret documents/ letters strongly indicate that Netaji didn't die in the plane crash in 1945. But the most infuriating revelation was how Netaji was snooped by our own government. I have read some theories that Nehru was certain Netaji is alive. Hence, if he had returned, Nehru's popularity would have seriously declined. After yesterday's revelation, this theory appears true to me. It has helped us join the dots.
It is utterly disgraceful that one of the greatest freedom fighters and his family members were snooped upon by their own government, as if they are wanted criminals. This also explains that all these decades, we have been taught only what the Gandhis and Nehru wanted us to learn – the shamefully fabricated version of History.
So, first and the foremost, we should revamp our school and college History text books ASAP! Injustice has been done the likes of Netaji, Bhagat Singh and other such revolutionaries. The least we could do now is to give them the rightful place they deserve in our History. It is never too late to repay their humongous debts over us.
Mamata's act has also put pressure on the Central Government to declassify more files on Netaji. Let's hope they do it soon.
And yes, we should also stop celebrating November 14 as Children's Day. We don't want our children to follow people with such mindsets.
Here is the summary of the declassified Netaji files: (Click to enlarge the image)
Nana Patekar has turned out to be a Godsend angel for Indian farmers, who are forced to end their lives due to rising debts and draught. This year alone has seen more than 600 farmer suicides. He started off his mission by paying Rs 15 thousand each to families of around 60 farmers.
Now, he has started a full-fledged mission to help the poor and needy farmers through his foundation called Naam. He has been ably supported by fellow actor Makarand Anaspure and recently Akshay Kumar, who has donated Rs 90 lakh for the farmers' families.
While this also proves the amazing humanistic quality of these actors, it also points out the terrible attitude of those ruling us. It is the responsibility of our governments to be there for our farmers during such dire circumstances. It is not possible to believe that they lack funds. They are spending thousands of crores on statues but not ready to spend even half the amount on those who are providing us with food.
There is also no lack of water as we all saw how the government of Maharashtra released 1000 cubic meters of water for Kumbh Mela's Shahi Snan. If you feel making statues and pleasing religious fanatics is more important than dying farmers, you don't even qualify for an admission in IIN.
This whole issue also brings to light the selfishness of the super-rich and wealthy of India. We have been witnessing mindless spending of money for personal enjoyment, which lasts just for few moments. This is a new benchmark of selfishness, which doesn't let you feel even a bit for the dying farmers.
With the situation as it is, it is absolutely clear that we, the common citizens of India, must come forward to serve our annadatas. Nana and Anaspure have shown us the way. Let us follow it by contributing whatever possible towards this super noble cause.
You can contribute in the following way:-
Send in your amount to "NAM Foundation"
SBI Current account no. 35226127148
IFSC Code no. SBIN0006319
SWIFT Code no. SBININBB238
Author: Ashwin Sanghi
Publishers: Westland Ltd.
Pages: 346
Genre: Theological Thriller
Original Price: Rs. 295 (Reduced rates on Flipkart & Amazon.)
Rating: * * * ½
Review By: Keyur Seta
Even before the halfway stage in The Rozabal Line, you realize that Ashwin Sanghi's knowledge about various religions, conspiracy theories related to some religions and other global issues is simply outstanding. This coupled with his amazing writing and storytelling skills make The Rozabal Line a roller-coaster theological saga, despite some glaring issues.
The story takes place across continents and time zones. In 2006, Father Vincent Sinclair, an American Priest, starts seeing weird visions after a tragic incident. His aunt Martha helps him decode them through her knowledge of Indian spiritualism and mysticism. Swakilki, a young and beautiful Japanese woman, has been serially killing people across the world. She is following the orders of Alberto Cardinal Valerio, head of Crux Decussata Permuta in Vatican City.
The Lashkar-e-Talatashar, an arm of Lashkar-e-Taiba, has vowed to create havoc in the world. Ghalib, their leader, and his 12 subordinates have planned something dangerously sinister in the year 2012. Their fate has striking resemblance with Jesus Christ and his 12 Apostles. How these unrelated characters cross paths forms the rest of the story. The book also explores the theory of Jesus' connection with India.
Like all good thrillers, The Rozabal Line keeps you hooked from the very first page. As the story moves back and forth, from the period of B.C to 2012, it not only increases your excitement but it also gets you in awe of Sanghi's vision, imagination and knowledge. To narrate your tale in 100 different time zones and various places is a mammoth task for anyone. Plus, Sanghi's smart mixture of rich and simple language adds to the goodness.
Reincarnation is a major ingredient in the story. But it should be noted how the author has presented that aspect in a practical and mature manner. In fact, after going through the reincarnation process mentioned here, you might laugh at how Bollywood has presented this subject.
But The Rozabal Line is far from being truly superlative. Although the climax provides a spiritually enlightening feeling, you realize that various subplots, characters and incidents were unnecessary. Even the basic aim of the tale appears unclear. There is an overdose of information, which is confusing and difficult to keep track, especially since the focus keeps moving through these many time zones. It makes us feel as if the author wanted to flaunt his terrific knowledge.
Having said this, there are enough reasons to grab The Rozabal Line if you are a lover of thriller novels.
The dialogues of Welcome Back are the biggest reason for the film's success at the box office (along with the graveyard scene). The Anees Bazmee movie has acquired the status of a laugh-riot due to the whacky, witty and crazy lines by dialogue writer Raaj Shandilya.
The movie also stands out from other mindless entertainers because it includes a list veteran artists like Naseeruddin Shah, Nana Patekar, Anil Kapoor, Paresh Rawal and Dimple Kapadia. It is quite a sight to see them perform some crazy antics.
Here are some memorable/ famous/ best dialogues from Welcome Back:
(Note: Some dialogues in this post are contributed by dialogue writer Raaj Shandilya himself.)
- JOHN: Mobile uska. Sim aapun ka. Tu beech mein missed call dene wala kaun?
- ANIL (Majnu): Aapki sharafat ke chakkar mein main kayde mein hoon, warna ab tak mere khud ke do-chaar Al-Qaede hote.
- DIMPLE: Yeh humari beti hai. NASEER: Humari?? DIMPLE: Matlab, meri beti hai. NASEER: Wohi main sochun ki hum toh kayin dino se shikaar pe nahin gaye toh bandook kisne chala di?
- NASEER: Mazaak tha!
- ANIL: Is tarah bolte the mazaak tha, mazaak tha, jaise humne kabhi zindagi mein chutkule sune hi nahin.
- ANIL: Ise dekho. Yeh baith ta hai toh lagta hai kala sofa hai.
- NANA (Uday Bhai): Kya khilone hain. Humare bachchon ke liye aise hi khareedenge. ANIL: Arre pehle shaadi toh hone do!
- NANA: Yaad rakhna, Gun aur gun ki spelling same hai.
- NANA: Bhagwan ka diya hua sab kuchh... ANIL: Arre bandh karo yeh tumhara sann untalis ka dialogue.
- ANIL: Aapka apna beta, aapne bataya bhi nahin. PARESH: Arre batane ka kya matlab hai? Mera toh chacha bhi hai, mera mama bhi hai, uske bare mein maine kabhi bhi aapko bataya?
- PARESH: Tera baap yahan chhod ke gaya tha, ya teri ma rakh ke gayi thi?
- ANIL: Logon ki ma-behan hoti hai. Aapki toh baap-behan ho gayi hai.
- RAJPAL YADAV: Ek radio ke peechhe do log fit nahin honge.
- ANIL: Bhoot Shetty, Srivastava kuch nahin dekhte. Jiski game bajani ho baja daalte hain.
- PARESH: Jab maine chunaav mein vote dala hi nahin, toh mukhyamantri mera kaise ho gaya?
(Please feel free to add more in the comments section.)
Director: Oorvazi Irani
Writer: Farrukh Dhondy
Producers: Oorvazi Irani and Sorab Irani
Cast: Oorvazi Irani, Tom Alter, Rushad Rana, Darius Shroff
Music: Vasuda Sharma
Genre: Mystical/ Drama
Release Date: September 4, 2015
Rating: * * * ½
Review By: Keyur Seta
The new-age contemporary Indian films have now started achieving international standards. But along with technicalities, this has also to do with the bold intention of the filmmakers. Both these aspects are taken care of honestly in debutant Oorvazi Irani's The Path Of Zarathustra (English film). The end result is a moving and enlightening saga for the lovers of unconventional cinema.
The film is an inner and outer journey of a Parsi lady, Oorvazi (Oorvazi Irani). She has been staying with her grandfather (Tom Alter) at his remote village since the age of 15. She has no problems for being cut-off from the world. After prolonged illness, her grandfather passes away but not before handing her a book, he had been writing since long, and instructing her to unfold its mystery.
To fulfill his wish, Oorvazi needs to relocate to her maasi's place in Mumbai. Once in Mumbai, Perseus (Rushad Rana) with whom she shares an unusual bond, re-enters her life. The book takes Oorvazi on a quest related to the dwindling numbers of the Parsi community. What exactly lies in the book? Will she fulfill the last wish of her beloved grandfather?
The Path Of Zarathustra makes its visual appeal loud and clear right from the first frame itself. The entire film is a pictorial spectacle born out of some artistic camerawork (Subhadeep Dey) and perfect production designing (Pooja Shetty). These plusses make it difficult to believe that it is made on a shoestring budget. But overall, it is the honest and mature handling of a sensitive subject by the director that achieves the end result.
The main aim here is to provide the history and information of Parsis and highlight the fact that their community is on the verge of extinction. It fulfills it without becoming a history class, thanks to the intriguing and mystical element in the tale and treatment.
The final twist related to the book, however, might not impress many for being too simplistic. Apart from this, the overall philosophical content won't appeal to the average moviegoer. It is more suited to the festival audience.
The actors rise to the occasion, as is the need in such performance-oriented films. Oorvazi Irani blends herself completely in the mode of the protagonist. In other words, she brings a difficult character alive.
Tom Alter, the acting veteran, leaves a solid impact in a cameo. Rushad Rana provides a fine act too. There are good supporting acts or cameos from Pheroza Modi, Firdausi Jussawala, Darius Shroff, Shishir Sharma and Vivek Tondon.
Overall: The Path Of Zarathustra is a finely crafted new-age film. It is worth watching for those who are eager to watch something hatke.