Directors: Rajen Kothari and Dayal Nihalani
Producers: Mukti Entertainment
Writer: Shaiwal
Cast: Yashpal Sharma, Pratibha Sharma
Music: Amod Bhat
Genre: Drama
Release Date: TBA
Rating: * * * ½
Review By: Keyur Seta
Corruption has had a long standing relationship with Hindi cinema. But most of these films are about a 'hero' taking on a mighty corrupt politician. This is where directors Rajen Kothari and Dayal Nihalni's Das Capital: Gulamo Ki Rajdhani differs. Although the film centers around the common theme of corruption, it provides a mature and realistic take on the issue in an honest manner and leaves behind few serious questions.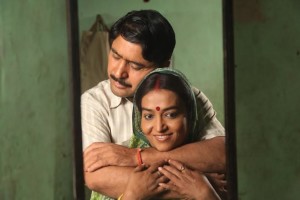 The film is based in the early 1980s in the interiors of Bihar. Purshottam Ram (Yashpal Sharma) is an Accountant working in a government office. He lives with his wife (Pratibha Sharma) and two kids. In Ram's office, like other government offices, corruption is a way of life. Wanting to lead a proper life with his family, Ram has no other choice but to merge in the system. However, the system itself haunts him later on.
Normally, a Hindi film of this subject focuses on the corrupt practices by politicians. But Das Capital brings to light the corruption practiced at the most micro level in government offices. It gives you a mild shock when you realize that corruption is not only accepted but is also an unwritten rule.
But the film isn't a serious affair despite such a theme. It maintains a light-hearted mode for a majority of its duration. There is constant use of situational and dark humor, which gets you in splits on few occasions. In spite of this, you easily get involved in the world of the protagonist and feel sympathy for him.
The only issue here is the change of mood. As a lot of humor is served to the audience, the drastic change to tragedy later on generates inconsistency. Thankfully, the honesty through which the story is narrated keeps disappointment at bay.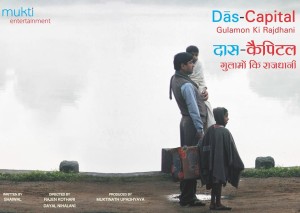 Despite the low cost of production, the technical aspects appear sound. Chandan Goswami's camerawork and Mangesh Dhakde's background score succeed in generating the desired effect. Amod Bhat composed songs go well with the region in question.
In such performance-oriented films, it is vital that the actors rise to the occasion and this is exactly what happens here. As expected from an artist like him, Yashpal Sharma perfectly molds himself as Purshottam Ram. In the role of Yashpal's wife, Pratibha Sharma is praiseworthy too, especially when it comes to displaying pain.
Jameel Khan, as Ram's boss, is fully believable. K K Raina and Ravi Jhankal also show their goodness. In a cameo, Pratik Kothari is superb while playing a difficult character of a psychotic youngster. Rajpal Yadav leaves behind a solid impression despite a one-scene role.
Overall: Das Capital: Gulamo Ki Rajdhani is a well-made realistic saga that does justice to its subject.