This post is a part of 'Meet Me At Starbucks' activity by Starbucks and IndiBlogger with the theme 'Good Things Happen When We Get Together'. Read more about it here - http://www.meetmeatstarbucks.in/
By: Keyur Seta
As a part of my profession, I have to regularly meet people to take their interviews. In terms of satisfaction, some of these interviews are fun, some are not bad while few completely forgetful. But even the ones that fall in the fun category don't necessarily turn into friendship; the relation is more professional or work-related. However, unexpectedly and completely out of the blue, I came across one such interviewee, who became one of my closest friends in no time.
It was January 25 this year when I had to interview a filmmaker Ajita Suchitra Veera. (Honestly, I remember the date only because Salman Khan's Jai Ho had released a day before.) The interview was related to her debut film Ballad Of Rustom, which qualified for Oscar contention this year.
I was looking forward to it as it is always interesting to speak with off-beat filmmakers. I personally appreciate those who are bold enough to show the courage to tread against the tide. Just looking at the subject of her film, I was sure she is a bold individual, who doesn't shy away from speaking her mind. But my interest was limited to this only, not knowing there was more in store.
She reciprocated my hello with a warm smile as I reached the table she had chosen in the open air area of a coffee shop. There was nothing to feel joyful about it as it is a routine practice to exchange pleasantries in, almost, every profession. As the interview commenced and kept rolling, I realized my prediction about she being bold was spot on! But what was more pleasing was her informal manner of responding, which was more like a friendly chat than an interview.
Things became friendlier as we chatted for a good amount of time much after the interview ended. While returning home, I felt a sense of satisfaction as it was one of my most enjoyable interviews. So I was sure we both would be in touch from now onwards. But still, there was quite some distance to cover before becoming close friends.
As per my promise, I mailed her the links of my blogs and, later on, informed her when her interview was published in my magazine. Hence, we started being in touch through the net and realized we have absolutely similar views on politics, religion, social issues and, almost, everything in life. So it wasn't surprising that we decided to meet up again at a similar place.
Our first informal meet was excellent. We spoke on various issues and didn't realize when more than three hours passed by. I felt completely at ease, which doesn't happen always with me so early with someone. Needless to say, there was a lot of laughter too. The same was the case with our next few meets. In this way, a routine interview provided me with a close and respected friend.
A peculiar feature about our chats was that they all happened face-to-face and not online or on phone. Of course, we have interacted through SMS'es and Facebook chats but all our discussions have happened only in person. I also realized that Ajita is the only person with whom I have had long discussions face-to-face in last eight years or so.
Mobiles, computers and other such gadgets were introduced to help us be in touch with all our close ones without meeting them in person. But on the contrary, this has distanced us from our near and dear ones as now all discussions and chats take place only in the virtual world.
Today when I look back over the last eight years or so, I realize that only the talks that have provided me with the maximum satisfaction are the ones that took place face-to-face. I have had long conversations regularly over the years on chats and phone, but the joy of meeting someone and discussion gives a different high.
As I have strictly limited my use of technology by not using internet or Whats App on phone, I feel my chances of getting such high are higher. After all, Good Things Happen When We Get Together.

By: Keyur Seta
Earthen pots turn out to be the finest only when they are made from wet clay. Pots from semi-wet clay don't turn out to be that perfect as it is difficult to shape them.
Similarly, the right time to nurture any talent in an individual is during his or her raw childhood. This task was carried out by the singing contest iGenius Maxlife Young Singing Stars. The contest provided training in singing for children passionate in the art and also a platform to showcase their talent in a city like Mumbai. It was wholly organized by Max Life Insurance.
The final phase took place on December 17 in the city with the first phases being round up some time back. The children were divided in two categories – junior and senior – according to their age. Hence, winners were declared from each group. They winners were declared by the jury, which consisted of well-known Hindi film composer and singer Salim Merchant (from the duo Salim-Sulaiman) and singer Shraddha Sharma.
The 10 kids selected for the final round received mentoring from both the judges. The work carried out on them by the jury was visible through their impressive performances. Almost all performances oozed high level of confidence and dedication. It was a pleasant surprise to see few of these kids recite songs from the classic black and white era. Naturally, this made the task of the judges that more difficult, but, naturally, they didn't mind it.
Finally, after a lot of discussions and debates, two winners were declared from both the groups in the form of Shraddha Shreya, from the senior group, and Shivam Ahuja, from the junior. In this way, the two young singers bagged a lucrative album contract from Universal Music Group much to the delight of their parents and those present at the venue at Taj Lands End.
The event took place just a day after the disturbing tragedy that took place in Peshawar, Pakistan. As the world was still to come out of the grief, Salim Merchant said he wasn't willing to perform at the event, as per the plan. But he carried on and presented a pleasing rendition of 'Ali Maula' from Kurbaan, among a couple of other tracks, and dedicated it to the victims and their families. Before the commencement of the contest, a minute's silence was held to pay tribute to the victims.

Rating: * * * * ½
By: Keyur Seta
It is very difficult to commence the review of a film like PK. However, I have no problems with it at all because this writer's block is an outcome of the greatness of the film. This is exactly how the Rajkumar Hirani film can be described – one of the greatest movies ever by a master filmmaker!
PK tells the story of Jagat Jananai (Anushka Sharma) aka Jaggu, who is studying in Belgium. Her chance encounter with Sarfaraz (Sushant Singh Rajput) blossoms into love but all doesn't go well for them. Sometime later, she meets a weird man, who calls himself PK (Aamir Khan). Just like his appearance and talks, PK has a weird mission. What is it? And who exactly is PK?
Although the subjects of Hirani's previous three films were entirely different from one another, they had a common link in the content, which was a work of excellence. The same is repeated here too in a novel concept. The entire film is a pleasurable mixture of delightful, thought-provoking, emotional and hilarious situations. And like his previous films, here too Hirani and co-writer Abhijat Joshi have put forth their message in a brilliantly creative and entertaining manner.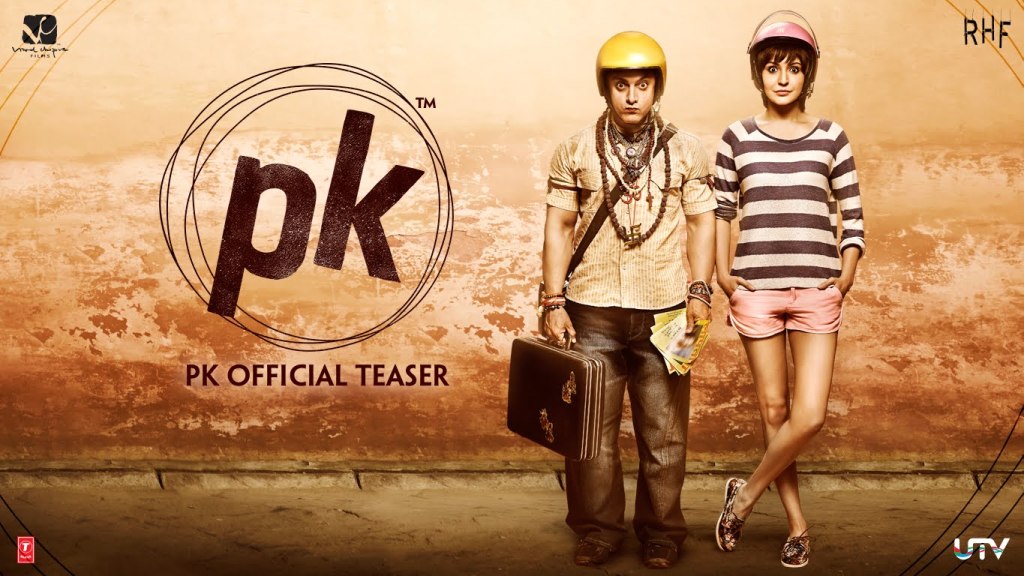 But the biggest overwhelming factor here is the manner in which the film gives complete thumbs down to the so-called Godmen and, more so, to those who constantly divide us on the basis of religion for their own shoddy benefit. In fact, it gives a fantastic slap to the political class and so-called religious organizations spreading venom these days. It is a huge co-incidence that it has released exactly at a time when there are continuous efforts being made to divide us.
Like Hirani's previous efforts, this one too has glaring errors. The biggest one is the base of the most important plot twist. But, again, like his previous film, it hardly bothers you for the experience it provides in return. The subject makes you recall Umesh Shukla's Oh My God, but the main story is nowhere similar to it.
When I have already labeled the film as one of the greatest ever, it is needless to say that it scores high in the technical department too. Murlidharan Raja has done a fine work as the cinematographer. The special effects, background score and editing deserve praise too. The music also falls in the impressive category. Songs like 'Chaar Kadam', 'Bhagwan Hai Kahan Re Tu', 'Love Is A Waste Of Time' and 'Tharki Chokro' stay with you long after the film.
Like all brilliant films, the performances in PK too are highly praiseworthy. Aamir Khan keeps getting better with every film. He continues it with PK too and how! Only an actor with such high caliber of talent and dedication can pull off a character as novel, difficult and complicated as this one. His Bhojpuri talks are simply a delight!
Anushka Sharma too joins in with a mature performance. Saurabh Shukla is outstanding as a fake Godman. Sushant Singh Rajput has a cameo but he leaves behind a mark. Sanjay Dutt and Boman Irani, in extended cameos, are lovable. Parikshit Sahni provides decent support.
Overall: PK is not only Hirani's best effort, it is a masterpiece. It provides a spiritual experience worth indulging into more than once. With such content and massive excitement, it is sure to break box office records with its enormous collections.
Director: Rajkumar Hirani
Producers: Vinod Chopra Productions, Rajkumar Hirani Films and UTV Motion Pictures
Writers: Rajkumar Hirani and Abhijat Joshi
Cast: Aamir Khan, Anushka Sharma, Saurabh Shukla, Sushant Singh Rajput, Sanjay Dutt
Music: Shantanu Moitra and Ajay-Atul
Genre: Drama
By: Keyur Seta with valuable inputs from Padmanabh Subramanian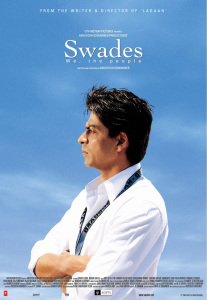 Whenever a list of most memorable films from a particular country or film industry is made, it is obvious that it will only contain names of box office successes. However, there are quite a few films, at least in Hindi cinema, which have become cult classics over the years despite the fact that they didn't succeed at the ticket window when they released.
Films like Jane Bhi Do Yaaro and Andaz Apna Apna are classic examples of such films. But they slowly started gaining huge appreciation in the following years after they were screened on television and cable channels, so much so that now they are labeled as 'classics'. Over the last decade or so, yet another Hindi film has achieved this status in spite of its box office fate.
Ashutosh Gowariker's Shah Rukh Khan starrer, Swades found a lot of takers when it released in December 2004, especially the lovers of meaningful cinema, despite its strictly average box office performance. Like the aforementioned two films, its appreciators kept on increasing over the last decade at a rapid pace and the film gained a respectful status of Gowariker and Shah Rukh's one of the best works.
Today, Swades completes exactly 10 years of its release. The film is known for striking an emotional chord with the viewer without or hardly saying much. It is this simple visual narration that is largely responsible for the film gaining such applause.
So let's have a look at the film's most memorable scenes, which say a lot without saying much:
- The first one that comes to our mind is the one where Mohan Bhargav buys a glass of water from a child vendor. In fact, this can even go down as one of the most memorable scenes from Bollywood. By just showing the character purchase and consume the water, the writer and director have portrayed Mohan's massive change of heart, or hriday parivartan, since, before this scene, he strictly drank only packaged water. Of course, SRK's brilliant expressions also say it all.
- The climax sees Mohan returning to Charanpur, India forever after quitting his lucrative job at NASA. But such major story development is shown without any rona dhona and by just a sweet Kushti scene. In spite of this, it succeeds in moving you.
- The village of Charanpur strictly followed caste system, wherein the members of the 'upper caste' stay away from the ones of a 'lower caste'. In the song 'Yeh Tara Woh Tara', the protagonist gives an overwhelming message against this division by making the kids, sitting at the area reserved for 'lower castes', pass over and sit in the area reserved for 'upper castes'. Once again, a strong message without dramebazi.
- The film also speaks about Indian culture. This was seen the most in the pre-climax as Geeta (Gayatri Joshi) gives a teary farewell to Mohan. But as per the intelligent narration in the rest of the film, there is no gyan giving on Bharatiya Sanskriti. Geeta makes her point about the same by just presenting a box to Mohan with few items that would enable him recall India.
- In this particular scene, Melaram wants to point it out to Mohan that there is no point going away from our near and dear ones in our country and serving some other country. But all he says is, "Apni chaukhat ka diya and giving light to neighbor's house." It says all!
- Kaveri Amma hands over Mohan the task of recovering money from Haridas, who stays far away from Charanpur. Mohan is deeply hurt to see the abject poverty Haridas is facing. However, he hardly expresses this and lets his expressions speak. Even while he is returning, he keeps the same expression throughout the journey.
By: Keyur Seta
Moviegoers going wild with excitement inside a cinema hall (especially a single screen) is a regular feature in India. Over the years, Rajnikanth and Salman Khan movies have become known for this. However, the excitement during a show of Dilwale Dulhania Le Jayenge during its 1000th week inside Mumbai's Maratha Mandir was something never experienced in any movie ever before.
In fact, I have seen this kind of response from the crowd (consisting people of all age groups) only in a cricket stadium and that too only when Sachin Tendulkar enters and, later, scores a century. In short, one has to experience it to believe it.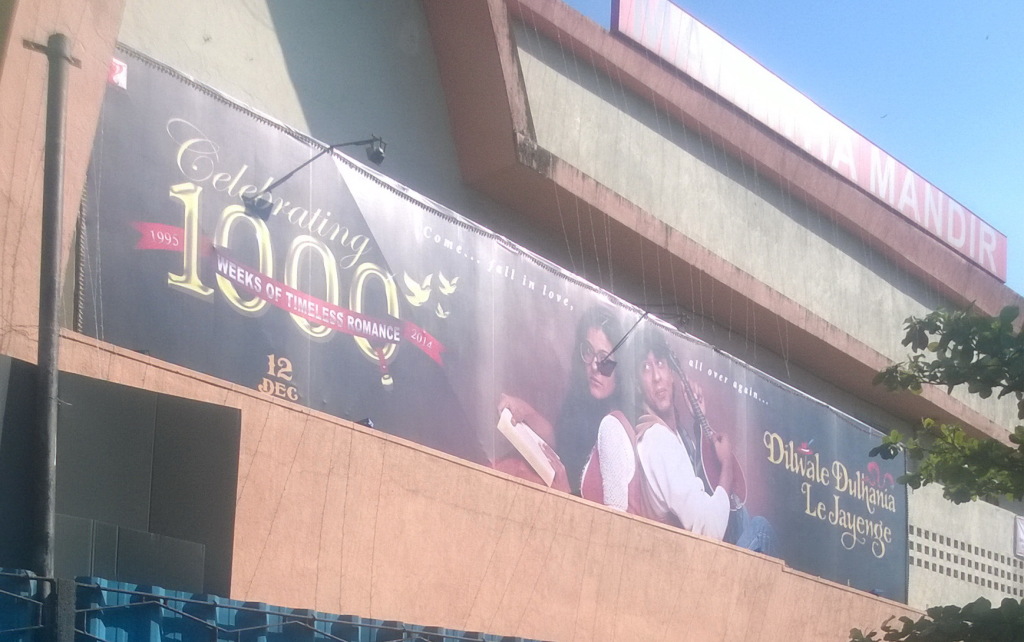 Here is a tour of the experience:
Ticket Queue: As seen in the second picture, there was literally chaos to get a ticket for this film; a film that is 19-year-old. I can't remember when was the last time I witnessed such desperation for a newly-released film. Black marketers were selling Rs 20 ticket for Rs 100 but the fans had no problems with it.
Unthinkable Response: I was naturally expecting regular cheers and whistles during the film. But what actually happened during the screening gave a pleasant shock to me and my brother. The cheering commenced even before the Censor Certificate was shown and continued till the rest of the film. In fact, there was a loud reception not only during Shah Rukh Khan and Kajol's entry scene but also during each and every important dialogue by all actors and also during their important acts. And mind you, majority of the crowd wasn't tapori.
Watch it for yourself in this video if it is difficult to believe. Shot and edited by Fenil Seta.
Non-Stop Clicks: We all must have seen pictures being clicked inside a cinema hall during a movie, but not as much as it happened during this screening. There was continuous clicking from all sides throughout the duration, as if it was a press conference.
The Finale: The ending moments made us feel as if Team India won the World Cup. It is difficult to put it any other way. Just watch the last part of the video and you will realize. As soon as Thakur Baldev Singh (Amrish Puri) left Simran's (Kajol) hand, the audience erupted in the same manner when Mahendra Singh Dhoni hit the winning six during the final of 2011 World Cup.
Given the scenes and the kind of box office response DDLJ is still getting, it is needless to say that the film will continue running for few more years for sure. Also needless to say, this is definitely not my last viewing of it at Maratha Mandir.
By: Keyur Seta
The ever-increasing medical cost is fast becoming a big reason for increasing number of deaths currently in India. Sundari Raju lost her husband due to the same reason. After being diagnosed with Multiple Sclerosis, his troubles started increasing and with that, his medical bills too. "There came a time when he was required to take four injections per month and each cost Rs 8,000. So it was impossible for us to afford it. I wish I could have afforded. He would have been alive then," she said.
She was speaking on the occasion of Patient Solidarity Day in Mumbai, where doctors, patients, members of patient groups, pharmacists, bloggers and laymen had assembled for a round table discussion on how to provide proper access to healthcare for all patients across India. The event was organized through the efforts of Dr Bejon Misra, Partnerships for Safe Medicines (PSM) India, Consumer Online Foundation and International Alliance of Patients' Organization (IAPO).
When it comes to the high cost of medicines and treatment, the mention of multinational companies, which manufactures medicines, shouldn't come as a surprise. "MNCs are here to make money. Philanthropy is not their goal; it will never be. Government wants to do something about this. But they won't unless we and various NGOs keep pushing. They also have to listen to courts so we should use that option too. Medical Council of India can also help," said Dr Salunke.
Another doctor present at the discussion raised the point of new doctors forced to recover the enormous amount they spent to study medicine. "People spend around Rs 1 crore in private medical colleges. So obviously they won't do any social service. Government also keeps spending more on private colleges rather than government run colleges. The ratio of both types of colleges is very high in favor of private colleges." He also stressed on the need for qualified nurses, who can take away half of the headache of the doctor.
India has also become home to diseases like Fibromyalgia. Anuradha Khanna Pentapalli, who is suffering from it, expressed the need to spread awareness about it as hardly anyone in India knows about it. Fibromyalgia is a chronic disorder characterized by widespread musculo-skeletal pain, stiffness and tenderness of muscles and joints and also psychological issues. "Today I am at this event. So tomorrow or day after I might have to take bed rest. There are cases where parents ask their daughters to be active despite being diagnosed with the disease and not disclose it to their prospective grooms. But the daughters don't wish to lie. There is an urgent need to include study of Fibromyalgia in medical curriculum," said Anuradha and her demand was agreed upon by Dr Misra.
Since recent times, there has been a constant demand of making generic medicines available to patients as their cost is much lower. "Generic medicines are available in Tamil Nadu. So if they can be made available in TN, why not in Maharashtra? Our ex-Health Minister Suresh Shetty also didn't do anything for this in 10 years," continued Salunke. Dr Jahangir also echoed his sentiments and expressed bewilderment at some doctors criticizing it. "I can't believe a doctor criticizing generic medicines. Rather than letting a patient die, let him get treatment."
The situation in rural areas was also described. Said Dr Ketan Parekh, "Twenty percent districts in Maharashtra don't have a pediatric surgeon, whereas 2% of all new born babies require immediate surgery. A list of 80 doctors, who were willing to volunteer, was given to the government. But there was no response." Salunke also added an incident he witnessed at a village. "A doctor was giving just 1 cc injection dose to patients. When I asked him the reason for giving such a tiny dose, he said they have just one bottle of dose and the number of patients is 35."
This wasn't one of those events where people would discuss and then just disperse. Dr Bejon Misra announced and assured that the discussion will be followed by action. "We will collect evidences and each one present in this room (for discussion) will come together to make sure our voice reaches to the people in power. If they don't listen, we will be compelled to go to courts. Universal healthcare should become a reality and not just remain a dream."
More pictures from the discussion: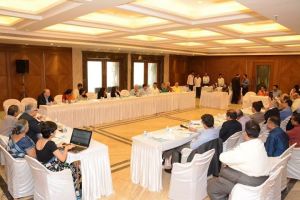 I am going to #BlogToFeedAChild with Akshaya Patra and BlogAdda. This post is for the same.
By: Keyur Seta
Mumbai's Versova locality is a residence for the rich and the super-rich of the city. As the price of a single apartment is easily over Rs 2 crore, it is impossible for the middle-class to reside in this suburban vicinity. This is solely the reason for the area to be home for a large number of film and television artists. Hence, owning a big apartment in this part of the city is proof enough of a family or a person's healthy financial condition.
The same is the case with Dubey's, who lived on the 10th floor of a typical posh Versova tower, overlooking a famous multiplex. With Mr Dubey striking gold in his garment business since more than a decade, his house is blessed with all the luxuries Mrs Dubey could ask for. So it doesn't come as a surprise that the family has maids and servants for every household chore. This ensures that Mrs Dubey can spend her day mostly watching television and socializing while their only child, Rajiv, juggles between school and coaching classes.
On one morning at around 11 am, Devi, their maid, returned with a stock of vegetables for the family. Like her normal routine, she stored them in the fridge. It was like an age old exercise except for the fact that the plastic bag carrying potatoes was torn, which the maid didn't notice before storing. So the main bag, in which Devi carried all vegetables, had few potatoes left.
Around three hours later, Mrs Dubey ventured into the kitchen for her post-lunch fruit session when she noticed few potatoes lying in the bag. Cursing the maid, she decided to put them with the main stock.
Not so far away from Versova falls the locality called Oshivara. There isn't much difference between Versova and Oshivara but for the presence of some shanties in the latter. In one such namesake of a home stayed Shanta with her seven-year-old son Ramesh. Her husband and Ramesh's father passed away few years back after falling prey to alcoholism. Considering their situation and the place they call home, it is needless to say that they literally lived from hand-to-mouth. Plus, Shanta's self-respect doesn't allow her to ask or beg for food from anyone.
Shanta, off late, has been in a dilemma as to whether she should continue sending Ramesh to the government school as her income as a sweeper and through some odd jobs is clearly not sufficient to support the two in today's price-rise era. She is toying with the idea of getting Ramesh employed as a worker in a nearby plywood store. Her idea has created a bad blood between the mother and son as the latter wishes to study.
The tussle between the two reached a new level today. There were literally no vegetables left and there was still time before she got her next payment. On top of that, the vegetable vendor had plainly refused credit any more. This was enough for Shanta to force Ramesh in giving up studies so that he can earn. Although deep inside she didn't like this at all, the thought of starving was too scary for her to ignore.
After a lot of conflict, Shanta announced, "Okay. If we get some food by today evening through some miracle, I will let you continue your school. If God really wants you to study, he will arrange something for our stomach by evening. If not, you should join that store from tomorrow."
Meanwhile, while feasting her eyes on the sunset at Versova beach from Dubey's apartment and at the same time speaking with someone over the phone, the chief maid was waiting for the woman who brings groceries for the family from the market. When the woman arrived, the chief maid signaled her to take the main bag and the money kept in the kitchen, which was the normal practice since months.
When Shanta picked up the main bag, she felt some heaviness. When she peered in she realized there were a few potatoes. She was highly surprised. But soon a wide smile emerged on her face. She recalled how Mrs Dubey had long back handed over few extra vegetables to her. She was sure she had done the same again. Now, she didn't need to drop Ramesh from school.
"God wants Ramesh to continue studying," she happily thought while leaving the house. How would she know that a phone ring had stopped Mrs Dubey for storing those potatoes after which she forgot about it? Few potatoes were no big deal for Mrs Dubey. But for Shanta, they were not only a big deal but a new lease of life.
When an unintentional distribution of food can bring more than a ray of hope, just imagine the positive effect of a small amount of intentional donation by those with surplus wealth. Considering India has 100 billionaires (out of the 2325 worldwide) and many rich and super-rich, it is surely not a big deal for them.
By: Keyur Seta
This post is a part of #WillYouShave activity at BlogAdda in association with Gillette.

My chosen topic: Stories or instances where you missed out on an opportunity because of an ungroomed look.

I have often heard the phrase – Small things matter a lot. But I realized its true meaning only last month on November 22 when I missed out on an opportunity due to my unshaven look. I was quite stunned to see BlogAdda coming up with this activity just after my experience. A huge co-incidence indeed!
I am quite lazy when it comes to shaving. Of course, years back when I had just started, it was an interesting activity. But now it has become boring and time-consuming, so much so that, many a times, I need to play some music while I am shaving. So whenever I need to go out when I haven't shaven for some days, I try giving myself fake assurances that my stubble isn't visible much or I am not going to meet anyone of prominence.
My excuses for not shaving remind me of a play on Einstein titled The EQ, which I saw earlier this year. In a particular scene, Einstein refuses to dress properly. His logic – he doesn't need to dress well for people he doesn't know because they don't matter. He also doesn't need to dress well for the ones he knows since they know him well.
Anyways, luckily, I had never missed out on any opportunity or faced any issue due to my laziness to shave until November 22. It was unlike any other day.
The date happens to be my younger brother's birthday. After we have grown up, our birthday celebrations just include cutting a cake, which would be distributed among family members. Unlike, the old era where guests would turn up and they would be served cake, Rasna orange sherbet and potato chips (this was a fixed menu in many households).
As it was going to be another almost uncelebrated birthday, I didn't shave despite not having done since 5 or more days. But then came Kahani Mein Twist! Few guests turned up all of a sudden. So the casual family cake-cutting got transformed into formal celebration. And when there is a celebration, there has to be photos clicked.
This is where I missed out! It was a voluntary decision to not include myself in the pictures because of my look. For those who don't know, in my Badhti Ka Naam Dadhi look, I look like a terror suspect. Or like a man from the 'Wanted' list inside a police station. I could imagine my brother and father saying – Mere Paas Clean Shaven Look Hai!
After reading the whole post, many of you might say- What's the big deal on missing out? Or you might think – Khoda Pahaad Nikla Chooha! Well, as I am not a student any more, Facebook likes are the only numbers I can flaunt, on which I missed out. After all, Ek Chutki Sindoor Ki Keemat Tum Kya Jano Ramesh Babu?
So from now onwards, I will try to say Sayonara to my laziness for shaving. Kasam Paida Karne Wale Ki!
As a part of the #WillYouShave contest activity, Ankit Jain had tagged me to write a blog post for it.
I would like to tag the following bloggers for the same:
Rahul Prabhakar - When The Muse Strikes
Shwetabh Mathur - Memories
Aseem Rastogi - Transition of Thoughts
Aditya Iyer - The Nameless One
Akash Bagaria - Meandering Through Twilight
Anchit Shethia - Anchit Shethia
Jigish Shah - Jigish Blaze
Shashank Tiwari - Embark With My Thoughts
Manisha Tavate - Creative Strokes
Dr. Sweety Shinde - Impractical Dreamer