By: Keyur Seta
Moviegoers going wild with excitement inside a cinema hall (especially a single screen) is a regular feature in India. Over the years, Rajnikanth and Salman Khan movies have become known for this. However, the excitement during a show of Dilwale Dulhania Le Jayenge during its 1000th week inside Mumbai's Maratha Mandir was something never experienced in any movie ever before.
In fact, I have seen this kind of response from the crowd (consisting people of all age groups) only in a cricket stadium and that too only when Sachin Tendulkar enters and, later, scores a century. In short, one has to experience it to believe it.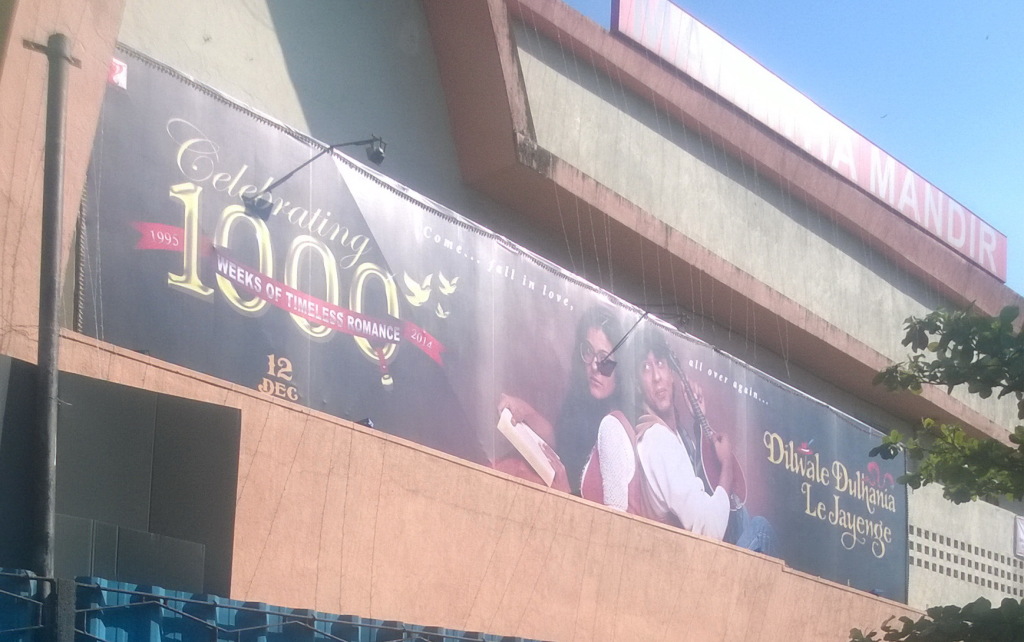 Here is a tour of the experience:
Ticket Queue: As seen in the second picture, there was literally chaos to get a ticket for this film; a film that is 19-year-old. I can't remember when was the last time I witnessed such desperation for a newly-released film. Black marketers were selling Rs 20 ticket for Rs 100 but the fans had no problems with it.
Unthinkable Response: I was naturally expecting regular cheers and whistles during the film. But what actually happened during the screening gave a pleasant shock to me and my brother. The cheering commenced even before the Censor Certificate was shown and continued till the rest of the film. In fact, there was a loud reception not only during Shah Rukh Khan and Kajol's entry scene but also during each and every important dialogue by all actors and also during their important acts. And mind you, majority of the crowd wasn't tapori.
Watch it for yourself in this video if it is difficult to believe. Shot and edited by Fenil Seta.
Non-Stop Clicks: We all must have seen pictures being clicked inside a cinema hall during a movie, but not as much as it happened during this screening. There was continuous clicking from all sides throughout the duration, as if it was a press conference.
The Finale: The ending moments made us feel as if Team India won the World Cup. It is difficult to put it any other way. Just watch the last part of the video and you will realize. As soon as Thakur Baldev Singh (Amrish Puri) left Simran's (Kajol) hand, the audience erupted in the same manner when Mahendra Singh Dhoni hit the winning six during the final of 2011 World Cup.
Given the scenes and the kind of box office response DDLJ is still getting, it is needless to say that the film will continue running for few more years for sure. Also needless to say, this is definitely not my last viewing of it at Maratha Mandir.