The box office prediction of Race 3 will be the talk of the town as the film is now nearing its release. It's another Salman Khan movie that will be releasing on the festival of Eid. Will the actor strike gold yet again at the box office?
A hardcore commercial film starring Salman is naturally expected to become a blockbuster. The same was the case with Race 3 until its trailer was released last week.
To put it simply, the promo hasn't gone down well with the audience at all. In fact, no other trailer of a Hindi film has been trolled this much on social media. It has been five days since it was out but we are continuing to see funny memes (especially of Daisy Shah's 'business') made on it despite other important event like Karnataka Floor Test taking place.
The song 'Heeriye,' which was released a couple of days ago, hasn't helped the cause either. Hence, the trailer and song have wronged all the predictions that were made earlier about the film.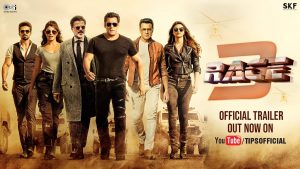 But, although the film is trolled heavily, we can't deny that it is getting all the buzz. Any publicity is good publicity these days. Race 3 is talked about continuously, which will ensure that more people will go to watch it in the opening weekend.
Hence, Race 3 will enjoy good weekend numbers at the box office. It will at least earn Rs 55- to Rs 65 crore in the first three days. It is releasing on a Friday since Eid is on that day. This means that it won't have a long extended weekend like other festival releases.
After the weekend, it will all depend on how the film has been received by the audience. If the content receives thumbs up, it will go onto earn well. If not then we are staring at another Tubelight (2017) or Jai Ho (2014), the only two Salman films that didn't click much at the box office and are considered flops.
But Race 3 will surely reach the Rs 100 crore mark even if it gets a negative response, which the aforementioned films also did. But will this be enough? Certainly not since the film's budget is very high, considering Salman and other actors' fees and the huge scale on which it is shot in foreign locations. Plus, it has numerous action and stunt sequences.
So, the bottom line is that Race 3 needs to impress with its content or face defeat.
P.S: Race 3 has only two weeks to earn as Rajkumar Hirani's Ranbir Kapoor starrer Sanju is releasing on 29 June. The buzz for the film is very positive. Plus, it will be publiziced and marketed heavily next month which might eat into Race 3's buzz.
By: Keyur Seta
In India, it is believed that films for youngsters should have young actors playing modern characters along with other ingredients like romance and songs and dance. Without these elements, a film doesn't get acceptance from the youth.
But rarely we see a film like Umesh Shukla's 102 Not Out, which transcends age groups. The fun element and the emotional message ensure that it's worth watching more than once.
102 Not Out is about Dattatrey Wakharia (Amitabh Bachchan) who is 102 years old man staying in Mumbai. He is energetic and full of life despite his age. But his 75-year-old son Babulal (Rishi Kapoor) is his complete opposite. He is tired of life and has 'accepted' his old age.
Dattatrey tries a trick to ensure his son starts living life in a jovial way. He gets the timely help from Dhiru (Jimit Trivedi), a guy working in a neighbourhood shop. Will they succeed in changing Babulal's perception towards life?
Rajkumar Hirani had once said that he follows a theory that a scene should either make the audience laugh or move them emotionally and this is how he structures his entire film. This is seen in 102 Not Out as well. A large majority of the film is filled with moments that get you in splits regularly.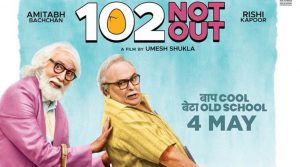 At the same time, it keeps providing emotional doses. Mind you, this is not an tear-jerker in any way. There is a sequence pre-interval where a character goes down memory lane and enjoys the simple joys of life that he used to cherish at one point. This is one of the most delightful moments you would see in a long time. In fact, this part can even be seen separately as a short film.
More importantly, the person going through it might be aged. But it is appealing for anyone having a heart, irrespective of his or her age.
The story of Shukla's much appreciated OMG! Oh My God (2012) changed track in the second half. The narrative does the same in 102 Not Out as well. But like the previous film, it doesn't turn out to be a problem due to the message and the brilliant climax.
On the flipside, there should have been more insight into Bachchan's character. The melodrama in a pre-climax scene should have been reduced. The main conflict constantly reminds you of Bachchan's own Baghban (2003).
There is not much scope for music. But 'Bachche Ki Jaan Lega Kya' turns out to be impressive. The production designer deserves accolades.
102 Not Out has only three main characters and they all rise up to the task. Amitabh Bachchan effortlessly switches between humour and seriousness while showcasing his immense acting prowess. On few occasions though, it seems he tries hard to bring out the specific tone needed for his character.
Rishi Kapoor doesn't get overshadowed by him in any way because of the depth of his character and, of course, his excellent performance. This one has to be one of his best acts. Amidst such powerful performers, Jimit Trivedi leaves behind a terrific impact despite being a debutant. He succeeds in building a rapport with both characters.
Overall: 102 Not Out is a delightfully moving saga that is worth experiencing for people of all ages.
Rating: 4/5
Review by: Keyur Seta
Director: Umesh Shukla
Producers: Treetop Entertainment, Sony Pictures and Benchmark Pictures
Writers: Saumya Joshi and Vishal V Patil
Cast: Amitabh Bachchan, Rishi Kapoor, Jimit Trivedi
Music: Salim-Sulaiman
Genre: Drama
Runtime: 102 minutes