The box office prediction of Race 3 will be the talk of the town as the film is now nearing its release. It's another Salman Khan movie that will be releasing on the festival of Eid. Will the actor strike gold yet again at the box office?
A hardcore commercial film starring Salman is naturally expected to become a blockbuster. The same was the case with Race 3 until its trailer was released last week.
To put it simply, the promo hasn't gone down well with the audience at all. In fact, no other trailer of a Hindi film has been trolled this much on social media. It has been five days since it was out but we are continuing to see funny memes (especially of Daisy Shah's 'business') made on it despite other important event like Karnataka Floor Test taking place.
The song 'Heeriye,' which was released a couple of days ago, hasn't helped the cause either. Hence, the trailer and song have wronged all the predictions that were made earlier about the film.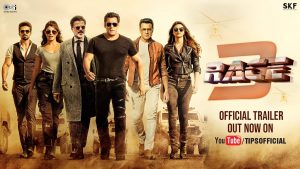 But, although the film is trolled heavily, we can't deny that it is getting all the buzz. Any publicity is good publicity these days. Race 3 is talked about continuously, which will ensure that more people will go to watch it in the opening weekend.
Hence, Race 3 will enjoy good weekend numbers at the box office. It will at least earn Rs 55- to Rs 65 crore in the first three days. It is releasing on a Friday since Eid is on that day. This means that it won't have a long extended weekend like other festival releases.
After the weekend, it will all depend on how the film has been received by the audience. If the content receives thumbs up, it will go onto earn well. If not then we are staring at another Tubelight (2017) or Jai Ho (2014), the only two Salman films that didn't click much at the box office and are considered flops.
But Race 3 will surely reach the Rs 100 crore mark even if it gets a negative response, which the aforementioned films also did. But will this be enough? Certainly not since the film's budget is very high, considering Salman and other actors' fees and the huge scale on which it is shot in foreign locations. Plus, it has numerous action and stunt sequences.
So, the bottom line is that Race 3 needs to impress with its content or face defeat.
P.S: Race 3 has only two weeks to earn as Rajkumar Hirani's Ranbir Kapoor starrer Sanju is releasing on 29 June. The buzz for the film is very positive. Plus, it will be publiziced and marketed heavily next month which might eat into Race 3's buzz.
By: Keyur Seta