As Hrithik Roshan's romantic action Bang Bang and Shahid Kapoor's dark thriller Haider are about to clash at the box office, let's have a look as at who will outperform another.
By: Keyur Seta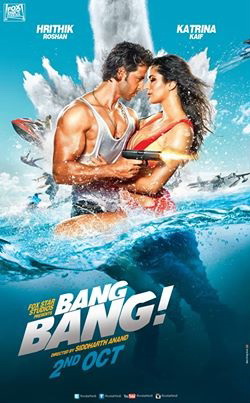 It is believed that of all Hindi films released in a year, more than 90% fail to taste success at the box office. So, naturally, more than one film emerging victorious at the ticket window is a very rare occurrence. But this week, starting October 2, we might well see that incident when Siddharth Anand's Bang Bang starring Hrithik Roshan and Katrina Kaif and Haider starring Shahid Kapoor, Tabu, Kay Kay Menon and Shraddha Kapoor will clash at the box office.
One can't deny that it would have been much more profitable for both films if the clash would have been avoided. But thankfully, there is enough hype for both for its respective producers to smile all the way to the bank. The pairing of Hrithik and Katrina along with their star value, promos and songs are have nailed it for Bang Bang. On the other hand, Haider has gained from the dark but exciting trailer, Shahid's two starkly different avatars, Bhardwaj's stamp and the fact that it is his yet another film based on Shakespeare's tale; this time Hamlet.
But which film will score over another?
As far as my prediction goes, Bang Bang will surely cross Haider as far as box office numbers are concerned. Its hype among the youth is such that even if, God forbid, the film turns out to be disappointing, it will still emerge victorious at the box office. Of course, if the initial response turns out to be tremendous, it might well go on to reach the magic figure of Rs 150 crore.
Haider, however, doesn't have that advantage. Although there is no denying that the film is looked forward by a large number of people, it relies heavily on the content to make a mark at the ticket window simply because it is not as commercial as the other release. It will surely get a good opening but to sustain at the box office in the long run, its content needs a thumbs-up from the audience.
Note: We can't judge one film over another by the total number of crores earned because Bang Bang is getting a much, much wider release than Haider. Only by judging the performance of each film individually along with its number of screens can we derive at a conclusion.