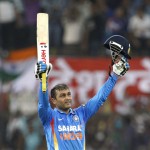 Just when I was thinking Virendra Sehwag is getting into a poor run of form, the Nawab Of Najafgar surprises me and the country in a humongous and a delightful manner by smashing 291 runs against the West Indies in the fourth one-day international at Inodore on December 8, 2011.
Hearty Congratulations to Viru for being just the second batsman in the world to cross the 200 mark in ODIs and, more importantly, for scoring the highest score ever in ODIs.
Let's re-visit the highlights of the innings: (Article continued after video)
In the modern era of cricket, numerous batsmen have reached huge scores of 170 plus in limited overs cricket. So, I just thought of rating the top 10 high scores in ODIs. The rankings are not based on the highest number of runs but by taking into account the bowling attack of the opposition and the conditions as well.
Here are the top 10 high scores in ODIs: -
10. Shane Watson – 185* (96) vs Bangladesh in 2011 at Dhaka: 185 is huge but I am putting it on number 10 because Bangladesh's weak bowling attack and also because Watson was dropped once. And if you notice the innings carefully, Watson's 7-8 sixes were played with the same sweep shot against two left arm spinners with identical actions.
9. Gary Kirsten – 188* (159) vs UAE at Rawalpindi in 1996 at Rawalpindi: Kirsten played some delightful shots in his innings but the reason for me rating it on number 9 is that the bowling attack of UAE was just like their team – minnow! Plus, it was a flat batting track and there was no pressure at all on the former Indian coach.
8. Charles Coventry – 194* (156) vs Bangladesh in 2009 at Bulawayo: It's a big thing for a Zimbabwean to score such a mammoth score even if it is against a weak bowling attack like Bangladesh.
7. Sachin Tendulkar - 186 not out (150) vs New Zealand in 1999 at Hyderabad: Tendulkar along with Dravid set the Hyderabad stadium on fire on a belter of a wicket with a very fast outfield.
6. Mahendra Singh Dhoni – 183 not out (145) vs Sri Lanka in 2005 at Jaipur: Rating this one higher than Tendulkar's innings as Sri Lanka's bowling line-up being much stronger. Plus, Dhoni was a newbie when he achieved this score.
5. Saeed Anwar – 194 (146) vs India in 1997 at Chennai: Anwar rose to the occasion in semi-final-like match of the Independence Cup against arch rivals Indians and played some outstanding shots. Yet, I am putting on number 5 for the simple reason that Anwar scored 120 out of the 194 runs with the help of a runner (Shahid Afridi). Fatigue plays an important obstacle in such long innings and Anwar hardly experienced it that day!
4. Virendra Sehwag – 219 (149) vs West Indies in 2011 at Indore: Sehwag's fans might hate me for this but still I will put it on number 4 as Sehwag got two chances (one run-out and one dropped catch). Needless to say, West Indies' bowling attack was non-threatening.
3. Sanath Jayasuriya – 189 (170) vs India in 2000 at Sharjah: Jayasuriya loved playing against India and on this particular day, his love was the deepest. The Sharjah crowd was in for some treat as Jayasuriya played his trademark shots all over the park.
2. Vivian Richards – 189* (170) vs England in 1984 at Manchester: The England bowling attack of the 80s was a deadly one due to the likes of Ian Botham, Bob Willis and Derek Pringle to name a few. Due to this very reason, the innings by Richards deserves a high place.
1. Two entries: -
i) Sachin Tendulkar – 200* (147) vs South Africa in 2010 at Gwalior: South Africa had one of the decent bowling line-ups in the world at that time with bowlers like Dale Steyn, Charl Langeveldt, Jaques Kallis, etc. But a big reason why I am ranking this as number 1 is simply because of the huge expectation that Sachin carries when he goes out to bat. Just imagine the anticipation for a double century once he crossed 150!
ii) Kapil Dev – 175* (138) vs Zimbabwe in 1983 at Turnbridge Wells: This truly great innings failed to grab much of a limelight for the simple reason that the match wasn't telecast! However, there are solid reasons why this knock deserves a rating of one. India were almost out of the match at 17 for 5 when Kapil arrived at the crease. To get the team out of such a deep hole required a miracle and scoring 175 not out after coming in at such a time is miraculous! Plus, the match was like a quarter final for India. If India had lost this one, we could never have won the 1983 World Cup!