Let me get this straight. The motto of this article is not to defend Hardik Pandya or the comments made by him on Koffee With Karan. I personally found them not only disgusting but also worrying; thinking how many more people would be out there with such cheap mindset towards women.
But there are few things that I find too weird, which hardly have been pointed out ever since the controversy erupted.
1. K L Rahul is needlessly punished for no fault of his. It was Pandya who made all the misogynistic comments on the show. Rahul is no way responsible for what his partner on the show said. On a lighter note, he has become the Fardeen Khan of No Entry (2005).
2. If it is bad to make such comments, it should also be equally offensive to laugh and enjoy them. This is exactly what Karan Johar did as a host. But nobody is lashing out against him. How enjoying such comments is not offensive but just being a co-guest is?
3. Most importantly, some of our politicians and people from the government have openly verbally attacked women through the most disgusting statements you can come across. However, they are spared of such 24/7 hatred and innumerable articles.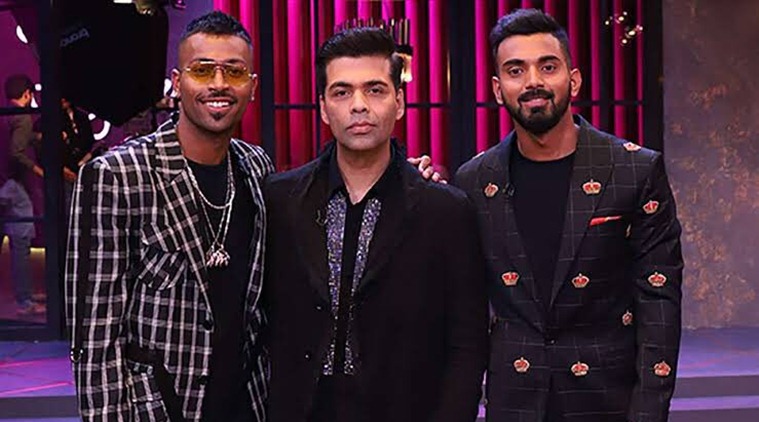 Actually, they should receive more backslash since they have been given the responsibility to govern and protect us. How people don't get so offended or worried when an elected representative makes such statements is beyond me.
Have a look at the following statements and decide for yourself:
"I am also a goonda. I will shoot you guys if a Trinamool Congress worker is ever attacked. If you have the guts, then stop me. If you insult the mothers and daughters of Trinamool workers, I won't spare you. I will let loose my boys in your homes and they will commit rape." – TMC leader Tapas Pal slamming the CPI.
"If they (girls) want freedom, why don't they just roam around naked?" – Haryana Chief Minister from BJP Manohar Lal Khattar
"Boys are boys. Mistakes happen." – Samajwadi Party Chief Mulayam Singh Yadav on increasing number of rapes
"She is 100% 'tunch maal.'" – Congress leader Digvijay Singh on a female party member
"Have you ever seen a girlfriend worth Rs 50 crore?"- India's Prime Minister, Narendra Modi while describing the late Sunanda Pushkar
"These days it has become a fashion to have a girlfriend or boyfriend. A girl should go out only with her brother or husband." – Samajwadi Party leader Abu Azmi
Ask yourself, was there even 20% of outrage for any of these comments like it has been for Pandya's? Are a cricketer's comments more worrying or the ones made by people who are responsible for women safety?
By: Keyur Seta
Debutant director Vijay Ratnakar Gutte's The Accidental Prime Minister is based on the book of the same name by Sanjaya Baru. The author was the media adviser of Dr Manmohan Singh, India's former Prime Minister.
The film mainly focuses on how Singh (played by Anupam Kher) was 'remote controlled' by the then Congress party President Sonia Gandhi during his tenure as the PM from 2004 to 2014.
The big question before and after the release is not whether the film does justice to the book. The curiosity is about whether the film is a propaganda machine against the Congress and in favour of the ruling BJP (Bharatiya Janata Party).
There is absolutely no doubt that it is indeed that, as suggested by the trailers. But this is not the problem with the film. I personally believe that anyone has a right to make a film on any subject while advocating any ideology. It should be left to the audience to decide what to accept and what not to.
The problem with The Accidental Prime Minister is that it makes the propaganda look too obvious and in-your-face throughout.
Even if the creative minds behind the film hate people like Sonia Gandhi and Rahul Gandhi, they should do justice with the characters. Even the cruellest of villains deserves to be portrayed in a believable way.
Over here Sonia (Suzanne Bernert) and Rahul (Arjun Mathur) are nothing more than caricatures. The former, especially, reminds you of the amateurish performances seen in stand-up comedy shows. Surprisingly, even BJP leaders Atal Bihari Vajpayee (Ram Avtar), India's ex-Prime Minister, Lal Krishna Advani are not spared from being caricaturish. Priyanka Gandhi (Aahana Kumra) is the only believable real character.
The other motto of The Accidental Prime Minister was to show Singh as a pawn and a victim of party politics. Kher does fairly well but tries too hard to present Singh as a bechara, both in terms of the physical attributes and the voice. His manner of moving his hands while walking is a put off.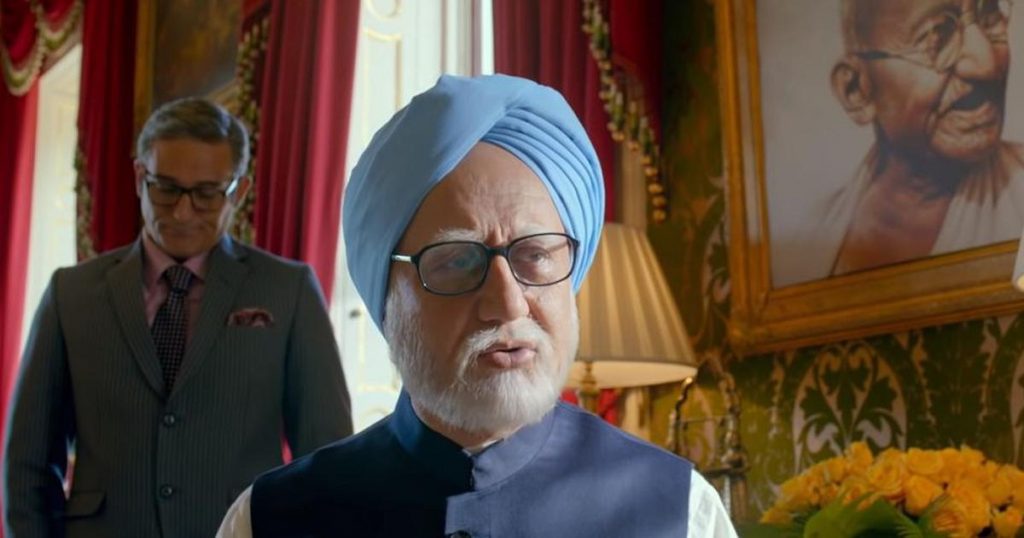 During one of the interviews for the film, the director said that they have 'added' scenes to link one incident from the book to another in situations where Baru couldn't have been present. But some conversations in these scenes are difficult to believe.
For example, once Rahul speaks to Sonia in Italian in front of their senior party members. This instantly reminds you of the old 'Italian' jibe at the mother-son duo by BJP leaders. And why will be do that in front of others? Similarly, Kapil Sibal's press conference where he denies the Coalgate scam appears unintentionally hilarious.
The disclaimer at the start states that the film is made purely to entertain. However, the aforementioned points ensure that even if you wish to look at the film just as a film you can't because the makers have gone overboard in advocating their political narrative. Featuring heroic real speeches of India's current Prime Minister Narendra Modi doesn't help either.
This is where Madhur Bhandarkar's Indu Sarkar (2017) differed. It made its stand clear against the Congress party but didn't go overboard in proving the same.
The Accidental Prime Minister does have something for those who are deeply knowledgeable in the politics of that period. But this remains mostly in the first half. The post-interval portion suffers from a disjointed screenplay. As a viewer, at times you don't realize which year is going on.
Amid all this, the only silver lining is Akshaye Khanna's performance as Sanjaya Baru. He comes up with one of his finest acts while playing a character that offers a lot of scope. He ensures that your interest is maintained even when The Accidental Prime Minister keeps meeting with accidents.
Rating: 2 out of 5
Review by: Keyur Seta
Director: Vijay Ratnakar Gutte
Producers: Pen Movies and Bohra Brothers
Writers: Mayank Tewaari, Vijay Ratnakar Gutte, Karl Dunner and Aditya Sinha
Cast: Anupam Kher, Akshaye Khanna, Suzanne Bernert, Arjun Mathur
Genre: Political Drama
Runtime: 150 minutes
The end of last year saw an impressive biopic on Marathi theatre's superstar Kashinath Ghanekar in the form of Ani… Dr Kashinath Ghanekar (2018). Less than two months later, the life of Purushottam Laxman Deshpande, one of Maharashtra's most loved personalities, is portrayed on screen through Mahesh Manjrekar's Bhaai: Vyakti Ki Valli.
Although both films are about the life of a yesteryear artist from Maharashtra, they are hugely different simply because of the vast dissimilarities between the two personalities.
Bhaai: Vyakti Ki Valli is the first of the two part films that traces the life of Purushottam Laxman Deshpande aka Pu La Deshpande aka Bhaai. Born in 1919, he (Sagar Deshmukh) was a multi-talented personality. Although he was mostly known as a legendary humourist, he also excelled as a music composer, singer, theatre and film actor and script writer. Despite becoming a lawyer, Deshpande was always inclined towards music, theatre and literature.
He marries Sundar (Mrunmayee Deshpande) as his late father (Sachin Khedekar) had promised her father of the same. Unfortunately, she dies just a week after their marriage. He then finds love in the school teacher Sunita Thakur (Iravati Harshe) while being employed in the same school. How Deshpande follows his dreams with Sunita's support forms the rest of the film.
Bhaai focuses on Pu La's personal life (maybe the second part will feature more on his career). It follows a light-hearted and humorous method of storytelling, which is a reflection of Pu La's character and literary works. His real-life incidents are interesting enough to be told in a movie form in 119 minutes.
During this duration, important personalities and incidents are recreated albeit with creative liberty. It is a delight to see the likes of Bhimsen Joshi (Ajay Purkar), G D Madgulkar (Sagar Talshikar), Kumar Gandharva (Swanand Kirkire) and Vasantrao Deshpande (Padmanabh Bind) together with Deshpande in the golden era. But one appearance that takes you by pleasant surprise is the child version of Bal Thackeray.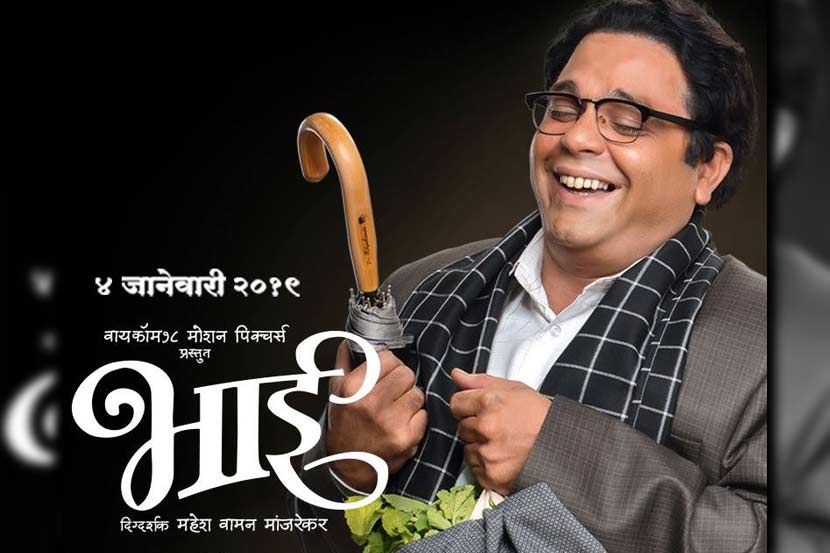 This is a film where there is a lot of onus on the writing. Ganesh Matkari's screenplay is fast paced and well-knitted. You get no time to think. Ratnakar Matkari has ensured that the dialogues are not only humorous but they play a role in making the character of Pu La believable.
Bhaai is very much in the Harishchandrachi Factory (2010) zone. That film was also a light-hearted affair about a late celebrated artist (Dadasaheb Phalke). The major difference is that the 2010 movie only focussed on Phalke's work-related goal (to make India's first motion picture), which also provided with conflict.
This clearly isn't the case with Bhaai. In fact, it won't be wrong to state that the film challenges conventional storytelling by not aiming at any specific goal of the protagonist and not relying on any major conflict (although there are a few conflict elements) to keep you hooked. The effect of the content is ably complemented by Manjrekar's presentation, which is way different from his other films.
However, the simplistic mood should have been done away during the climax. It would have been better if the first part had ended with some dramatic moment instead of a song. Nevertheless the incredible track 'Kanada Raja Pandharicha' does ensure that you move out with a smile.
Despite the content, a lot relied on Sagar Deshmukh's performance as Pu La in creating the overall effect. To put it simply, he has literally lived the happy-go-lucky character of the late great. He makes sure that he appears likeable even when he acts being immature or a bit irresponsible.
Iravati Harshe has been giving commendable performances in the last few years. She has continued her good work here too by fitting in perfectly as an independent woman. The film has quality supporting acts and cameos from a lot list of actors including Ashwini Giri, Purkar, Talshikar, Bind, Kirkire, Sachin Khedekar, Hrishikesh Joshi, Mrunmayee Deshpande and others.
Overall: Bhaai: Vyakti Ki Valli Purvardh (Part 1) is a biopic that will leave you delighted even in case you don't know anything about Pu La Deshpande.
Rating: 4 out of 5
Review by: Keyur Seta
Director: Mahesh Manjrekar
Producers: Viacom 18 Motion Pictures and Mahesh Manjrekar Movies
Writers: Ganesh Matkari and Ratnakar Matkari
Cast: Sagar Deshmukh, Iravati Harshe, Ashwini Giri
Music: Ajit Parab
Genre: Biopic/ Drama
Duration: 119 minutes