Director Abhijit Panse's Thackeray, the biopic on the late Shiv Sena supremo Bal Thackeray, is garnering various reactions from the audience and critics. But here is an attempt to read between the lines of the film's content with retrospect to the current political stand of Shiv Sena.
Thackeray shows the supremo's journey from his early days as a cartoonist. From that time itself he was a staunch opponent of the Congress. As an artist and a politician, Thackeray was never known to mince his words or sketches against anyone, including Congress and its leaders.
But surprisingly, the movie doesn't feature Thackeray's hatred for Congress through any of his speeches or conversations. Of course, Shiv Sena's protest against the then deputy Prime Minister Morarji Desai gets a good footage. But that was a key incident, so that couldn't have been skipped. Other than that, Thackeray isn't shown speaking or acting against Congress.
The 1995 Maharashtra Assembly Elections were the first time that Shiv Sena came to power through a coalition with Bharatiya Janata Party (BJP). The mammoth task of the coalition was to defeat Congress for the first time. So, it is obvious that speaking against your main opponent becomes your important task.
But that is not shown in Thackeray. Surprisingly, Shiv Sena's road to the 1995 State Elections, which was their first major success, is hardly given any importance. Without showing any moment of their journey till the results, we are abruptly shown a scene of Shiv Sena workers celebrating the victory.
One of the highlights of Thackeray's career was his fiery speeches at Shivaji Park, which were keenly awaited by his supporters as well as opponents. But strangely, the film doesn't feature any of his speeches. Most of his speeches always targeted Congress. Was this the reason to omit it?
One might argue that the makers wanted to play safe. But it is not possible to buy this argument for a film that openly speaks about the party's role in the demolition of the Babri Masjid in 1992.
Now, let us see why such soft stand against Congress gets more interesting. Since recent times, senior Shiv Sena leader Sanjay Raut, who is also the film's producer and story writer, has been showering praises at Congress, the Gandhi family and its President Rahul Gandhi, of all people.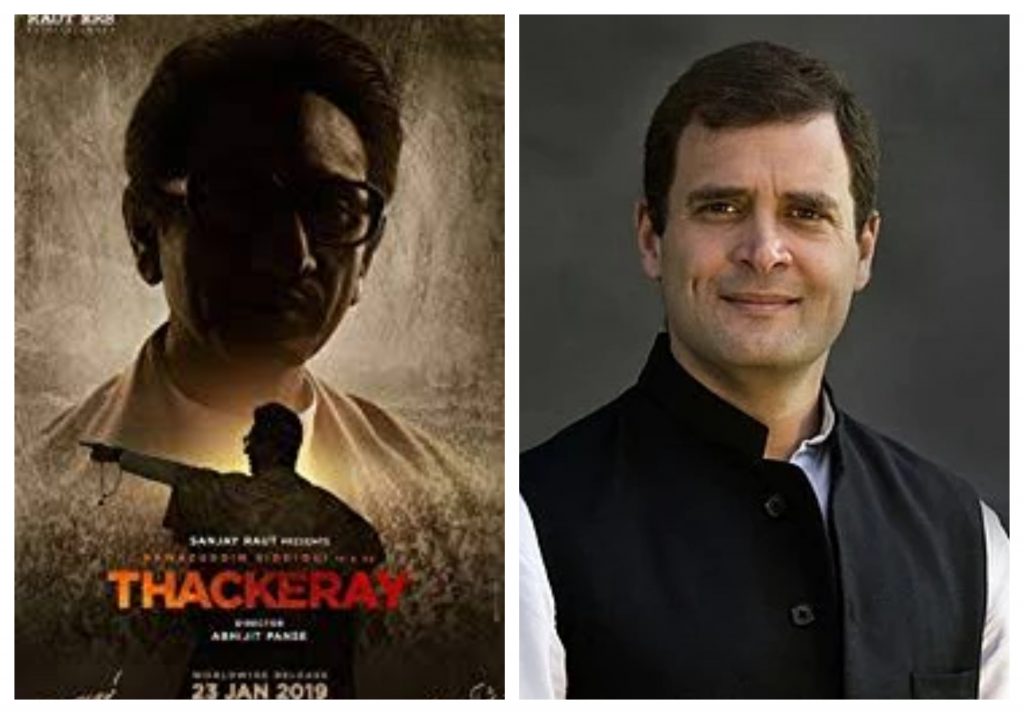 Less than a week ago, Raut said, "Rahul Gandhi has always been mocked. But we cannot forget the sacrifices made by the Gandhi family for the country. If you do not agree with his policies, then criticise him, but do not make personal attacks. Personally, I am against this type of politics. He has never given false promises." (Read the whole statement HERE)
Priyanka Gandhi's decision to enter active politics few days ago met with sarcastic jibes from the opposition. But Raut had other views. Speaking about the decision, he said, "It's a good decision by Rahul Gandhi. The people of India have always had a relationship with the Gandhi family. Indira Gandhi's legacy will always remain strong in this country, Congress will benefit from this." (Read the whole statement HERE).
The praise for Rahul started last year when Congress lost the Gujarat state elections to BJP after giving a tough fight. Shiv Sena's mouthpiece Saamna hailed Rahul for being 'Baazigar' (indicating that he lost elections but won hearts). These are just few examples though.
For those not in the know, Shiv Sena has been throwing a volley of attacks against BJP, their ally both in state and centre, in recent years. In words one would only use for the opponents.
I have come across people and articles claiming that it was Congress that provided massive secret support to Shiv Sena during its early days so that the latter would help wipe out communists from Mumbai (then Bombay). But Shiv Sena leaders have never been comfortable with this question.
However, Thackeray, the film, shows no qualms in showing this relationship between Shiv Sena and Congress.
So, is the party paying back to the Congress for their initial help going by the recent heavy praise? Or is it just to score brownie points against your ally-cum-enemy BJP? And did we see a glimpse of it in the movie?
By: Keyur Seta