The definition of 'Blockbuster' has changed over the years. Earlier, blockbuster was a movie which succeeded in satisfying a large majority of its viewers. But in recent times, definition of superhit or blockbuster is reduced to a movie which makes huge profits in its initial weekend regardless whether it managed to impress a good part of the audience.
In other words, when a film gets a tremendous opening, it only means that a large section of audience went to see the film. Nothing more than this. It doesn't necessarily mean that majority of audience had a good time.
Shah Rukh Khan's Ra.One is the latest example of such a blockbuster. The movie has garnered a mammoth Rs 22 crore and Rs 25 crore on its opening and second day respectively. It has defeated Salman Khan's Bodyguard (which earned Rs 21 crore on opening day) and has thus achieved the record of highest opening ever in Bollywood! Hence, one shouldn't be surprised if the collections continue to be high till the end of the weekend.
But the big question is – Did it succeed in making most of the viewers happy? Judging by the numerous comments I have heard and read on social media (Facebook and Twitter), the answer is surely in the negative. The same happened with Salman Khan's Bodyguard and various other films in recent times. So, what is the use of a blockbuster which only satisfies its producers monetarily?
Well, our big producers aren't concerned about this. They seem to be following this formula – get a big star on board, spend huge amount in production, throw in mind-blowing visuals or clap-worthy scenes, create a super-impressive promo, promote your movie as if your life depends on it, book almost every theatre or multiplex and enjoy the returns in the first weekend.
Audiences' satisfaction doesn't matter as long as they can flaunt their opening collections! This is because they are sure the same audience will get excited and queue up to watch the next big movie of their favorite star!
By doing this, we will surely get huge money-minters but there will be dearth of movies which touch your heart, movies which are remembered for decades. Being creators of cinema, producers and directors should ask themselves whether making money is their only motto or are they also concerned about winning audience's hearts. Their answer will determine the future of Bollywood movies.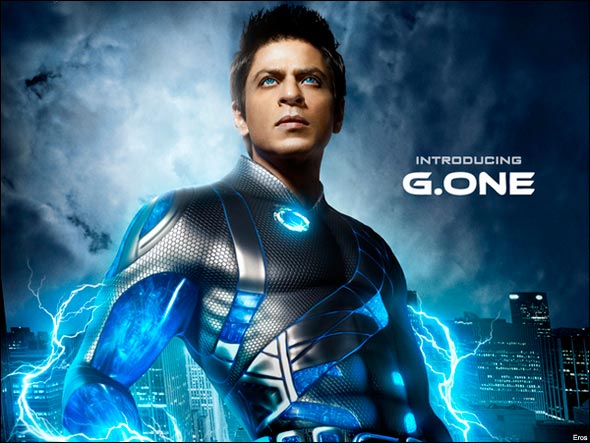 There is a growing feeling amongst a section of the public that Anna Hazare's anti-corruption movement for the Jan Lokpal Bill has fizzled out. From friends and well-wishers, I have been regularly hearing comments like, "Anna Hazare ka movement thode din chala. Lekin kya faayda hua? Wapas sab thanda pad gaya!"
First of all, let me get this clear – Just because we are not on roads protesting, it doesn't mean the movement is all over. Anna and his team are still striving to get the Jan Lokpal Bill passed. They are still away from their homes and personal lives while bearing atrocities of the government.
Most importantly, the large majority of the general public, who actively took part in the protests, is still following every detail of the movement. Just visit any Jan Lokpal or Anna Hazare group on Facebook and Twitter, look at the number of enthusiastic comments to know the truth.
Like Arvind Kejriwal said in his latest statement that the government is doing every bit to shift the focus from passing the Bill by accusing Team Anna members of something or the other almost every week. They are bringing up issues which are of no relevance to the cause of Jan Lokpal. I salute Kejriwal when he said the government should give them the strictest of punishment if they feel they are guilty but let the Jan Lokpal Bill pass.
Accordng to him, the next protest will start soon and it will be bigger than before! Indeed it will be!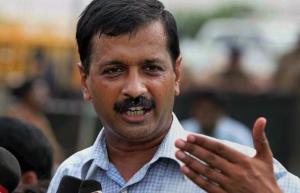 Direction: Anubhav Sinha
Production: Red Chillies Entertainment, Eros International
Cast: Shah Rukh Khan, Arjun Rampal, Kareena Kapoor, Shahana Goswami, Rajnikanth
Music: Vishal-Shekhar
Rating: * ½
Plot: A video game programmer Shekhar Subramanian (Shah Rukh Khan) loves his wife Sonia (Kareena Kapoor) but struggles to keep his son Prateek (Armaan Verma) happy. One day, Prateek says he wants a video game where the villain turns victorious. Eager to make his son happy, Shekhar creates such a game called Ra.One. However, this proves to be too costly for Shekhar as Ra.One (Arjun Rampal) comes out of the game and creates havoc in the human world. The only person who can defeat him is the good guy of the video game G.One (Shah Rukh Khan).
G.One (life)-less!
No matter how bigger amount you shell out to make a film, it is of no use if you don't have a proper story or script. The same is the case with Anubhav Sinha's Ra.One, which is born out of a meaningless concept and on top of that, treated in a shoddy manner. At the end of the day, it's turns out to be an exhibition of special effects which go way overboard!
The movie starts with a bang but the bang turns out to be a dream sequence. Light moments follow in the next 30-40 minutes consisting cheap humour which hardly makes you giggle. Scenes like keys falling into a girl's bosom, butt-shaking, ass words, a homosexual getting turned on and regular mention of condoms are difficult to digest in a movie which is being promoted as a family entertainer.
Thankfully, proceedings gain momentum once Ra.One comes out of the video game. However, there is no reason or explanation given as to how he entered the real world. And more importantly, how can a video game character derive such superpowers? And despite these powers, he is shown helpless without a vehicle when he chases Kareena and Armaan!
A very strange thing that deserves mention is Kareena and Armaan's response to a shattering tragedy (can't reveal much) in the first half. They react as if it's a regular thing for them!
Anyways, then comes the dhamakedar interval point which raises your expectations. Unfortunately, the pace goes downhill from here on with more uninteresting humour and songs that only act as obstacles. Although Rajnikanth's entry garners plenty of seetis, the scene is sloppily forced and serves no purpose whatsoever! Similar can be said for Sanjay Dutt and Priyanka Chopra's guest appearances.
Finally, the big battle between Ra.One and G.One begins which starts with a terrific train sequence. But even that goes overboard after it destroys the heritage building of Chatrapati Shivaji Terminus. (As a true Mumbaikar, I was offended!)
The climax, which should be the most defining moment, is far from convincing and fails to provide the punch which was expected. It's just laughable to see how easily the villain is defeated! And by the way, what kind of digital Azad Maidan was it? Sadly, the flaws are not limited to these!
One of the few plus points is Nicola Pecorini's cinematography. But the high definition special effects, which are never seen before in Indian cinema, take the cake in the end.
Composer duo Vishal-Shekhar has done a fair job although there isn't much scope for music. Songs 'Raftare' and 'Chammak Challo' stand out.
Sinha's direction is strictly okay. We are often reminded of his last outing Cash (2007) which was a disaster.
Shah Rukh Khan plays two characters – one of an unimpressive father and the other of a superhero. In the first one, he tries too hard to be funny and convincing. As a superhero, he is just likable but one certainly expects a much better show by the King Khan. Excuse me, but his growing age is also clearly visible.
The movie is named after Arjun Rampal's character but the length of his role is surprisingly short. As it is, he fails to impress with his expressionless acts although he says he was told to do so.
Kareena Kapoor, although not at her best, does a fair job and looks ravishing. The kid Armaan Verma is confident and adorable. But why such long hair for him, which makes him appear like a girl all the time?
Shahana Goswami shows her talent in a miniature role. One expects her to do play much meatier characters. Good performers like Dalip Tahil, Suresh Menon and Satish Shah are simply wasted. Tom Wu is a surprise package which works well.
Overall, Ra.One fails primarily due to the missing of the basic factor – meaningful story – and abuse of special effects. But thanks to SRK's crazy promotion, it will garner huge collections at the box-office. There have been few films in recent years which have tasted enormous success at the box-office but failed to impress a large majority of viewers. Add Ra.One's name in the list.
Ever since the fifth season of the TV game show Kaun Banega Crorepati commenced, the big question that was doing the rounds was whether anyone is intelligent enough to win the grand Rs 5 crore on the show. Well, finally, a contestant named Sushil Kumar has managed to do the near impossible by winning the biggest prize on KBC ever!
His feat brings back memories of Mumbai's Harshwardhan Navathe who became the first contestant ever to win Rs 1 crore on the show.
Fresh news has just come in from sources who attended the shoot of the show today. According to them, Kumar, a contestant from Bihar shocked everyone with his intelligence and guts by snatching the biggest prize money ever on the show. Needless to say, host Amitabh Bachchan and the audience were exhilarated!
The episode will be aired on Novemver 2, 2011. Tune in to Kaun Banega Crorepati to witness history.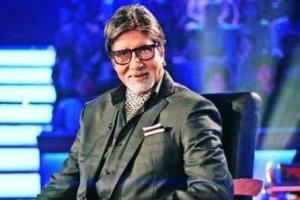 By: Keyur Seta
The fact that Diwali is nearing was felt yesterday not because of the excitement for the festival but due to the irritation in breathing caused by the smoke that erupted from the firecrackers. The scene is the same in every locality in India. The presence of light in Diwali is overshadowed by the shoddy smell of the harmful smoke and the unbearable sound of crackers.
People in India are well aware of the terrible effects of firecrackers both to the environment and health. Yet, turning a blind eye, parents are encouraging their children to burst crackers by spending thousands on them.  Are they so unconcerned about the hazards of crackers or plain dumb? For people from both categories, here are the ill-effects of crackers: - (I know this is like school stuff but these people have left me with no other option!)
Air-Pollution: Even during non-Diwali time, pollution is on an all-time high with smog (smoke + fog) visible almost everywhere. So, it is shuddering to even imagine the level of pollution during Diwali with lakhs of people indulging in firecrackers! Global Warming is becoming a bigger threat day-by-day. If this still doesn't concern you, may God bless you!
Health Hazards: As it is, the health scenario in Mumbai is becoming poorer each year. Number of Asthama and cardiac (heart) patients are continuing to increase. Headache and cough have become a daily affair for many. Wouldn't such a high increase of harmful smoke during Diwali worsen the situation? Just imagine the state of cardiac and asthama patients when they are forced to inhale the poisonous smoke!
Noise Effect: What pleasure do people derive with the maddening noise of such high decibel crackers? I read about a man dying because of heart attack caused due to the ridiculously high noise of a cracker! There could be many more such cases!
Hell for Animals: For animals, the situation is even worse. The noise and pollution can be hell for them as it also creates high amount of panic amongst them. Spare a thought for the poor creatures!
If you are eager to burst crackers even after knowing the terrible consequences, please go ahead! You are a part of population so it will naturally affect you as well! Happy Diwali!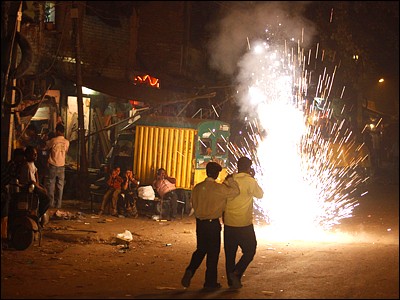 We always look forward to meet our friends or near and dear ones. But on October 15, 2011, I was super excited to meet… a big group of strangers. It was the yearly Indiblogger meet at Mumbai's R K Studios where bloggers from all over the city had assembled. The meet was organized by the food television show MasterChef India 2, which goes on air from October 22.
I use the word strangers since before the meet; I hadn't interacted with a single blogger from Indiblogger, although many of them regularly vote for my posts and vice versa.
As I entered the venue, I felt similar to what a child feels when he visits an amusement park for the first time. Although I was seated alone, I still felt entertained due to the occasion. I was in awe of the magnificent interiors of the sets.
One of the organizers then asked me to join a group of bloggers as he was disheartened to see me sitting alone. Few minutes of interaction with fellow bloggers was enough for me to realize that people around me aren't strangers at all!
(Article continued after the picture)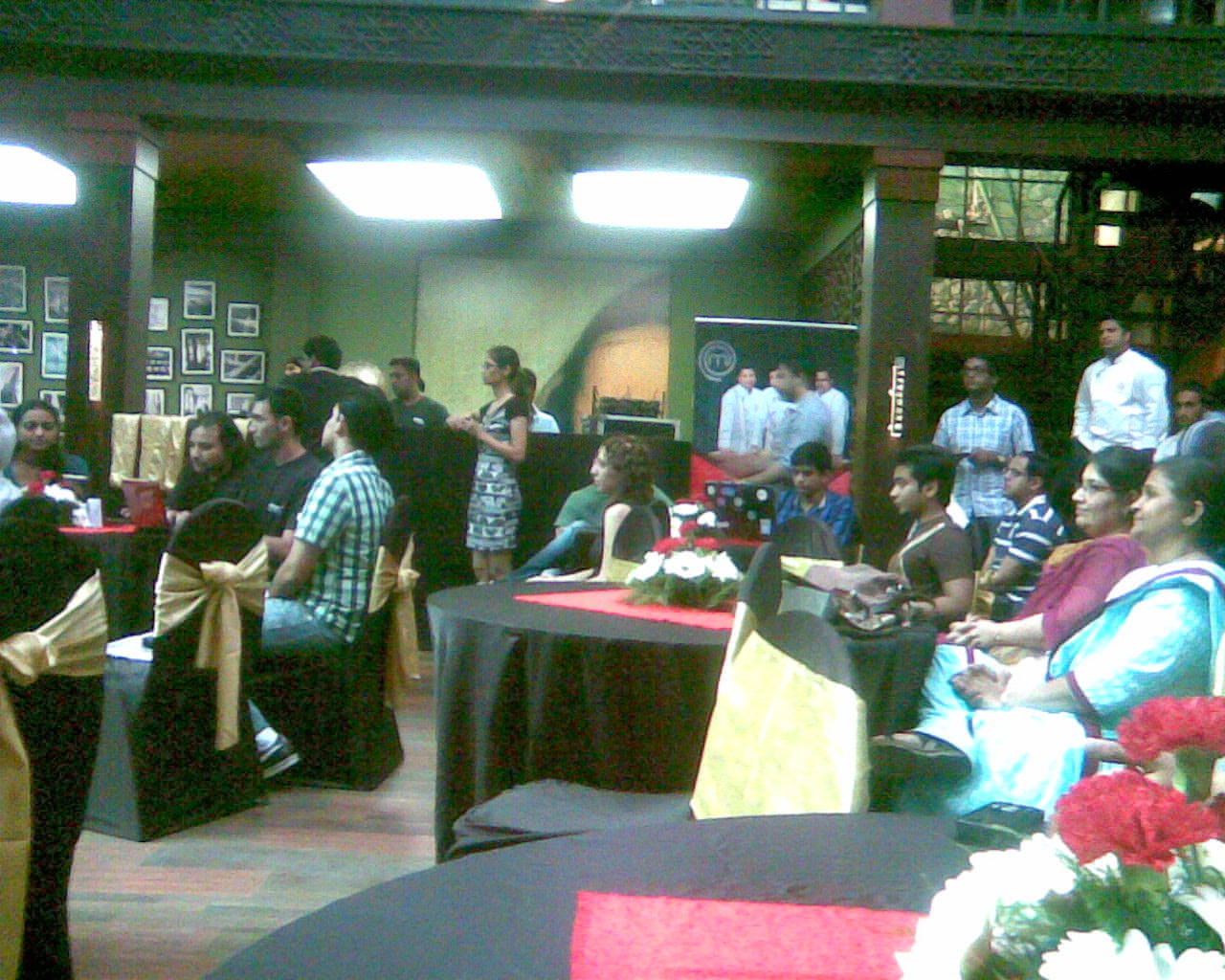 Soon, the event got under way. The host started distributing prizes (aprons) as wholeheartedly as throwing grams to pigeons (pun intended). This was followed by the introductory round where each one of us had to speak about themselves and their blog. This produced plenty of butterflies in my stomach as I am pathetic in public speaking. I just lack the confidence.
It was heartwarming to hear people speak about their blog and their reason for blogging. I suddenly started feeling bloggers are some special species which also includes me! Finally, my turn came and I somehow managed to speak. I tried to sound like a revolutionary when I stressed on the concept and the power of the Common Man (not sure whether it worked).
The three chefs and judges of MasterChef India 2 Kunal Kapoor, Ajay Chopra and Vikas Khanna took over to promote their show. It wasn't like those over- desperate attempts used like our filmstars to promote their movies. It was more like an interesting interaction about food which was appreciated by the audience as it touched their emotional chord. The cooking-related games added the perfect icing on the cake.
In the end, we were given a large banner where other bloggers can mention their names and blog URL and we can do the same on their banners. I was pleasantly surprised when two bloggers came to me asking for my blog link saying they were impressed by the concept of the Common Man. Wow! So my under-confident speech did work! Later on, few others asked me the same!
Judging by the memorable time people had at the occasion, I appeal to Indiblogger to organize at least three meets in the city every year. After all, as Indiblogger's tagline says - We Blog, Therefore we Are!
More pictures from the event: -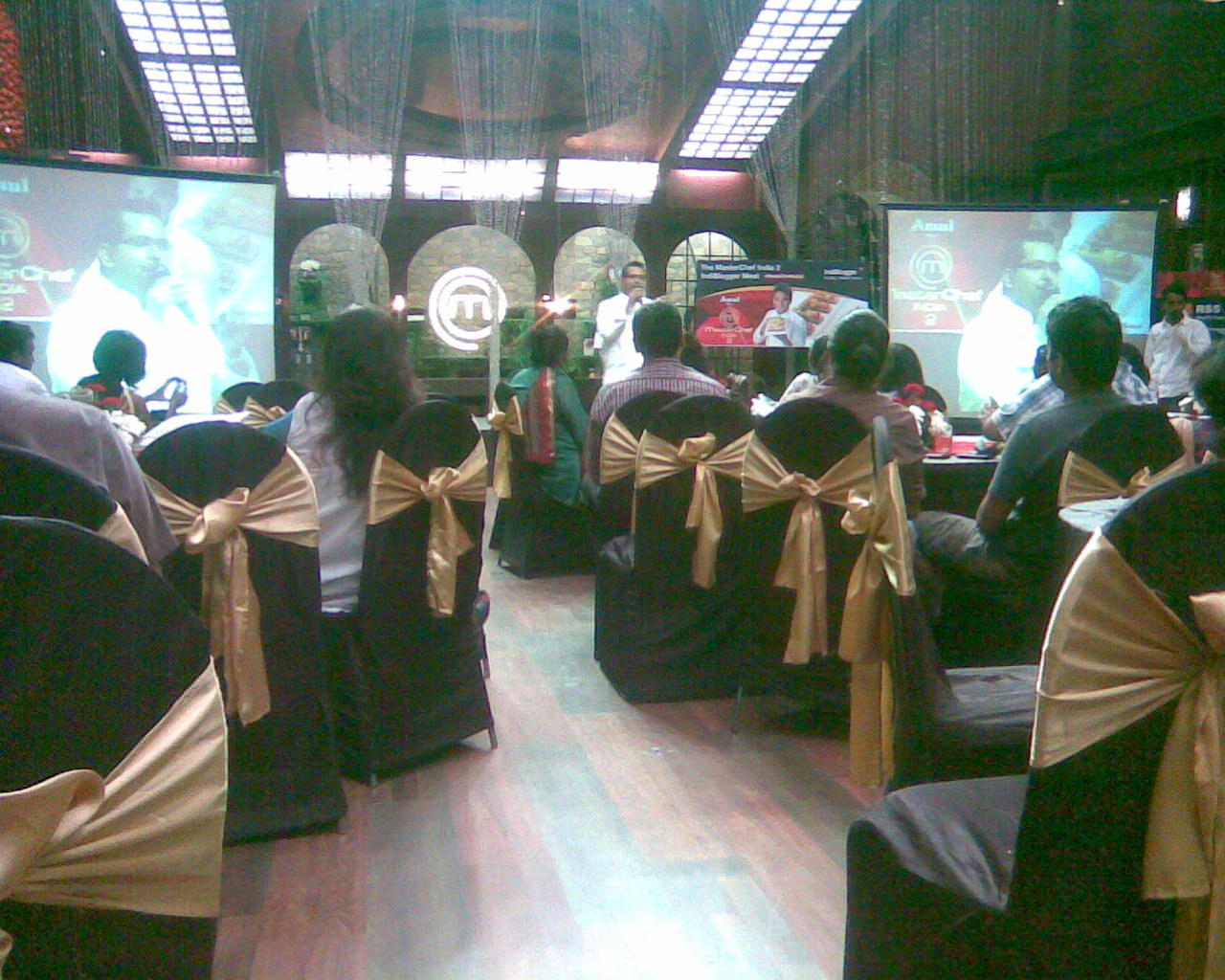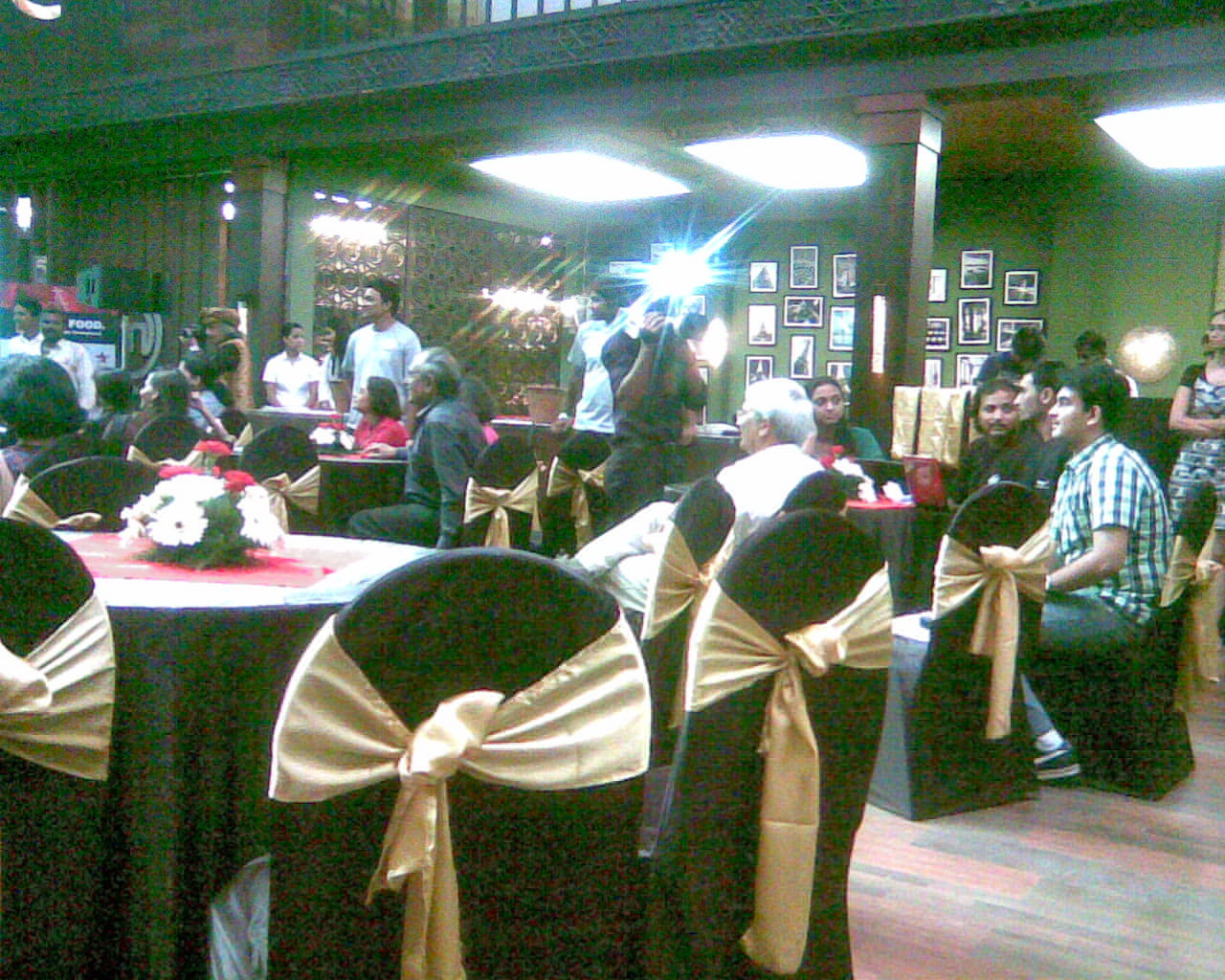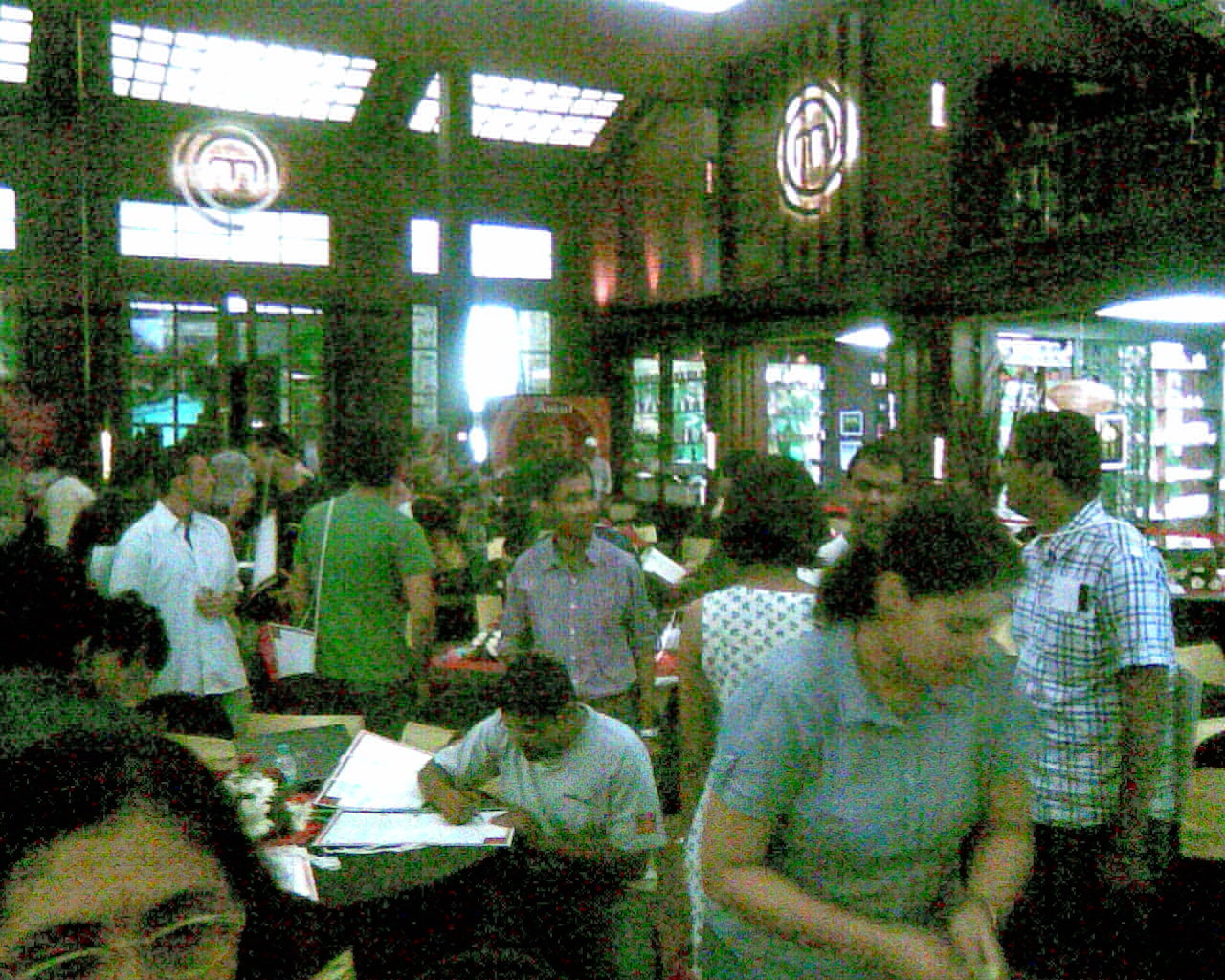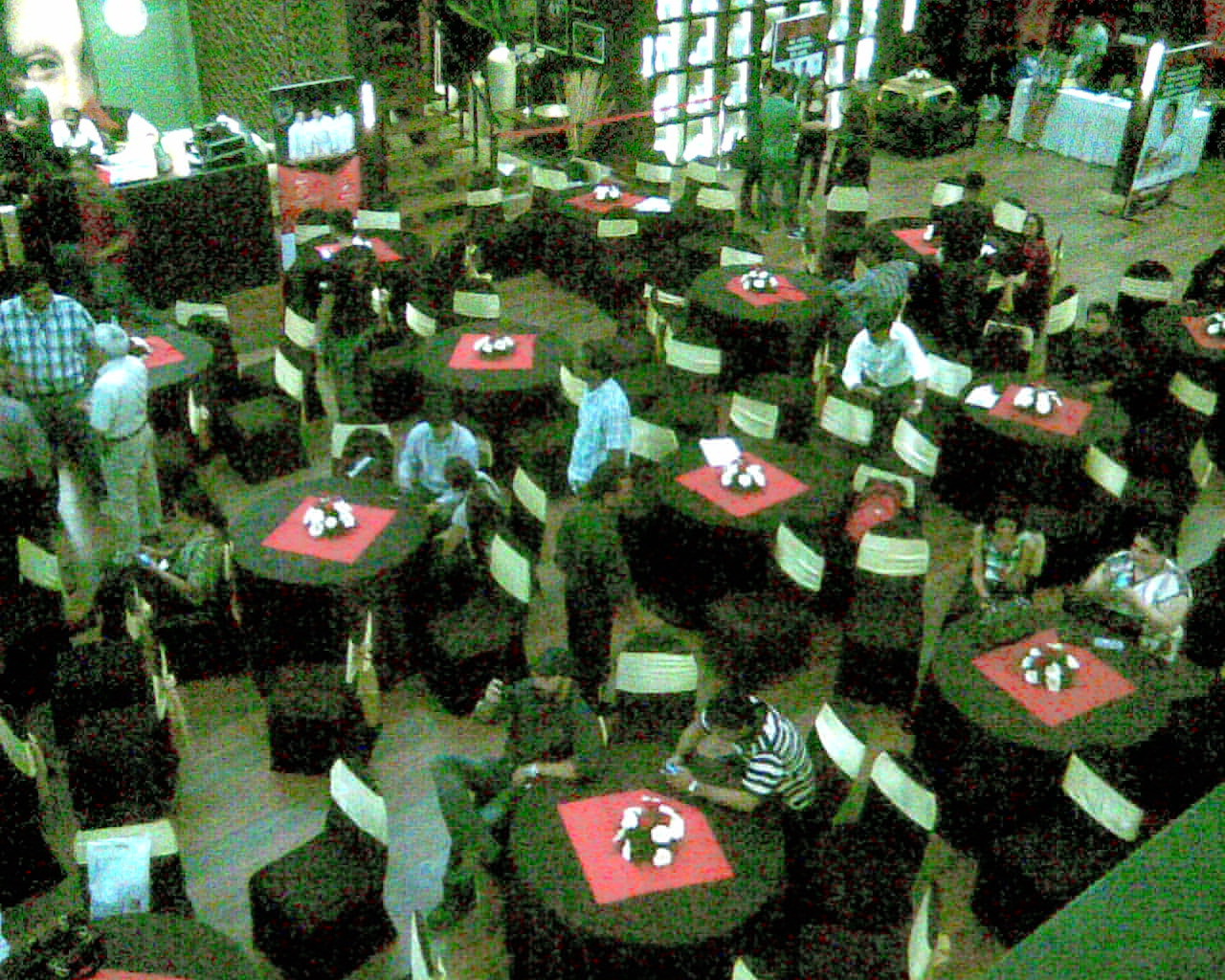 It's been barely a week since Team Anna member Prashant Bhushan was brutally roughed up by Sri Ram Sene group that we have another news of violence against the anti-corruption crusaders. Now, Arvind Kejriwal is attacked by a shoe/slipper by a man claiming to be Jeetendra Pathak at Lucknow.
Judging by his attitude and statement, Pathak looks like a crazy jerk who isn't happy with Team Anna. So, why doesn't he have a straight talk? Anna Hazare and his aides are there to listen to him? Or was he planted by the Congress? Just because Team Anna is 100% non-violent, it is becoming a soft target for violence.  But how long can we take it lying down?
Bhushan's attack is an even horrible example. A group of thugs enter a Supreme Court office in broad daylight with cameras on and beat a lawyer in the cruelest manner. Who has given you a right in democracy to rough up a person just because you don't agree with his views? Soon, Ram Sene puts up hoardings across India self-congratulating themselves for their act! (Couple of such hoardings are placed just outside my lane).
It's been a week since Bhushan was attacked and no action is taken against Ram Sene despite such glaring proofs and their bold confession. This in itself proves Congress' total involvement behind the attack.
P.S – In 2008, Ram Sene members bashed up a number of women in a pub in Bangalore as they felt women are tarnishing Indian culture by going into pubs. Want a bigger proof of their true nature?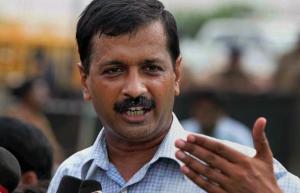 Senior Congress leader Digvijay Singh has presented what he calls a 'proof' which proves that Anna Hazare's movement for the Jan Lokpal Bill is backed by RSS (Rashtriya Swayamsevak Sangh). This is why I feel the proof is actually a spoof: -
- He just has a letter by an RSS activist where he has merely said that the RSS gives full support to Anna Hazare's movement. Anna has received such support from crores and crores of Indians. So, what kind of proof is this? How can you prove by this mere letter that the whole movement is controlled and engineered by RSS? And from where did he find the letter all of a sudden? Most importantly, the movement started in April and gained momentum in August. So, why Digvijay didn't show the proof before?
- Digvijay has also alleged that Anna's support caps (topis) were manufactured by RSS. If so, he never revealed how he came to know about this! Was he doing some sting operation on RSS or was he so jobless that he was hiding at the place where the caps were being manufactured? Once again – the caps were made in August. So, why Digvijay didn't reveal this before? Maybe because the head honchos of Congress hadn't thought of playing this silly card by then!
- The most hilarious thing said by Digvijay is that the Congress party isn't worried by the possibility that Anna's movement might affect their chances of winning the 2012 elections. The manner in which Digvijay gave the statement in itself proves the shaken state of Congress. It is common knowledge that the party is having sleepless nights because of Anna and rightly so. Just do an opinion poll Mr Singh and you will know the humongous rise in the unpopularity of Congress!
On Tuesday (October 11, 2011) Digvijay had asked why Anna isn't campaigning against BJP. Well, I pity Mr Singh's common sense. Congress is the ruling party so all bills are to be passed by them. So, if they aren't passing the bill, it is obvious that Anna or anyone of us for that matter will speak against Congress! Need some basic Political Science lessons sir?
After every few days or weeks Congress has been employing silly tricks to finish off the movement. This show by Digvijay was another attempt of the party to shift the focus from the main issue i.e the passing of the Jan Lokpal Bill. But, as I have said before, they won't succeed. The Common Man won't let them!
P.S – When a number of innocent Indians died in the July 13 Mumbai blasts, Digvijay didn't consider the incident too serious saying, "Our situation is much better than Pakistan." Need I say more?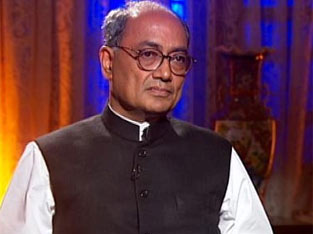 The ghazal genre was alien to me until I heard Jagjit Singh sing 'Hoshwalo Ko Khabar Kya' in 1998. This was just the starting point of my life-long admiration for the King Of Ghazal. I fondly remember two years later I bought the cassette (CDs were hardly there during those times) of his album Seher on the day I completed my SSC Boards. Thus, my love for his singing grew further.
To say that I was aghast at the news of his death is an understatement. What else can you say when someone who introduced you to the wonderful genre of music leaves forever?
But no, he hasn't left forever. He was a messiah for he single-handedly revived the dying genre of ghazal in India and introduced the common man to it. Such messiahs never leave forever. They continue to live through their art…forever!
Let's reminisce some of the divine ghazals by Jagjitji: -
Tum Itna Jo Muskura Rahe Ho – (Movie – Arth)
Hothon Se Chhu Lo Tum – (Movie – Prem Geet)
Hoshwalo Ko Khabar Kya – (Movie – Sarfarosh)
Tere Bare Mein Jab – (Album – Seher)
Tumko Dekha To Yeh – (Movie – Saath Saath)
Yeh Daulat Bhi Le Lo – (Album – Jazbah)
Kya Khoya Kya Paya – (Album – Samvedna)
Shaam Se Aankh Mein – (Album – Khamoshi)
Haath Chhoote Bhi To – (Album – Marasim)
Jhuki Jhuki Si Nazar – (Movie – Arth)