While we were busy analyzing the results of various municipal elections in Maharashtra, the Central Board for Film Certification (CBFC) imposed their downright sexist thoughts on the audience.
The board refused certificate to Alankrita Shrivastava's Lipstick Under My Burkha. In other words, they feel the audience should NOT watch this film. The reasons stated by them have sexism written all over them.
In a letter given to the producers, the board justifies their act saying, "The story is lady oriented, their fantasy above life. There are contanious (sic) sexual scenes, abusive words, audio pornography and a bit sensitive touch about one particular section of the society hence film refused under guidelines 1(a), 2(viii), 2 (ix), 2(x), 2 (xi), 2 (xii) and 3 (I)."
Now, let's break down their so-called justification. They have given away their sick thoughts in the first five words itself by stating that it's a 'lady oriented' film. When you feel offended by female-oriented films, it speaks volumes about your sexist and pro-MCP mindset. You look at it as a threat to your deep-rooted patriarchal thoughts.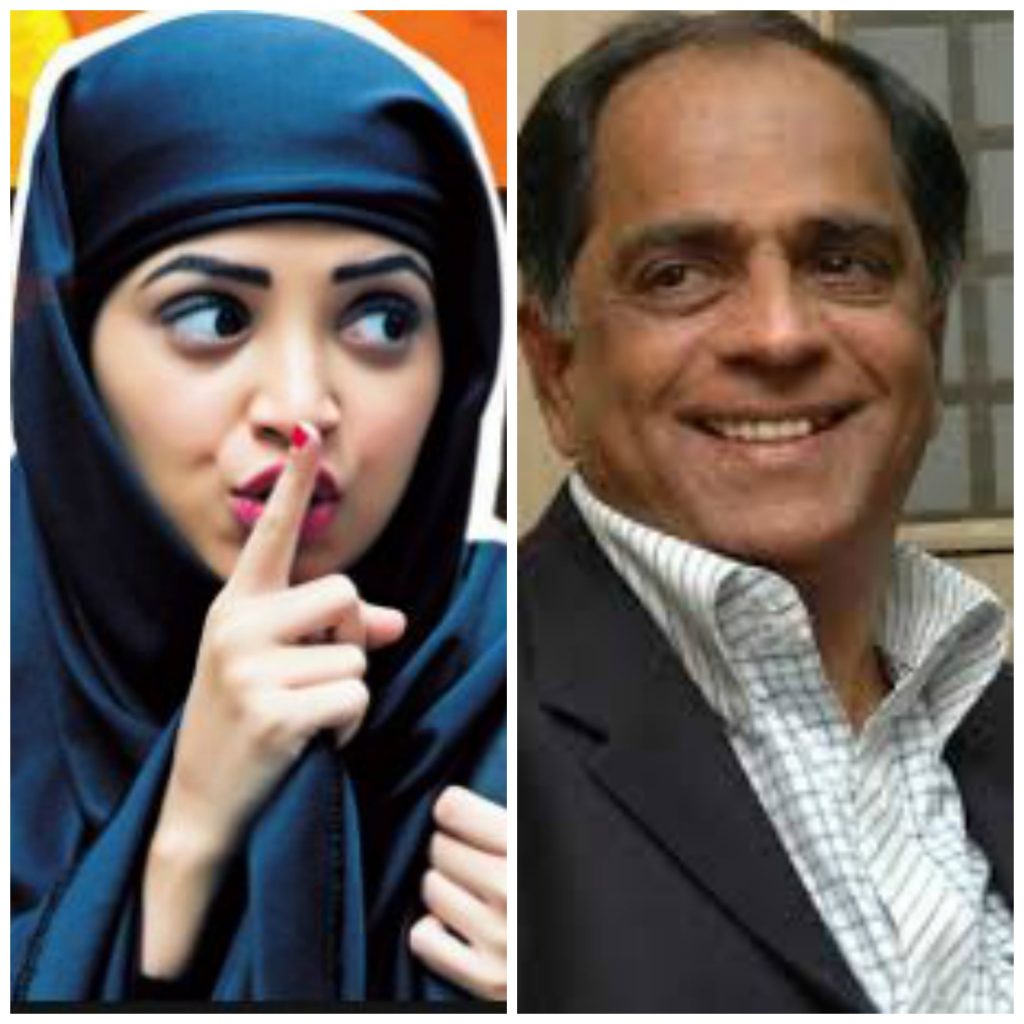 The second justification 'their fantasy above life,' means a female can't be shown having fantasy. These people have had no problems all these years when a male, or 'hero' as they call it, fantasizes about a girl in various ways.
The other reasons – There are contanious (sic) sexual scenes, abusive words, audio pornography and a bit sensitive touch about one particular section of the society – don't hold ground because the job of the CBFC is not that of a Moral Science teacher.
To make matters worse, Nihalani has justified their actions by sugarcoating it with 'Indian culture'. He said to the media, "The aim is also to protect our culture and tradition. Our motto is right film should go to the public."
He should remember that it's a film CERTIFICATION board. So, their job is only to certify films according to age groups and not pass judgments on which films are 'right films.' This was also said by the Bombay High Court during the Udta Punjab fiasco last year. Nihalani and CBFC surely couldn't have forgotten it so soon. After all, who can forget such huge national embarrassments?
And for your information, the issue is not just limited to a film. It is about how a group of individuals are forcing the people to walk onto their patriarchal path. It is also an attack on freedom of expression in one of world's largest democracies.
However, during every such fiascos by the CBFC, we just don't tend to look beyond. We criticize Nihalani and other CBFC members but that's about it. We clearly forget who appointed them and why they are still not removed.
It is the Central Government that had revamped the CBFC committee in 2015. It happened after Leela Samson, the previous chief, and her team resigned due to issues while certifying MSG: The Messenger. The members are handpicked supporters of government ideologies.
Therefore, it is the Central Government that is to be blamed for every attack on freedom of expression by the CBFC. The list of dictatorial blunders by the CBFC is long. So, despite this if they are still not removed, it only means that the government supports them and is propagating its dangerously regressive mindset through the CBFC.
If the government doesn't support such ideologies, what is stopping them from removing Nihalani and others from the CBFC?
Are they so helpless and powerless?
Conclusion: The film industry needs to unite in huge numbers and protest for the removal of the current CBFC committee team. It has to happen or else we would be discussing the rubbish decisions by these dictators after every few weeks.
By: Keyur Seta
Story: The Ghazi Attack is based on the underwater warfare between India and Pakistan in 1971 in which PNS Ghazi, Pakistan's submarine, was destroyed. The Indian Navy gets a whiff about Pakistan trying to secretly attack their submarine S-21 through theirs called PNS Ghazi. Pakistan's aim is to get a clear route to supply weapons to East Pakistan (now Bangladesh) in order to continue attacking its rebels.
Indian Navy decides to take preventive measures before it's too late. A secret operation is planned which is headed by Captain Ranvijay Singh (Kay Kay Menon). He is a hot tempered middle-aged man infamous for disobeying orders. His immediate senior, Lieutenant Arjun Verma (Rana Daggubati) and Executive officer Devraj (Atul Kulkarni) have their task cut out because of Singh's presence. But a challenge much bigger lies ahead of them.
(For the real story of The Ghazi Attack, click HERE).
Review: While India claims that its naval force demolished Pakistan's submarine, the neighboring country has always maintained that it became a victim of the detonation of its own mines.
The clear picture regarding the same is not known as the operation was classified. So, if you are okay watching a film with fictionalized events around a historical event, chances are you will enjoy The Ghazi Attack. It's a gripping thriller with a sensible dose of patriotism.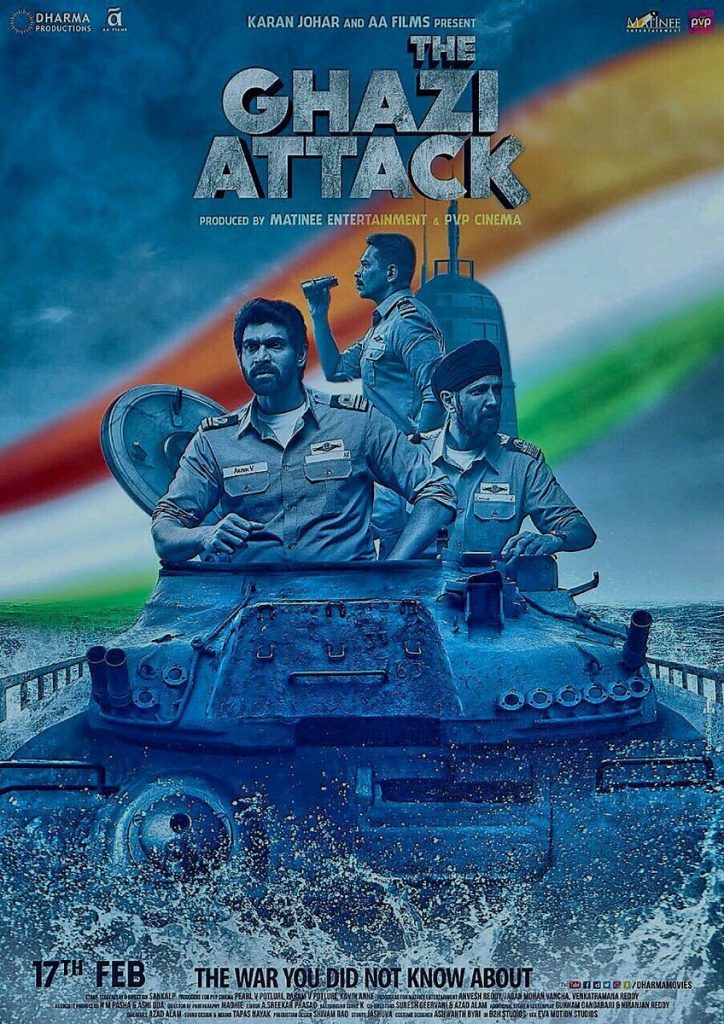 Plus points:
The biggest plus point for The Ghazi Attack is its gripping narrative that doesn't go off track even a bit. You are glued to the screen throughout with interest-worthy events making sure you don't realize when the 125 minutes pass by. The idea of not having a single song should also be appreciated.
The key areas when the attacks take place between both submarines are handled with precision. These moments provide some thrilling and nail-biting experience, especially the climax.
The complete working of the submarine with all the little details provide a learning experience (mind you, not preachy). Before this film, the inside of the submarine was well portrayed by Shyam Benegal in Bose: The Forgotten Hero (2005). Not with such detail though as that wasn't the need.
Despite the film being based on the India-Pakistan war, it doesn't resort to jingoism, which is a relief considering the times we are living currently.
The dialogues are appealing yet steer clear from being melodramatic of filmi.
Kay Kay Menon once again reminds you why he is one of the finest actors born in India. He provides a skilled act where he emotes through expressions. Rana Daggubati nicely underplays himself. Atul Kulkarni, another terrific artist, comes up with a mature act.
The rest of the supporting cast is perfect. The late Om Puri makes his presence felt in a cameo.
Minuses:
The technical details and jargons appear like bouncers for the layman sometimes. Too much of instructions also appear repetitive.
Taapsee Pannu has emerged as a talented artist in recent times. But over here, she disappoints. She has the same expression during the entire screen time.
Rahul Singh, an underrated talent, does what was required. But his character suffers from being a clichéd one-dimensional Pakistani officer.
Overall:
The Ghazi Attack is a gripping patriotic thriller. The film has received poor opening collections at the box office. It deserves to earn much more and for that it badly requires word-of-mouth.
Rating: 3.5/5
Review by: Keyur Seta
Director: Sankalp Reddy
Producers: Anvesh Reddy, Venkatramana Reddy, Prasad V Potluri, N M Pasha, Jagan Mohan Vancha and Karan Johar
Writers: Sankalp Reddy, Gangaraju Gunnam, Niranjan Reddy and Azad Alam
Cast: Kay Kay Menon, Rana Daggubati, Atul Kulkarni, Rahul Singh, Taapsee Pannu
Genre: Thriller
Runtime: 125 minutes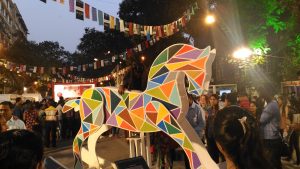 Kala Ghoda Arts Festival is back in Mumbai, like it is in the first week of every November since a decade. And like every year, this time too the Kala Ghoda lane is packed with a number of work of arts surrounded by a large contingent of art enthusiasts of Mumbai.
This year, there is a big difference which one can easily spot. And a good one at that. A large statue of a black horse (Kalal Ghoda) is adding to the beauty. Maybe because of this, it seems horse is the theme this year. One can find different works of arts modeled on quite a few horse structures inside the Kala Ghoda lane.
Here are some more pictures from this year's (2017) Kala Ghoda Arts Festival: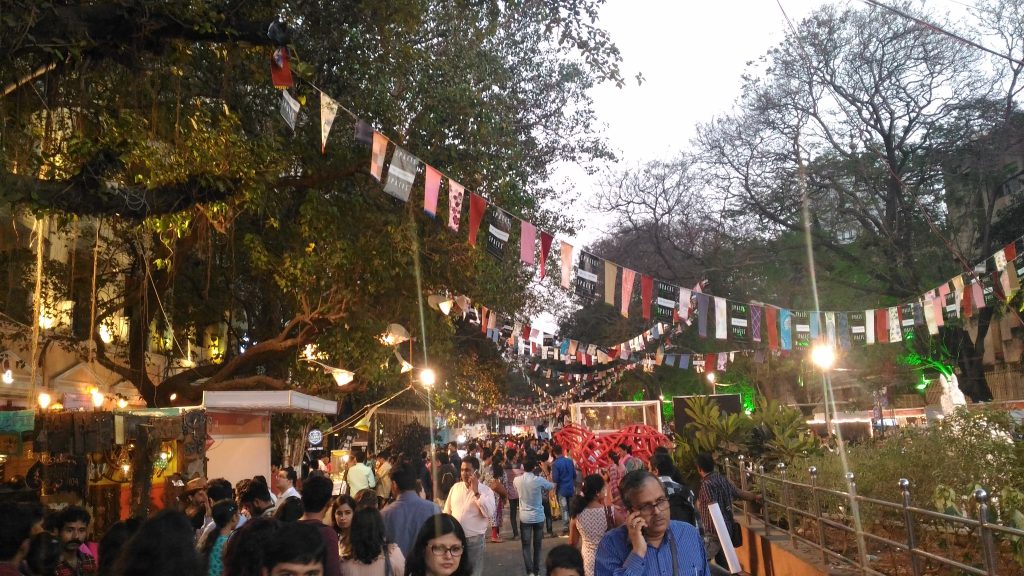 Street loaded with art pieces lit up during a winter evening.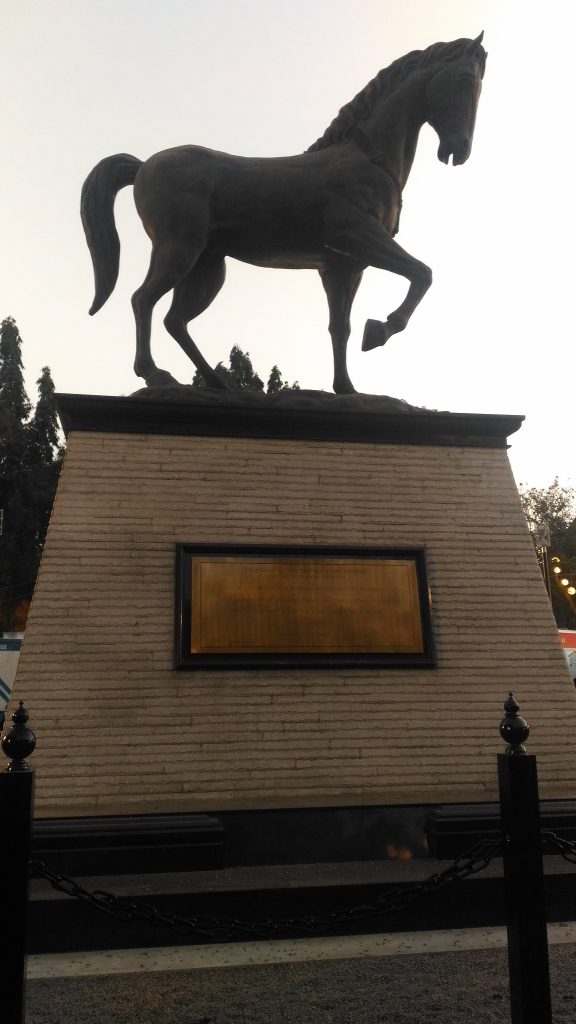 The new statue of Kala Ghoda (black horse) at the start of the street.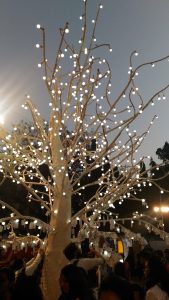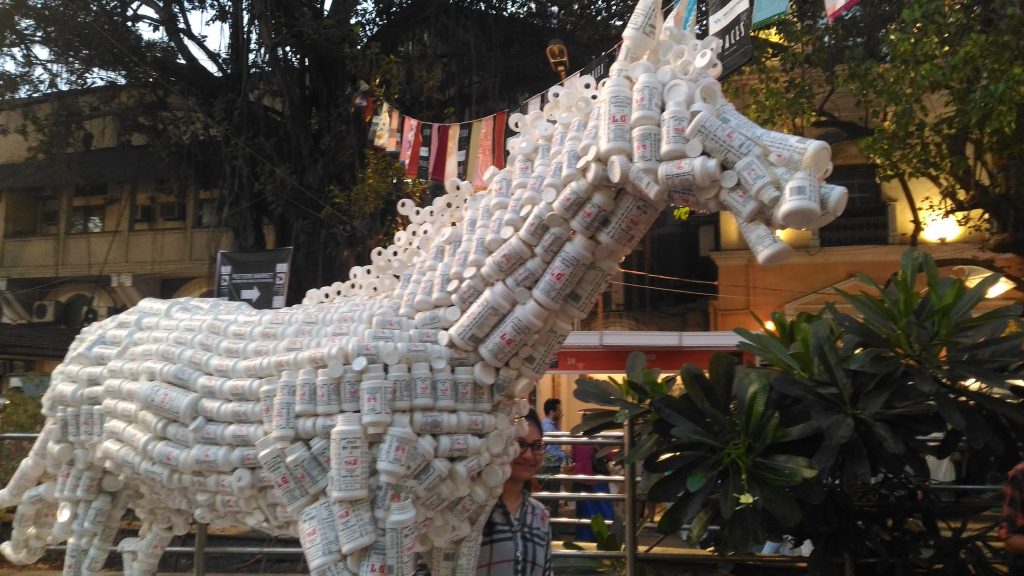 A horse statue made out of plastic bottles. 'Best from waste' has been a favourite theme at this festival ever since its inception.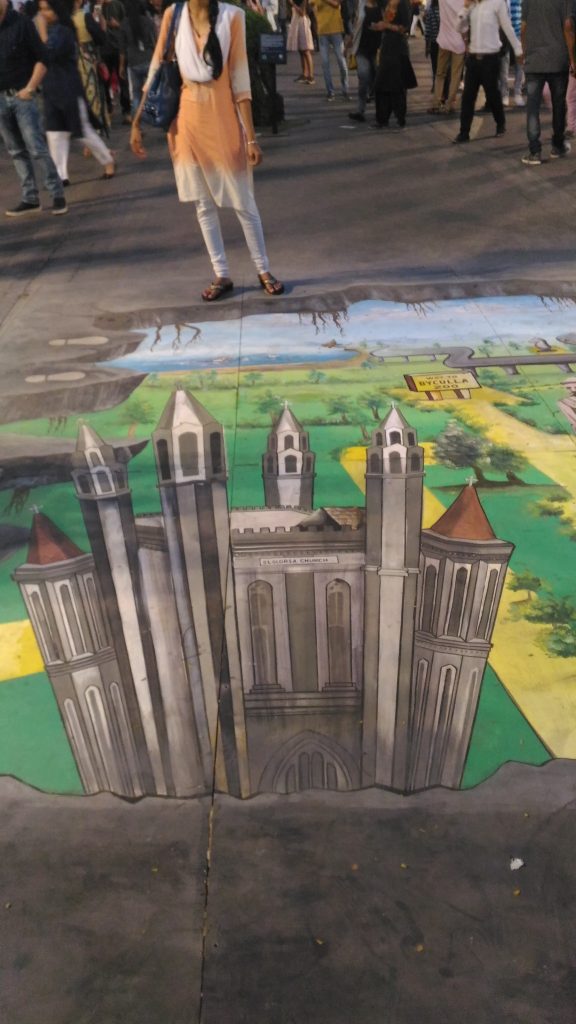 Amazing 3D painting. First time I ever saw one.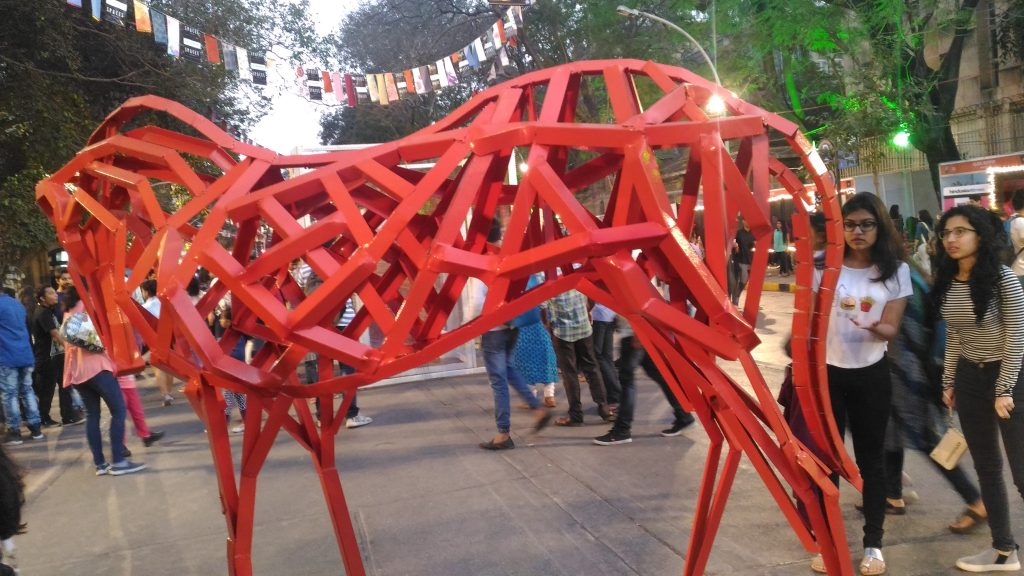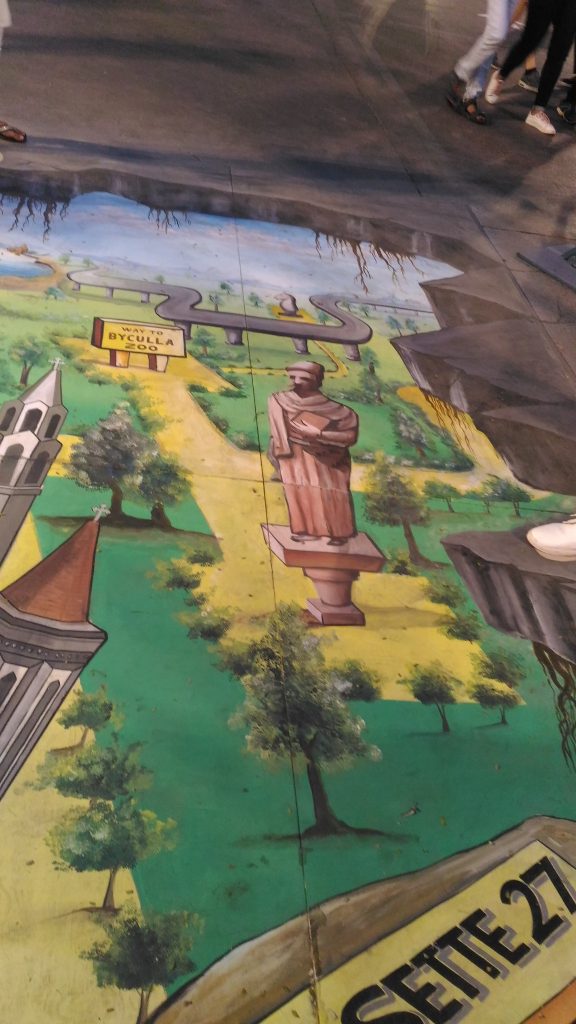 Another part of the same 3D painting. One can see the picture of the great freedom fighter and social reformer, Lokmanya Tilak. Byculla Zoo also features at the top.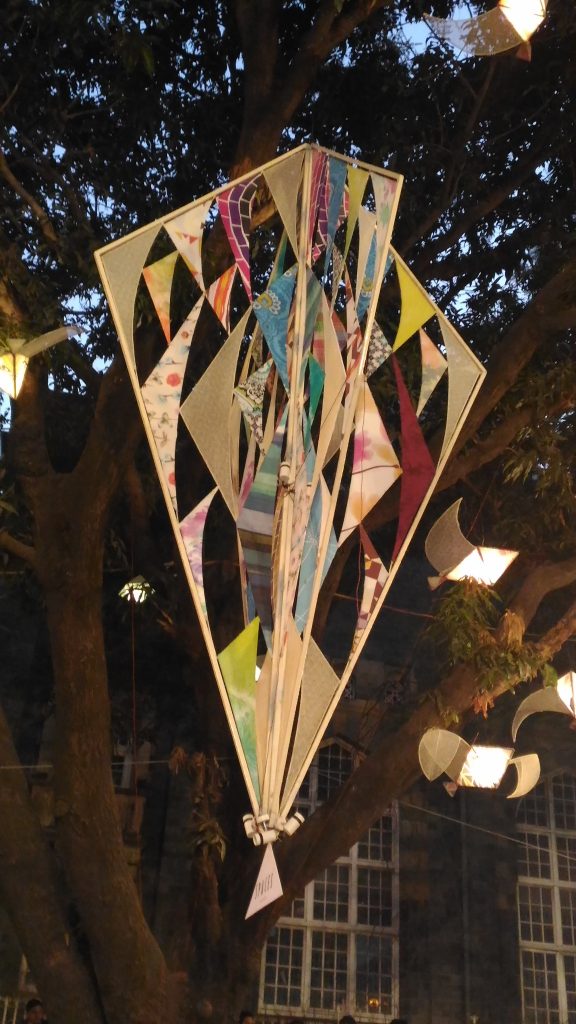 A huge kite made out of waste materials.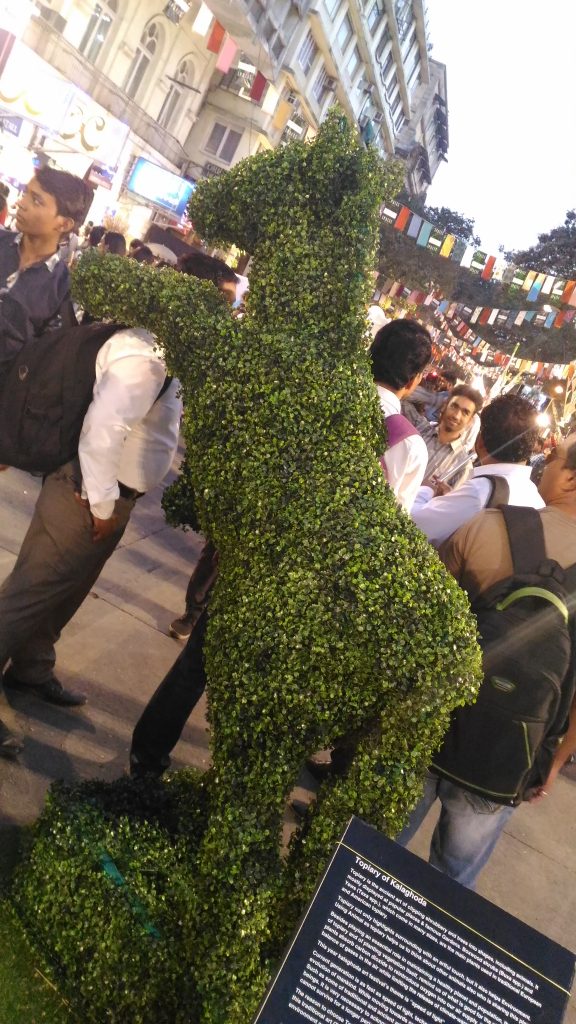 A unique statue of a horse made out of green leaves. Needless to say, it gives the message of going nature-friendly.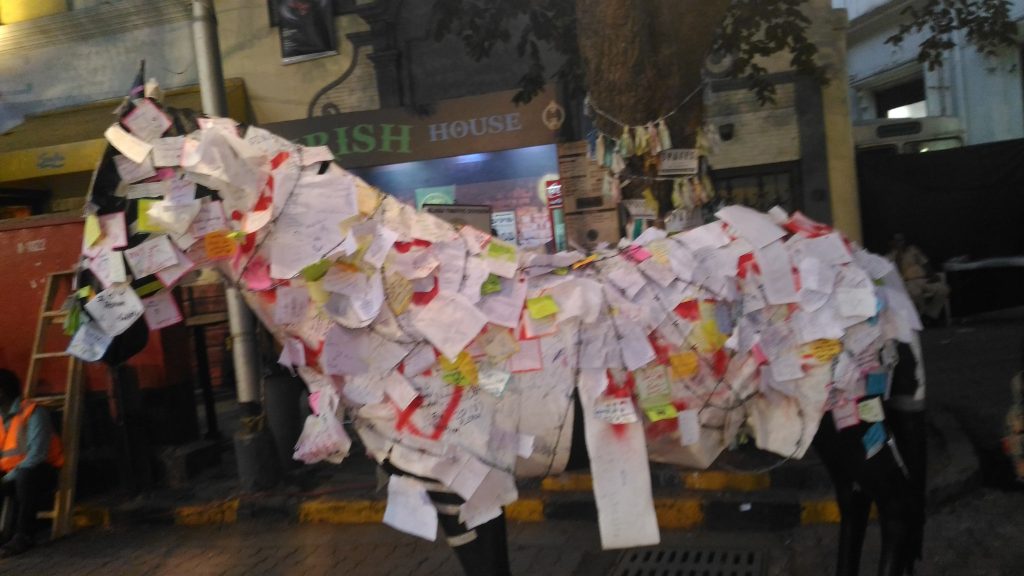 A statue where you can write any damn message. You will find all kinds of bizarre messages too if you look closely.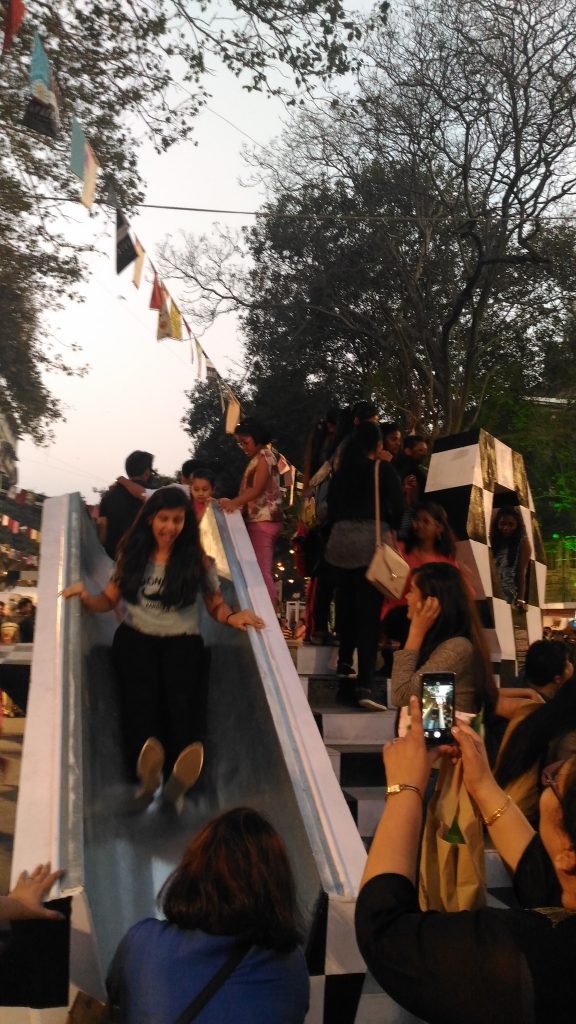 A slide where even grown-ups can try their hand, rather legs. After all, dil toh bachcha hai ji.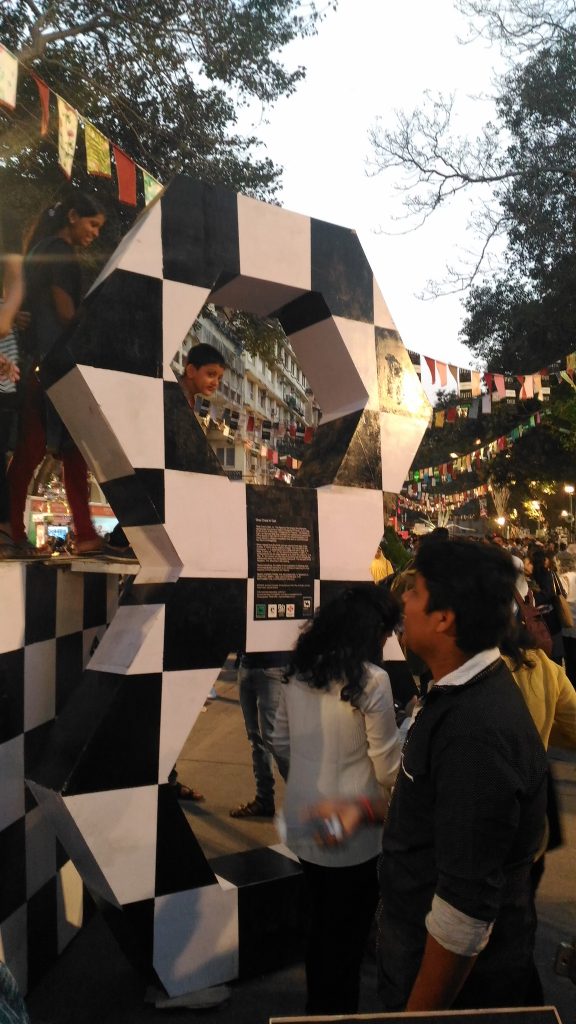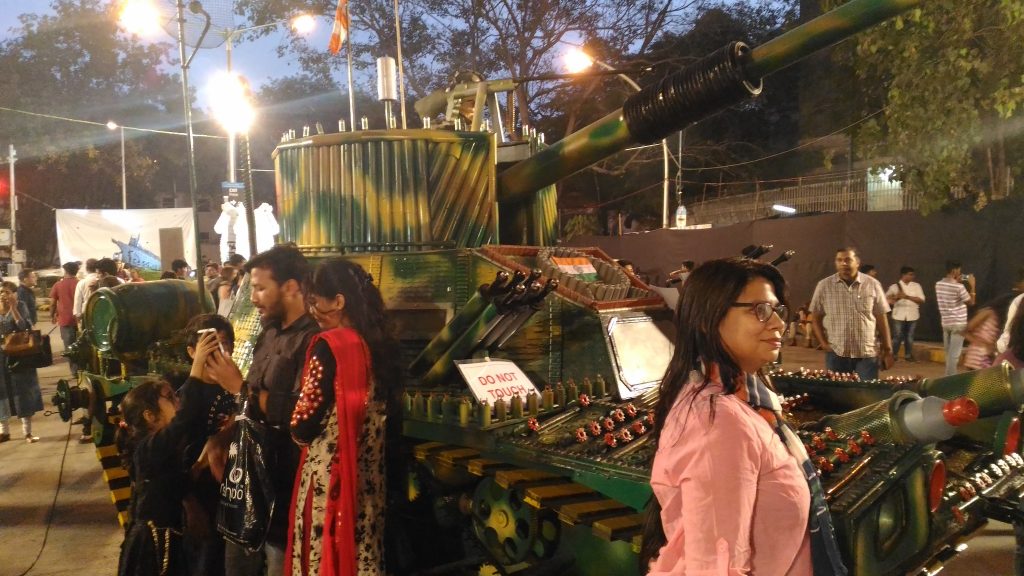 The country is going through a phase when the importance of Indian army and defence is at an all time high. So, it isn't surprising to see an army tank at the end of the festival lane.