What do you need to make a mass entertainer from the first scene till the last? Going by what is shown in mainstream Hindi cinema, one might list down a number of entertaining or masala factors. But rarely a film like Bareilly Ki Barfi arrives, which shows that all one needs is pure simplicity to make a thorough entertainer that can appeal to every age group.
Bareilly Ki Barfi takes place in the Bareilly and revolves around Bitti (Kriti Sanon). She is a carefree girl working in the electrical department of the town. She gets rejected by every guy her mother scouts for her due to her habits which are mostly reserved for males. Bitti once comes across a book titled Bareilly Ki Barfi and falls in love with it and develops great admiration for the author.
The book has been written by Chirag Dubey (Ayushmann Khurrana). But the book has his friend Pritam Vidrohi's (Rajkummar Rao) name and picture mentioned as the author for some reason. Circumstances force Chirag to present Pritam as the actual author in front of Bitti when she becomes adamant to meet him. This step ensures more twists.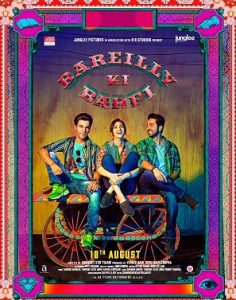 There is fun element in the basic plot itself. It becomes even enjoyable with some high quality writing by Nitesh Tiwari, the man who gave us the great Dangal (2016). The screenplay is not only fast but also well-connected. Add to this some brilliant one-liners and situational humour. And the film achieves all this without an iota of adultness and lots of sensibility.
But there comes a point towards the end where you feel you would be shown a typical ending that you normally see in Hindi romantic comedies. However, there comes a twist with regards to presenting the climax. Don't know about others but it was unpredictable for me.
The one issue here is a minor flaw in the entire idea by Ayushmann's character. Thankfully, Ashwini Iyer Tiwari has covered it well. Plus, the numerous other good points won't let you think much about it.
Bareilly Ki Barfi, in between, also makes a powerful statement about gender equality and the society's double standards when it comes to allowing freedom to girls.
The film has some foot-tapping numbers like 'Sweety Tera Drama' and 'Twist Kamariya.' But there is an absence of an impressive romantic song, which is needed in such genre of films.
The performances play a big role in providing overall satisfaction. Rajkummar Rao is simply outstanding. Period. You just can't stop admiring him as he plays a scary bone and suddenly breaks into a mean character with remarkable ease. This act coupled with Trapped (2017) ensures that he is one of the top young artists currently.
This film will bring a turning point in Kriti Sanon's career. She has brought the right attitude needed to play a small town girl with attitude. Ayushmann Khurrana too is likable in a complex character. Pankaj Tripathi has once again shown his class. This actor deserves more fame.
Overall: Bareilly Ki Barfi is a complete family entertainer with lots of laughs. Ashwiny Iyer Tiwari has continued the good work she ended in her debut Nil Battey Sannata (2016). The film's box office collections saw a rise on Saturday (yesterday). It should hopefully have a pleasant run due to the very positive word-of-mouth.
Rating: 4/5
Review by: Keyur Seta
Director: Ashwiny Iyer Tiwari
Producers: B R Studios and Junglee Pictures
Writers: Nitesh Tiwari, Shreyas Jain and Rajat Nonia
Cast: Kriti Sanon, Ayushmann Khurrana, Rajkummar Rao, Pankaj Tripathi
Music: Arko Pravo Mukherjee, Tanishk Bagchi, Samira Koppikar, Sameer Uddin and Vayu
Genre: Romantic Comedy/ Comedy
Runtime: 122 minutes