At around 12:30 am today, a couple of chat screenshots were shared in a media What's App group. It spoke about the death of veteran actress Sridevi. Thanks to the era of hoaxes and the casual tone of the chat, we didn't take it seriously. It also made me recall how just last week, the death hoax of Sylvester Stallone had made the rounds. Hence, I went to sleep.
All hell broke loose when I was woken up by my brother's voice announcing the death of Sridevi. Can't remember the last time I was woken up with such a shock, which was soon overcome by sadness.
But not being in a fully awake state didn't stop me from recalling that afternoon of July 2, 2017 when I and my brother had the opportunity to interview her (for different publications), although in a group, for her soon-to-be-released Mom. Suddenly it seemed as if it was just recently that we had met her.
People, obviously, dread working on a Sunday. And that day it was pouring badly; monsoon had settled in Mumbai. But who gets a chance to meet such legends again and again? So, I just took off all excited!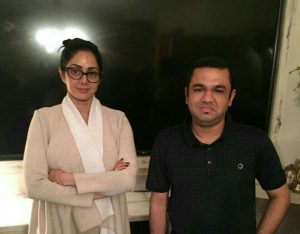 Generally these interviews happen in hotels. But this one was at Sridevi's residence. This was another reason to look forward to it. Quite expectedly, her apartment is luxurious. But it wasn't the kind of modernly furnished home that provide a lifeless feeling despite being rich. I realized it provided a homely feeling as we waited in the drawing room. Her domestic help had welcomed us with respect.
The feel good factor in the home coupled with the high interest to meet Sridevi didn't make me feel impatient despite waiting for more than a couple of hours. Finally, she walked in. We didn't expect 'the' Sridevi to be wearing such simple attire although her agelessness was clearly visible. It seemed as if nothing much had changed from Mr India to Mom. Her thick-framed glasses added to her beauty.
As soon as she entered, she heartily apologized for keeping us waiting for long. She reasoned that she was caught up elsewhere. This is something you hardly see from big stars… The moment was worth already.
The question and answer session began in a usual way with the actress speaking about her upcoming film with a lot of interest. This is what generally happens in interviews. But this moment was special, not because the interviewee was Sridevi. It was because she is known for hardly speaking anything in the interviews. She has never been comfortable with it.
But that day we saw a changed Sridevi who gave proper long answers. I had sat in the Hindi media group. So, I also got the opportunity to listen to her Hindi. Apart from speaking about Mom and her co-stars, she also went down memory lane and recalled her stint as a child actor when her mother would always accompany her on shoots.
The close-to-25-minutes were spent in a jiffy. Needless to say, it was mandatory to click a picture with her. There was some pleasant surprise in store for us here too. Many a times, big stars prefer giving one group picture. But Sridevi didn't show any qualms in posing separately with all of us.
Sridevi's newly developed openness in speaking along with her humility already made me look forward to meeting her in the future. Her fitness level and acting form indicated that she would surely do many more films and would subsequently talk to the media regularly.
But the initial few seconds after I woke up today told me that it was my first and last experience with her.
By: Keyur Seta
READ THE INTERVIEW HERE.