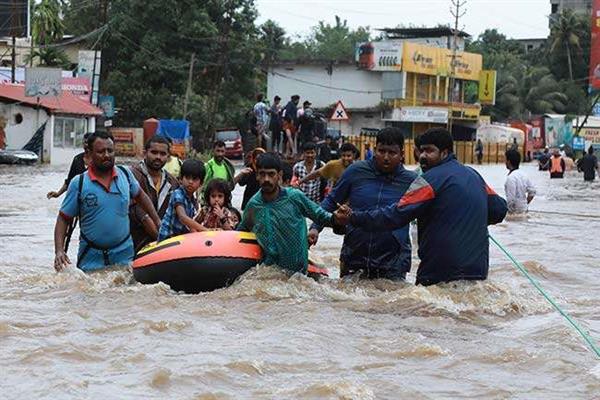 As we all know, the floods in Kerala have been too serious and devastating. The loss is amounted to thousands of crores. Needless to say, the victims need help and they need it now. Here is a compilation of city wise centres where you can donate items along with various helpline numbers and other modes of donation.
Collection centres:
Mumbai: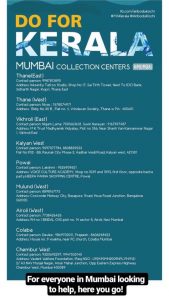 Delhi:
Hari Nagar
Near Swargashram Mandir
Contact number: 8587875939
Mahavir Enclave
C-81, MCD School Road
Mahavir Enclave Part
Contact number: 87503822423
Mayur Vihar
76 F, Pocket A-1, Phase 3
Contact number: 9911053603
Jamia Irshad
Contact number: 9656696980
Ayannagar Church Jomon
Contact number: 9633985280
Ashram
Sunil Malayali Store
Contact number: 9958129458
AIIMS
Dayal: 8556010208
Fahad: 8750603526
Midhun: 8556010209
Dilshad Garden
P/35 A, 5 Pocket P, Near Shani Mandir
Jinomon Joseph: 9495306683
Dilshad Garden
Varughese: 9990034332
Mahavir Enclave
Augustine: 8587035792
Noida:
Sector 20
E-53, 1st Floor,
Renjith: 8010475625 and 9319761425
Dehradun:
Anandhu Chandrasekhar: 9526625771
Cochin:
Regional Sports Centre, Kadavanthra
Contact Number: 9809700000, 9895320567, 9544811555)
Trivandrum:
Weavers Village in Rosscote Lane, opposite Trivandrum Club; Sri Mulam Club, Vazhuthacaud; and B-hub, Mar Iavnios Vidyanagar, Nalanchira
Hyderabad:
SMR Vinay City, Bolarum Road, Miyapur
Contact Number: 900035188, 9703503573, 8886555226, 9840921173
The English and Foreign Languages University, near Sitaphalmandi Overbridge
Contact Number:8086869573, 9746286425, 91775096030
Banjara Hilla, Flat No 6-3-594/10A, Anand Nagar
Contact number: 7842216157, 8790408101, 8606821009
Tata Institute of Social Sciences, NIRD Road, Rajendranagar
Contact Number: 73820922647, 7995926635, 9633134831, 8547930466
Bengaluru: 
Sankara Eye Hospital Kundalahali Gate, Varthur Main Road
Contact Number: 9739011685)
Avohi, Venus Building, Kalyana Mandapa Road, Jakkasandra Ext, Koramangala
Contact Number: 9731980066
Confederation of Indian Industry, CII, 12 Main, HAL 2nd Stage, Indiranagar
Contact Number: 7001663618, 9740233244
Tanzeb, 4017, First Cross Road, Stage 2, Domlur
Contact Number: 9916900719)
Keli Cultural Association, Pruksa Silvana, Nimbekaipura Road, Budigere Cross, Old Madras Road
Contact Number: 9945481192
Midway City Owners Association, Concorde Midway City, Basapura Road, Hosa Road Junction
Contact Number: 9964741820, 8041234875
Ganga Vertica, Neeladri main Road, Electronic City
Contact Number: 8867846625
Chennai:
Lotus Exotic Journeys, 33/17, Thomas Nagar, Little Mount, Saidapet, Chennai - 15.
Contact Number: 9789053919
Helpline numbers as per location in Kerala:
Kasargod: 9446601700
Kannur: 91-944-668-2300
Kozhikode: 91-944-653-8900
Wayanad: 91-807-840-9770
Malappuram: 91-938-346-3212
Malappuram: 91-938-346-4212
Thrissur: 91-944-707-4424
Thrissur: 91-487-236-3424
Palakkad: 91-830-180-3282
Ernakulam: 91-790-220-0400
Ernakulam: 91-790-220-0300
Alappuzha: 91-477-223-8630
Alappuzha: 91-949-500-3630
Alappuzha: 91-949-500-3640
Idukki: 91-906-156-6111
Idukki: 91-938-346-3036
Kottayam: 91-944-656-2236
Kottayam: 91-944-656-2236
Pathanamthitta: 91-807-880-8915
Kollam: 91-944-767-7800
Thiruvananthapuram: 91-949-771-1281
A man called Nandkishore Varma is in touch with army person who has been running a rescue operation. You can What's App him on +919526157437 with the following details:
-Co-ordniates of the location (very important)
-Address
-Contact person with mobile number
-Number of people
-Exact nature of requirement (rescue in the case of immediate danger - otherwise food and -water will be dropped)
-How many people (to decide upon the size of the rescue vehicle)
-Whether any immediate danger (old people, infirm people, sick people, babies)
Donate through Chief Minister's Disaster Relief Funds:
Account details:
Name of the donee: Chief Minister's Distress Relief Funds
Account Number: 67319948232
Bank: State Bank of India
Branch: City Branch, Thiruvananthapuram
IFSC: SBIN0070028
PAN: AAAGD0584M
Account type: Savings
SWIFT Code: SBININBBT08
A rich Mumbai family consisting of a man, his wife and their 25-year-old son staying in Versova reached a place in Goregaon in their expensive car to buy a product they badly needed. The sellers, who were keen to sell it soon, presented it in a must-buy manner. The family was initially not sure if they should believe them.
But after asking numerous questions about its various features of the product, they were finally convinced. The deal was done!
A number of guests came to see the product the day it was brought to their luxurious home near Versova beach. They couldn't stop being in awe of it while the three family members looked on with pride.
The machine was performing brilliantly as it was brand new. But after a few weeks, it started having some issues since the family started over-using it. It was asked to perform more than its capacity by the husband and wife. On top of that, the son also used it after returning from office.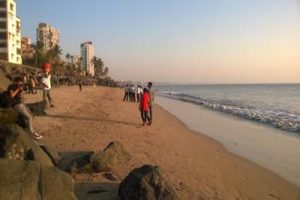 Hence, it stopped performing as per the promises made by its sellers. The family got furious and complained to the people from where they bought it, although they knew they were wrongly overusing it.
The people came over to their place in a jiffy. After their visit, the product started functioning like before. The family was just happy that it is ready to function as per their wishes! The three of them didn't know what those people did to the product, whose name was Ashwini. (Read again if confused)
Note: Inspired from a real story. The name of the character and places has been changed.
By: Keyur Seta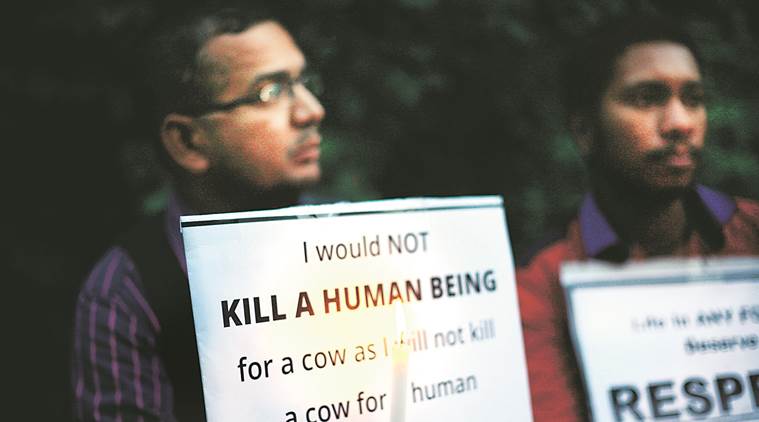 As we all know, the horrors of lynching have emerged since last three years. The common pattern is that those suspected to carrying or storing beef are lynched mercilessly by the Right Wing Gaurakshaks, the so-called protectors of cows.
In 2015, when it all began, prominent people from the ruling Bharatiya Janta Party (BJP) played it down and even went onto justify the horrific incidents. There was, obviously, a huge outrage in the country.
The incidents have started happening more regularly since recent times. And, as expected, members of the BJP and RSS, their affiliate, have justified it.
Here are some reactions to the latest lynching and mob killing incidents:
Comment: "If humanity gets rid of this sin (eating beef), the society will get rid of this problem (lynching)." – Indresh Kumar, RSS (Rashtriya Swayamsevak Sangh) leader
Meaning: If you don't stop eating beef, you will be killed.
Comment: "It's (lynching) not the reality of Rajasthan. It's the reality of the world." – Vasundhara Raje, Chief Minister of Rajasthan
Meaning: It's happening everywhere in the world (which is a lie). In other words, bade bade deshon mein aisi chhoti chhoti baatein hoti rehti hain.
Comment: "I would have got the intellectuals shot if I was the Home Minister. Our country faces grave danger from intellectuals and seculars than anyone else." – Basanagouda Patil, BJP MLA from Karnataka.
Meaning: This one actually makes you speechless. It's self-explanatory actually. It's like a dangerous goon openly threatening to kill anyone who asks questions or criticizes the government. The second statement compares intellectuals and seculars, which are praiseworthy qualities, with someone as dangerous as a terrorist.
However, there is no hue and cry this time. One can understand the silence of the unofficially government owned loud-mouth pseudo 'news' anchors who are otherwise ready to tear into someone from opposition even for hugging someone. But what happened to the genuine social media users?
If those ruling this country openly threatening to kill anyone who believe in secularism isn't outrageous enough, what is? This raises a disturbing question as to whether we have normalized such Talibanistic behavious, statements and attitude.
By: Keyur Seta