Dangal's dialogues play a large role in making the Nitesh Tiwari written and directed film so impactful. Of course, one can't deny the enormous contribution of the screenplay, direction and performances, especially Aamir Khan. But the smart and witty dialogues surely lift the film further.
Here are 10 best dialogues (lyrics) from Dangal:
– Tu ek saal seene pe patthar rakh de. Agar kamyab na hua, toh main poori jindagi seene pe patthar rakh doonga.
(Translation: You bear it for a year. If I don't succeed, I will bear for the rest of my life.)
– Pahalwan ke khoon mein kushti hove hain.
(Translation: Wrestling is inside the blood of a wrestler.)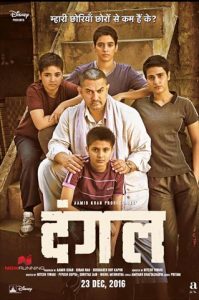 – Medal jeete toh koi na poochhe hain. Magar haare toh sab gaali deve hain.
(Translation: People won't be bothered if you win a medal. But they will surely criticize you if you lose.)
– Mhari chhoriyan chhoron se kum hain ke?
(Translation: Are my daughters less then sons?)
– Gold toh gold hota hain. Chhora laave ya chhori.
(Translation: A gold medal is a gold medal, irrespective of whether it is won by a boy or a girl.)
– Jyada dil chhota na kar. Tu national level ke pahalwan se hara hai.
(Translation: Don't worry. You have lost to a national level champion.)
– Geeta ko kyun chhore dekhne aavenge? Woh khud chhore dekhne javegi.
(Translation: Why will boys come to see Geeta for marriage? She will go to see them.)
– Thara bapu thare baare mein soche toh hai.
(Translation: At least your father is thinking about you.)
– Agar silver jeeti, toh aaj nahin toh kal log tanne bhool jaavenge. Gold jeeti toh misaal banjavegi. Aur misaale dee jaati hai beta, bhooli nahin jaati.
(Translation: If you win a silver, people will eventually forget you. If you win a gold, you will become an example. And examples are set, not forgotten.)
– Thari ladaai har us insaan se hain jo maane hain ki chhoriyon ka kaam sirf chokha dhaani karna hain.
(Translation: Your match is against all those who feel girls are only meant to do household chores.)