Dangal's dialogues play a large role in making the Nitesh Tiwari written and directed film so impactful. Of course, one can't deny the enormous contribution of the screenplay, direction and performances, especially Aamir Khan. But the smart and witty dialogues surely lift the film further.
Here are 10 best dialogues (lyrics) from Dangal:
- Tu ek saal seene pe patthar rakh de. Agar kamyab na hua, toh main poori jindagi seene pe patthar rakh doonga.
(Translation: You bear it for a year. If I don't succeed, I will bear for the rest of my life.)
- Pahalwan ke khoon mein kushti hove hain.
(Translation: Wrestling is inside the blood of a wrestler.)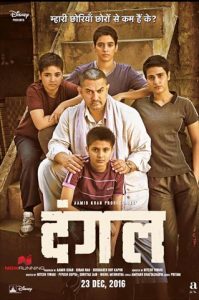 - Medal jeete toh koi na poochhe hain. Magar haare toh sab gaali deve hain.
(Translation: People won't be bothered if you win a medal. But they will surely criticize you if you lose.)
- Mhari chhoriyan chhoron se kum hain ke?
(Translation: Are my daughters less then sons?)
- Gold toh gold hota hain. Chhora laave ya chhori.
(Translation: A gold medal is a gold medal, irrespective of whether it is won by a boy or a girl.)
- Jyada dil chhota na kar. Tu national level ke pahalwan se hara hai.
(Translation: Don't worry. You have lost to a national level champion.)
- Geeta ko kyun chhore dekhne aavenge? Woh khud chhore dekhne javegi.
(Translation: Why will boys come to see Geeta for marriage? She will go to see them.)
- Thara bapu thare baare mein soche toh hai.
(Translation: At least your father is thinking about you.)
- Agar silver jeeti, toh aaj nahin toh kal log tanne bhool jaavenge. Gold jeeti toh misaal banjavegi. Aur misaale dee jaati hai beta, bhooli nahin jaati.
(Translation: If you win a silver, people will eventually forget you. If you win a gold, you will become an example. And examples are set, not forgotten.)
- Thari ladaai har us insaan se hain jo maane hain ki chhoriyon ka kaam sirf chokha dhaani karna hain.
(Translation: Your match is against all those who feel girls are only meant to do household chores.)
Sports films have become an overdose in mainstream Hindi cinema. But Nitesh Tiwari's Dangal won't let you think about this statistic for two reasons. It is not just the best sports underdog film but also one of the best films to have come out from our part of the world.
Dangal is a real life account of India's wrestler Mahavir Singh Phogat's efforts to make his daughters, Geeta Phogat and Babita Phogat champions in the sport. As a young man, Mahavir (Aamir Khan) couldn't fulfill his dream of winning Gold Medal for India due to his family condition. So, he goes on a mission to make sure his upcoming son will bring India glory.
However, he is blessed (or in this case, cursed) with not one but four daughters. This shatters him as he believes only a son can win Gold in wrestling. But one day he realizes that two of his daughters, Geeta and Babita (Zaira Wasim and Suhani Bhatnagar who grow up as Fatima Sana Shaikh and Sanya Malhotra) also have wrestling in their blood. Mahavir's hopes re-emerge.
Although Dangal is a biopic, the makers honestly confess at the start that a lot of aspects have been fictionalized, including some characters. This might disappoint some but it won't matter to you once the film begins. Dangal is an ideal example of an intelligent screenplay, mature dialogues and masterful presentation. The combination produces one memorable sequence after another. And like every intelligent film, at a lot of places it says a lot without saying much. Also, in a lot of places, serious situations are presented humorously.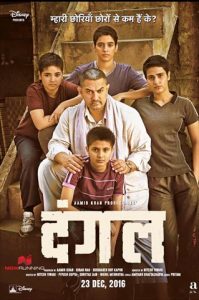 The film does have few logical errors here and there but the huge number of positive points makes sure you don't get affected. Even Tiwari has done well in covering them up intelligently. But there comes one moment at the end which is too fictionalized. However, the incredible effect it produces in the end transforms it into a masterstroke.
In fact, in my opinion, it is the one of the most overwhelming climaxes. A lot of people, if not all, who are against the playing of National Anthems during movies would happily rise up when it is played in this film.
It is difficult to jot down the best moments, apart from the climax. The one that stands out is when Mahavir explains to Geeta that her fight is not against the opponent but with all those who believe girls should only be restricted to household chores. The entire gist of the film explained so simply.
The film's technical department matches up to the content and even enhances it. Cinematographer Sethu Sriram has a long body of work including Tere Naam (2003), Wanted (2009) and OMG – Oh My God (2012). But with his fine work here, he has arrived.
The background score is minimal which is a smart move. There are no loud sounds during wrestling scenes to make them forcefully appealing, which a lot of films are guilty of. In fact, there is no background score on most occasions and rightfully so.
Pritam's music and Amitabh Bhattacharya's lyrics add plenty of effect. The songs take the story forward and are not treated merely as songs.
Lastly, the film reaches this level because of Aamir Khan. He once again proves he is one of the few greatest artists from India. And with this performance, he shows he is the powerhouse of dedication. But it is not merely an Aamir Khan film. Fatima Sana Shaikh and Sanya Malhotra make enormous use of the opportunity and manage to match-up to Aamir, which is no small achievement.
Zaira Wasim and Suhani Bhatnagar, who play their younger versions, stay etched in your memory their limited screen time. Sakshi Tanwar should do more films. She provides a fine act as Mahavir's wife. Girish Kulkarni is a phenomenal performer and he shows it with his act as the coach. Aparshakti Khurrana, as Geeta and Babita's cousin, isn't bad. At times, he is overused to provide humour.
Overall: Dangal is one of the finest films you will see and one of the very few ones with a lot of repeat value.
Box-office prediction: The film has gained a tremendous opening on the first day earning Rs 29-30 crore (as per BoxOfficeIndia.com). With the incredible word-of-mouth, it is sure to rise higher and has a fair chance of being the highest earner of 2016 defeating Sultan. If not that, it is sure to reach the Rs 300 crore mark.
Rating: 4.5/5
Review by: Keyur Seta
Director: Nitesh Tiwari
Producers: UTV Motion Pictures and Aamir Khan Productions
Writers: Nitesh Tiwari, Piyush Gupta, Shreyas Jain and Nikhil Meharotra
Cast: Aamir Khan, Fatima Sana Shaikh, Sanya Malhotra, Sakshi Tanwar, Zaira Wasim, Suhani Bhatnagar
Music: Pritam
Genre: Biopic/Drama
Runtime: 161 minutes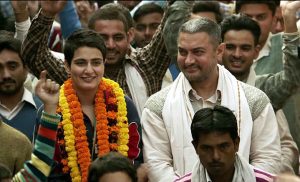 As soon as Demonetization was enforced on November 8, the first question that struck people was whether this move will help curb the menace of Black Money and corruption, as promised by Prime Minister, Narendra Modi. As I mentioned in my last post (HERE) on the issue, people like me, who have absolutely no knowledge in Economics or Finance, cannot answer this question.
However, you don't need to be an expert in any subject to understand the extreme suffering experienced by a large number of people in the country. More than a month ago, the question was whether demonetization will succeed. Now, experts are trying to understand the extent at which demonetization will affect the country. In other words, it is a blunder.
Here are 6 reasons why defending demonetisation is like defending the indefensible:-
GPS joke: To support government's move of introducing Rs 2000 note, news channels like Zee News and Aaj Tak ran programs explaining that the currency contains a chip that can be detected through satellite with the use of GPS technology. However, the news (?) not only turned out to be false but also a joke (watch VIDEO below). You can easily hoard black money in the Rs 2000 currency as well. If banning high value currency like Rs 500 and Rs 1000 can lessen the menace of black money, what exactly is the logic behind introducing Rs 2000 notes?
Instant backfiring: The above point was proven right even before 15 days of the decision. A number of members from the ruling Bharatiya Janata Party (BJP) have been caught with bundles of the new Rs 2000 notes. At the same time, banks are getting limited amounts of the new currency. So, how did your party men laid hands on the new notes in such large numbers? If this is not a scam, what is? (read news HERE and HERE)
Punishing innocents: Instead of affecting black money hoarders, the move has made life hell for people from small towns, villages and those involved in small business that run entirely on cash. Wage workers have been temporarily out of job (read news HERE). You don't need to be an expert to know that a large section of our population has no bank accounts and there are many villages either without any banks or having banks are faraway places (read news HERE). How can you expect them to leave their daily work and stand in queues for hours?
And sorry, the logic of going cashless doesn't apply to poor people who live from hand to mouth. Even city dwellers like me have just installed PayTM and that too out of force. Plus even in 2016, there are villages with no access to electricity. So, how on earth do you expect them to buy smart phones and install PayTM? Don't tell me you had no idea about this despite being the PM of a country.
Justifying death? This is the biggest reason why demonetization has failed. In fact, even if it would have yielded fruitful results (which appears like a dream), it would have still been a failure if more than 50 countrymen (might be more unofficially) got killed in it. Of course, Bhakts have been making inhuman arguments that a large number of people die every day. But these people died after standing in long queues for hours. They were standing in queues only and only because of the decision. They weren't standing there out of their will or just for fun. There are incidents where people died after not receiving medical attention as the patients' families didn't have new currency. How will you justify these deaths even if demonetization turns successful?
Mocking the helpless: Like I said in my previous post on the issue, what has annoyed me the most about this whole episode is the mocking and casual attitude of the PM despite these many deaths. Last month in Japan, he mocked those who are facing problems due to demonetization (see video below). He repeated it later by stating that even beggars have started using PayTM. Seriously? The only justification for this can be that it was his lookalike who spoke these things.
Political parties can party: This is the second biggest fiasco after deaths. Political parties are the ones with most number of black money, which is spent the most during elections. Nobody knows who pays for those 24/7 in-your-face-and-TV advertisement played during elections. Now, these parties have been given further relief to not disclose their funding in old currency. A notification (out of the many) says that they are exempted from scrutiny (read the news HERE). So, if the biggest source of black money isn't going to face any problem, what exactly is the point of the whole exercise of demonetization?
- By: Keyur Seta
I live in a part of Mumbai (Dadar) which is nothing but concrete jungle. Hence, the mere sight of a mountain or any sort of nature makes me happy. So much so, that even a visit to the nearby hill station, Lonavala gets me excited. Therefore, one can only imagine my feeling when I landed in the picturesque Himalayan region of Dalhousie.
'Delightful' is the word. Well, you can add 'healer' too. The place delights and heals you, both at the same time. Delights with its amazing view of mountains and valleys. This coupled with the weather heals you externally and internally; the latter is more important for people from urban areas caught in a fast city life.
Have a look at the pictures: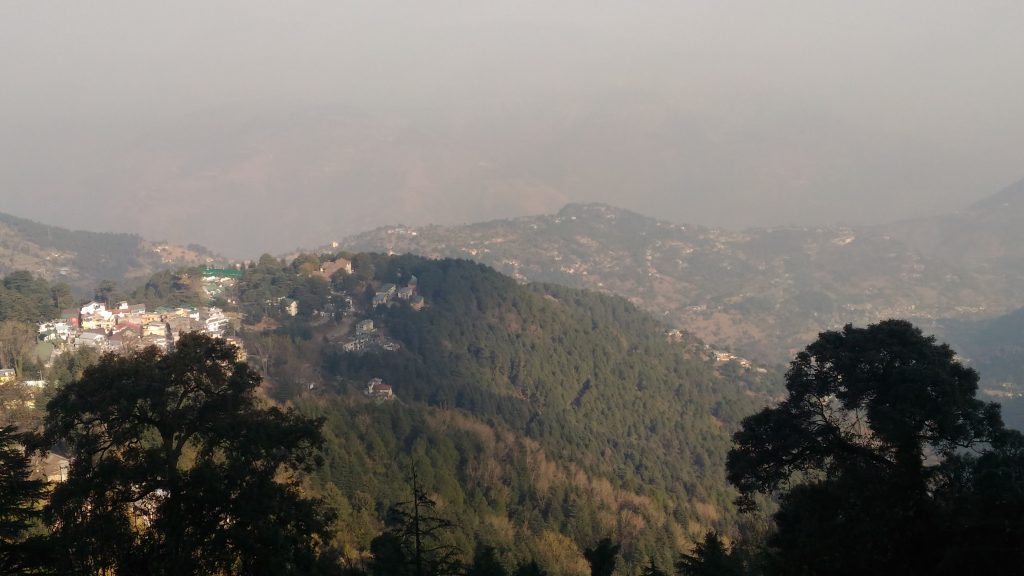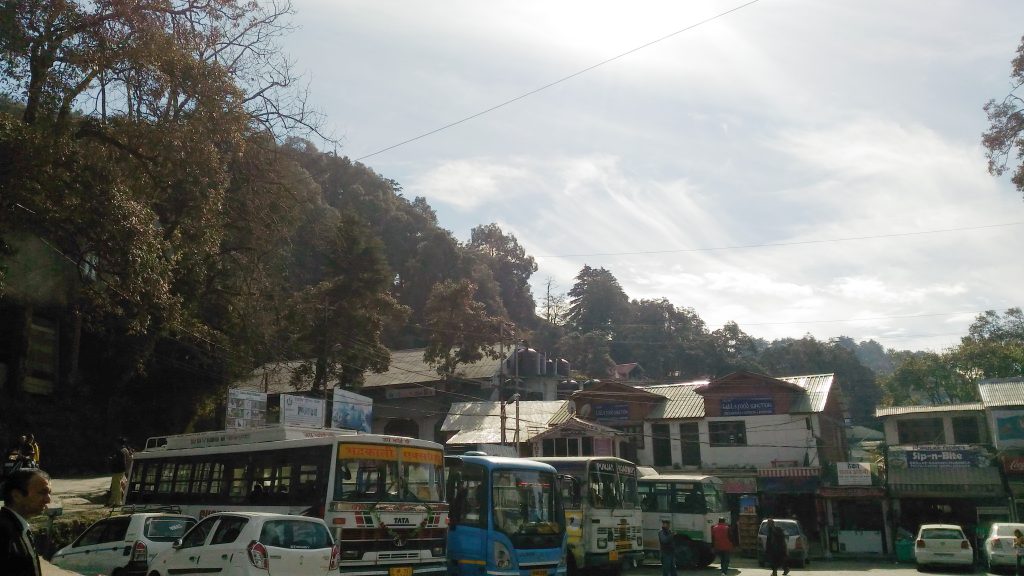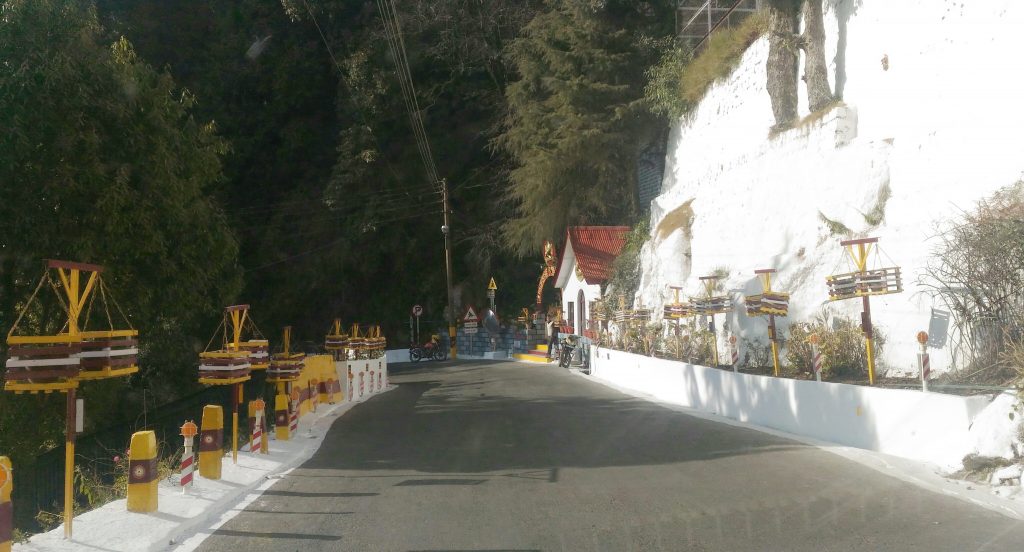 People running the Dalhousie Public School have installed plants on both sides of the roads and that too with such beautiful, colourful stands. The bigger achievement is that there are no miscreants to damage it. This is one thing that comes to the mind of someone from Mumbai, where even a dust bin isn't safe!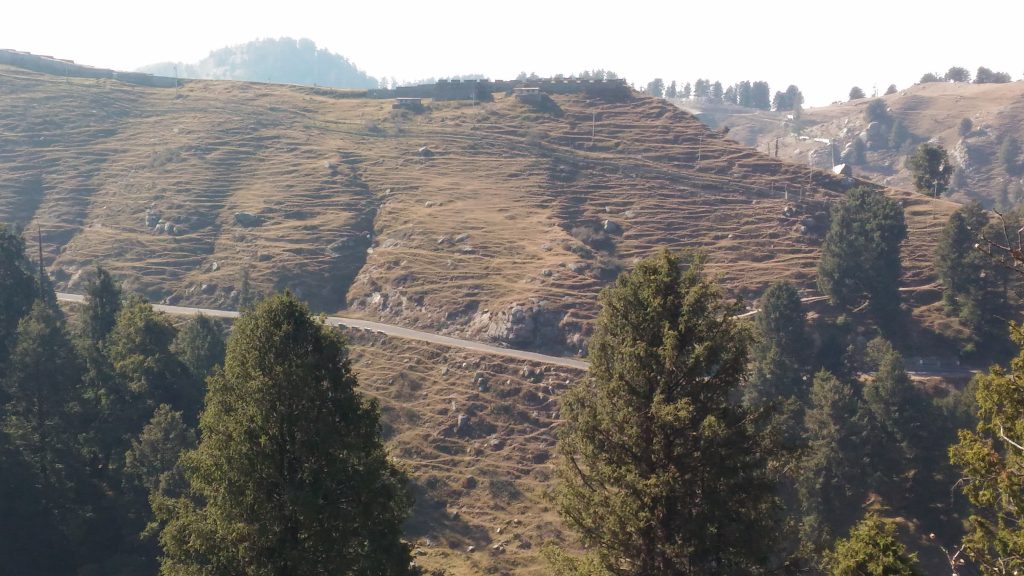 Dainkund is a place with beautiful mountains, situation around 13 kilometers from Dalhousie. It has an army cantonment and a Kali Mata Temple, for which one requires to climb 1 kilometers up on a hill.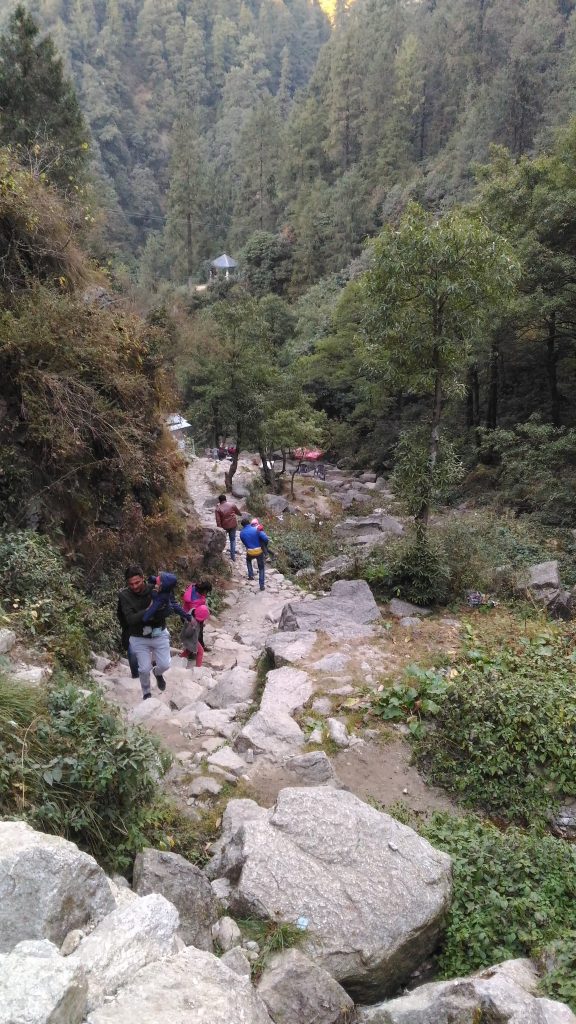 This steep road leads to Punchpula waterfall, which is close to Dalhousie. The route up the hill is dangerous. Precautionary measures are advised. After climbing up, I felt as if I achieved something. However, the real challenge was going down these huge steps. By the way, the waterfall was just a little stream.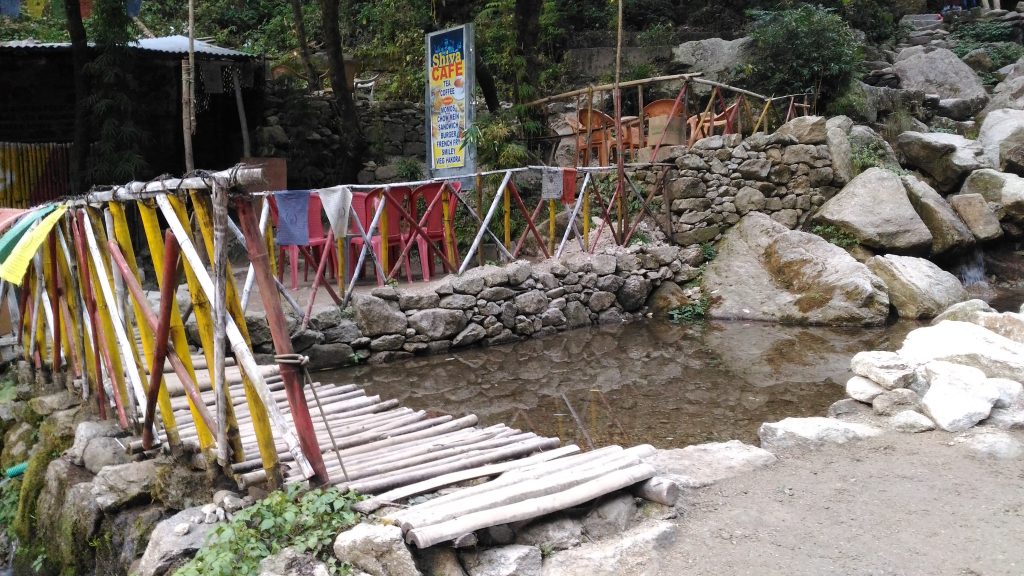 Khajjiar is around an hour's drive away from Dalhousie. The place is known as Mini Switzerland. Going by the scenic beauty of it, the title looks justified. However, a couple of friends who visited the place few months ago witnessed much more greenery than what it was when we visited.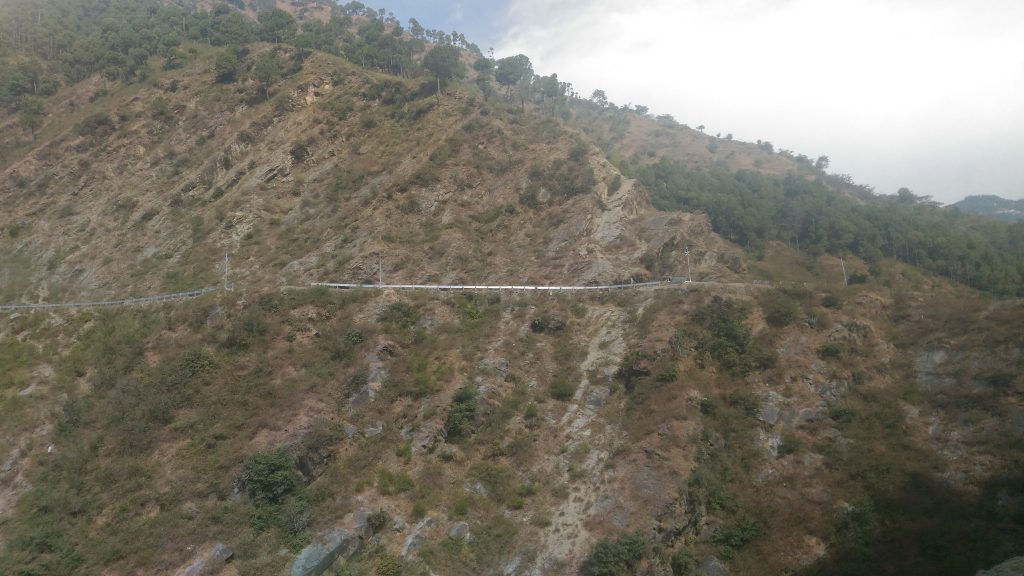 Caught this sight while we were on our way from Amritsar to Dalhousie.
Our vehicle stopped to fill petrol at this place just outside Dalhousie while we were on our way to Macleodganj. The sight instantly brought to my mind the first verse from 'Yun Hi Chala Chal' song from Swades - Dekhun jidhar bhi in rahon mein, Rang pighalte hai nigahon mein, Thandi hawa hai thandi chhaavn hai, Door woh jaane kiska gaon hai...
- By: Keyur Seta