Sports films have become an overdose in mainstream Hindi cinema. But Nitesh Tiwari's Dangal won't let you think about this statistic for two reasons. It is not just the best sports underdog film but also one of the best films to have come out from our part of the world.
Dangal is a real life account of India's wrestler Mahavir Singh Phogat's efforts to make his daughters, Geeta Phogat and Babita Phogat champions in the sport. As a young man, Mahavir (Aamir Khan) couldn't fulfill his dream of winning Gold Medal for India due to his family condition. So, he goes on a mission to make sure his upcoming son will bring India glory.
However, he is blessed (or in this case, cursed) with not one but four daughters. This shatters him as he believes only a son can win Gold in wrestling. But one day he realizes that two of his daughters, Geeta and Babita (Zaira Wasim and Suhani Bhatnagar who grow up as Fatima Sana Shaikh and Sanya Malhotra) also have wrestling in their blood. Mahavir's hopes re-emerge.
Although Dangal is a biopic, the makers honestly confess at the start that a lot of aspects have been fictionalized, including some characters. This might disappoint some but it won't matter to you once the film begins. Dangal is an ideal example of an intelligent screenplay, mature dialogues and masterful presentation. The combination produces one memorable sequence after another. And like every intelligent film, at a lot of places it says a lot without saying much. Also, in a lot of places, serious situations are presented humorously.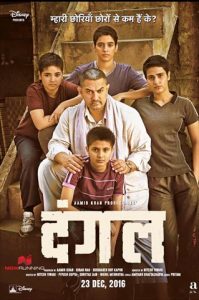 The film does have few logical errors here and there but the huge number of positive points makes sure you don't get affected. Even Tiwari has done well in covering them up intelligently. But there comes one moment at the end which is too fictionalized. However, the incredible effect it produces in the end transforms it into a masterstroke.
In fact, in my opinion, it is the one of the most overwhelming climaxes. A lot of people, if not all, who are against the playing of National Anthems during movies would happily rise up when it is played in this film.
It is difficult to jot down the best moments, apart from the climax. The one that stands out is when Mahavir explains to Geeta that her fight is not against the opponent but with all those who believe girls should only be restricted to household chores. The entire gist of the film explained so simply.
The film's technical department matches up to the content and even enhances it. Cinematographer Sethu Sriram has a long body of work including Tere Naam (2003), Wanted (2009) and OMG – Oh My God (2012). But with his fine work here, he has arrived.
The background score is minimal which is a smart move. There are no loud sounds during wrestling scenes to make them forcefully appealing, which a lot of films are guilty of. In fact, there is no background score on most occasions and rightfully so.
Pritam's music and Amitabh Bhattacharya's lyrics add plenty of effect. The songs take the story forward and are not treated merely as songs.
Lastly, the film reaches this level because of Aamir Khan. He once again proves he is one of the few greatest artists from India. And with this performance, he shows he is the powerhouse of dedication. But it is not merely an Aamir Khan film. Fatima Sana Shaikh and Sanya Malhotra make enormous use of the opportunity and manage to match-up to Aamir, which is no small achievement.
Zaira Wasim and Suhani Bhatnagar, who play their younger versions, stay etched in your memory their limited screen time. Sakshi Tanwar should do more films. She provides a fine act as Mahavir's wife. Girish Kulkarni is a phenomenal performer and he shows it with his act as the coach. Aparshakti Khurrana, as Geeta and Babita's cousin, isn't bad. At times, he is overused to provide humour.
Overall: Dangal is one of the finest films you will see and one of the very few ones with a lot of repeat value.
Box-office prediction: The film has gained a tremendous opening on the first day earning Rs 29-30 crore (as per BoxOfficeIndia.com). With the incredible word-of-mouth, it is sure to rise higher and has a fair chance of being the highest earner of 2016 defeating Sultan. If not that, it is sure to reach the Rs 300 crore mark.
Rating: 4.5/5
Review by: Keyur Seta
Director: Nitesh Tiwari
Producers: UTV Motion Pictures and Aamir Khan Productions
Writers: Nitesh Tiwari, Piyush Gupta, Shreyas Jain and Nikhil Meharotra
Cast: Aamir Khan, Fatima Sana Shaikh, Sanya Malhotra, Sakshi Tanwar, Zaira Wasim, Suhani Bhatnagar
Music: Pritam
Genre: Biopic/Drama
Runtime: 161 minutes