By: Keyur Seta
Director: Gajendra Ahire
Producer: Trupti Bhoir
Writer: Gajendra Ahire
Cast: Trupti Bhoir, Subodh Bhave, Kishore Kadam, Chinmay Sant, Suhas Palshikar, Milind Shinde
Music: Ilayaraja
Genre: Drama
Rating: * * * *
(For more reviews, previews and news about Marathi Cinema, visit our main website by clicking HERE.)
Story Outline: The film throws light on the culture of touring talkies - film screenings inside tents (tamboo), which is slowly dying. Chandi's touring talkies is one of the rare ones still surviving in Maharashtra.  She and her brother Babya (Chinmay Sant) take great pride in showing films in their tent, which has been their family business since decades.
But their business is threatened due to some foolishness by Chandi's drunkard father Babu (Suhas Palshikar). Chandi sees a ray of hope when filmmaker Avinash (Subodh Bhave) arrives in their locality to screen his film in the tents.
Review: With Gajendra Ahire's Touring Talkies, Marathi Cinema can boast of paying tribute to Indian cinema in its centenary (100th) year in such a heartwarming manner that the cinema chya keeda inside you will feel mighty proud. The experience becomes even greater when you watch the movie in a tent (like I did).
Ahire does the painstaking task of presenting every minute detail of tent culture cinema with remarkable ease. The viewer gets quickly involved with the proceedings with one amusing moment following another. But despite that, the film stays miles away from being a documentary. The characterization and narration with the use of simple conflict elements make sure you instantly feel for the characters and their struggle to keep cinema alive in their tent.
What also strikes you is how Ahire has managed to present even the dishonest activities of the group in an innocent manner. For example, you really don't mind when Chandi renames Avinash's film as Gela Haath Cholit or even when Babya mixes few porn film reels with the reel of Avinash's film. The characters' unique style of film promotions to lure audiences will also keep you smiling and so will the scene where Chandi stops Babya from tearing off film posters.

From the flipsides, there comes a moment in the second half when the film threatens to be a drag. It is also strange to see Avinash's 'art film' getting accepted in a place where only hardcore commercial films are acknowledged, despite the special offers for the audience. But these points won't hurt you due to the delightful climax and the overall heartwarming nature of the film.
The soulful background score and Amol Gole's artistic camerawork provide apt support. Ilayaraja composed English tracks suit the subject but there definitely was scope for a Marathi song considering it's a Marathi film. But special mention should be given to the art director for bringing the touring talkies culture alive.
Trupti Bhoir displays an example of complete dedication and hard-work in her performance. She shows the tough as well as emotional side of the character brilliantly. Subodh Bhave perfectly fits in the shoes of a realistic filmmaker and gives a mature act.
An unusually hilarious performance is presented by Kishore Kadam. It's a pleasure to see him announcing even unimportant details. After Jana Gana Mana, Girish Sant once again gives a smile-producing performance. Milind Shinde and Suhas Phalshikar provide perfect support while Neha Pendse shines in a cameo.
Overall, Touring Talkies will touch the hearts of all those who are fascinated by the magical world of cinema. The film desperately deserves some rapid word-of-mouth to succeed at the box office. It is highly recommended to see the film in a tent.
By: Keyur Seta
Director: Mrinal Kulkarni
Producers: Bhupar Bodar Enterprises, Pravin Thakkar and Amol Production
Writers: Mrinal Kulkarni and Manisha Korde
Cast: Sachin Khedekar, Mrinal Kulkarni, Pallavi Joshi, Sunil Barve, Suhas Joshi, Mohan Agashe
Music: Milind Ingle and Surel Ingle
Genre: Romance
Rating: * *
Story Outline: Anushree (Mrinal Kulkarni) is going through a troubled marriage with her husband (Sunil Barve), although the couple isn't divorced. Suddenly, she is bestowed with an air of happiness after Dr Prakash (Sachin Khedekar), a divorcee, enters her life. Circumstances bring Prakash and Anushree together and they start developing feelings for each other. But soon, things become complicated for both.
Review: Is it possible to find love again after a broken marriage? This question was sensibly and heartwarmingly explored recently in Satish Rajwade's Premachi Goshta. Mrinal Kulkarni's directorial debut Prem Mhanje Prem Mhanje Prem Asta explores the same issue but in doing that, it also uses the exact storyline, including the twists and climax, which Rajwade used in his film.
But even after ignoring its similarities with the Atul Kulkarni starrer, the film still fails to either move or entertain, barring few moments, due to a weak script. The story takes time to develop at the start and it doesn't take time for you to realize the amateurish screenplay and dialogues. However, there is a lot of hope and promise in store after a relationship starts developing between the two characters with the alarming interval point further generating interest.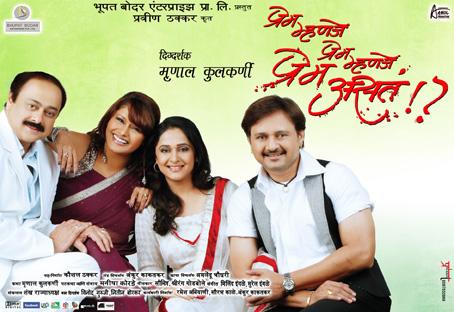 That point, however, is hardly exploited in the post-interval portions. Instead of taking the story and drama to a higher level from that moment, the writers present a series of unappealing and uninteresting sequences that you eventually lose interest after a point of time. What's worse is that some tear-jerking moments turn out to be unintentionally hilarious. Although the climax does include a couple of touchy moments, it isn't entirely satisfying. Not to mention your experience before that.
As mentioned earlier about PMPMPA's similarities with Premachi Goshta, it comes as a strange surprise because the former went on floors much before the latter released. And needless to say, if you have seen and loved Rajawade's film, you won't be impressed with PMPMPA.
From Milind Ingle and Suresh Ingle's compositions, 'Mann Bavarate' is impressive. The fun title track at the end is not only against the subject, it also appears as a forceful attempt to be 'cool'. From the technical areas, the camerawork is adequate while the background score should have been used more.
Apart from few moving moments, Mrunal Kulkarni's sincere performance is the saving grace. She perfectly gets into the skin of the character and gets every emotion right. She surely deserves to do more films. Sachin Khedekar also impresses but he doesn't get much scope to be at his best.
Pallavi Joshi comeback turns out to be above average. Her diction doesn't help her cause. Sunil Barve isn't bad but he too suffers from a weakly written character. This also ensures he becomes a source of some unintentional hilarity. Neha Joshi is impressive as a bindaas girl. The rest of the supporting actors – Mohan Agashe, Suhas Joshi and Smita Talwalkar – fit the bill.
Overall, Prem Mhanje Prem Mhanje Prem Asta suffers because of the writing and presentation. Due to the big names and some hype, the film has a decent chance at the box office. But it is doubtful whether it would be able to sustain at the ticket window for long.
By: Keyur Seta
Director: Kannan Iyer
Producers: Vishal Bhardwaj Pictures Pvt. Ltd. and Balaji Telefilms
Writers: Vishal Bhardwaj and Mukul Sharma
Cast: Emraan Hashmi, Huma Qureshi, Konkana Sen Sharma, Kalki Koechlin, Annu Kapoor
Music: Vishal Bhardwaj
Genre: Horror/ Thriller
Release Date: April 19, 2013
Analysis:
Star Value: Emraan Hashmi has, over the years, successfully acquired an image of a quality performer, than just a serial-kisser. Hence, his presence surely adds star value to a film. Ek Thi Daayan not only has another quality performer in Konkana Sen Sharma, it also features Huma Qureshi, who is slowly earning name as a brilliant actor after Gangs of Wasseypur. Therefore, the star value for Ek Thi Daayan is high.
Hype: The first eerie promo of the movie created a good amount of hype. But as the film has neared its release, the excitement hasn't gone to higher levels, although it is surely there.
Music: The track 'Yaaram' is slowly becoming famous and giving a good amount of publicity to the film. The rest of the songs aren't that known, although they are good melodious numbers by Bhardwaj. It seems the songs will gain popularity if the film attains high success.
Prediction:
Due to the dark subject, Ek Thi Daayan will get a decent to good opening at the box office but only in metros. The film will struggle at the smaller centers and single screens, although its chances are not that negative.
It is very vital for the film to receive thumbs up initially if it has to succeed at the ticket window, else it will struggle to make the producers happy. This will largely depend on the suspense of the climax. If it manages to shock and convince the audience, it is expected to have a good run. The good thing for Ek Thi Daayan is that the big release next week is Aashiqui 2, which shouldn't be a threat.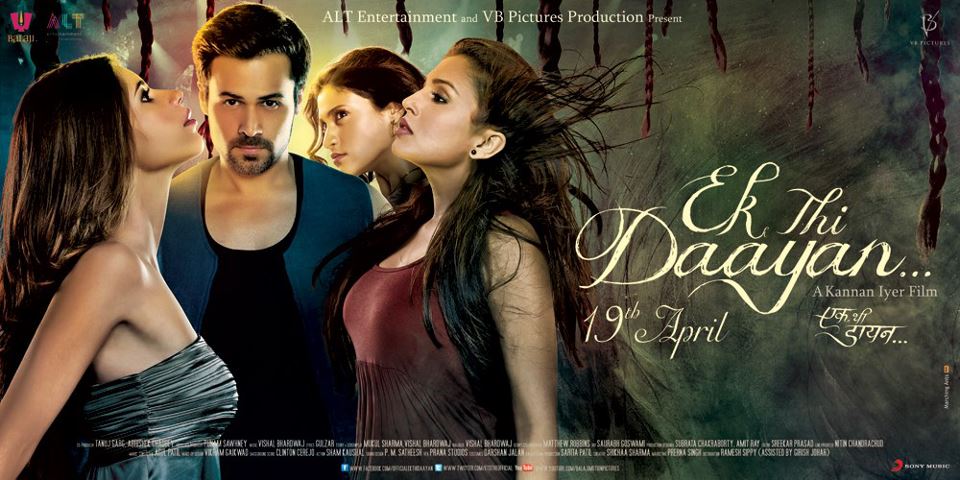 By: Keyur Seta
The biggest reason for the success of David Dhawan's Chashme Baddoor is the dialogues. The writer duo Sajid-Farhad has continued their good work after, like they have been doing so consistently since last few years. A large majority of funny lines are given to the character of Omi played so very well by Divyendu Sharma. Here are some outrageously funny lines from the film.
Lines rendered by Omi's character:
Toh Arz Kiya Hai,
Bhari Mehfil Mein Maine Sher Mara
Bhari Mehfil Mein Maine Sher Mara
Toh Sherni Vidhwa Ho Gayi
Toh Arz Kiya Hai,
Aurat Hoti Hi Aisi Hai,
Kuchh Kaho Toh Mooh Fula Deti Hai,
Kuchh Karo Toh Pet Fula Deti Hai
Toh Arz Kiya Hai,
When You Can't Change The Girl, Change The Girl
Toh Arz Kiya Hai,
Kashmir Na Koi Le Sakta Hai,
Kashmir Na Koi De Sakta Hai,
Kashmir Mein Toh Sirf Do Raat Aur Teen Din Ka Honeymoon Package Ho Sakta Hai
Agar Tum Safed Sari Mein Lal Bindi Lagakar Aa Jao, Toh Ma Kasam Ambulance Lagogi
Patni Ne Poochha Pati Se Ki Tum Mere Alawa Aur Kitnon Ke Saath Soye Ho,
Pati Bola Soya Sirf Tumhare Saath Hoon, Bakiyon Ke Saath Poori Raat Jaga Hoon
Mere Dost Yeh Woh Seema Hai Jiski Koi Seema Nahin,
Aur Jiske Character Ka Koi Beema Nahin
More lines by other characters:
Ali Zafar: Agar Pyar Pant Hai Toh Dosti Chaddi Hai. Pant Agar Phat Bhi Jaye Toh Chaddi Izzat Bachati Hai. Buddies, You Are My Chaddies.
Siddharth: Bade Buzurg Keh Gaye Hai Ki Paapon Ka Prayashchit Karna Chahiye.
Divyendu Sharma: Lekin Uske Pehle, Paap Toh Kar Le
Siddharth: Main Jay. Sholay Wala Nahin, Bas Naam Aur Personality Wohi Hai.
Rishi Kapoor: Agar Agle Hafte Tak Kiraya Nahin Diya Toh Tere Kapde Utaar Doonga.
Ali Zafar: Chillana Hai Toh Chillao Na, Romantic Kyun Ho Rahe Ho?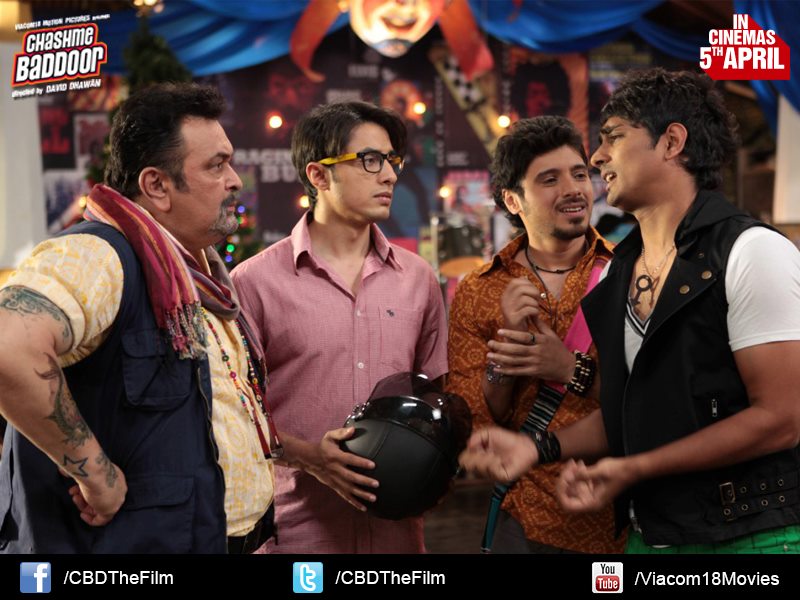 Director: Rohan Sippy
Producers: Ramesh Sippy Entertainment and T-Series Super Cassettes Industries Ltd.
Writers: Nipun Dharmadhikari, Rohan Sippy and Charu Dutt Acharya
Cast: Ayushmann Khurrana, Kunaal Roy Kapur, Evelyn Sharma, Pooja Salvi, Gaelyn Mendonca
Genre: Drama/ Comedy
Release Date: April 12, 2013
Analysis:
Star Value: Due to his lovable act in his debut movie Vicky Donor, Ayushmann Khurrana is a known name while Kunaal Roy Kapur is also not a stranger due to the appreciation he received in Delhi Belly. Hence, the star value for Nautanki Saala! is moderate.
Hype: The promos of the film garnered a good response due to the humor. There is some excitement for the film's release but it is not as high as one expected.
Music: The outrageous 'Dhak Dhak' remix is a known number. Even the 'Draamebaaz' song featuring Abhishek Bachchan has managed to get heads turn.
Prediction:
Nautanki Saala! is expected to get only an average to decent opening at the box office. But due to its genre, its chances rely more in the multiplexes of the metros. It will struggle at the single screen theatres, especially in the smaller towns and villages. Since it is a content oriented film, it is vital for it to get a positive initial response in order to have a good run at the box office. If that happens, there are chances for the producers to be happy.

Director: David Dhawan
Producers: Viacom 18 Motion Pictures
Writers: Sai Paranjpe, Renuka Kunzru and Sajid-Farhad
Cast: Ali Zafar, Siddharth, Divyendu Sharma, Tapsee Pannu, Rishi Kapoor, Juhi Chawla
Music: Sajid-Wajid
Genre: Comedy
Release Date: April 5, 2013
Analysis:
Star Value: Despite not being a crowd puller, Siddharth is the only known face from the movie due to his Rang De Basanti act. Ali Zafar and Divyendu Sharma are also not strangers when it comes to the masses but there is no such star value in the movie.
Hype: Although the promos of Chashme Baddoor made heads turn, they didn't impress much. However, the hype has slowly started building due to the youthful subject and some good promotional strategy.
Music: 'Har Ek Friend Kamina Hota Hai' has become an instant rage and has immensely helped the film gain publicity. The title song too is becoming known.
Prediction:
Chashme Baddoor (remake of the classic Chashme Buddoor) will get an average to decent opening. Due to the urban, modern subject, it has a greater chance of earning in the multiplexes of the metros. But that doesn't mean it has no chance in smaller centers. However, it is very vital for the film to impress at the onset else the above mentioned chances will hold no value. The film will also be helped by the fact that there are no major releases next week.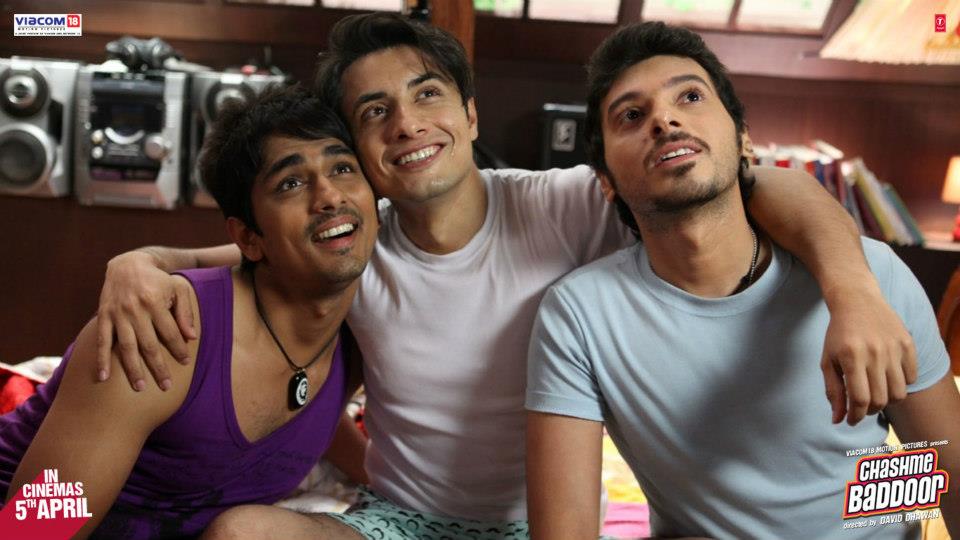 By: Keyur Seta
Director: Chandrakant Kulkarni
Production: Puja Chhabria for White Swan Productions
Writers: Ajit Dalvi and Prashant Dalvi
Cast: Sachin Khedekar, Mahesh Manjrekar, Rishikesh Joshi, Ashwini Bhave, Pushkar Shrotri, Anand Ingle
Music: Ashok Patki and Mangesh Dhakde
Genre: Political Drama
Rating: * * ½
Story Outline: The movie is based on the old Marathi play Mukhyamantri. Chief Minister of Maharashtra Vishwasrao Mohite (Sachin Khedekar) will do anything to walk the righteous path. When he unintentionally insults an aged and blind singer, he feels guilty. He also gets to know that the singer had applied for a flat in Mumbai under a government scheme eight years ago but is still to receive its allotment.
In order to penance for his wrongdoing and give justice to the singer, Mohite pulls up his socks to allot the flat to him and that too before sunrise. His adamancy also brings him face-to-face with the dishonest IAS officer Rehmatpurkar (Mahesh Manjrekar).
Review: Politics has been one of the favorite topics for Marathi filmmakers but there has hardly been a film portraying an example of an ideal, honest politician. Chandrakant Kulkarni's Aajcha Divas Majha should be seen for this reason. But other than this, it is only Sachin Khedekar's delightful act that turns out to be the next plus point since the film lacks a watertight story and narration.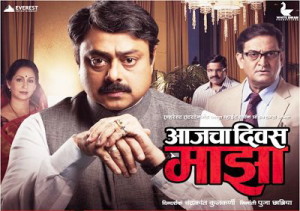 From the positives, it is very refreshing and heartwarming to see an honest Chief Minister literally worshipping his duty towards the citizens. Kulkarni attains high degree of realism in depicting the everyday workings of a CM and his subordinates. Rightfully, this is shown the most at the start but the proceedings don't appear uninteresting due to some smart dialogues, fast narration and the charisma of Khedekar.
As mentioned earlier about the writing, the motto of the protagonist is not convincing or solid enough. Not only because the work could have done the following day (since it is not a do-or-die situation) but also because his urgency is born out of his personal guilt. In other words, it is difficult to say whether he would have shown the same determination if he hadn't insulted the singer. This also means that he wrongly makes his staff work whole night for the mistake committed by him alone.
The script also lacks the basic element of conflict which makes sure there is not much of drama in the second half. Due to this, obviously, you don't get the kick from the climax either. The character of Rehmatpurkar does threat to be a thorn in the CM's path but that hardly happens. They also shouldn't have given too much importance to the stenographer and his 'glucose' adventures.
Although the scene inspired from Anna Hazare's fast is a minor one, it deserves mention for being questionable. There is nothing wrong in criticizing or disagreeing with someone but one should refrain from making a funny spoof of the real-life social worker.
Since the movie is based on a play, Rajan Kothari doesn't get much scope to showcase his cinematography skills. But despite that, he does his job well. The background score provides the right effect. There is not much scope for music either but Ashok Patki and Mangesh Dhakde should be praised for the theme track and the classical song.
Repeating the above mentioned, Sachin Khedekar gives a delightful act by carrying the film on his shoulders. In fact, he also manages to overshadow the not-so-perfect writing. Mahesh Manjrekar perfectly fits the bill as an arrogant IAS officer. Despite these two big names, Rishikesh Joshi shines as CM's secretary with an utterly mature performance. Ashwini Bhave does well as the CM's wife while the supporting cast including Pushkar Shrotri and Anand Ingle play their parts convincingly.
Overall, Aajcha Divas Majha is watchable more because of the performances. The film has a chance at the box office due to the big names associated with it. But it still needs some rapid word-of-mouth.