By: Keyur Seta
It is vital for a film revolving around drug addiction and drug politics to be brave, bold and honest in order for it to turn out to be a winner. But Abhishek Chaubey's Udta Punjab achieves much more. It is also an entertaining and engaging saga that goes beyond just portraying the drug menace in Punjab.
Udta Punjab tells the story of four individuals in Punjab disconnected with each other. Tommy Singh (Shahid Kapoor) is a pop sensation. But he is not only a drug addict but also promotes drugs through his songs. A Bihari migrant worker (Alia Bhatt) accidentally lays her hands on a packet of drugs and her life changes.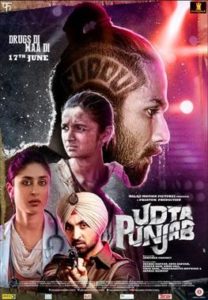 A junior police officer, Sartaj Singh (Diljit Dosanjh) is forced to be in a system that shields drug mafia. Dr Preet Sahni (Kareena Kapoor Khan) has vowed to serve the victims of drug abuse. There is one common factor in the lives of these four strangers – the white powder.
The phrase 'Action speaks louder than words' applies to this film. The rampant usage, availability and addiction of drugs in Punjab are portrayed through visuals and normal conversations, instead of the age old technique of someone speaking out the situation. There is some smart undertone of humor too.
This is just one of the numerous aspects that highlight the writers' and director's mature and intelligent manner of handling the subject. The result provides shock and worry with regards to one of India's most celebrated states. There are various sequences that leave you with some question or the other. But the film doesn't stop at that. It also provides a sensible solution to the drug problem.
And while the proceedings are going on, you realize, even before the interval, as to why some evil forces were super frightened of this film. But since the film is released without the super silly cuts ordered by CBFC (all thanks to the Bombay High Court), it will now become a trending topic and life will become difficult for the Punjab Government.
One of the few minor negative points includes the pace in the second half, which also increases the length, few logical errors and the act of a couple of characters.
The film is technically sound (cinematography, editing and background score). Despite the subject not being song-friendly, the tracks are smartly included to enhance the narrative and all of them are impressive too.
The performances play a large role, which was vital. Shahid Kapoor once again shows he is a dedicated artist. He completely gets into the shoes of a very challenging character in a way which can be described as brilliant. In Highway, Alia Bhatt showed her acting ability. With Udta Punjab, she moves few notches higher with a remarkable act. Those writing open letters to her without watching the film should have waited.
Diljit Dosanjh, Punjabi superstar making his acting debut, leaves a solid impact. He deserves to be seen in more Hindi films. Kareena Kapoor Khan's act also falls in the positive category. Satish Kaushik, Kamal Tiwari and the actor playing Diljit's younger brother too chip in with useful supporting acts.
Overall: Udta Punjab is a bold and daring saga about drug menace in Punjab, which is also high on entertainment. With the tremendous hype, mostly due to Pahlaj Nihalani, the film has a decent chance of earning positive box-office collections despite it not being a massy affair. It's first day collection has been Rs 10 crore.
(Personal note: With the silly accusations on the makers and the shoddy act of leaking the full movie for download on Torrent two days before release, it is clear that there are forces trying their best to harm a film that portrays a shocking reality. Let's not make them victorious by endorsing piracy.)
Rating: * * * *
Director: Abhishek Chaubey
Producers: Phantom Films and Balaji Motion Pictures
Writers: Abhishek Chaubey and Sudip Sharma
Cast: Shahid Kapoor, Kareena Kapoor Khan, Alia Bhatt, Diljit Dosanjh
Music: Amit Trivedi
Genre: Drama
Runtime: 149 minutes
Director: Raam Reddy
Producers: Pratap Reddy and Sunmin Park
Writers: Raam Reddy and Eregowda
Cast: Channegowda, Thamanna, Abhishek H. N, Singri Gowda
Genre: Drama
Duration/ Runtime: 124 minutes
Rating: * * * *
Review by: Keyur Seta
The term 'realistic cinema' generally applies to films that are very serious or, at times, sad in nature. But director Raam Reddy's Thithi breaks all such norms for realistic films. It shows that an utterly realistic saga can be both thought-provoking as well as a laugh-riot.
The film takes place in a remote village in Karnataka. Century Gowda (Singri Gowda) is so-called since he has surpassed 100 years of age. But he passes away at 101. How his death affects his son Gadappa (Channegowda), grandson Thamanna (Thammegowda) and great grandson Abhi (Abhishek H. N) and how everything boils down to Century Gowda's thithi (11th day after his passing away) forms the rest of the story.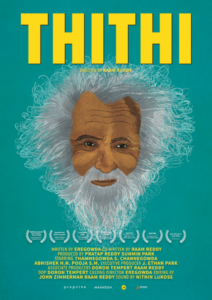 Like every well-made realistic rural flick, Thithi succeeds in the most difficult task of making you forget the outside world and get seriously involved with the life of Gowda family. But, as mentioned before, there is laughter galore throughout the duration, even in the most basic situations. This, however, doesn't mean that there is any compromise in staying honest with the subject.
Despite, however, such high doses of entertainment, the film succeeds in asking a lot of questions and saying a lot without saying much. Maintaining this fine balance is a triumph of the writing and direction.
Coming to the fallacies, there is one twist in the tale that isn't completely convincing. However, the many plus points and a fast pace won't let you think much about it.
Doron Tempert's displays his cinematographic skills despite the theme being simple and realistic theme. There is minimal use of background score (as per the need) and whenever it is used, it adds to the impact.
The makers have taken the risk of casting non-actors and to say that it paid off will be an understatement. It is simply amazing to see how each one has carried his or her role with perfection. In fact, it doesn't seem that they are acting at all. The one to stand out is Channegowda as Gadappa. But Thammegowda, Abhishek N. H, Singri Gowda, Pooja S. M (as Cawvery) and the rest are not behind at all.
Overall: Thithi is a must watch for those interested in films driven by strong content and excellent performances. The film needs to reach out to as many people as possible through word-of-mouth.