Sachin Tendulkar, as we all know, is the greatest batsmen of our times. So, obviously, there have been innumerable articles written on his great performances with the bat. However, the Master Blaster's contribution to the Indian team isn't limited to his batting. He has a list of good bowling performances, about which nothing much is spoken.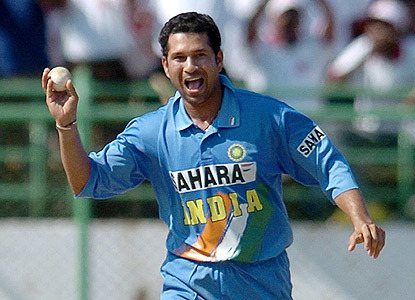 Tendulkar has had two 5 wicket and two 4 wicket hauls along with a number of other useful spells. He has 46 test and 154 ODI wickets to his credit (along with one T20 wicket). To achieve this while consistently performing with the bat is a huge achievement. In fact, I seriously feel he was grossly underbowled in his career.
As Tendulkar's 45th birthday is almost here, let's have a look at some of his finest bowling performances (listed chronologically).
4 for 34 vs West Indies at Sharjah in 1991
This was Tendulkar's first triumph with the ball which is his least known bowling achievement. India fielded first and Mohammad Azharuddin brought him first change, even ahead of full-fledged bowlers like Anil Kumble and Venkatapathy Raju. The gamble paid huge dividends as Tendulkar singlehandedly broke the morale of West Indies batsmen. They were all out for just 145 and India won comprehensively. (No video of this match is available)
Final over in the Hero Cup Semi Final at Kolkata in 1993
Tendulkar didn't take any wickets in this match and bowled only one over. Yet this match is still known for his bowling performance. He showed immense courage to ask for the ball when South Africa needed 6 runs off 6 balls and won the match for India. This one over turned out to be one of most memorable moments in India's cricket history.
3 for 36 vs West Indies at Chennai in 1994
Tendulkar repeated what he did to the West Indies in 1991. They were going all guns blazing with Brian Lara and Carl Hooper putting in more than 100 runs for the third wicket. Once again Azaharuddin threw the ball to Tendulkar and he responded yet again by getting the great Lara out. He then got Jimmy Adams and Sherwin Campbell too. After being 176 for 2, the West Indians were bowled out for 221. India won by four wickets. (No video of this match is available)
5 for 32 vs Australia in 1998
It is rare to see a legendary batsman taking a 5 wicket haul and that too against a strong opposition. Tendulkar didn't do much with the bat in this match. But he more than made up for it by making some fine Australian batsmen victims of his quality leg spin and googlies. The turn he got to dismiss Tom Moody was exemplary. It was after this match that people started taking him seriously as a bowler.
4 for 38 vs Australia at Dhaka in 1998
Surprisingly, not much is spoken about Tendulkar's huge contribution in this knock out match in the first edition of ICC Champions Trophy (also known as Mini World Cup then). Once again, Australians looked set to achieve a big score set by India when the Master Blaster unsettled them with 4 important wickets.
Tendulkar also scored a quality 100 in the match and rescued India when they were in trouble at 8 for 2. This was one of the finest all round performances in ODIs.
3 for 10 vs South Africa at Mumbai in 2000
This is yet another bowling achievement by Tendulkar which hardly received fame. In this test match, South Africans were cruising towards India's score of 225 as they were 90 for 0. As all frontline bowlers weren't able to take a wicket, captain Sachin brought himself on and he got three quick wickets for just 10 runs. He had also scored 97 with the bat. India lost the match but they were back in the game because of Sachin's spell.
3 for 31 vs Australia at Kolkata in 2001
This match is famous for V V S Laxman and Rahul Dravid's out-of-the-world batting display. They brought India back when an innings defeat looked imminent. But Tendulkar's 3 quick wickets at the end played a big role in ensuring India's win. His googly to get the legendary leg spinner Shane Warne out deserves special mention.
5 for 50 vs Pakistan in 2005
This was yet another match where Tendulkar couldn't do much with the bat but still emerged victorious by taking another five wicket haul. Interestingly, this was another fifer at the same Kochi ground. He destroyed the Pakistani middle order with his leg spinners and occasional medium pace and ensured an easy victory for India. However, we have to admit that he was helped by some bad shots by the batsmen.
Honorary mentions: Tendulkar's googly to get out Moin Khan in the 2004 Multan Test and his medium fast to clean bowl Brian Lara in the Hero Cup Final in 1993.
By: Keyur Seta
The rapes in Kathua in Jammu and Unnao in Uttar Pradesh (UP) have, understandably, shaken us to the core. We would have been deeply affected even if such incidents had happened in a fictitious movie. So, after reading the details of what happened in real, especially in the Kathua case, one is definitely expected to feel for it life-long.
But I can see a lot of people asking as to why only these two rapes have received such widespread coverage and subsequent condemnation. According to them, rapes are a regular occurrence in India. So, why only trend these two cases?
Well, they have a point. As shameful as it may sound, rapes, even of minor girls, keep happening in India. And a lot of them have been disturbingly violent too.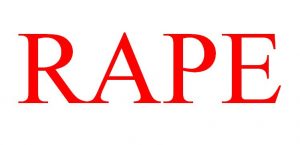 But, apart from the fact that the incident happened in a sacred spot like a temple, it is the shocking reactions and actions of both state governments and people involved in the governments that have ensured such massive coverage and trending of these two cases.
For those not in the know, a group called Hindu Ekta Manch openly protested in favour of the people allegedly involved in the disturbingly gruesome rape of an 8-year-old girl in Kathua and that too by waving the tricolor! Worse, they were joined by the two BJP ministers Chaudhary Lal Singh and Chander Parkash Ganga from the state. (Read more HERE)
As far as the Unnao rape is concerned, no action was taken on the accused Kuldeep Singh Sengar, who is a BJP legislator from the state, for more than a year. Worse, when the victim's father carried out a peaceful protest, he was arrested by the police and he soon died in police custody due to torture. (Read more HERE)
The accused was arrested but only after the High Court literally slammed the UP Government for not taking any action and the victim threatened to commit suicide outside the Chief Minister's home. (Read more HERE)
When did we last hear about a rally being taken out in support of rape accused with a tricolor which is also attended by those who are supposed to govern us? When did you last year of a situation where instead of arresting the accused, the father of the victim was not only arrested but also beaten to death?
These factors make these two cases more serious and worrying.
By: Keyur Seta
After getting released on bail yesterday, Salman Khan got a heroic welcome in his hometown Mumbai. Such was the delight in the hearts of his fans that a large amount of crackers were busted in celebration. A person alien to the entire Black Buck case would feel that the actor must have done some noble deed to have received such a reception.
Little would he or she know that Salman is actually found guilty of killing endangered species and has only received bail; he is not acquitted of the crime. On top of that, the judge who convicted him is transferred (co-incidence?).
Welcoming a convict by busting crackers is surely shocking. But after a while, it didn't come as a surprise for me. The reason for this is simple. The same person has been let off of a much serious crime of killing one and injuring four in the 2002 hit-and-run case.
Anybody who has followed this case would know how he was let off. The silliest giveaway was Salman's driver taking the blame on him all of a sudden 13 years after the crime.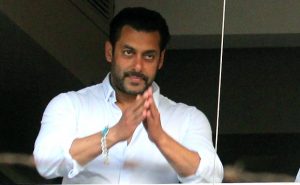 But the manner in which the prime witness, constable Ravindra Patil, was physically and mentally tortured to death not only points to foul play but also gets you disturbed. (Read Patil's full story HERE and HERE.)
This point alone is enough to question the mindsets of those who can turn a blind eye to the above incidents and welcome the actor as if he carried out a noble deed for the nation. Unfortunately, a good section of the media is behaving the same way. It is shuddering to think that they are the custodians of the fourth pillar of democracy.
This is the extent to which the disease of hero worship has spread in India.
The usual excuse we get from these blind fans is that Salman has been doing a lot of charity. Now, which law states that a person should be excused from charges of such magnanimous nature if he or she indulges in charity work? For the uninitiated, his charitable trust Being Human was started in 2007, much after he got involved in such crimes.
Watch the fireworks and how Salman asks his robotic fans to sleep:
It is obvious that such bhakts won't question as to how Salman received bail in just 48 hours when Dr Kafeel Khan is in prison since six months and that too for saving the lives of children during the horrific episode of lack of oxygen in Gorakhpur's hospital.
I don't think many of them might even be aware of the incident (read about it HERE, if you are one of them). In fact, there are lakhs of undertrial prisoners who are not even convicted but are still loitering in jails since months and years simply because their name is not Salman Khan.
And yet, the blind fans keep giving the laughable argument that Salman is targeted for being a celebrity when it's the other way round. If he wasn't a celebrity, he would have been one of the lakhs of undertrials.
The hero worship disease is not just limited to the fans of actors. It goes for politicians as well. So much so that their ghastly crimes are forgotten just because they possess the quality of uttering scripted lines with style and punches. If they say something you love listening to in their usual heroic way, you are clean bowled!
To think of it, this shows how the job of actors and politicians is the same. Both act in front of the audience and mouth scripted lines. The only difference is that actors admit to acting, although not while being off screen.
But the masses won't realize this since this disease makes you disconnected with logic. One gets so madly attracted to some quality or style of a celebrity that thinking and reasoning is out of question. It makes you fight or even end relations with your near and dear ones just because they don't agree with your blind worship.
All this for a person who is not even aware about your existence in the first place.
By: Keyur Seta