Sachin Tendulkar, as we all know, is the greatest batsmen of our times. So, obviously, there have been innumerable articles written on his great performances with the bat. However, the Master Blaster's contribution to the Indian team isn't limited to his batting. He has a list of good bowling performances, about which nothing much is spoken.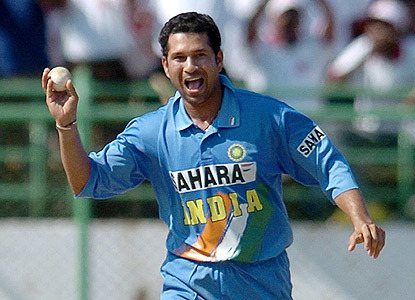 Tendulkar has had two 5 wicket and two 4 wicket hauls along with a number of other useful spells. He has 46 test and 154 ODI wickets to his credit (along with one T20 wicket). To achieve this while consistently performing with the bat is a huge achievement. In fact, I seriously feel he was grossly underbowled in his career.
As Tendulkar's 45th birthday is almost here, let's have a look at some of his finest bowling performances (listed chronologically).
4 for 34 vs West Indies at Sharjah in 1991
This was Tendulkar's first triumph with the ball which is his least known bowling achievement. India fielded first and Mohammad Azharuddin brought him first change, even ahead of full-fledged bowlers like Anil Kumble and Venkatapathy Raju. The gamble paid huge dividends as Tendulkar singlehandedly broke the morale of West Indies batsmen. They were all out for just 145 and India won comprehensively. (No video of this match is available)
Final over in the Hero Cup Semi Final at Kolkata in 1993
Tendulkar didn't take any wickets in this match and bowled only one over. Yet this match is still known for his bowling performance. He showed immense courage to ask for the ball when South Africa needed 6 runs off 6 balls and won the match for India. This one over turned out to be one of most memorable moments in India's cricket history.
3 for 36 vs West Indies at Chennai in 1994
Tendulkar repeated what he did to the West Indies in 1991. They were going all guns blazing with Brian Lara and Carl Hooper putting in more than 100 runs for the third wicket. Once again Azaharuddin threw the ball to Tendulkar and he responded yet again by getting the great Lara out. He then got Jimmy Adams and Sherwin Campbell too. After being 176 for 2, the West Indians were bowled out for 221. India won by four wickets. (No video of this match is available)
5 for 32 vs Australia in 1998
It is rare to see a legendary batsman taking a 5 wicket haul and that too against a strong opposition. Tendulkar didn't do much with the bat in this match. But he more than made up for it by making some fine Australian batsmen victims of his quality leg spin and googlies. The turn he got to dismiss Tom Moody was exemplary. It was after this match that people started taking him seriously as a bowler.
4 for 38 vs Australia at Dhaka in 1998
Surprisingly, not much is spoken about Tendulkar's huge contribution in this knock out match in the first edition of ICC Champions Trophy (also known as Mini World Cup then). Once again, Australians looked set to achieve a big score set by India when the Master Blaster unsettled them with 4 important wickets.
Tendulkar also scored a quality 100 in the match and rescued India when they were in trouble at 8 for 2. This was one of the finest all round performances in ODIs.
3 for 10 vs South Africa at Mumbai in 2000
This is yet another bowling achievement by Tendulkar which hardly received fame. In this test match, South Africans were cruising towards India's score of 225 as they were 90 for 0. As all frontline bowlers weren't able to take a wicket, captain Sachin brought himself on and he got three quick wickets for just 10 runs. He had also scored 97 with the bat. India lost the match but they were back in the game because of Sachin's spell.
3 for 31 vs Australia at Kolkata in 2001
This match is famous for V V S Laxman and Rahul Dravid's out-of-the-world batting display. They brought India back when an innings defeat looked imminent. But Tendulkar's 3 quick wickets at the end played a big role in ensuring India's win. His googly to get the legendary leg spinner Shane Warne out deserves special mention.
5 for 50 vs Pakistan in 2005
This was yet another match where Tendulkar couldn't do much with the bat but still emerged victorious by taking another five wicket haul. Interestingly, this was another fifer at the same Kochi ground. He destroyed the Pakistani middle order with his leg spinners and occasional medium pace and ensured an easy victory for India. However, we have to admit that he was helped by some bad shots by the batsmen.
Honorary mentions: Tendulkar's googly to get out Moin Khan in the 2004 Multan Test and his medium fast to clean bowl Brian Lara in the Hero Cup Final in 1993.
By: Keyur Seta