By: Keyur Seta
Director: Ayan Mukerji
Producers: Dharma Productions and UTV Motion Pictures
Writers: Ayan Mukerji and Hussain Dalal
Cast: Ranbir Kapoor, Deepika Padukone, Aditya Roy Kapur, Kunal Roy Kapur, Kalki Koechlin
Music: Pritam
Genre: Romantic Comedy
Release Date: May 31, 2013
Analysis:
Star Value: There is no doubt that Ranbir Kapoor is not only one of the biggest superstars but the most talented young actor currently. Due to this, he has a huge fan following not just in India but abroad as well. Plus, the film also stars Deepika Padukone. So naturally, the star value for Yeh Jawaani Hai Deewani is very high!
Hype: The trailers and promotional campaigns have built a lot of excitement, which is continuing to grow as the film nears its release.
Music: The song 'Badtameez Dil' has become an instant rage. Other songs like 'Balam Pichkari', 'Dilli Wali Girlfriend' and 'Ghagra', which features Madhuri Dixit, have also added to the publicity.
Prediction:
There is no doubt that Yeh Jawaani Hai Deewani will get a very good opening at the box office. The genre and its appeal are such that it will score well in both single screen theatres and multiplexes. In fact, even if the film receives negative initial response, it will still sail through due to Ranbir's presence and the commercial appeal. And if it gets thumbs up at the onset, the film will surely be one of the biggest hits of 2013. All in all, Yeh Jawaani Hai Deewani looks like a very safe bet at the box office.

With the BCCI chief trying to fool people in the most shocking manner, it is high time the legends of the game listen to their conscience and speak on behalf of those who made them what they are: their fans!
By: Keyur Seta
Politicians and big-shots trying to fool the aam junta is nothing new in our country. For them, the common public is either unintelligent to fall in the trap or too busy in their own life to pay heed to the issue. But the way N Srinivasan, the President of the Board of Control For Cricket in India (BCCI), is lying through his teeth has set a new benchmark in trying to take the country for a ride!
Let's have a look at the background of the issue first. As we all are aware, Srinivasan's son-in-law Gurunath Meiyappan, owner of Chennai Super Kings, is arrested for his alleged role in betting and match-fixing (or spot-fixing as they are calling it) in the so-called cricket series Indian Premier League (IPL). So according to the IPL rules, the team can be banned due to their owner's malpractice.
But to make sure his son-in-law doesn't get into trouble and his team isn't banned, Srinivasan has come up with a shocking theory. According to him, Gurunath is neither the owner of CSK nor he is associated with the team in any way. In fact, he also says, Gurunath is just a cricket enthusiast who travels with the team!!! Well, even mentally retarded individuals won't believe such a theory.
The President has clearly gone way too ahead in trying to fool the people of India due to the following reasons:-
Gurunath's ID card, which is splashed across all TV channels, mentions him as the owner of CSK.
We have seen him giving numerous interviews on TV as the owner of CSK.
His visiting cards mention him as the owner of CSK. This was also shown across various news channels.
(Best point of all) He was seen bidding for his team at IPL team auctioning.
Before this incident, nobody knew that a mere cricket enthusiast gets all these privileges! I can assure to Srinivasan that I am a much bigger cricket enthusiast than Gurunath. So will I be given the opportunity to speak as a team owner and bid for the team during auctions?
More than Srinivas's shocking claims, it is the audacity at which he is making them and, in turn, blaming the media for 'hounding' him that speaks volumes about his adamancy for fooling the people of India!
On the contrary, we should thank the media, especially Times Now, for not giving up on the issue and asking what billions of cricket fans across the country are desperate to ask. In fact, we can only rely on the media because the big names of the game aren't going to utter a word on the issue. This is so evident from yesterday's press conference where Indian captain Mahendra Singh Dhoni just behaved like a puppet on the hands of his CSK owner and the BCCI President!
It was highly sad to see someone so confident and brave transforming into a scary bone! If this continues, be rest assured, the whole issue will soon be swept under the carpet. It is high time the big names of Indian cricket, including the Tendulkars, Dravids and Dhonis, raise their voice on behalf of those who have made them what they are: their billions of fans! It is up to them to choose between their bosses and their conscience!
By: Keyur Seta
The phenomenon of hero worshipping is very old among Hindi cinema lovers. There is nothing wrong with it since these actors have entertained us and helped us escape from our stressful routine. But when hero worshipping goes onto a level that people turn a blind eye to the high level of crime their onscreen 'hero' commits, be rest assured we are living in dangerous times.
I have always found it questionable and even disturbing to see people demanding forgiveness for Sanjay Dutt despite him being convicted in an utterly dangerous crime of storing arms in connection with the 1993 bomb blasts. But my disturbance scaled higher levels recently when I saw the actor being surrounded and cheered by his fans when he was about to surrender at the Tada Jail. It's so funny to see people supporting a criminal just because he is a big Bollywood superstar!
All these disturbing scenes have given rise to a single question in my mind – Suppose if a common man like me was convicted under the arms act in connection to a crime as serious as 1993 bomb blasts, how many people would have supported me and demanded forgiveness for me? Nobody would have simply because I am not a superstar! The public would have burnt my effigies in fact! So how can the law be different for a common man and a filmstar?
It is been argued that Dutt has already spent some time in jail but is it enough for a crime as serious as this? His supporters are also raising the point that he deeply regrets what he did. So suppose if I commit a similar serious crime and then repent my acts, will people demand for my forgiveness too?
In the midst of this madness, Nana Patekar's brave and bold statement on the issue has come as a pleasant surprise. The fearless way in which Nana has expressed no mercy for Dutt has increased my respect for him manifolds. Perhaps, he is the only one from the film fraternity to have spoken about equality in law.
As for the rest from the industry, they scream about honesty, truth and justice only in their films. Their fans whistle and clap whenever their favorite actors speak about these three issues. In real life, both parties will go all out in supporting a criminal activity.
Watch Nana Patekar giving a fearless opinion against Sanjay Dutt's mercy:
By: Keyur Seta
With unthinkable amounts of money involved in every stage of the Indian Premier League (IPL), the arrest of S Sreesanth, Ankeet Chavan and Ajit Chandila on charges of spot fixing (or match fixing) doesn't really come as a surprise. It is believed that money is the root cause of all evils. So when the amount of money involved is abnormally high, evil surely can't be kept away.
Coming to the topic of banning IPL, I know it might sound outrageous to some. To put forth my point, I would like to list the following changes that have taken place in the cricket world after the emergence of the IPL: -
    Every season of the IPL is started in the most shocking manner with the auctioning of players where they are literally sold as if they are just commodities.
    Due to the absurd amount of money being paid to the cricketers, even for just warming benches, a number of players are more interested in playing for their IPL franchises rather than their country. In fact, Albie Morkel and David Hussey have gone on record in saying they aren't interested in playing for their respective countries. Virendra Sehwag's shocking decision of skipping India's England tour in 2011 instead of the IPL (which was before the England series) to undergo an operation for a shoulder injury is still fresh in cricket lovers' minds.
    To spread the so-called game, the makers have also gone the Bollywood way of objectifying women, not just with those sleazy cheerleaders but also in the form of TV presenters, who are chosen just for their looks rather than an iota of cricket knowledge.
    Players are asked to launch their respective team's clothing. They are also forced to walk on the ramp (which they do it embarrassingly). And the worst of all – those 'after match wild parties'. So we have product launches, ramp walks, skimpily clad cheerleaders (for lusty men who aren't much interested in cricket), glamorous TV presenters and high octane parties. Can we have some cricket too?
    We do have but it is just a bang-bang version with batsmen only wanting to hit over the ropes and bowlers just praying for a false shot from them. No, I am not completely against the T20 format but there has to be some regulation since the format just takes away the actual cricket skills from players. If you have 80 or more matches in a span of less than two months, there will be constant deterioration of skills. This is visible from the fact that hardly any batsman is capable of playing a long, fighting innings in Test Matches these days. Bowlers too are losing the threat and skills required to outplay the batsmen in the longest format since they have started relying on batsmen's mistakes.
And now, we have the mother of all disgraces – spot fixing scandal involving Sreesanth, Ankeet Chavan and Ajit Chandila. (Even last year, five players were caught in a similar scandal in a TV sting operation.) Personally, I am not at all surprised after hearing some inside stories about the IPL. Unfortunately, I can't write about it since the people, who revealed this, don't want to be quoted. But even if we put your common sense into work, don't we find it weird how a large number of matches go till the last ball or last few balls only in IPL and not any other tournament?
Although there are talks that the arrests are just the tip of the iceberg and many more shocking details and arrests are soon to follow, I tend to disagree. The IPL body and BCCI won't let it happen simply because it will get all the big names exposed which in turn would ruin the prospects of earning unthinkable amounts from the so-called cricket series. Ideally the tainted cricketers should be thrown in jails like other criminals. But the BCCI and IPL authorities will just sweep the dust under the carpet by just banning the players, which is equal to rewarding them.
Coming to the original question, isn't it the need of the hour to just ban IPL considering the high level of disgrace it has brought to our dear game of cricket? But as said earlier, the people controlling cricket won't ruin 'everyone's' prospects of earning enormous bucks. There is, however, a chance of it happening. How?
It is we the people who have let something as shameful as IPL ruin the cricket by investing our huge amounts of money and our precious time in following it. IPL would have been nothing without such high level of public participation. So the power of bringing this polluted version of cricket down also lies with us.
What happens when people don't turn up in cinema halls to watch a particular movie? It just gets removed ASAP. The same thing can happen with IPL if we just give a cold shoulder to it. If people don't turn up in the stadiums and don't turn on their TV sets, it will generate huge amounts of loss in terms of ticket and advertisement revenue, which will throw a clear message to the authorities. (Personally, I find it weird to think people still spending thousands even after such shameful cases coming to the forefront.)
So all those who have always loved or even worshipped cricket, it is time to show your love for the game by simply ignoring the pollution called IPL. Let us join hands to rescue our dear game!
By: Keyur Seta
Director: Mahesh Vaman Manjrekar
Producers: Aniruddha Deshpande and Medha Manjrekar
Writers: Mahesh Manjrekar and Sanjay Pawar
Cast: Sachin Khedekar, Sonali Kulkarni, Rohan Talwalkar, Vaidehi Parshurami, Upendra Limaye, Jitendra Joshi, Vidyadhar Joshi
Music: Akshay Hariharan
Genre: Drama
Rating: * * ½
Story Outline: Kokanastha is the remake of Mahesh Manjrekar's own Hindi film Viruddh (2005). The story focuses on Ramchandra Gokhale (Sachin Khedekar) and his wife's (Sonali Kulkarni) fight for justice for their deceased son Rohan (Rohan Talwalkar), who was killed by the son of the Home Minister.
Review: Amitabh Bachchan starrer Viruddh is considered one of Mahesh Manjrekar's better Hindi films. Since Kokanastha is a complete remake of the Bachchan starrer, it also turns out to be a moving saga of an aged couple who have lost their young son. However, the Marathi version falls short of the original due to few reasons, which includes the forced casteism and Rashtriya Swayamsevak Sangh (RSS) angels.
In fact, both angels turn out to be smart PR and marketing strategies. Firstly, the title has nothing to do with the plot and is just used to please a particular community. And to make sure people from lower castes don't feel alienated, the character of Gokhale's well-wisher (Upendra Limaye) is shown to be a Dalit who constantly utters "Jai Bheem" throughout the film. How forgivable is such promotion of casteism, especially when it has no relevance with the film's plot?
Coming to the controversial RSS scene splashed on the film's posters, (even if you assume the group to be truly commendable) it simply doesn't go with the character of the protagonist and appears unintentionally funny. It is just a small sequence forced into the narrative so that it can be used to generate some pre-release hype.
Like the original film, Kokanastha does make you feel and root for the aged couple in their difficult fight. Their relationship is smartly developed by some wittily humorous and emotional moments. But the film's overall effect would have been higher if the editor had used his scissors more. An unwanted song and a flashback scene in the first half and few dragging moments in the second half unnecessarily add up to the length.
It also needs to be noted that since Viruddh did fairly well in Maharashtra and is also shown on TV many times, a large section of the Marathi film audience must have seen it. Due to this, not only does the whole film become predictable but you also can't deny the fact that the presentation of few scenes, mostly the all-important climax, was more effective in the original version.
Although music (Akshay Hariharan) doesn't have much scope, 'Aga Pawna' and the theme song are impressive. Other technical aspects like the background score and cinematography suit the subject.
The performances of Sachin Khedekar and Sonali Kulkarni are the biggest plus points. With this act, Khedekar once again proves his super acting prowess as he gets into the skin of the protagonist and portrays every emotion with ease. Kulkarni doesn't lag behind too. She is remarkable in the strong character of a retired school principal.
Rohan Talwalkar makes a confident debut while Vaidehi Parshurami too suits the character. In a supporting role, Upendra Limaye is terrific! The rest of the actors including Jitendra Joshi and Vidyadhar Joshi provide perfect support.
Overall, Kokanastha is just a one-time watch, mostly due to the performances. The film has a chance of earning at the box office due to the big names attached with it.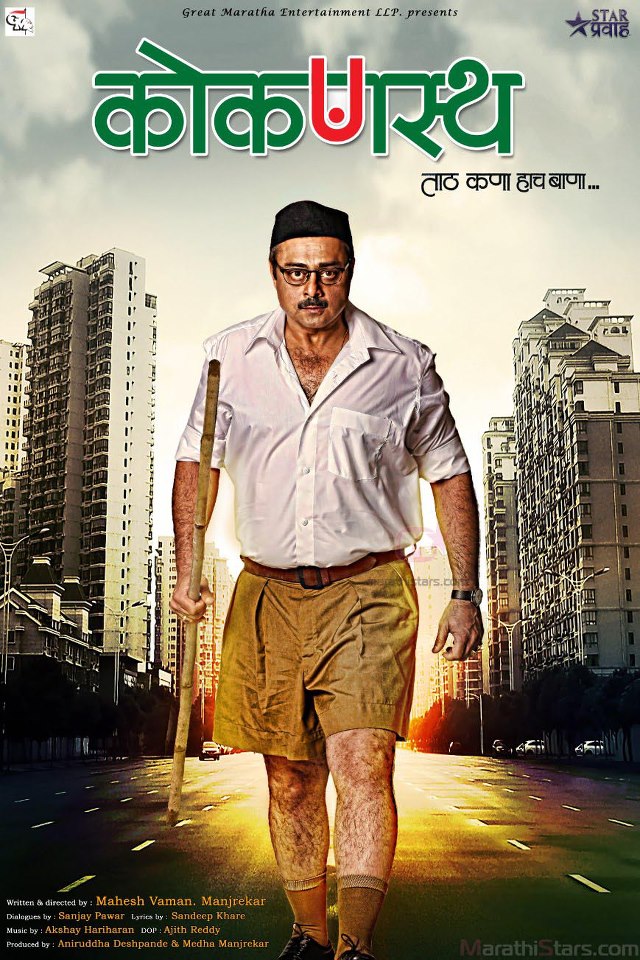 By: Keyur Seta
Although Sanjay Gupta's Shootout At Wadala fails to impress much, the movie can boast some of its creatively witty dialogues by Milap Zaveri. Of course, there are loads of cringe-worthy cheap lines and gaalis but in between, there is some praiseworthy stuff as well which is worth sharing.
Gunehgar maa ke pet mein nahin, police station mein bante hain.
Aadmi ko insaan ban ne se pehle, jaanwar ban na padta hai.
Police se zyada morale hijadon ka hai. Woh toh phir bhi kudrat ke mare hain, aapka kya bahana hai?
Jail se aane ke baad tu sudhar sakta tha, lekin jo maza bigadne mein hai woh sudharne mein kahan?
Sabko hero ban na hai. Amitabh Bachchan ne sabki ma t*** di hai.
Yahan suhagraat manane ke liye shaadi nahin karni padti.
Jo maut dost ki umar badhaye, woh maut sar aankhon par.
(BEST of all) Baadshah ki gali mein aake uska pata nahin poochhte. Ghulamo ke jhuke hue sar khud ba khud raasta bata dete hain.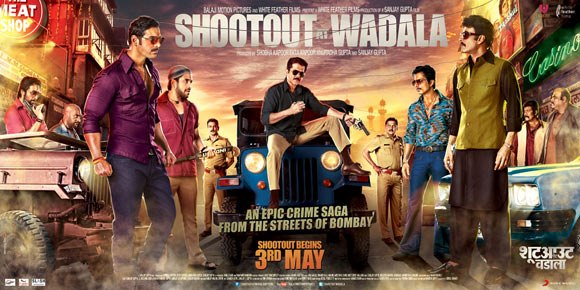 By: Keyur Seta
Director: Sanjay Gupta
Producers: White Feather Films and Balaji Motion Pictures
Writers: S Hussain Zaidi, Sanjay Gupta and Milap Zaveri
Cast: John Abraham, Anil Kapoor, Sonu Sood, Manoj Bajpayee, Tusshar Kapoor, Ronit Roy, Kangna Ranaut
Music: Anu Malik
Genre: Action/ Drama
Rating: * *
Story Outline: Based on a chapter from S Hussain Zaidi's book Dongri To Dubai, the film is about an honest, lower-middle class man from Mumbai called Manohar Surve (John Abraham). After being wrongly framed for a murder, an innocent Manohar transforms as the dangerous gangster Manya Surve.
Review: Distorting facts from real accounts while making a commercial caper is alright if the end product turns out to be a convincing as well as gripping affair. Sadly, that doesn't happen with Sanjay Gupta's Shootout At Wadala due to its age old gangster story, weak narration and some unforgivable vulgarity in various forms. The film can best be enjoyed if you are a part of a rowdy crowd.
First, the positives. The film has some extra-ordinarily written witty lines by Milap Zaveri. There are a number of praiseworthy and seeti-bajao moments for hardcore masses. The action scenes are also a treat on some occasions as they are smartly captured and presented.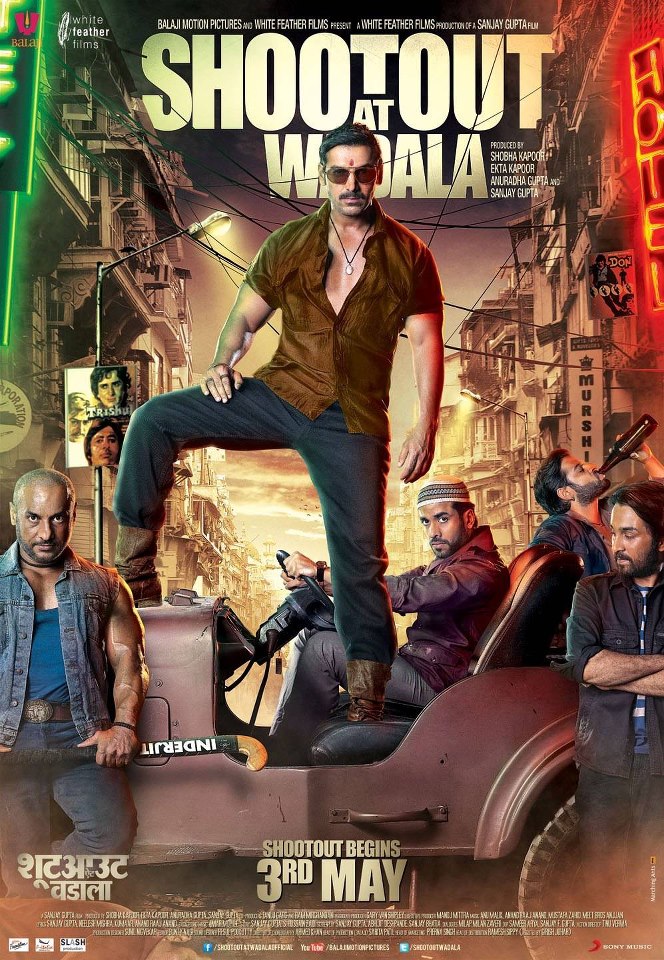 These positives are certainly not enough to overshadow the various negatives. The film has the tiresome, tried and tested gangster story with the same kinds of gang wars that have done the rounds of Hindi cinema innumerable times ever since Ram Gopal Varma's Satya released. On top of that, the screenplay just lacks proper focus and its long length just makes things worse.
Anybody who has read Manya's chapter in Dongri To Dubai will realize the too much distortion of facts. As mentioned earlier, it is completely fine in a mass oriented feature film but over here, it looks unconvincing and at times, silly. For instance, the Pathan Gang is called Haji Mastan's gang while the character of Haji Mastan is called Haji Maqsood. Even the fiction added in the climax appears questionable. (Purposely not mentioning various other points to avoid spoilers.)
But what hurts the most is the level of cheapness that the film crosses. The regular flow of cuss words and vulgar references get onto your nerves. Although violence is necessary in such films but over here, there is just an overdose of gore that make you cringe regularly. They have even gone onto show a rape scene in a disturbing manner.
There is more vulgarity in store in the form of two item numbers (out of three). This film will trigger more amount of wrath against Hindi cinema for portraying women as sexual objects and it definitely should! The industry surely needs a reality check when it comes to portrayal of women!
The technical areas (cinematography, background score, editing and action) can hold their heads high. From Anu Malik's music, only 'Aala Re Aala' turns out to be decent. The rest of the songs just add up to the length. Having as many as three item numbers is a terrible idea!
John Abraham has the perfect physique and attitude needed to play Manya Surve but he certainly lags behind when it comes to acting. At the most, he is just average. An actor with more acting talent was the need of the hour. Anil Kapoor's act is the saving grace. The veteran actor still doesn't appear as a veteran.
Tusshar Kapoor doesn't suit as Munir Sheikh at all! He even turns out to be a laughing stock on few occasions. Kangna Ranaut falters with her dialogue delivery yet again. The supporting cast - Mahesh Manjrekar, Ronit Roy, Siddhant Kapoor and Karan Patel – give decent performances.
Overall, Shootout At Wadala turns out to be unimpressive due to various reasons. It is sad that such a film released on the day when Indian Cinema completed 100 years! The initial hype and the fact that it is a hardcore commercial product will help the film at the box office in the first week.
By: Keyur Seta
Director: Sanjay Gupta
Producers: White Feather Films and Balaji Motion Pictures
Writers: S Hussain Zaidi, Sanjay Gupta and Milap Zaveri
Cast: John Abraham, Anil Kapoor, Sonu Sood, Manoj Bajpayee, Tusshar Kapoor, Ronit Roy, Kangna Ranaut
Music: Anu Malik
Genre: Action/ Drama
Release Date: May 3, 2013
Analysis:
Star Value: With an ensemble star cast of John Abraham, Anil Kapoor, Sonu Sood, Manoj Bajpayee and Kangna Ranaut, it is needless to say that Shootout At Wadala is high on star value.
Hype: There has been a very good amount of hype for the movie ever since its first promo was released. It is the character of Manya Surve that created ripples among the masses. Later on, some smart promotional strategy and including Sunny Leone for a song has only helped increase the excitement.
Music: The song 'Aala Re Aala, Manya Aala' has helped in popularizing the movie and creating further excitement. The track 'Laila' has also managed to make heads turn due to Leone.
Prediction:
Shootout At Wadala will surely get a very good opening at the box office. Being a hardcore commercial product, it will set the cash registers ringing at the single screen theatres. But it also has a chance of opening well at multiplexes.
If the initial response turns out to be positive, there is no doubt that the film's name will be included in the blockbusters of 2013 and it might also earn Rs 100 crore. If it doesn't impress initially, Shootout At Wadala will still garner average returns due to the genre and the hype.