The Indian state of Assam is going through severe floods since some time now. The calamity has killed more than 80 people and affected as many as 70 lakh.
Despite such enormous numbers, the majority of the national media isn't giving it much coverage. This isn't surprising though as this has been the case with the national media which is ready to flash minor floods in Mumbai as 'Breaking News.'
"Over 70 lakh people have been affected due to Assam floods. People, as well as animals, are being rescued from the affected areas and being shifted to relief camps and safer locations," said Assam Chief Minister Sarbananda Sonowal to the news agency ANI (Asian News International).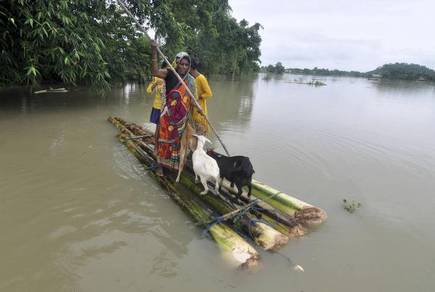 What makes the situation even worse is that, like majority of Indian states, Assam too is going through the COVID-19 pandemic.
But thanks to technology and internet, there are ways through which we can help the Assam flood victims.
Here's how:
NGO: Actionaid Assocition
Account Name: ACTIONAID ASSOCIATION
Bank Name: Axis Bank Ltd
Branch Name: Bangalore (KT)
Account Number: 009010101455298
Address: No 9, M G Road, Block A, Bengaluru,
Karnataka 560001
RTGS/NEFT/IFSC Code: UTIB0000009
To know more about Actionaid, click HERE
NGO: Rapid Response
Account Name: Rapid Response
Account Number: 50200002115108
IFSC Code: HDFC0001038
Account Type: Current
Bank: HDFC Bank, Branch: Avadi
To know more about Rapid Response, click HERE
Known actor Adil Hussain hails from Assam. Speaking on how Assam has always been ignored, he told the Hindustan Times, "I don't think anyone has taken it seriously. All the governments since Independence, before we could blame it to the British, I don't think anyone has actually bothered about it. There were quick-fixes and band-aids, but no research (which I know of) has been done."
Also read: You might be triggering DEPRESSION in someone without even knowing it
Hussain also wondered at how there hasn't been any solution despite floods hitting Assam each year. "The flood happens every year, at the same time and the volume of water is almost the same. Even after that if we say we do not have a solution for it, I feel either we are either lying or we are not trying hard."