The country witnessed a brutal attack on freedom of expression yesterday when veteran actor and filmmaker Amol Palekar was interrupted from sharing his views at an event at the NGMA (National Gallery of Modern Art) in Mumbai.
The Chhoti Si Baat actor was politely voicing his dissent on the decision of the Ministry of Culture to scrap the advisory committees of local artists at the NGMA's branches in Mumbai and Bengaluru.
However, he was repeatedly interrupted in his speech by the NGMA director Anita Rupavataram and the curator of the show and ex-chairman of the organization Suhas Bahulikar. They urged him to stick to the topic, which was about the work of the renowned artist Prabhakar Barwe. But Palekar stood firm and voiced his opinion as much as he could saying that his comments are related to the NGMA itself.
Read about the whole incident by clicking HERE.
Watch the whole incident in the video below:
The incident was enough to trigger continuous reactions of the citizens on social media. Palekar has been receiving support for his right to express himself while those who tried to supress his voice have been heavily condemned. The most common sentiment shared is that if a veteran artist can be supressed of freedom of expression, what to think of common people like us?
But amid this, Palekar is also accused of being 'selectively' against the current BJP (Bharatiya Janata Party) government, as is evident from various comments on social media. These people seriously need to take a look at his past activism.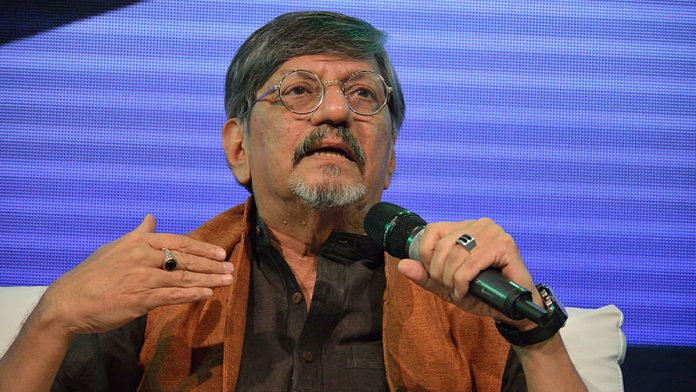 Palekar, like many other actors, started off with theatre in his younger days. Apart from honing his acting skills, he also used the medium to mark his protest against the Emergency imposed by the then Prime Minister Indira Gandhi of the Congress party.
I had the good fortune of interviewing Palekar last year for the web portal Cinestaan.com where I currently work. He was speaking while remembering his friend and fellow actor Hemu Adhikari, who had passed away a day before.
Palekar and Adhikari were a part of the parallel theatre movement then. During the conversation, Palekar shared how they used to stage thespian Badal Sircar's Juloos, which was their way of protesting against the Emergency.
"One of the most cherished moments of my career in theatre was when we did Badal Sircar's Juloos. It was produced by Bahuroopi, which was Hemu's group. And I was the guest director. It was during the Emergency that we thought of doing this. That was our little protest against the Emergency," he had said.
In fact, Palekar, Adhikari and the rest of members even showed the guts of performing their anti-Emergency play in the drama competition held by the state government itself. "We used to get this kick by performing it in the annual state drama competition, which is organized and funded by the government. It was our personal kick that we wanted to perform it there. We were very clear in our minds," he had said.
Palekar also added that their first performance of Juloos was also attended by underground opposition leaders like Mrinal Gore and others. "It was a proud moment for us that we were able to do this in theatre as our expression and fight against censorship and any kind of curtailment of freedom," said Palekar.
This piece of information is also enough to create laughing stock of the Congress leaders who have come out in support of Palekar for their own political gains. They too are clearly unaware of their own history.
You can read the whole interview by clicking HERE.
By: Keyur Seta
Director Mahesh Manjrekar's Bhaai: Vyakti Kee Valli, the biopic on the legendary artist Purushottam Laxman Deshpande aka Pu La Deshpande, is released in two parts in a span of about a month. It is not often that you see this in India. Ram Gopal Varma's Rakht Charitra (2011) and Anurag Kashyap's Gangs Of Wasseypur (2012) are the only recent names to emerge in memory.
The Purvardha or the first part concentrated on the happy-go-lucky Deshpande's (Sagar Deshmukh) commencement as a literary figure, theatre personality, music composer and his second marriage with Sunita Bai (Iravati Harshe).
The Uttarardha or the second part is about the events that take place in his life after he becomes not only an established artist but also an icon of Maharashtra. Hence, aspects like his social work (with Baba Amte) and political stints also get a mention here.
To put it simply, the second part of Bhaai continues the good work of its predecessor. This doesn't come as a surprise after having enjoyed the first part. The journey picks up from the time Deshpande starts his one act play Batatyachi Chaal, which later goes onto become historic.
Just like the first part, we are presented with a compilation of important and relevant events revolving around the protagonist in a thoroughly light-hearted manner. Of course, the second part has more emotional moments, especially since it covers Deshpande's ailing health that led to his death. But the feel and mood remains the same.
In an important sequence, fellow literary great Vijay Tendulkar is seen urging Deshpande to start mirroring the stark realities of society in his work. But he politely refuses saying he just wants to make people happy. This ideology of his is seen in the narrative of the film again.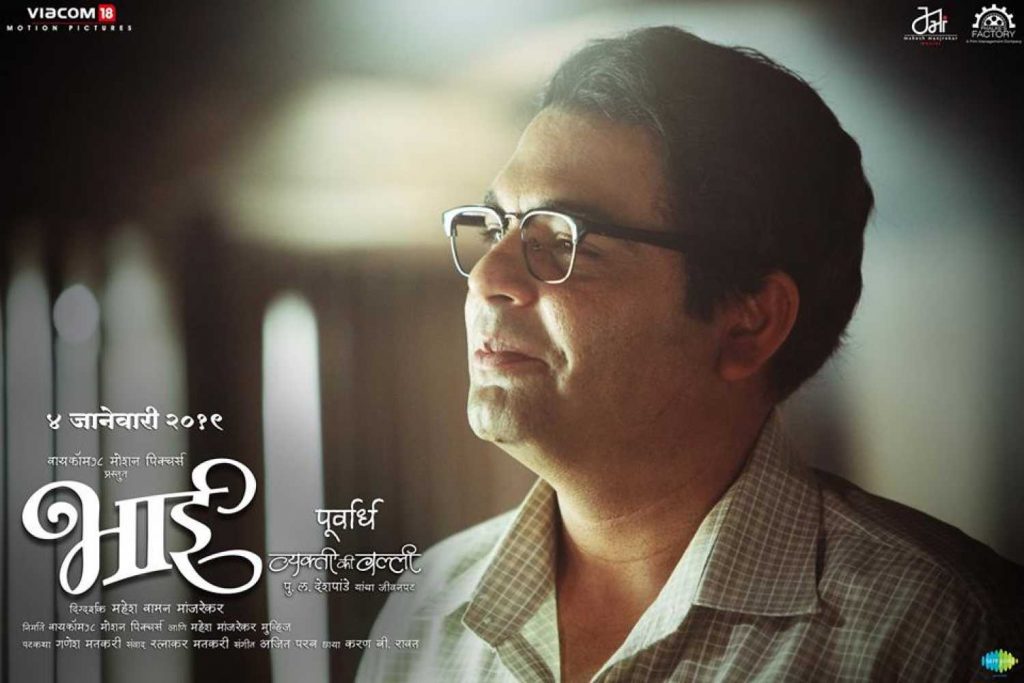 Deshpande's relationship with his close ones is one of the highlights of the film. His unusual yet strong bond with his wife Sunita is one of the most sensible portrayals of a married couple in a long time. His friendship with fellow artists like G D Madgulkar, Vasant Kanetkar, Bhimsen Joshi and Kumargandharva reaches another level during the classical mehfil. The opening credits song 'Indrayani Kathi,' written by Deshpande and sung by Joshi, is also a pleasure to the ears.
Also read: Bhaai: Vyakti Kee Valli Part 1 Review
The film also touches the sensitive political side of Pu La's story. After supporting the Janata Party during its opposition to the Emergency, Deshpande warns of speaking against them after they gain power in case they turn out to be the same as the previous government. Later, Shiv Sena supremo Balasaheb Thackeray (Sarang Sathaye) gets offended when Pu La criticizes one of his statements despite accepting an award from his government.
The execution of the aforementioned incidents is sensible and mature and at the same time doesn't let the film move out of the entertaining zone.
One might argue or feel that any story should have a definite aim for the protagonist, which is missing here. But such conventional storytelling isn't possible in this story simply because Pu La never planned anything in life and just went with the flow, one incident at a time.
The narrative does threaten to suffer at one point in the second half, especially when the character Barkya (Girish Kulkarni) turns up and displays his antics. This is the only questionable moment in the film.
The main cast continues its good work from the first part. Sagar Deshmukh shows the same consistency while exploring the latter period of Deshpande's life. He once again thoroughly lives the character. The same goes for Iravati Harshe's mature and high quality act as his wife.
Shubhangi Damle also gets a good amount of footage as the older Sunita Bai and she is phenomenal. Vijay Kenkre also does justice to the older Deshpande. Sarang Sathaye stays firm in your memory with his convincing act as Thackeray despite having just two scenes.
Overall: Bhaai: Vyakti Kee Valli Purvardha (Part 2) gives an impressive end to the life story of one of Maharashtra's most loved personalities.
Rating: 4 out of 5
Review by: Keyur Seta
Director: Mahesh Manjrekar
Producers: Viacom 18 Motion Pictures and Mahesh Manjrekar Movies
Writers: Ganesh Matkari and Ratnakar Matkari
Cast: Sagar Deshmukh, Iravati Harshe, Shubhangi Damle, Vijay Kenkre
Music: Ajit Parab
Genre: Biopic/ Drama
Duration: 130 minutes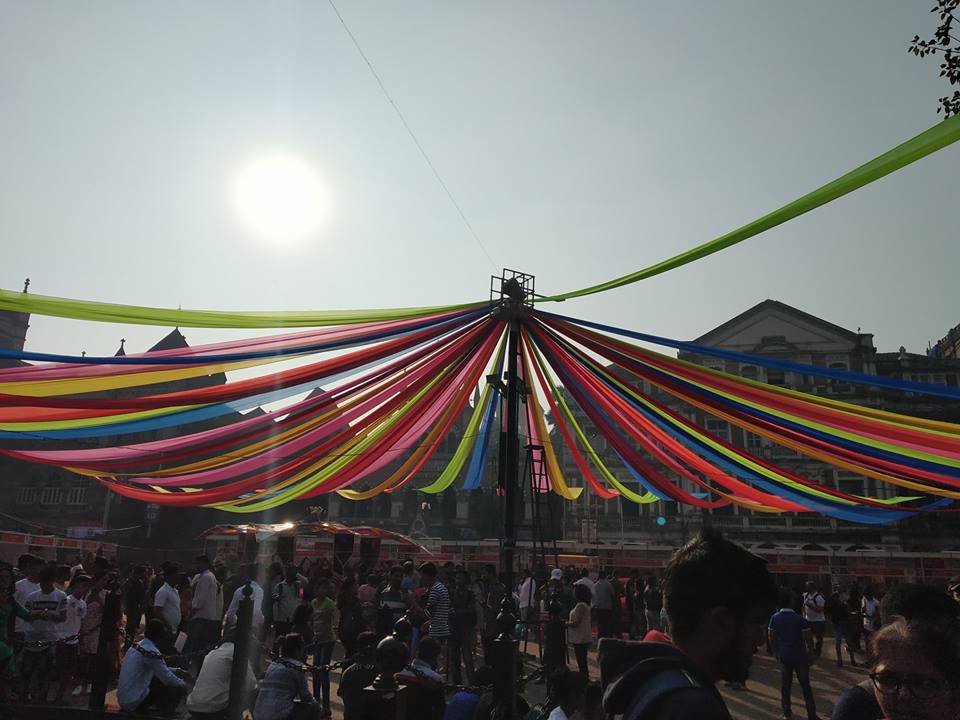 It's is the first weekend of February, which is reserved for Kala Ghoda Arts Festival. It's that time of the year when the art enthusiasts in Mumbai gather for the 9 day festival [another Navratri?] that celebrates arts.
And like every year, I am here with a pictorial tour of the festival at South Mumbai.
The Kala Ghoda street is once again filled with a number of art structures of various shapes, sizes and meanings.
Here are they: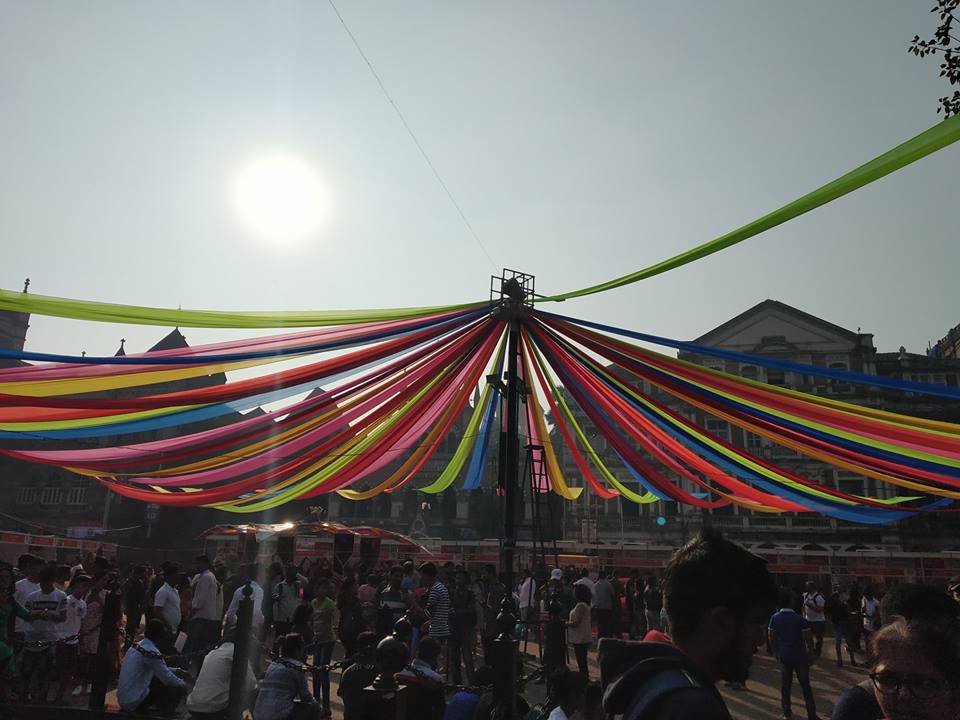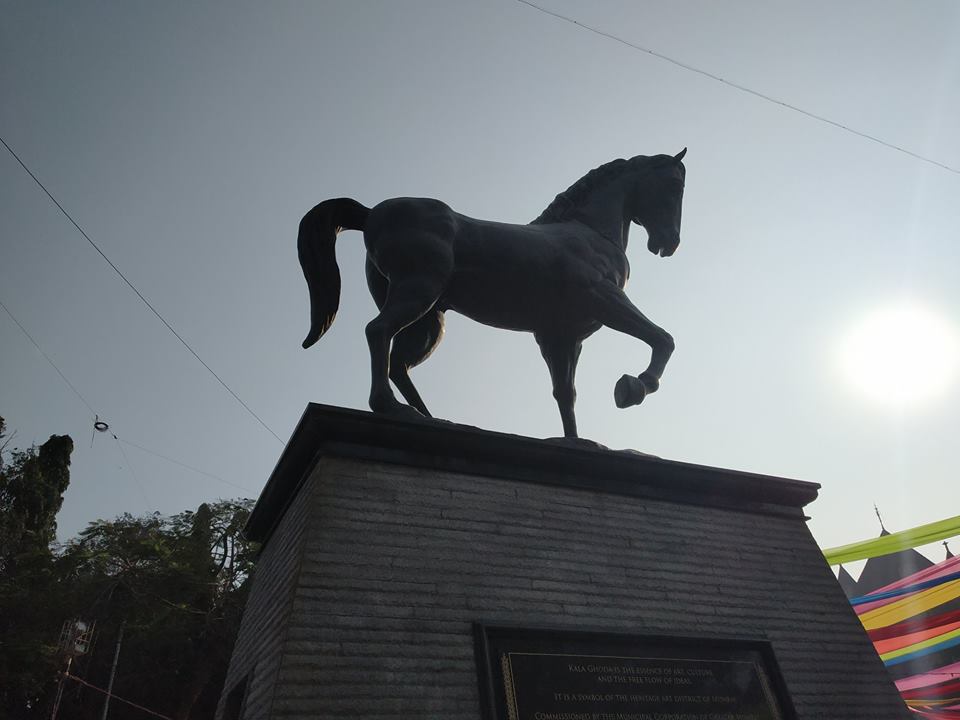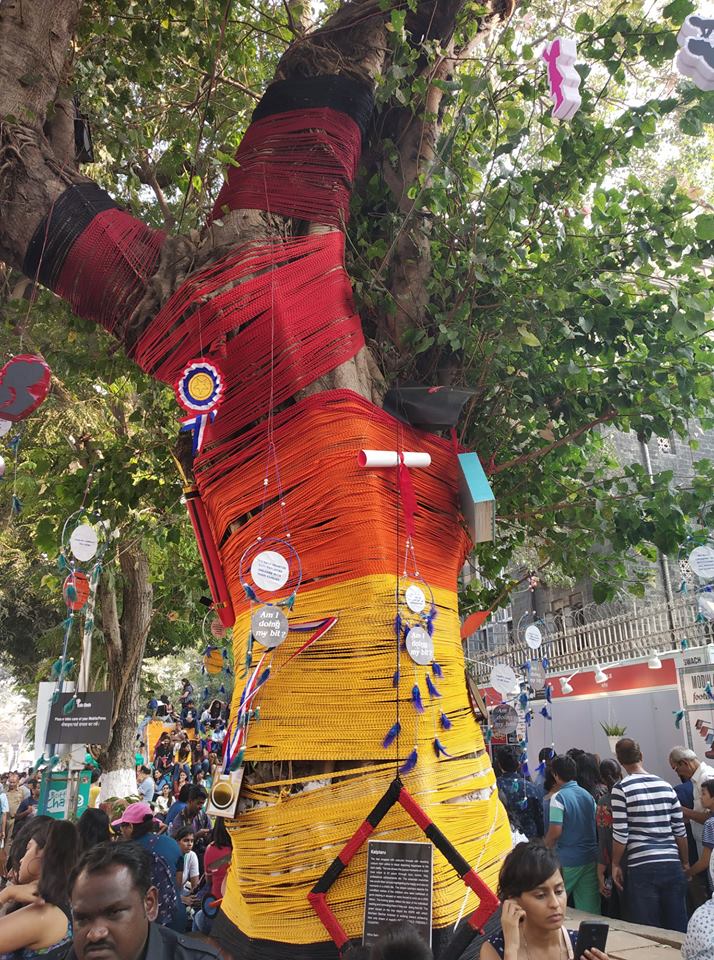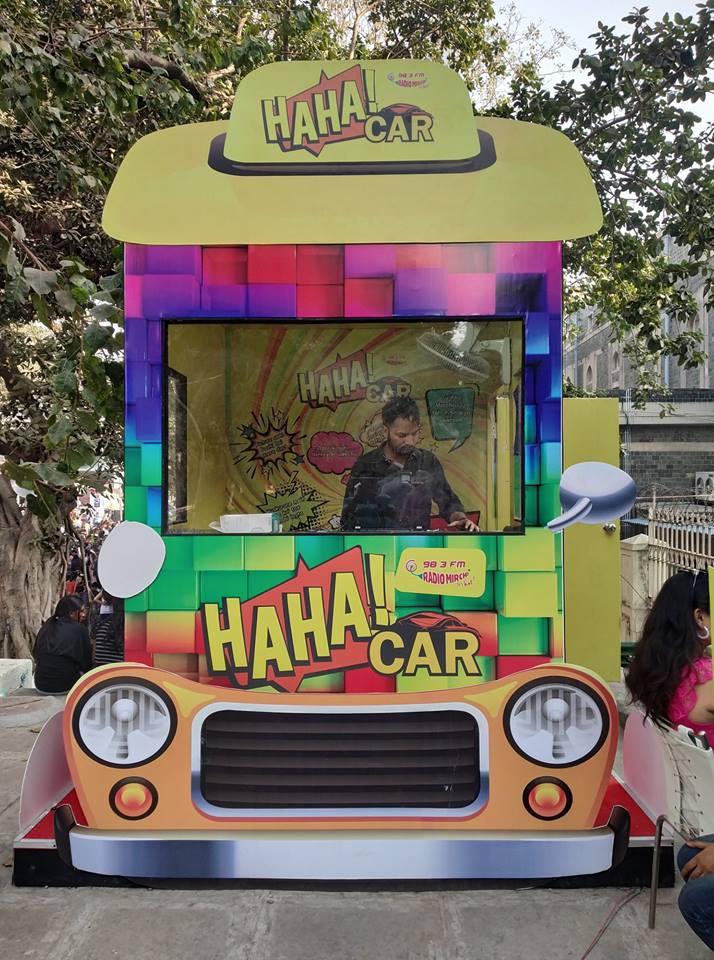 Also see: Kala Ghoda Arts Festival 2017 Photos