The country witnessed a brutal attack on freedom of expression yesterday when veteran actor and filmmaker Amol Palekar was interrupted from sharing his views at an event at the NGMA (National Gallery of Modern Art) in Mumbai.
The Chhoti Si Baat actor was politely voicing his dissent on the decision of the Ministry of Culture to scrap the advisory committees of local artists at the NGMA's branches in Mumbai and Bengaluru.
However, he was repeatedly interrupted in his speech by the NGMA director Anita Rupavataram and the curator of the show and ex-chairman of the organization Suhas Bahulikar. They urged him to stick to the topic, which was about the work of the renowned artist Prabhakar Barwe. But Palekar stood firm and voiced his opinion as much as he could saying that his comments are related to the NGMA itself.
Read about the whole incident by clicking HERE.
Watch the whole incident in the video below:
The incident was enough to trigger continuous reactions of the citizens on social media. Palekar has been receiving support for his right to express himself while those who tried to supress his voice have been heavily condemned. The most common sentiment shared is that if a veteran artist can be supressed of freedom of expression, what to think of common people like us?
But amid this, Palekar is also accused of being 'selectively' against the current BJP (Bharatiya Janata Party) government, as is evident from various comments on social media. These people seriously need to take a look at his past activism.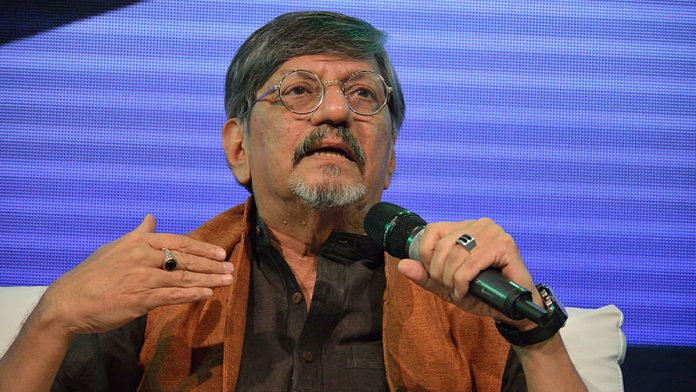 Palekar, like many other actors, started off with theatre in his younger days. Apart from honing his acting skills, he also used the medium to mark his protest against the Emergency imposed by the then Prime Minister Indira Gandhi of the Congress party.
I had the good fortune of interviewing Palekar last year for the web portal Cinestaan.com where I currently work. He was speaking while remembering his friend and fellow actor Hemu Adhikari, who had passed away a day before.
Palekar and Adhikari were a part of the parallel theatre movement then. During the conversation, Palekar shared how they used to stage thespian Badal Sircar's Juloos, which was their way of protesting against the Emergency.
"One of the most cherished moments of my career in theatre was when we did Badal Sircar's Juloos. It was produced by Bahuroopi, which was Hemu's group. And I was the guest director. It was during the Emergency that we thought of doing this. That was our little protest against the Emergency," he had said.
In fact, Palekar, Adhikari and the rest of members even showed the guts of performing their anti-Emergency play in the drama competition held by the state government itself. "We used to get this kick by performing it in the annual state drama competition, which is organized and funded by the government. It was our personal kick that we wanted to perform it there. We were very clear in our minds," he had said.
Palekar also added that their first performance of Juloos was also attended by underground opposition leaders like Mrinal Gore and others. "It was a proud moment for us that we were able to do this in theatre as our expression and fight against censorship and any kind of curtailment of freedom," said Palekar.
This piece of information is also enough to create laughing stock of the Congress leaders who have come out in support of Palekar for their own political gains. They too are clearly unaware of their own history.
You can read the whole interview by clicking HERE.
By: Keyur Seta