By: Keyur Seta
Until mid-November, 2013 seemed like an ordinary year as there wasn't single event that delighted the masses. But after half of the eleventh month was over, when we had hardly any hope from the year, two events emerged that turned 2013 on its head with joy. Those events reinforced our beliefs in hope and humanity. They are as follows date-wise:
Sachin Tendulkar's Farewell Speech:
All those who listened to the historic speech Sachin Tendulkar gave would agree that it was much, much more than a speech. After having a closer look at it, one realizes that it is a precious lesson on humbleness. Just imagine – a man who is hailed as the God of cricket and one of the most loved Indians is seen behaving like just like an ordinary Common Man.
Tendulkar's humility and down-to-earth behavior isn't new to the world. We have seen it all these years from the kind of career he has had and the way he has spoken to the media. But in his extempore speech, where he thanked a list of people who helped him become what he is today, we got a first-hand account of his inner self. It indirectly taught us that even after achieving the unachievable, one needs to hold on to humbleness, despite receiving a Godly status.
Children are often preached by their elders and teachers on how to become good human beings. Now, they have an easier option of making them listen to the 20 minute speech by the Master Blaster.

AAP's Miraculous Success:
Till the start of December 2013, the nation had witnessed the triumph of the Common Man only in movies. It won't be an overstatement that the masses had given up any hope as far as cleansing the politics was concerned. But how things changed once the results of the Delhi general elections were out!
People from the political fraternity had laughed at Arvind Kejriwal and his team when they decided to contest Delhi elections through their Aam Aadmi Party (AAP). I too, personally, thought it won't garner any success. Although I had no doubt on their determination, I felt it was next to impossible to change the current filthy political scenario. But the impossible was made possible on December 8 when AAP won 28 seats in their debut election. Earning this many seats in your very first election is nothing short of a miracle.
Now all of a sudden, the masses slowly but surely got awakened to the power of ordinary citizens. The same people who had given up any hope from politics are now unable to stop talking about the subject simply because Kejriwal and AAP have shown a ray of hope, which was missing since time immemorial.
Ever since AAP formed the government on December 28, their popularity is increasing day-by-day. This has sent shockwaves in almost every political party of India. Talking about the politicians that had made fun of AAP, the joke is on them now.
In 48 hours after AAP formed the government, they have already begun delivering by making water free for Delhites, discarding VIP culture and red beacon cars and declaring Rs 1 crore compensation to all police officers sacrificing their lives on duty. If this continues, India will soon see a political revolution like never before. All the best to them for the 2014 Lok Sabha Elections.
Here's wishing more power to the Common Man in 2014!
Director: Sanjiv Kolte
Producers: Shashi Sumeet Motion Pictures
Writers: Sanjiv Kolte and Sumeet H. Mittal
Cast: Dr. Amol Kolhe, Mohan Joshi, Sheetal Dabholkar, Sharmishtha Raut
Music: Pravin Kunvar
Genre: Drama
Rating: * *
By: Keyur Seta
Story Outline: Keshav (Dr. Amol Kolhe) acts in village tamashas much to the opposition of his father. This forces him to leave his house and migrate to Mumbai because acting in theatre means everything to him. Over there, he bumps into Dwarkanath (Mohan Joshi), the most famous make-up artist in Marathi theatre. Impressed by Keshav's dedication and honesty, Dwarkanath not only offers him an odd job in his theatre group but also shelter at his residence.
Soon, Dwarkanath realizes Keshav's excellent acting talent and helps him land the lead role of Karna in the play Shoor Karna. As time passes by, Keshav becomes a hugely successful theatre actor. But along with fame and success, pride and ego too take hold of him.
Review: An unknown common man becoming a celebrity and then having a great fall is not a novel concept. But predictability is not the biggest problem with director Sanjiv Kolte's Rangkarmi. It is the disappointing finale that overshadows a number of plus points the film offers. You personally feel bad to see this as the film is quite a good tribute to Marathi theatre artists and theatre lovers.
The trailer of the film is a giveaway. But even if you haven't seen a single promo, you will realize the plot in the first few seconds. Thankfully, you won't mind sitting through the predictability due to a sincere and smart narration of Keshav's journey from an unknown villager to a superstar. This ensures a number of smile-producing moments in the first half. Plus, the working style and the behind-the-scenes of a theatre group are presented realistically. In various ways, they have paid homage to the art of theatre.
Naturally, due to the developments, the second half isn't as engaging, although your interest isn't hampered. However, the pre-climax and the climax turn out to be highly disappointing. Even after the defining moment in the climax, the film keeps moving aimlessly just to dish out another disappointment right before the ending credits. (It is not possible to explain further to avoid spoilers.) The conclusion also makes you wonder at the aim of the makers. So much to give a message that success shouldn't enter your head?
Pravin Kunvar composed songs are impressive and they suit the situations perfectly. Cinematographer Santosh Sindhe has captured even the simplest of scenes in an artistic manner. The background score is average and the editing is as per the need.
Dr. Amol Kolhe lives the character of Keshav perfectly through an act that is heartwarming. He also handles the transformation part well. As expected from a veteran artist, Mohan Joshi gives an earnest and honest performance. Sheetal Dabholkar and Prafull Samant play their respective characters well while Sharmistha Raut is decent.
Overall: Rangkarmi offers a good tribute to Marathi theatre but the film falters due to the concluding parts. It has a bleak chance at the box office.

By: Keyur Seta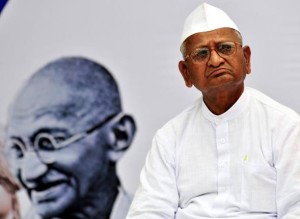 Anti-corruption crusader Anna Hazare's anti-corruption movement of 2011 to pass the Jan Lokpal Bill made the impossible look possible: lakhs of Indians from all walks of lives took on to the roads all over the country for the cause of anti-corruption; this was something that was considered impossible in the current era of India. As I too took part in the movement, it became the biggest turning point of my life. Not only was I happy to be a part of a national movement but, personally speaking, it also changed my perspective towards life completely!
At that time, however, I and many other Indians weren't expecting things to take such a drastic change two years later and that too for the bad. Anna, his team and the entire country were protesting against government's weak Lokpal Bill and were pushing for the Jan Lokpal Bill. The latter has the power of severely punishing those guilty of corruption. The former is weak in all aspects and is like a free license for the corrupt to indulge in the dirty activity.
To know its weakness, refer to the following points:-
All government officers don't come under the scanner of Lokpal.
It doesn't include Citizen's Charter through which government agencies need to give a deadline for replying to the applications made my public, failing to which they can be fined.
It doesn't compel every state to make a Lokayukta based on the Lokpal at center.
No whistleblower protection!!!
No independence from the government to the agencies investigating corruption cases. If the investigating agencies aren't free from the pressure of the government, how can we expect corrupt government officials to get punished?
It imposes imprisonment up to 5 years if a complaint turns out to be frivolous. So if a corrupt minister manages to free himself from the charges by using his power, the poor complainant will be sent to jail! How can we expect people to report cases of corruption if one is always in a danger of being imprisoned?
Two years ago, Anna, rightly so, sternly opposed the weak Lokpal Bill. He kept opposing it until 2013 when he went on another hunger strike to pass the bill. During this time, our parliamentarians, mostly leaders from Congress and Bharatiya Janta Party (BJP), unanimously agreed to pass the weak Lokpal Bill. But as shocking as it may sound, Anna and his associate Kiran Bedi have happily given their nod for such a bill! The same person who wholeheartedly opposed the bill is now happy with it for reasons best known to him.
He has not only left millions of his supporters clueless but also with a sense of betrayal. If he is so happy with the bill why didn't he give a nod for it in 2011 itself? Anna is the person who has changed my attitude towards life so I am saying this with great pain. But I am left with no other choice because he has just made a mockery of the protest that we carried out for more than two years.
What has hurt us the most is the way Anna recently said, "This is my movement, so I will decide which pass should be passed." All this while, he was heard saying that this is people's movement. I can seriously smell some ego from this statement; more so because Anna decided to sit on a fast again right after Aam Aadmi Party, formed by his estranged member Arvind Kejriwal, garnered a miraculous show in the Delhi elections.
Naturally, this has left the Congress and the BJP overjoyed. As soon as Anna okayed the weak bill, people from both these parties happily gave their word of passing it. The fact that they so happily agreed to pass it proves how weak it is.
In recent developments, Anna just gave biggest shock when he wrote a letter to Rahul Gandhi thanking him for his commitment on Lokpal! I am speechless at this. This is equal to rubbing salt on the wounds of the Common Man! I have no qualms in saying that the person who started this movement has given a serious blow to it!
By: Keyur Seta
When Arvind Kejriwal and his group decided to form a political party, I was disappointed as I was sure it won't yield any results to the cause of clean governance. Big political parties like the Congress and the Bharatiya Janta Party (BJP) gave a different reaction to this – they laughed their hearts out since they were sure it was a suicidal step.
But circa December 2013, the joke is now on the Congress and the BJP courtesy an unbelievable performance by Kejriwal's Aam Aadmi Party (AAP) in the Delhi assembly elections! Garnering 27 seats out of 72 in your very first elections is not only incredible but almost like a miracle! Personally speaking, I have never been so happy at being proved wrong before!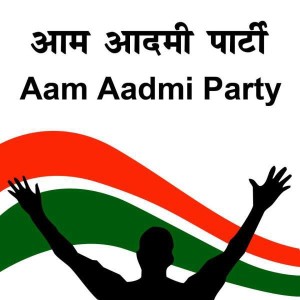 For Sheila Dixit and Congress, this is their worst defeat ever. To put it bluntly, they completely deserved that after continuously allowing humongous scams of unthinkable amounts to take place, failing miserably in protecting women and using police force in monstrously beating up innocent, peaceful protestors. These are just their mainstream blunders.
But it is a much bigger loss to the BJP, who would have had a cakewalk in the Delhi elections if there was no AAP. By helping AAP perform such incredibly in their first elections, the people of Delhi have given a strong reminder that the opposition's job is not just to criticize the ruling party. The most important task is to strive to bring a change in the dirty system and this is where AAP has scored. These facts along with the communal history of the BJP have affected them.
The road to victory for AAP, however, has been full of potholes created by the Congress and the BJP. There has been constant allegations and mud throwing against Kejriwal and his team from both the political forces. It's incredible how enemies join hands to crush a common threatening source! But AAP's biggest challenge came in the form of a rigged sting operation by Media Sarkar, which became a laughing stock later. These factors couldn't stop the debut political party though.
Another important issue that deserves a mention is the utterly cheap practice by both the Congress and the BJP of buying votes by supplying liquor and other lucrative items. This too didn't help! Combating this major hurdle is another achievement for AAP. All thanks to the common sense of a large group of Delhi-ites. I am mighty proud of them!
Although AAP has succeeded only in Delhi, the result is nothing short of a political revolution at a time when there was practically no hope. Finally, we can say that the power of the Common Man is not just limited to Hindi films!