By: Keyur Seta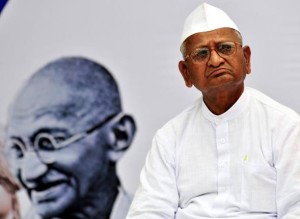 Anti-corruption crusader Anna Hazare's anti-corruption movement of 2011 to pass the Jan Lokpal Bill made the impossible look possible: lakhs of Indians from all walks of lives took on to the roads all over the country for the cause of anti-corruption; this was something that was considered impossible in the current era of India. As I too took part in the movement, it became the biggest turning point of my life. Not only was I happy to be a part of a national movement but, personally speaking, it also changed my perspective towards life completely!
At that time, however, I and many other Indians weren't expecting things to take such a drastic change two years later and that too for the bad. Anna, his team and the entire country were protesting against government's weak Lokpal Bill and were pushing for the Jan Lokpal Bill. The latter has the power of severely punishing those guilty of corruption. The former is weak in all aspects and is like a free license for the corrupt to indulge in the dirty activity.
To know its weakness, refer to the following points:-
All government officers don't come under the scanner of Lokpal.
It doesn't include Citizen's Charter through which government agencies need to give a deadline for replying to the applications made my public, failing to which they can be fined.
It doesn't compel every state to make a Lokayukta based on the Lokpal at center.
No whistleblower protection!!!
No independence from the government to the agencies investigating corruption cases. If the investigating agencies aren't free from the pressure of the government, how can we expect corrupt government officials to get punished?
It imposes imprisonment up to 5 years if a complaint turns out to be frivolous. So if a corrupt minister manages to free himself from the charges by using his power, the poor complainant will be sent to jail! How can we expect people to report cases of corruption if one is always in a danger of being imprisoned?
Two years ago, Anna, rightly so, sternly opposed the weak Lokpal Bill. He kept opposing it until 2013 when he went on another hunger strike to pass the bill. During this time, our parliamentarians, mostly leaders from Congress and Bharatiya Janta Party (BJP), unanimously agreed to pass the weak Lokpal Bill. But as shocking as it may sound, Anna and his associate Kiran Bedi have happily given their nod for such a bill! The same person who wholeheartedly opposed the bill is now happy with it for reasons best known to him.
He has not only left millions of his supporters clueless but also with a sense of betrayal. If he is so happy with the bill why didn't he give a nod for it in 2011 itself? Anna is the person who has changed my attitude towards life so I am saying this with great pain. But I am left with no other choice because he has just made a mockery of the protest that we carried out for more than two years.
What has hurt us the most is the way Anna recently said, "This is my movement, so I will decide which pass should be passed." All this while, he was heard saying that this is people's movement. I can seriously smell some ego from this statement; more so because Anna decided to sit on a fast again right after Aam Aadmi Party, formed by his estranged member Arvind Kejriwal, garnered a miraculous show in the Delhi elections.
Naturally, this has left the Congress and the BJP overjoyed. As soon as Anna okayed the weak bill, people from both these parties happily gave their word of passing it. The fact that they so happily agreed to pass it proves how weak it is.
In recent developments, Anna just gave biggest shock when he wrote a letter to Rahul Gandhi thanking him for his commitment on Lokpal! I am speechless at this. This is equal to rubbing salt on the wounds of the Common Man! I have no qualms in saying that the person who started this movement has given a serious blow to it!