Blogging offers a new dimension to your life. In fact, it can be said that blogging is a life other than your normal life. Apart from getting your views read and earning money every now and then, blogging also brings you in contact with the type of beings you don't normally meet during your day-to-day life.
These people are your fellow bloggers. They are someone with whom you share the 'other' world and they know the joy of being to the other world. It is sheer pleasure to meet and interact with fellow bloggers. So, needless to say, it is also a pleasure to be involved with some blogging activity with them. One such recent activity was the #SniffSniff activity by BlogAdda.
As a part of this activity, we would receive some products or items that would create curiosity or anticipation for a product that would be launched soon. Our task is to guess the final product that would be launched based on the items sent to our doorstep. In other words, watching CID came to good use.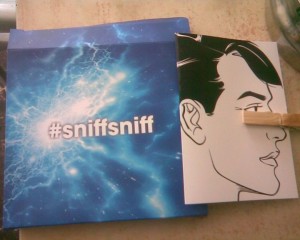 Here are the details about the product:-
1. The first item to land up in my house took every one of us by surprise. Something lest expected is a mild way of describing it. What else can you say when a clip, which is used for drying clothes, lands up at your place? On top of that, my family members started giving some confusing reactions to it. Naturally, they wanted to know who sent it. It took a while to explain to them that this is a method of generating anticipation for a product. Since the clip was placed on the nose of an image, which was also sent along with, I guessed it has something to do with smell.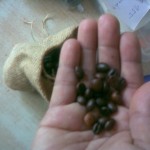 2. The second item also was a surprise but it was a pleasant one. There were coffee beans in a packet. This time, my family members didn't give any daily soap reactions; more do because they loved the aroma of coffee beans. You might find it difficult to believe that this is the first time I ever held coffee beans in my hand.
3. The third item too turned out to be something completely out-of-the-box. It was a mask that people generally use to combat bad smell or germs. But, although it wasn't something I anticipated, I realized that the final product has something to do with combating bad smell, as my family members resumed their confused reactions.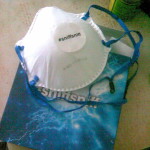 So, what it could be? A deo? Find it HERE.
I attended the #SniffSniff product unveiling event by BlogAdda in association with Nivea.
By: Keyur Seta
We have heard male actors praising their female counterparts numerous times. Even female actors praising the looks of actors from their own gender is a common occurrence. But a male actor being in awe of another male actor in terms of looks is a rarity, which was witnessed recently during a bloggers meet and media interaction with actor Arjun Rampal.
When Rampal was asked how it feels to be one of the most handsome actors, his answer pleasantly surprised many. "I feel Dharam ji (Dharmendra) is the most handsome actor. I was with him in a flight three days ago. He still looks beautiful and he is a beautiful human being too."
Rampal was speaking during the launch of the Nivea Men Body Deodorizer, a deodorant for men. The event was organized by BlogAdda and was attended by bloggers, who got a special candid session and photo op with Rampal. The actor spoke extensively on the issue of body odour and shared his experiences, which included a funny incident with his female friend.
"She has a big problem about body odour. I was wondering how to tell her about it as it can be awkward. So, I just said that some people have a terrible body odour. To this she said, 'Oh yes. I am glad I smell good naturally'. What to say now?"
Before Rampal entered the scene, the bloggers got a chance to interact with Animesh Gupta, a Psychologist, Stress Management specialist and Trainer, about everything related to body odour; how and why it occurs, how to deal with it and, most importantly, how to tell someone that he or she has a bad body odour. But the interaction was funnier than serious, thanks to Gupta's sense of humor.
But the most hilarious moment arrived when the spoof of a news debate show was played. It is a smartly-written and well-performed act, which is shared below.
The entire #sniffsniff experience was interesting but my family members found it surprising and, at times, weird to see somebody sending things like a clip, coffee beans and mask at my doorstep so religiously. It took a lot to finally make them understand that it is a promotional activity to build anticipation.
For me, the word 'deodorant' brings back bad memories of not only body odour but also those pathetic deo advertisements, where females start getting turned on by the good smell of men. I find such ads completely an insult to women as it shows them to be so dumb that they will have physical pleasure with anyone who smells good.
I wasn't expecting Nivea to advertise their product in this way. But I wasn't entirely sure given the advertisement scenario in India. Thankfully though, their ad, which was played at the event, doesn't support this ridiculous theory. It was a case of Happy Ending.
Director: Jaypraad Desai
Producers: Sacchi Entertainment
Writer: Mahesh Keluskar and Jaypraad Desai
Cast: Sachin Khedekar, Milind Soman, Devika Daftardar, Dilip Prabhavalkar, Rajesh Sharma, Dr Shriram Lagoo
Music: Tubby-Parik and Sambhaji Bhagat
Genre: Political Drama
Rating: * * * ½
Review By: Keyur Seta
An honest and fearless protagonist stranded in a grossly corrupt system is not a novel subject. But a tried and tested subject ceases to be one if treated completely in an out-of-the-box or unconventional manner. It is this treatment that makes the Marathi movie Nagrik an impressive, hard-hitting and intense socio-political saga.
The film revolves around the idealistic, fearless and honest-to-the-core newspaper journalist Shyam Jagdale (Sachin Khedekar). He is known for his column Nagrik, where he exposes corrupt practices. His recent column exposes the utterly corrupt and ruthless politician Vikas Patil's (Milind Soman) idea of orchestrating communal riots. However, this doesn't go well with his new editor with lose morals.
As the editor is more interested in generating revenue, Jagdale isn't allowed to publish any more of such stories. Hence, Patil continues his shoddy practices for political gains as a helpless Jagdale looks on. He soon realizes that Patil is just a cog in the entire corrupt machinery. What's worse is that Jagdale's personal life is also far from perfect. Will things ever change within his house and outside?
Nagrik doesn't follow a conventional storyline. It is more of an attempt of providing a glimpse into the filthy world of corrupt politics and the murky underbelly of Mumbai in a completely no-holds-barred manner. Due to some skillful efforts of the writer and director, the film succeeds in its attempt. The viewer is sucked into a truly intense world, which stays on with him/ her long after the completion of the film.
The practice of generating a hard-hitting effect through visuals, expressions and silences isn't explored much in Indian films. Off late though, the trend if catching up where a particular scene says a lot without saying much. Nagrik continues the trend very successfully. This results in a number of sequences and incidents that hit you hard without the use of clichéd lines. There is a long non-verbal sequence in the second half portraying the irony of the life in Mumbai, which is the highlight of the film.
However, Nagrik, has its share of downfalls. After a point of time in the second half, the proceedings tend to lose grip when nothing much is happening in terms of story development. Few incidents, in this half, are questionable. Also, the climax isn't as hard-hitting or something that provides a kick. Thankfully, these issues don't do much in overriding the plusses.
Sambhaji Bhagat's folk songs played in the background go well with the situation and add up to the effect. From the rest of the tracks, 'Bola Vithal' is impressive. The camerawork goes with the intense theme. The background score also adds to the intensity. But majority of the times, they have decided against using any background music and it works that way.
Some dedicated performances also play a major role. Sachin Khedekar brilliantly brings out the right frustration and vulnerability. Having said this, he scores well during witty confrontational scenes with Soman. But Milind Soman too makes a solid impact. He is outstanding as a ruthless, corrupt but at the same time, calm-headed politician. Dilip Prabhavalkar isn't behind, as is expected from a quality veteran, as another corrupt politician.
Dr. Shriram Lagoo, another thespian, displays his talent in a difficult role of an ex-politician agonized by the sorry state of affairs. The film can also boast of some high quality performances from Devika Daftardar, Rajesh Sharma (Bollywood actor making his Marathi film debut), Neena Kulkarni, Sulabha Deshpande, Madhav Abhyankar and Rajkumar Tangade.
Overall: Nagrik is a hard-hitting realistic socio-political saga that is recommended for the lovers of sensible cinema. It is expected to do fairly well at the box office provided it receives positive word-of-mouth.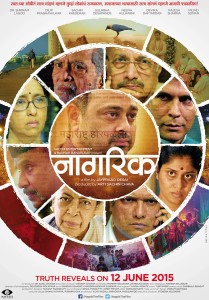 By: Keyur Seta
The controversy regarding the presence of high amount of lead and Monosodium Glutamate (MSG) in India's loved snack Maggi Noodles and its subsequent ban in various states (Tamil Nadu, Gujarat, Uttarakhand, Uttar Pradesh, Jammu & Kashmir and Assam soon all over India) has come as a rude shock to many, including me, for two reasons.
Let's face it, there are many around us who not just love Maggi but are also dependent on it. I know a lot of people (mostly men) who can cook just one dish – Maggi. The snack is also a messiah for people living in remote areas of Himalayas. Secondly, the controversy is completely out of the blue. Seriously, how many of us had expected something of this magnitude to happen with Maggi? None, actually!
As things stand out, we can't ignore the serious health hazards posed by the snack due to the enormous level of lead and MSG being found in it; lead is around 17 times more than permissible limit. And when the risk is as high as being attacked by Cancer, you really can't ignore it. Hence, ban on Maggi is the only way to deal with the situation, no matter how painful it is for many of us.
But the issue doesn't end here, at least for me. In fact, it starts here. The whole controversy surrounding Maggi has opened a can of worms as it has given rise to some very serious questions or pointers:-
1) Was FDA sleeping?: The presence of such high amounts of lead was found unknowingly or randomly by a person who got the noodles tested for something else. If he hadn't tested, we wouldn't have realized this incredibly serious issue with the snack. So, this completely exposes the functioning of Food & Drug Administration (FDA) with regards to clearing foodstuffs.
How did they allow such a big scam to ever take place right under their nose? What is the point of having FDA if they are unable to detect such enormously dangerous substances in a snack that is consumed by all, including children? Is their responsibility only limited to testing an item during license renewal that happens just once in 6 months or more?
Therefore, if there is anyone in the firing line due to the controversy it is the FDA. With the presence of lead in such high amounts in Maggi, their failure is proved, which calls for some stringent action against the officers responsible.
2) Celebrities' Responsibility: Celebrities (Amitabh Bachchan, Madhuri Dixit and Preity Zinta) endorsing Maggi shouldn't be held responsible for promoting such a product. All they need to do is check whether the product is legal and has approval from FDA or any such government body. You can't expect them to check the ingredients themselves in a laboratory when our authorities themselves have easily cleared the product.
However, this doesn't give a Clean Chit to our celebrities, at least from me, as they are still guilty of promoting lies in return for crores of rupees. For example, the packet of Maggi says it is high on Vitamins and Proteins. This is a blatant lie as it is junk food. This whole issue should be a wake-up call for our celebs when it comes to endorsing any product and everything that the makers claim.
3) What about other products?: Most importantly, this makes me doubt as to how safe are the thousands of other products that the masses are consuming, right from the time they wake up. As mentioned above, the entire Maggi fiasco came to the surface by fluke after a man got it tested for something else. Who knows? We might be consuming such or similar seriously hazardous products unknowingly.
The need of the hour for our authorities is to check as many products as possible for such dangerous contents and follow it up with regular surprise checks to ensure their safety. Considering the enormous number of products we consume, there is no doubt that this is an almost impossible task. But nothing is more important than the well-being of the citizens.
It won't be wrong to say that dialogue writer Himanshu Sharma is the real hero of director Anand L Rai's Tanu Weds Manu Returns. The amazingly rib-tickling lines are the biggest reason for the film touching hearts far and wide.
Here is the list of some memorable dialogues from Tanu Weds Manu Returns uttered by Datto (Kangana Ranaut), Pappiji (Deepak Dobriyal) and others:-
- Haalat dekhi hai? Adrak ho gaya hai ye aadmi. Kahin se bhi badh raha hai!
- Dr Sahab, is aadmi ne meri zindagi jhand kar rakhi hai.
- Thari lagaai lage toh mhare jaisi, par main thari lagaai na su. Mhara naam Kusum Sangvan, yo mhari saheli Pinky, main Ramjas college Delhi University me padhu su, sports quote te admission leya, National level ki athletes su. Jila Jhajjar, 12 45 07, aur phone number main daunko naa. (Kusum aka Datto)
- Ke kar raha tha baya phaila ke? Yeh jagah se Shah Rukh Khan banan ki?
- You are a good question. But your question hurt me.
- Kya sex sex, Akhiri baar 2013 me hua tha, woh bhi Bhai Dooj ke din!
- Woh dekh… Kabootar.
- Nikala tumne bhaiya ko pagalkhane se? …. Woh ticket 60 hazaar ki thi. Theek nahin laga seedhe pagal khane jana. Socha pehle London ghoom loon.
- Arey maine apni biwi ko hawas ki nazar se nahi dekha, dusro ko kya dekhunga main.
- Ab Utro ghodi se, hum ek baar chadh nahi paayein, yeh hai ki utarne ka naam hi nahi le rahein.
- Tum kya Salman Khan ho jo tumhe commitment issues hain.
- Sala, original bhi wahi rakhe aur duplicate bhi…
- Pehle bhi aapne iski lugai hadap li thi.
- Kya Sharma ji, hum thode bewafa kya huye, aap toh baddchallan ho gaye.
- Bhaiya badi der laga di aane mein…. Haan, badi flight miss ho rahi thin a teri!
- Masoor ki dal mein ajinomoto nahin padta.