By: Keyur Seta
Earlier this year, India's Prime Minister Narendra Modi announced November 26 to be celebrated as India's Constitution Day this year onwards. This was the day in 1949 when the Constitution of India was adopted by the Constituent Assembly for an independent India.
Unfortunately, the first Constitution Day of India has arrived at a time when the basic Constitutional value – Democracy – is under grave threat. It has come at a time when a person expressing his fear of intolerance is being targeted as if he is a dangerous criminal.
You have every right to be disappointed with Aamir's statement about his wife Kiran Rao considering relocating to another country fearing intolerance. Even I didn't like what he said. But does that give you a right to burn his effigies, blacken his posters publicly (violence) and, worst of all, write and share the most vulgar posts about him on social media? Some of the things said are not even fit to post here (check yourself).
By doing this, these so-called nationalists have only managed to prove Aamir right. I always thought there is growing intolerance in the country. But the disgraceful manner in which people have reacted has increased my fears manifolds. In fact, even Ajmal Kasab, who carried out the terrorist attack on Mumbai on the same day in 2008, wasn't ridiculed in this way.
But Aamir is not the only one at the receiving end. Almost anybody who criticizes the government or any of its leaders is attributed titles like 'anti-national', 'anti-Indian', 'Pakistani', 'leftist', etc. Many are ordered to migrate to Pakistan. Even a polite criticism is met with filthy abuses.
Another important feature of our Constitution is Secularism (I know people following a 'certain' ideology get panic attacks at its mention). Sadly, this aspect too is now limited to school books. Ruling party leaders, including elected MPs, have been openly giving communal statements. The Dadri Lynching episode, where they even justified the ghastly incident, made things worse.
It has been almost a year and a half of such statements from those who are elected to govern us. But so far, no action has been taken against them, not even a mere suspension. The atmosphere right now is such that the mere mention of the word 'Secular' literally generates verbal violence. The scene is vulgarly worse on social media.
Hence, the first Constitution Day wouldn't have come at a more ironical time. This gives rise to some simple questions – Is merely celebrating Constitution Day enough to respect it? What is the point of celebrating when we can't implement the most basic rights it provides?
By: Keyur Seta
It was clear that Prem Ratan Dhan Payo would be an absolute winner at the box office, ever since its promotional material was out. However, going by the unprecedented advance booking the film has received, it won't be wrong to state that the Sooraj Barjatya's Salman Khan starrer might just create new records at the box office.
The highest record collection for the opening day is currently held by Farah Khan's Happy New Year, which released on last Diwali and earned around 37 crores. But going by the advance booking trends, it very well looks like Prem Ratan Dhan Payo will set the record for the highest opening day collections by earning 40 crores or more in a single day.
Of course, whether its lifetime box office collections will overhaul PK, Bajrangi Bhaijaan and Dhoom 3, which currently hold the record of highest box office collections in India earning approximately 340, 315 and 262 crores respectively, will depend on its content.
But this Diwali, as far as Maharashtra is concerned, two keenly awaited Marathi films are also hitting the theatres: Mumbai Pune Mumbai 2, starring Swapnil Joshi and Mukta Barve, and Katyar Kaljat Ghusli. MPM 2 is the sequel of the much loved blockbuster Mumbai Pune Mumbai, directed by Satish Rajwade. KKG is based on the famous musical play of the same name and the directorial debut of Subodh Bhave.
Normally, one would expect a huge film like PRDP to eat up regional films that release alongside. However, this time that is not going to be the case. The excitement for MPM 2 and Katyar Kaljat Ghusli is so high that these two films too are receiving a very positive advance booking response despite the presence of PRDP. This also means that the two Marathi films wont be a threat to each other either.
Therefore, it won't be wrong to state that this Diwali the box office scenario in Maharashtra will see something never seen before. A hugely awaited Hindi film and two Marathi films doing well together.
Now, this is what we call a Happy Diwali in true sense.
By: Keyur Seta
The Bihar Election results have surprised many of us. While Nitish Kumar's Janata Parivar always had an edge over NDA, very few expected the alliance to win with such a huge margin of 178 to 59. Although the result is only confined to a state, it is a warning to the Central government because the election was fought by its seniormost national leaders.
Nitish's good work in developing Bihar, which was once labeled as a backward state, has been instrumental in his alliance's victory. But we can't ignore the mistakes or, in some cases, blunders from the part of the Bharatiya Janata Party (BJP) to be a major case for such a defeat.
Here are 8 possible reasons for BJP's drubbing in Bihar:-
Unfulfilled Promises: One of the biggest promises the BJP offered during the Lok Sabha polls was the bringing back of black money stashed abroad. But they not only failed in doing so, but the party head Amit Shah, during an interview, openly stated that the promise was nothing but a 'Chunavi Jumla'. In other words, it was just a ploy to attract voters.
Communal Card: The party leadership had said time and again that their agenda is only development. But their leaders, including some MPs, have been continuously giving communal statements since more than a year.
Dadri Demon: This incident turned out to be the biggest turning point. BJP's Sakshi Maharaj, Sadhvi Prachi and Sangeet Som gave shocking statements in support of the lynching. Yogi Adityanath even assured Dadri villagers of providing guns!
Silence is not Golden: After such horrific statements, anybody would expect India's Prime Minister Narendra Modi to take strict action against the offenders. However, not only there was no action taken but there was no condemnation or suspension either.
Negative Campaign: One of the major reasons for BJP's shocking loss in the Delhi Election earlier this year was the negative campaign they ran against their opponents. People expected them to not repeat the mistake in Bihar. However, there were no lessons learnt as their campaign mostly contained mudslinging against JP leaders.
No Local Faces: Like every other state elections, the party relied only on famous faces like Modi and Amit Shah to get them votes. But to win state elections, you got to have known local faces that have a good following. The BJP lagged behind in this department again which forced the PM, party head and a lot of senior leaders and ministers to leave aside their task and head to Bihar.
Beef Politics: The party used Beef as one of the important issues. Its leaders made sweeping statements that the election is between Beef eaters and non-Beef eaters, and those who wish to eat it should go to Pakistan. They also used Cow in their newspaper advertisements. This tactic backfired badly as it turned out to be a polarizing idea.
Pakistan Hangover: Statements asking someone or the other to go to Pakistan have almost became a standard response. What hurt them the most is Shah's comment that if they lose the election, crackers will burst in Pakistan. But what took the cake was the attack on actor Shah Rukh Khan and comparing him with the most wanted terrorist Hafiz Saeed.
By: Keyur Seta
The Bihar Election results are keenly awaited in the whole of India. The political scenario in the country has changed so drastically over the last few years that the excitement for the result of a state election is not limited to that state alone.
Politics, which was once a loathed word, has now become a topic for debate, discussion and, even, fights across people of all age groups, including teenagers. This has largely to do with the advent of social media, where politics is discussed 24/7, even when there are no elections taking place anywhere in India.
The scenario during the 2015 Bihar Elections isn't any different. After months of non-stop campaigning, attacking speeches with insults and name-calling and innumerable fights on social media among the supporters of various parties, it will all finally boil down to the result day on November 8, 2015.
The D-Day will answer few questions that have been lurking in our minds lately. Will Nitish Kumar be able to retain his seat as the Chief Minister? Will Modi magic work in Bihar as well? Who will win Bihar?
Here is a short analysis of where the two biggest alliances, BJP led NDA and Janata Dal-United led Janata Parivar aka Mahagathbandhan, stand:-
NDA:
Plusses: India's Prime Minister Narendra Modi still continues to be quite popular among the masses. BJP is banking on his name. His good work as the Chief Minister of Gujarat is still fresh in people's minds. His promise of spending a humongous amount for the development of Bihar might also attract voters.
Minuses: Inability to fulfill Lok Sabha poll promises, including the failure to control rising prices and the return of Black Money within 100 days, has affected the BJP. But what has hurt the party the most is the continuous dose of hateful and communal statements by some key BJP figures and the PM's failure of stopping them. It goes completely against the major promise of the party, which is development. Plus, Amit Shah's Jumla statement has made things worse.
One of the major reasons for BJP's loss in the Delhi Elections is been attributed to the fact that their leaders, especially Modi, resorted to a lot of personal attacks and mudslinging during their speeches. Unfortunately, they have continued it during this election as well.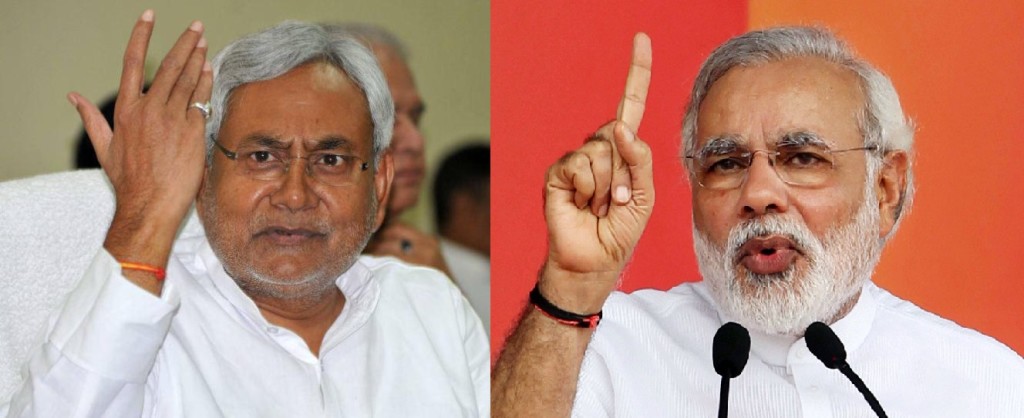 Janata Parivar:
Plusses: The biggest plus point for JPU is the way Nitish Kumar has developed Bihar in the last ten years from the Lalu mess. He has made sure that the backward stigma attached with Bihar and Biharis is slowly diminishing. His clean image and the fact that he is educated are also advantages.
Minuses: The tactic of joining hands with Lalu Prasad Yadav's RJD and the Congress can go against Nitish as it goes against his non-corrupt. Lalu, as we all know, is a convict under the Chara Ghotala. He is even barred from contesting elections for the next six years.
Not to forget, Nitish and Lalu were enemies at one point of time. In fact, they had openly attacked each other during the Lok Sabha Polls last year. The theory of compromise also stems from the recent leaked video where Nitish is seen meeting a taantrik, who is heard raising slogans "Nitish zindabad. Lalu murdabad."
The same can be said about Nitish's alliance with the Congress. It's a party in shatters after the humiliating defeat in the Lok Sabha Polls and the complete whitewash in Delhi Elections, thanks to the numerous scams during its regime at the Center. Hence, this alliance appears more like a compromise to satiate the hunger for power and to keep Modi and BJP away from Bihar at all costs.
Prediction of Bihar Elections:
(This prediction is not based on any exit poll and neither am I a political expert. This is just a calculation of a common citizen of India based on the recent political developments.)
No alliance will be getting a clear majority. The pluses and minuses of both camps are almost equal. From the look of things, the votes would be strongly divided between NDA and JP. Therefore, the final results for both alliances would either be too close or close to equal, if not properly equal.
Whose Happy Diwali will it be? There is a lot at stake.