Rajkumar Hirani's Sanju is said to be a biopic on veteran actor Sanjay Dutt. As is the case with Indian biopics, this one too is more like an effort to glorify someone. But even if you watch the film as a work of fiction, it only turns out to be a one-time watch, which is surely not what you expect from a Hirani movie.
It is clearly his weakest film till date, although it's not a bad film.
Sanju is a fictionalized account of actor Sanjay Dutt's life. The film concentrates on his early days with drugs, struggle to come out of the addiction and, most importantly, his involvement in the illegal arms case related to the 1993 Mumbai bomb blasts.
It is a pipedream to make a real biopic in a country like India. To be fair to the film, Dutt's dark period with drugs is shown unabashedly in the first half. His struggle to come out of it gives a strong anti-drug message without preaching. But apart from this aspect, the film largely concentrates on making the actor look like a truly innocent human being.
Even in the scene where he grossly misbehaves with someone after being high on drugs, the victim volunteers to take the blame on herself, which is weird to say the least.
Dutt's involvement with illegal arms and his links with the underworld and the surrounding incidents are presented like jokes. For example, along with AK-56 rifles and bullets, hand grenades were also procured by the actor, as per official records. However, the film doesn't show him possessing grenades because that would make him look too bad no?
Hence, the blame of his fate is put on the media. There's no denying that Dutt has been a victim of unethical reporting. But to show that the biggest villain in his life has been the media while the actor just can't do anything wrong is outrageous, even by Indian biopics' standards. If this wasn't enough, there is also a song on media's malpractices.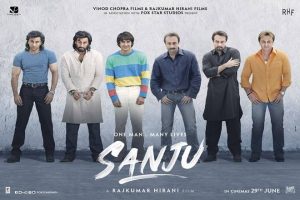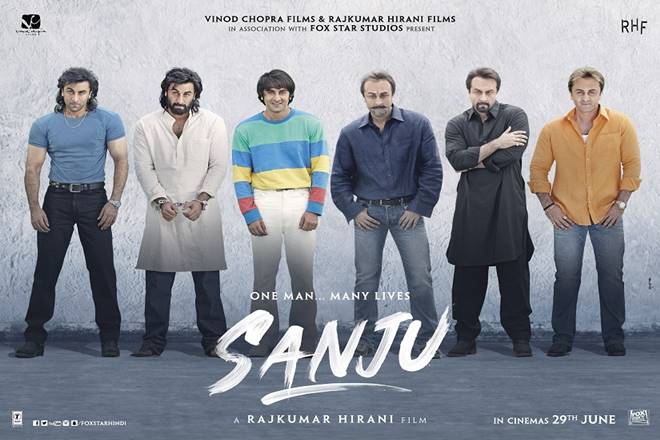 So, the only way to enjoy this film is to watch it as a work of fiction (which is exceedingly difficult, mind you). Like Hirani's brand of cinema, Sanju has a fast moving screenplay and appealing dialogues, which ensures that one is glued throughout the duration of 161 minutes.
But this surely isn't enough to ensure that you leave the hall satisfied for two reasons. Firstly, the second half suffers from lack of proper conflict and flow. This ensures a half-baked climax, which comes as a rude surprise for a Hirani movie. Adding fiction in the all-important moment when Dutt is released makes it worse.
Secondly, the character of the author is shown to be too dumb. She believes everything she hears without giving it a second thought, leave alone cross checking. By the way, there's another character who doesn't notice a question mark in the headline of an article he has been carrying with him since more than a decade.
The acting arena is the biggest plus point of Sanju. Ranbir Kapoor has given the performance of his lifetime. His task was cut out as he couldn't have afforded to just mimic Dutt. The actor succeeds in living different facets of Dutt's life brilliantly.
Paresh Rawal too comes up with one of the best performances of his life. You feel for him every time he comes up on screen. The biggest surprise is Vicky Kaushal who is phenomenal as Dutt's best friend Kailash. This act will become the turning point of his career.
Manisha Koirala doesn't have a lengthy role but she manages to leave behind a solid impact. Anushka Sharma too has shown her talent but her aforementioned characterization doesn't help her cause. Dia Mirza and Jim Sarbh are above average while the actress playing Dutt's sister, Priya Dutt doesn't get to do anything except smiling continuously.
Overall: Sanju is an entertaining saga with great performances. But it is more like an image cleaning PR exercise than a biopic. The film has opened to excellent numbers at the box office but it won't be a huge success.
Rating: 3 out of 5
Review by: Keyur Seta
Director: Rajkumar Hirani
Producers: Rajkumar Hirani Films and Vinod Chopra Films
Writers: Rajkumar Hirani and Abhijat Joshi
Cast: Ranbir Kapoor, Paresh Rawal, Vicky Kaushal, Anushka Sharma, Dia Mirza
Music: A R Rahman, Rohan Rohan and Vikram Montrose
Genre: Drama
Runtime: 161 minutes