How I found director Vikramaditya Motwane's Bhavesh Joshi Superhero is not the aim of this article (still if you are too curious, you can scroll down for the snippet review). More importantly, the Harshvardhan Kapoor starrer created a deep, personal connect with me, which rarely happens.
The base of the film's story is social activist Anna Hazare's India Against Corruption (IAC) movement of 2011 for the passing of Jan Lokpal Bill. It compels the characters of Kapoor and Priyanshu Painyuli, his best friend, to start their own movement against injustice through the medium of a YouTube channel called Insaaf TV.
They go around stopping people against wrongdoings like urinating in public, not following traffic rules, etc. The issues might sound petty but they mean a lot to them. It was their selfless contribution towards, what was then considered, India's biggest fight against corruption or any kind of wrongdoings.
The movement is one of the biggest events in my life. Never even in the wildest of my dreams did I ever imagine lakhs of ordinary people selflessly taking on the streets waving Indian flags while demanding change (not chhutta or khulla paisa, please), which would also include me. The long march in heavy rains from Bandra station to Juhu circle still feels like last week.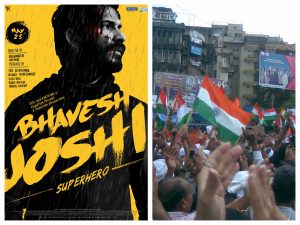 I remember few people whom I had acquainted then confidently predicting that the country is in for a major change now and this is in a way the second Independence movement. I thought this is far-fetched but still felt like agreeing with them. After all, the scenes looked like flashback portions from India's freedom struggle.
Bhavesh Joshi Superhero also touches upon the diminishing impact of the movement during the second phase in December 2011. Just like the two characters, I and many others were standing disappointed, wondering how it all fizzled out so soon.
The film characters continued their fight, which saw dangerous percussions including death. This doesn't deter Kapoor's character. In fact, the death of his friend makes him a superhero of a kind who unmasks the corrupt while wearing a mask. Without giving away the climax, I would just add that the hero's fight wasn't like any other Hindi film where he would win against all odds.
This is where my path diverted from the film's characters'. I didn't venture out to be a superhero against such powerful villains because I am not a film character. I am a 'normal' human being who doesn't fake being fearless of being hunted down and probably killed.
In other words, my contribution towards the fight against corruption, if it can be called one, ended with the fizzling out of the Jan Lokpal Movement.
However, the movement did help me personally as I started taking a keen interest in the political atmosphere of the country. It increased my knowledge on politics, although I don't have much right now. Before 2011, I didn't even know the meaning of an MP and MLA.
It was also because this movement that I started writing on the current socio-political issues on my blog, which was earlier almost limited to just film related stuff.
In between I also heard from a lot of learned people that it is important to better yourself before you think of bettering the world. Samaaj ko behtar banane chale hain, pehle khud ko toh behtar banao. These words had a profound impact on me and I started making efforts in being a better version of myself, although I am not sure if I have succeeded.
Bhavesh Joshi Superhero doesn't leave you in a hopeless state. It shows that there is still hope. Even though little but hope nevertheless. This is exactly what I would like to believe too…
(I never believe in writing so much about myself. But this movie just forced me to. Still I am not sure if this was relevant to you.)
About the film:
Bhavesh Joshi Superhero is a decent film that could have been better if the flaws in the second half were taken care of. It is still an important film that makes you think in addition to providing some thrills.
By: Keyur Seta