The bright and sunny day at the little but picturesque village of Shantigram became all the more delightful for Ramcharan and his team. At the end of the final rehearsals, they all heaved a sigh of relief. Now they were convinced that their puppet show would indeed turn out to be a success.
Ramcharan's troupe has been working day in and day out to tell an important story from their old folklore. It was the saga of valour of their ancestors that they were eager to show to the people of today's generation. Abundant wealth and hard work had been put in. But they were sure it will all be worth.
But a rude twist awaited them just a week before their first performance. It came in the form of a team of blood-hungry goons who vowed to make sure the act will never take place. Led by Rankesh, they were infamous for their hooligan methods against those who they felt insulted their culture, tradition, pride and what not. In fact, they don't even show qualms in killing their 'enemies.'
Rankesh and his pals just assumed that Ramcharan's team has distorted history in their performance and portrayed their ancestors in 'bad light.' The artists tried explaining that they haven't shown anything of that sort. But Rankesh was adamant. He just won't let the performance happen.
At night, Ramcharan and his group members went to the village Sarpanch. He and his team were chosen unanimously by the villagers few years back as they expected terrific governance from them. This is what they had promised when they were selected and had even proven it through some of their welfare works.
The Sarpanch couldn't meet them as he was occupied with something. But he sent a message through his second in command that everything will be taken care of. Ramcharan and others heaved a sigh of relief. That night they slept peacefully after days. Two days to go for the performance now.
Next morning, while they were just about to reach the area of rehearsals, where the stage was already built, they could see Rankesh and his men were already present. They were standing few steps besides the stage brandishing an array of weapons and a smirk on their faces. Ramcharan and the rest could feel their mouths drying up. Will they be the next victims?
Just like clouds suddenly dispersing making way for the sun, the artists saw Sarpanch's best men charging to the area where the goons stood. What brought Ramcharan and others more confidence was the fact that they too were carrying a wide range of weapons.
The axes, bamboos and spears did a lot of work as the Sarpanch's men attacked in full force and enthusiasm. However, despite such brutal use of force by Sarpanch's comrades, Rankesh and his men didn't even get a scratch.
Seconds later, standing opposite each other, both the parties had a hearty laugh as the stage remained demolished besides them.
Disclaimer: As said in the headline, this story has nothing to do with the Padmavati controversy.
By: Keyur Seta
Kathak is a classical Indian dance form. It is based on two words – Katha – which means story and – Kathaka – the one who tells a story. Hence, Kathak involves telling a story through dance without the use of words. On the other hand, Flamenco is a Spanish dance form.
Normally, a layman would consider the two arts forms poles apart. But Kathak performer Aditi Bhagwat and Flamenco artist Kunal Om revealed the similarities between the two dance forms not just verbally but through an awe-inspiring collaborative performance in the show Flamenco-Kathaa. The show was recently performed at the Prithvi Theatre in Mumbai.
The roots of Flamenco can be traced to the gypsies in Rajasthan. They traveled to various countries like Romania, Egypt and Hungary before finally settling in Spain, where they developed the art further. It is performed on a wooden board since the performer uses his strong shoes almost like musical instruments.
Among the few similarities between Flamenco and Kathak is that they both contain 12 beats.
To put it simply, Aditi and Kunal created an electrifying effect through their respective acts and co-ordination. It was not jugalbandi in actual sense. It was more like complementing each other. There were regular moments where the audience was forced to applaud. Kunal creating music out of shoes is hard to believe, especially if you are watching it for the first time.
There are chances of dance performances not being gripping enough after a point. But that is avoided here through the sequence and types of performances. The support of the rest of the artists – Aditya Kudtarkar on the Cajon, Tanay Rege on the Tabla, Shruti Bhave on the Violin and Anubhav Suman as the vocalist – and their brilliant solo performances cannot be ignored.
The vocalist's rendition of 'Tu Hi Tu' from Dil Se (1998) deserves mention; also because one doesn't expect a popular Hindi film number in such shows. It came as a pleasant surprise.
Every performance ought to have the best moment. Over here, in my opinion, was the Mahabhrata Kathak act on the incident of Draupadi's disrobing and Lord Krishna arriving in time to save her.
Bhagwat played various characters from the Mahabharata with amazing ease and did justice to all. She convincingly narrates the story without saying a word.
Overall, Flamenco-Kathaa is an entertaining dance show that gives you a tremendous kick, even if you happen to be a layman like me.
By: Keyur Seta
This is something I have observed among people in Mumbai (including me). We visit far off places very often but fail to relish the experience of nearby destinations. I have been to various places in north and south India. But I explored Pune properly for the first time in May despite living in Mumbai all my life.
The same happened again last month during our office trip/ picnic to Alibaug.
Alibaug or Alibag is a coastal town in Raigad District of Mahrashtra. It is considered an ideal picnic spot. People usually spend time over here on the famous Alibaug beach or the various resorts and guest houses. The easiest way to reach there from Mumbai is to take the ferry or jetty ride to Mandwa from the Gateway Of India and then go by bus.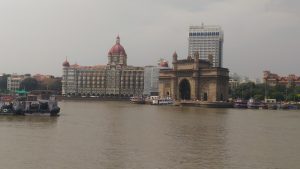 Just halfway during our ride from Mumbai to Mandwa I was amazed by the experience. This also made me regret not experiencing this before after growing up. The last time I took the jetty to visit Alibaug (via Mandwa) was way back in the early 1990s, which I hardly remember.
We took the more comfortable and kind of luxurious jetty called Maldar. It costs Rs 125 in the lower deck and Rs 150 in the upper. I would advise you to go for upper so that you get a chance to visit both sections during your journey. Upper deck ticket holders can visit lower but that isn't the case vice versa.
They also have an air conditioned section costing only Rs 15 more. But it doesn't make sense to sit in the AC and not experience the sea ride from the open. The ferry also serves snacks and beverages at reasonable rates.
The journey from Mandwa to Alibaug is around 30 minutes by road.
By: Keyur Seta
More pictures from our ride: