This is something I have observed among people in Mumbai (including me). We visit far off places very often but fail to relish the experience of nearby destinations. I have been to various places in north and south India. But I explored Pune properly for the first time in May despite living in Mumbai all my life.
The same happened again last month during our office trip/ picnic to Alibaug.
Alibaug or Alibag is a coastal town in Raigad District of Mahrashtra. It is considered an ideal picnic spot. People usually spend time over here on the famous Alibaug beach or the various resorts and guest houses. The easiest way to reach there from Mumbai is to take the ferry or jetty ride to Mandwa from the Gateway Of India and then go by bus.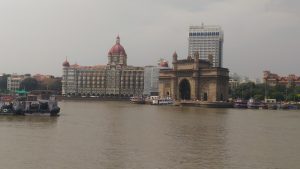 Just halfway during our ride from Mumbai to Mandwa I was amazed by the experience. This also made me regret not experiencing this before after growing up. The last time I took the jetty to visit Alibaug (via Mandwa) was way back in the early 1990s, which I hardly remember.
We took the more comfortable and kind of luxurious jetty called Maldar. It costs Rs 125 in the lower deck and Rs 150 in the upper. I would advise you to go for upper so that you get a chance to visit both sections during your journey. Upper deck ticket holders can visit lower but that isn't the case vice versa.
They also have an air conditioned section costing only Rs 15 more. But it doesn't make sense to sit in the AC and not experience the sea ride from the open. The ferry also serves snacks and beverages at reasonable rates.
The journey from Mandwa to Alibaug is around 30 minutes by road.
By: Keyur Seta
More pictures from our ride: