Director Sanjay Gupta's Kaabil is a perfect example of how promos can be misleading. The film's main trailer and the song promos weren't enticing to say the least. But the Hrithik Roshan and Yami Gautam starrer turns out to be a pleasant surprise. The film is an emotional and intelligent revenge drama.
Storyline (without spoilers): Rohan Bhatnagar (Hrithik Roshan) is a blind dubbing artist staying alone in Mumbai. He meets the visually challenged Supriya Sharma (Yami Gautam) through a matchmaker common friend and fall in love. They get married and are happy in their little world. But fate has something else in store for them.
Amit (Rohit Roy), a roadside ruffian, stays in Rohan's colony. He, along his friend Wasim, brutally rape Supriya. Rohan is devastated but fate isn't done on him yet. Yet another tragedy falls on him. Now, he must fight not only against Amit but also his equally evil MLA brother, Shelar (Ronit Roy). And that too all alone despite being blind.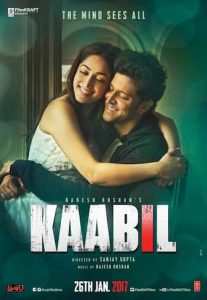 Plus points:
-- When you know that a film is a revenge drama, there is a danger of the audience having to impatiently wait for the tragedy so that the film can take off from there. Sometimes, the entire first half is spent in this. Thankfully, this is so well taken care of by the writing. The road to the tragedy is smooth and interesting. Love blossoming between two blind people also appears real.
-- This is the biggest plus point. The whole idea of a blind person taking revenge from a corrupt politician and other baddies not only sounds impossible but also laughable. However, the writer and director prove us wrong. The protagonist's manner of taking revenge is intelligent and sensible. The incidents where he outsmarts the bad guys are applaud-worthy since you automatically start rooting for him. Pulling this aspect off is in itself a big achievement.
-- Kaabil is also high on performances. Hrithik Roshan gives a dedicated and skillful act. The biggest challenge for him was to make the audience believe that he is blind, which he does convincingly. His rendition of those subtle, heroic dialogues help his cause further. On few occasions though he smiles unnecessarily which brings back memories of his character, Rohit from Koi Mil Gaya (2003).
After Vicky Donor (2012), Yami Gautam finally has a quality movie. She too lives up to the demand of playing a blind character convincingly. Rohit Roy forces you to hate him, which means he has done well. Ronit Roy has a more restrained character and he displays his talent successfully.
Narendra Jha, who also stars in Raees, is impressive as the cop, Chaubey. This might be his most noticeable role so far. Girish Kulkarni's negative shades are a treat to watch once again. But after Ugly (2014) and Dangal (2016) and this film, he should make sure he doesn't get stereotyped. As Hrithik's best friend, Suresh Menon is alright.
Negative points:
-- When you have a blind person taking revenge, you have no choice but to take cinematic liberties. But on few occasions, there are certain flaws that you can't ignore. Especially during the tragedy and the climax. Thankfully, the smart narrative and presentation doesn't let you think much about them.
-- The music isn't that impressive either. 'Sara Zamana' is an enjoyable foot-tapping number but Urvashi Rautela's dance steps are horrendous. Plus, the song doesn't fit the film.
Overall: Kaabil is an enjoyable revenge saga that is also high on emotions. The film has a steep task at the box-office as it is released with Raees. It does have hope of doing well till Sunday if it receives positive word-of-mouth. This film deserves to do well.
Rating: 3.5/5
Review by: Keyur Seta
Director: Sanjay Gupta
Producer: Rakesh Roshan for Filmkraft Productions
Writer: Sanjay Masoom and Vijay Kumar Mishra
Cast: Hrithik Roshan, Yami Gautam, Ronit Roy, Rohit Roy, Narendra Jha
Music: Rajesh Roshan
Genre: Revenge drama
Runtime: 138 minutes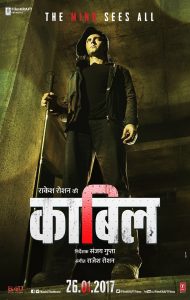 Story: Ti Sadhya Kay Karte starts off in the 1990s in Mumbai. Anurag aka Anya (Hruditya Rajwade), during his school days, falls in love with Tanvi (Nirmohi Agnihotri) at first sight. They grow up together as best friends.
When they (Abhinay Berde and Aarya Ambekar) reach college, Anya is certain that he still loves Tanvi but is not complete sure. Years later when Anya turns middle-aged (as Ankush Chaudhari), he attends their college reunion and wonders where Tanvi (Tejashri Pradhan) is.
Review: A large portion of the first half of Ti Sadhya Kay Karte makes you feel as if this is yet another Marathi film focusing on childhood romance. There have been many falling in such genre in last 5-6 years with Shala (2012) and Fandry (2014) being the most notable ones.
But you soon realize that is not the case (even if it was you wouldn't mind because of the treatment). This breezy romantic film is, in fact, the most mature and realistic take on childhood romance and the idea of moving on you will see in a long time.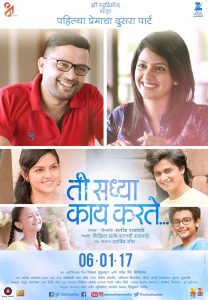 Plus points:
- Ti Sadhya Kay Karte is blessed with a terrific screenplay. Manaswini L R has used a fine mixture of fast pace and flashback. She is clear as to how much to reveal and when. To narrate a story in three time zones is not easy at all.
- She is also responsible for some creatively funny dialogues and scores high even during the emotional ones in the end. In fact, dialogues have a lion's share in the overall result. The Orange flavor Glucon D idea deserves special mention.
- Rajwade is known for handling love stories intelligently. He handles this difficult subject with ease.
- It is mandatory for the music to be of high quality in such love stories. The songs over here fit the situation and are melodious too.
- The casting and the performances sum up a high quality product. Ankush Chaudhari gets different dimensions of his character right. He lives up to the task completely. Tejashri Pradhan doesn't have that much screen time but she is highly impactful through a thoroughly skillful performance.
Debutant Abhinay Berde (son of Laxmikant Berde) shows confident acting skills. Singer Aarya Ambekar makes her acting debut. After this delithful performance, she is sure to get more acting offers. Hruditya Rajwade and Nirmohi Agnihotri too are obedient and lovable.
Negative points:
- There is one flaw about the separation of the lead characters and few others in the course of the narration.
- The runtime could have been little bit on the lower side with this storyline.
Overall: Ti Sadhya Kay Karte is a feel-good and moving romantic tale. The film is sure to start the New Year for Marathi cinema on a positive note at the box-office.
Rating: 3.5/5
Review by: Keyur Seta
Director: Satish Rajwade
Producers: Zee Studios and Pallavi Rajwade
Writers: Manaswini L R and Satish Rajwade
Cast: Ankush Chaudhari, Tejashri Pradhan, Abhinay Berde, Aarya Ambekar, Hruditya Rajwade and Nirmohi Agnihotri
Music: Nilesh Mohrir, Avinash-Vishwjeet and Mandar Aapte
Genre: Romance
Runtime: 127 minutes
Today, Om Puri reminded us the law of nature. The great artist passed away at his residence in Mumbai following a massive cardiac arrest. He was one artist for whom the word 'irreplaceable' can be used. Below is an old interview of his that I took for the annual 2014 issue of Trade Guide magazine. It is been posted with due permission of the publication.
A name like Om Puri doesn't need any formal introduction. By going strong in the field of acting for 40 years, he is easily one of the finest acting talents the country has seen. For the special annual issue of Trade Guide, the veteran artist gets candid exclusively with Keyur Seta over his career and the recently concluded year.
You have done art-house cinema as well as hardcore commercial cinema. Which of the two genres makes you more proud?
To be honest, I am proud of both types of cinemas. Art-house cinema gave me recognition, credibility and honor as a good actor. Because of these films, I was able to travel all over the world by participating in film festivals. It also gave me two National Awards and other awards. But unfortunately, art cinema didn't have much money. So, commercial cinema provided me with livelihood. I am having a decent living because of commercial cinema. Hence, I am grateful to both types of cinemas. But without art films, commercial cinema wouldn't have recognized me at all. I didn't have the type of personality commercial cinema needs. They would have considered me as one of the junior artists.
How would you describe your more than three decade long journey in Hindi cinema?
I am quite happy with my career to be honest. I have not only made a mark in art-house cinema but have also been a part of commercial cinema. Plus, I am also a known name in the west. So surely I am quite happy. But unfortunately, our cinema doesn't have much material for elderly actors unlike the west. They have a lot of subjects where elderly actors are the main leads.
You started off by getting a job at a theatre group when you were very young. At that time, did you ever imagine that one day you will be counted as one of the finest actors?
No, I never thought that. I just kept working hard with sincerity and honestly and didn't think about anything. I was focused.
Naseer sahab (Naseeruddin Shah) has been your companion all through your acting journey.
He has a huge contribution in making me a better actor, knowingly or unknowingly. He was the one who inspired me enroll at the Film and Television Institute of India (FTII) in Pune. As I had no money to study at FTII, he told me, beg, borrow or steal but come here. He said there is no future in Delhi. So I will always be grateful to him. We have been friends since almost 44 years now.
How was the year 2014 for Hindi cinema according to you?
To be honest, I don't think the year was too exciting. I also feel that we have too many urban films made these days whereas a large chunk of our population stays in villages. Films about village and its issues are very rarely made. In fact, they are not made anymore.
A lot of unconventional films are tried in mainstream Hindi cinema nowadays.
Yes, there are filmmakers who are making good meaningful cinema. I am not denying that. There are a number of such filmmakers like Dibakar Banerjee and Anurag Kashyap who make films with good content.
What are your expectations from our films in 2015?
Firstly, I don't agree that films are just meant purely for entertainment. It is such a powerful medium that it can participate in educating the society. It has the ability to inspire people and create values. Today a lot of youngsters are into drugs and all such notorious activities. So cinema can play a role in it. I am not saying there shouldn't be entertainment. But entertainment should have some weight. JAANE BHI DO YAARO was entertaining but it also carried a message. So along with entertaining films, there should be some serious films, which aren't biased and prejudiced. One such film was OH MY GOD.
These days, 100 crore club is becoming smaller as 200 or 300 crore is considered the ultimate achievement.
There is no end to it. It is purely commerce and business. It is sad that cinema is only being treated as business. I can understand that there is a big investment. Of course, whoever spends money on a film should get the returns. But a person recovering 10, 20 or 50 times the money spent is a bit ridiculous. Why don't you make more films? For example, instead of raising the price of one toy, why can't I make 15-20 toys and keep making money?
But this was started in 50s itself. Initially, artists from various fields of theatre migrated to cinema. Once cinema established itself as a fruitful business, it attracted businessmen, who had no creative affiliation or background. They were purely businessmen, who started dictating terms for making films successful. Otherwise, that era was known for producing meaningful films by people like Bimal Roy, Gurudutt, V Shantaram, etc.
Do you think the current audience is more willing to watch off beat films as compared to 10 or 20 years ago?
There is nothing like that. It is just that off beat cinema should not be boring; it should be interesting. You can either write an essay or a short story. People aren't interested in essays unless you are a literary person. But people like reading stories because it interests them. Very few people read editorials in newspapers; they like reading headlines and news. So you should not treat cinema as an editorial. ARDHA SATYA and AAKROSH didn't have songs but they were successful films. The same was the case with films like KANOON and ITTEFAQ. When I was a student, I saw OONCHE LOG and I liked it although it didn't have songs.
Any actor you haven't work with yet but are eager to work?
I am ready to work with anyone. I would like to work with someone who is better than me because that will enable me to give my best.