Director Sanjay Gupta's Kaabil is a perfect example of how promos can be misleading. The film's main trailer and the song promos weren't enticing to say the least. But the Hrithik Roshan and Yami Gautam starrer turns out to be a pleasant surprise. The film is an emotional and intelligent revenge drama.
Storyline (without spoilers): Rohan Bhatnagar (Hrithik Roshan) is a blind dubbing artist staying alone in Mumbai. He meets the visually challenged Supriya Sharma (Yami Gautam) through a matchmaker common friend and fall in love. They get married and are happy in their little world. But fate has something else in store for them.
Amit (Rohit Roy), a roadside ruffian, stays in Rohan's colony. He, along his friend Wasim, brutally rape Supriya. Rohan is devastated but fate isn't done on him yet. Yet another tragedy falls on him. Now, he must fight not only against Amit but also his equally evil MLA brother, Shelar (Ronit Roy). And that too all alone despite being blind.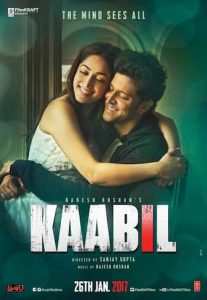 Plus points:
— When you know that a film is a revenge drama, there is a danger of the audience having to impatiently wait for the tragedy so that the film can take off from there. Sometimes, the entire first half is spent in this. Thankfully, this is so well taken care of by the writing. The road to the tragedy is smooth and interesting. Love blossoming between two blind people also appears real.
— This is the biggest plus point. The whole idea of a blind person taking revenge from a corrupt politician and other baddies not only sounds impossible but also laughable. However, the writer and director prove us wrong. The protagonist's manner of taking revenge is intelligent and sensible. The incidents where he outsmarts the bad guys are applaud-worthy since you automatically start rooting for him. Pulling this aspect off is in itself a big achievement.
— Kaabil is also high on performances. Hrithik Roshan gives a dedicated and skillful act. The biggest challenge for him was to make the audience believe that he is blind, which he does convincingly. His rendition of those subtle, heroic dialogues help his cause further. On few occasions though he smiles unnecessarily which brings back memories of his character, Rohit from Koi Mil Gaya (2003).
After Vicky Donor (2012), Yami Gautam finally has a quality movie. She too lives up to the demand of playing a blind character convincingly. Rohit Roy forces you to hate him, which means he has done well. Ronit Roy has a more restrained character and he displays his talent successfully.
Narendra Jha, who also stars in Raees, is impressive as the cop, Chaubey. This might be his most noticeable role so far. Girish Kulkarni's negative shades are a treat to watch once again. But after Ugly (2014) and Dangal (2016) and this film, he should make sure he doesn't get stereotyped. As Hrithik's best friend, Suresh Menon is alright.
Negative points:
— When you have a blind person taking revenge, you have no choice but to take cinematic liberties. But on few occasions, there are certain flaws that you can't ignore. Especially during the tragedy and the climax. Thankfully, the smart narrative and presentation doesn't let you think much about them.
— The music isn't that impressive either. 'Sara Zamana' is an enjoyable foot-tapping number but Urvashi Rautela's dance steps are horrendous. Plus, the song doesn't fit the film.
Overall: Kaabil is an enjoyable revenge saga that is also high on emotions. The film has a steep task at the box-office as it is released with Raees. It does have hope of doing well till Sunday if it receives positive word-of-mouth. This film deserves to do well.
Rating: 3.5/5
Review by: Keyur Seta
Director: Sanjay Gupta
Producer: Rakesh Roshan for Filmkraft Productions
Writer: Sanjay Masoom and Vijay Kumar Mishra
Cast: Hrithik Roshan, Yami Gautam, Ronit Roy, Rohit Roy, Narendra Jha
Music: Rajesh Roshan
Genre: Revenge drama
Runtime: 138 minutes