Nitesh Tiwari's Aamir Khan-starrer, Dangal has shattered box-office records by becoming the biggest Bollywood blockbuster ever. The film has earned over Rs 370 crore so far. Collections in this range speak about a film's wide acceptance. More so because the earnings have been constant. Its peak business wasn't limited to the first few days or first week.
But the film, based on the life of Mahavir Singh Phogat, has also achieved something else subtly.
In today's times, patriotism and nationalism are transformed to hyper-patriotism and ultra-nationalism. It is a ploy used by self-proclaimed patriots who are always ready to attack anyone not agreeing with their pro-government views in the name of Desh Bhakti.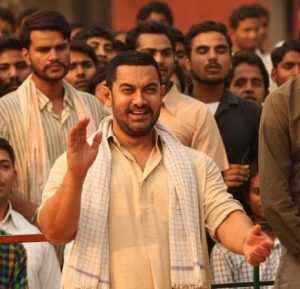 This is also seen the most if you disagree with their views of opposing everything that is Pakistani. Be it actors, cricketers, artists and who not. These are the same people who completely turn a blind eye to the non-stop trade between India and Pakistan, even after the Uri attacks. Some of them might even be staying in houses made from cement that comes from across the border. However, this is a different story.
Coming back to the main topic, in the midst of such hyper-national atmosphere, Dangal has shown the actual meaning of patriotism, which should be felt and not preached. This is in the climax when the National Anthem is played. It was an excellent technique to make Phogat realize that Geeta has won the Gold medal.
Tiwari got the audience rooting for Geeta Phogat in her quest to win Gold for India in such a way that most of us were forced to stand during the National Anthem. Some of us who have been opposing the playing of our anthem before films also stood up. Why? Because we badly wanted her and India to win the Gold and make Mahavir's dream come true. So, the climax brought a sense of pride towards our nation.
But all this was achieved without a single dialogue highlighting the importance of patriotism. Without any sloganeering. In fact, there were no instructions on the screen either asking people to stand. Hence, it's proven that patriotism is a feeling, not a slogan.
In all this, Aamir has also truly destroyed the morale of hate mongers, who were spreading messages to boycott Dangal. But he did that without saying a word against them and by just making his work do the talking.
They urged everyone to boycott his films. People made it the biggest hit ever.
They labeled him 'anti-national.' His film showed the true meaning of nationalism.
Hope for peace lives on…
– By Keyur Seta