Story: Ti Sadhya Kay Karte starts off in the 1990s in Mumbai. Anurag aka Anya (Hruditya Rajwade), during his school days, falls in love with Tanvi (Nirmohi Agnihotri) at first sight. They grow up together as best friends.
When they (Abhinay Berde and Aarya Ambekar) reach college, Anya is certain that he still loves Tanvi but is not complete sure. Years later when Anya turns middle-aged (as Ankush Chaudhari), he attends their college reunion and wonders where Tanvi (Tejashri Pradhan) is.
Review: A large portion of the first half of Ti Sadhya Kay Karte makes you feel as if this is yet another Marathi film focusing on childhood romance. There have been many falling in such genre in last 5-6 years with Shala (2012) and Fandry (2014) being the most notable ones.
But you soon realize that is not the case (even if it was you wouldn't mind because of the treatment). This breezy romantic film is, in fact, the most mature and realistic take on childhood romance and the idea of moving on you will see in a long time.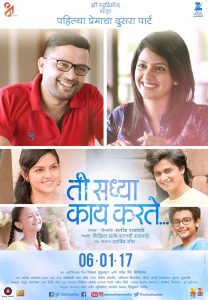 Plus points:
– Ti Sadhya Kay Karte is blessed with a terrific screenplay. Manaswini L R has used a fine mixture of fast pace and flashback. She is clear as to how much to reveal and when. To narrate a story in three time zones is not easy at all.
– She is also responsible for some creatively funny dialogues and scores high even during the emotional ones in the end. In fact, dialogues have a lion's share in the overall result. The Orange flavor Glucon D idea deserves special mention.
– Rajwade is known for handling love stories intelligently. He handles this difficult subject with ease.
– It is mandatory for the music to be of high quality in such love stories. The songs over here fit the situation and are melodious too.
– The casting and the performances sum up a high quality product. Ankush Chaudhari gets different dimensions of his character right. He lives up to the task completely. Tejashri Pradhan doesn't have that much screen time but she is highly impactful through a thoroughly skillful performance.
Debutant Abhinay Berde (son of Laxmikant Berde) shows confident acting skills. Singer Aarya Ambekar makes her acting debut. After this delithful performance, she is sure to get more acting offers. Hruditya Rajwade and Nirmohi Agnihotri too are obedient and lovable.
Negative points:
– There is one flaw about the separation of the lead characters and few others in the course of the narration.
– The runtime could have been little bit on the lower side with this storyline.
Overall: Ti Sadhya Kay Karte is a feel-good and moving romantic tale. The film is sure to start the New Year for Marathi cinema on a positive note at the box-office.
Rating: 3.5/5
Review by: Keyur Seta
Director: Satish Rajwade
Producers: Zee Studios and Pallavi Rajwade
Writers: Manaswini L R and Satish Rajwade
Cast: Ankush Chaudhari, Tejashri Pradhan, Abhinay Berde, Aarya Ambekar, Hruditya Rajwade and Nirmohi Agnihotri
Music: Nilesh Mohrir, Avinash-Vishwjeet and Mandar Aapte
Genre: Romance
Runtime: 127 minutes