The end of last year saw an impressive biopic on Marathi theatre's superstar Kashinath Ghanekar in the form of Ani… Dr Kashinath Ghanekar (2018). Less than two months later, the life of Purushottam Laxman Deshpande, one of Maharashtra's most loved personalities, is portrayed on screen through Mahesh Manjrekar's Bhaai: Vyakti Ki Valli.
Although both films are about the life of a yesteryear artist from Maharashtra, they are hugely different simply because of the vast dissimilarities between the two personalities.
Bhaai: Vyakti Ki Valli is the first of the two part films that traces the life of Purushottam Laxman Deshpande aka Pu La Deshpande aka Bhaai. Born in 1919, he (Sagar Deshmukh) was a multi-talented personality. Although he was mostly known as a legendary humourist, he also excelled as a music composer, singer, theatre and film actor and script writer. Despite becoming a lawyer, Deshpande was always inclined towards music, theatre and literature.
He marries Sundar (Mrunmayee Deshpande) as his late father (Sachin Khedekar) had promised her father of the same. Unfortunately, she dies just a week after their marriage. He then finds love in the school teacher Sunita Thakur (Iravati Harshe) while being employed in the same school. How Deshpande follows his dreams with Sunita's support forms the rest of the film.
Bhaai focuses on Pu La's personal life (maybe the second part will feature more on his career). It follows a light-hearted and humorous method of storytelling, which is a reflection of Pu La's character and literary works. His real-life incidents are interesting enough to be told in a movie form in 119 minutes.
During this duration, important personalities and incidents are recreated albeit with creative liberty. It is a delight to see the likes of Bhimsen Joshi (Ajay Purkar), G D Madgulkar (Sagar Talshikar), Kumar Gandharva (Swanand Kirkire) and Vasantrao Deshpande (Padmanabh Bind) together with Deshpande in the golden era. But one appearance that takes you by pleasant surprise is the child version of Bal Thackeray.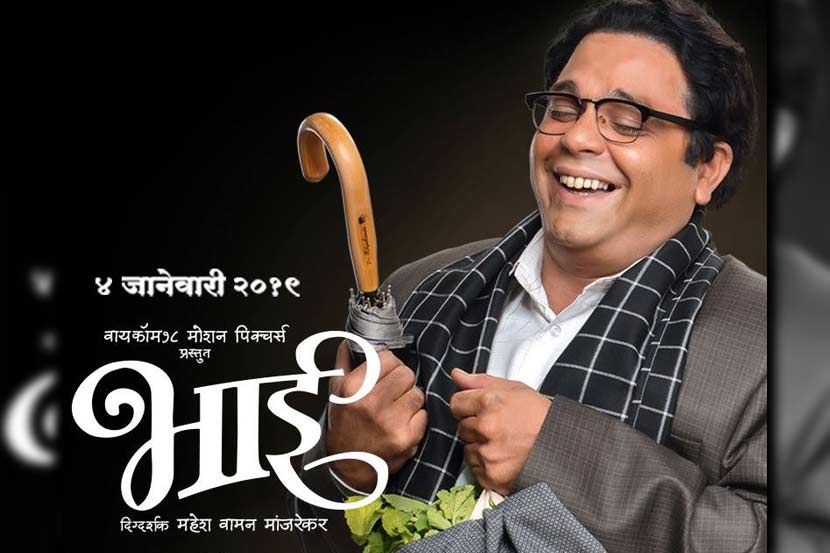 This is a film where there is a lot of onus on the writing. Ganesh Matkari's screenplay is fast paced and well-knitted. You get no time to think. Ratnakar Matkari has ensured that the dialogues are not only humorous but they play a role in making the character of Pu La believable.
Bhaai is very much in the Harishchandrachi Factory (2010) zone. That film was also a light-hearted affair about a late celebrated artist (Dadasaheb Phalke). The major difference is that the 2010 movie only focussed on Phalke's work-related goal (to make India's first motion picture), which also provided with conflict.
This clearly isn't the case with Bhaai. In fact, it won't be wrong to state that the film challenges conventional storytelling by not aiming at any specific goal of the protagonist and not relying on any major conflict (although there are a few conflict elements) to keep you hooked. The effect of the content is ably complemented by Manjrekar's presentation, which is way different from his other films.
However, the simplistic mood should have been done away during the climax. It would have been better if the first part had ended with some dramatic moment instead of a song. Nevertheless the incredible track 'Kanada Raja Pandharicha' does ensure that you move out with a smile.
Despite the content, a lot relied on Sagar Deshmukh's performance as Pu La in creating the overall effect. To put it simply, he has literally lived the happy-go-lucky character of the late great. He makes sure that he appears likeable even when he acts being immature or a bit irresponsible.
Iravati Harshe has been giving commendable performances in the last few years. She has continued her good work here too by fitting in perfectly as an independent woman. The film has quality supporting acts and cameos from a lot list of actors including Ashwini Giri, Purkar, Talshikar, Bind, Kirkire, Sachin Khedekar, Hrishikesh Joshi, Mrunmayee Deshpande and others.
Overall: Bhaai: Vyakti Ki Valli Purvardh (Part 1) is a biopic that will leave you delighted even in case you don't know anything about Pu La Deshpande.
Rating: 4 out of 5
Review by: Keyur Seta
Director: Mahesh Manjrekar
Producers: Viacom 18 Motion Pictures and Mahesh Manjrekar Movies
Writers: Ganesh Matkari and Ratnakar Matkari
Cast: Sagar Deshmukh, Iravati Harshe, Ashwini Giri
Music: Ajit Parab
Genre: Biopic/ Drama
Duration: 119 minutes