By: Keyur Seta
Director: Sanjay Gupta
Producers: White Feather Films and Balaji Motion Pictures
Writers: S Hussain Zaidi, Sanjay Gupta and Milap Zaveri
Cast: John Abraham, Anil Kapoor, Sonu Sood, Manoj Bajpayee, Tusshar Kapoor, Ronit Roy, Kangna Ranaut
Music: Anu Malik
Genre: Action/ Drama
Rating: * *
Story Outline: Based on a chapter from S Hussain Zaidi's book Dongri To Dubai, the film is about an honest, lower-middle class man from Mumbai called Manohar Surve (John Abraham). After being wrongly framed for a murder, an innocent Manohar transforms as the dangerous gangster Manya Surve.
Review: Distorting facts from real accounts while making a commercial caper is alright if the end product turns out to be a convincing as well as gripping affair. Sadly, that doesn't happen with Sanjay Gupta's Shootout At Wadala due to its age old gangster story, weak narration and some unforgivable vulgarity in various forms. The film can best be enjoyed if you are a part of a rowdy crowd.
First, the positives. The film has some extra-ordinarily written witty lines by Milap Zaveri. There are a number of praiseworthy and seeti-bajao moments for hardcore masses. The action scenes are also a treat on some occasions as they are smartly captured and presented.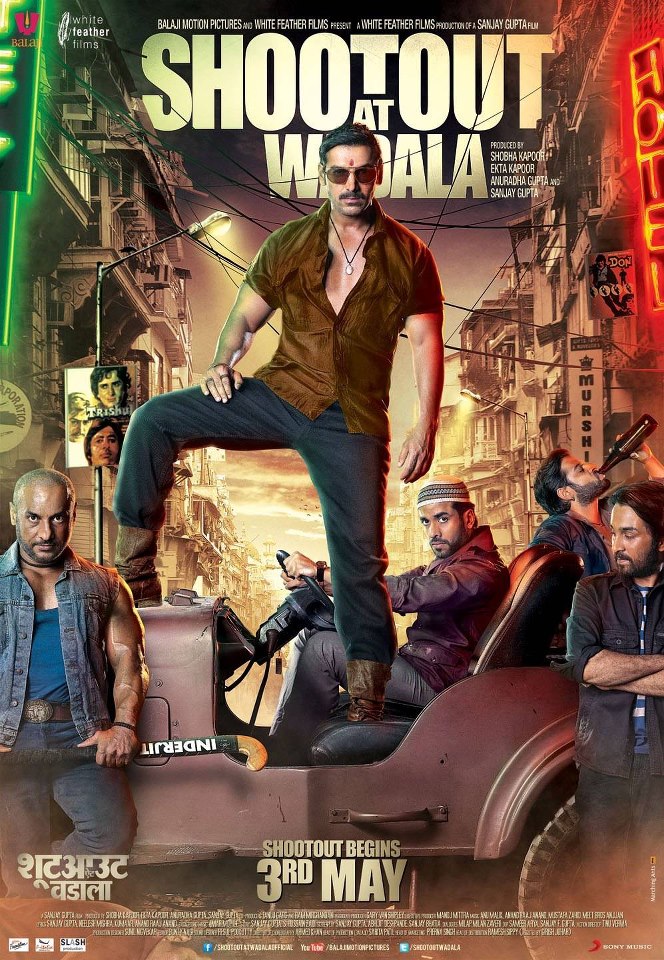 These positives are certainly not enough to overshadow the various negatives. The film has the tiresome, tried and tested gangster story with the same kinds of gang wars that have done the rounds of Hindi cinema innumerable times ever since Ram Gopal Varma's Satya released. On top of that, the screenplay just lacks proper focus and its long length just makes things worse.
Anybody who has read Manya's chapter in Dongri To Dubai will realize the too much distortion of facts. As mentioned earlier, it is completely fine in a mass oriented feature film but over here, it looks unconvincing and at times, silly. For instance, the Pathan Gang is called Haji Mastan's gang while the character of Haji Mastan is called Haji Maqsood. Even the fiction added in the climax appears questionable. (Purposely not mentioning various other points to avoid spoilers.)
But what hurts the most is the level of cheapness that the film crosses. The regular flow of cuss words and vulgar references get onto your nerves. Although violence is necessary in such films but over here, there is just an overdose of gore that make you cringe regularly. They have even gone onto show a rape scene in a disturbing manner.
There is more vulgarity in store in the form of two item numbers (out of three). This film will trigger more amount of wrath against Hindi cinema for portraying women as sexual objects and it definitely should! The industry surely needs a reality check when it comes to portrayal of women!
The technical areas (cinematography, background score, editing and action) can hold their heads high. From Anu Malik's music, only 'Aala Re Aala' turns out to be decent. The rest of the songs just add up to the length. Having as many as three item numbers is a terrible idea!
John Abraham has the perfect physique and attitude needed to play Manya Surve but he certainly lags behind when it comes to acting. At the most, he is just average. An actor with more acting talent was the need of the hour. Anil Kapoor's act is the saving grace. The veteran actor still doesn't appear as a veteran.
Tusshar Kapoor doesn't suit as Munir Sheikh at all! He even turns out to be a laughing stock on few occasions. Kangna Ranaut falters with her dialogue delivery yet again. The supporting cast – Mahesh Manjrekar, Ronit Roy, Siddhant Kapoor and Karan Patel – give decent performances.
Overall, Shootout At Wadala turns out to be unimpressive due to various reasons. It is sad that such a film released on the day when Indian Cinema completed 100 years! The initial hype and the fact that it is a hardcore commercial product will help the film at the box office in the first week.