Director: Raam Reddy
Producers: Pratap Reddy and Sunmin Park
Writers: Raam Reddy and Eregowda
Cast: Channegowda, Thamanna, Abhishek H. N, Singri Gowda
Genre: Drama
Duration/ Runtime: 124 minutes
Rating: * * * *
Review by: Keyur Seta
The term 'realistic cinema' generally applies to films that are very serious or, at times, sad in nature. But director Raam Reddy's Thithi breaks all such norms for realistic films. It shows that an utterly realistic saga can be both thought-provoking as well as a laugh-riot.
The film takes place in a remote village in Karnataka. Century Gowda (Singri Gowda) is so-called since he has surpassed 100 years of age. But he passes away at 101. How his death affects his son Gadappa (Channegowda), grandson Thamanna (Thammegowda) and great grandson Abhi (Abhishek H. N) and how everything boils down to Century Gowda's thithi (11th day after his passing away) forms the rest of the story.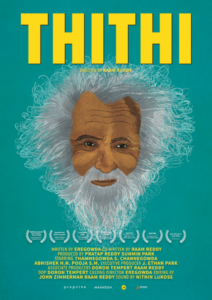 Like every well-made realistic rural flick, Thithi succeeds in the most difficult task of making you forget the outside world and get seriously involved with the life of Gowda family. But, as mentioned before, there is laughter galore throughout the duration, even in the most basic situations. This, however, doesn't mean that there is any compromise in staying honest with the subject.
Despite, however, such high doses of entertainment, the film succeeds in asking a lot of questions and saying a lot without saying much. Maintaining this fine balance is a triumph of the writing and direction.
Coming to the fallacies, there is one twist in the tale that isn't completely convincing. However, the many plus points and a fast pace won't let you think much about it.
Doron Tempert's displays his cinematographic skills despite the theme being simple and realistic theme. There is minimal use of background score (as per the need) and whenever it is used, it adds to the impact.
The makers have taken the risk of casting non-actors and to say that it paid off will be an understatement. It is simply amazing to see how each one has carried his or her role with perfection. In fact, it doesn't seem that they are acting at all. The one to stand out is Channegowda as Gadappa. But Thammegowda, Abhishek N. H, Singri Gowda, Pooja S. M (as Cawvery) and the rest are not behind at all.
Overall: Thithi is a must watch for those interested in films driven by strong content and excellent performances. The film needs to reach out to as many people as possible through word-of-mouth.