Story: The Ghazi Attack is based on the underwater warfare between India and Pakistan in 1971 in which PNS Ghazi, Pakistan's submarine, was destroyed. The Indian Navy gets a whiff about Pakistan trying to secretly attack their submarine S-21 through theirs called PNS Ghazi. Pakistan's aim is to get a clear route to supply weapons to East Pakistan (now Bangladesh) in order to continue attacking its rebels.
Indian Navy decides to take preventive measures before it's too late. A secret operation is planned which is headed by Captain Ranvijay Singh (Kay Kay Menon). He is a hot tempered middle-aged man infamous for disobeying orders. His immediate senior, Lieutenant Arjun Verma (Rana Daggubati) and Executive officer Devraj (Atul Kulkarni) have their task cut out because of Singh's presence. But a challenge much bigger lies ahead of them.
(For the real story of The Ghazi Attack, click HERE).
Review: While India claims that its naval force demolished Pakistan's submarine, the neighboring country has always maintained that it became a victim of the detonation of its own mines.
The clear picture regarding the same is not known as the operation was classified. So, if you are okay watching a film with fictionalized events around a historical event, chances are you will enjoy The Ghazi Attack. It's a gripping thriller with a sensible dose of patriotism.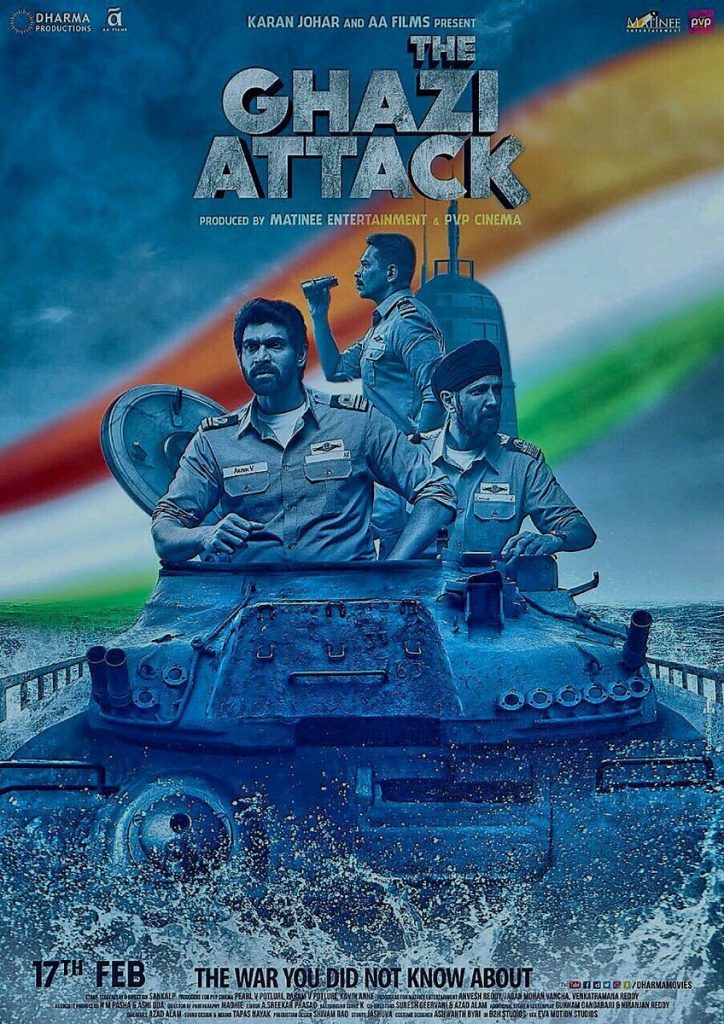 Plus points:
The biggest plus point for The Ghazi Attack is its gripping narrative that doesn't go off track even a bit. You are glued to the screen throughout with interest-worthy events making sure you don't realize when the 125 minutes pass by. The idea of not having a single song should also be appreciated.
The key areas when the attacks take place between both submarines are handled with precision. These moments provide some thrilling and nail-biting experience, especially the climax.
The complete working of the submarine with all the little details provide a learning experience (mind you, not preachy). Before this film, the inside of the submarine was well portrayed by Shyam Benegal in Bose: The Forgotten Hero (2005). Not with such detail though as that wasn't the need.
Despite the film being based on the India-Pakistan war, it doesn't resort to jingoism, which is a relief considering the times we are living currently.
The dialogues are appealing yet steer clear from being melodramatic of filmi.
Kay Kay Menon once again reminds you why he is one of the finest actors born in India. He provides a skilled act where he emotes through expressions. Rana Daggubati nicely underplays himself. Atul Kulkarni, another terrific artist, comes up with a mature act.
The rest of the supporting cast is perfect. The late Om Puri makes his presence felt in a cameo.
Minuses:
The technical details and jargons appear like bouncers for the layman sometimes. Too much of instructions also appear repetitive.
Taapsee Pannu has emerged as a talented artist in recent times. But over here, she disappoints. She has the same expression during the entire screen time.
Rahul Singh, an underrated talent, does what was required. But his character suffers from being a clichéd one-dimensional Pakistani officer.
Overall:
The Ghazi Attack is a gripping patriotic thriller. The film has received poor opening collections at the box office. It deserves to earn much more and for that it badly requires word-of-mouth.
Rating: 3.5/5
Review by: Keyur Seta
Director: Sankalp Reddy
Producers: Anvesh Reddy, Venkatramana Reddy, Prasad V Potluri, N M Pasha, Jagan Mohan Vancha and Karan Johar
Writers: Sankalp Reddy, Gangaraju Gunnam, Niranjan Reddy and Azad Alam
Cast: Kay Kay Menon, Rana Daggubati, Atul Kulkarni, Rahul Singh, Taapsee Pannu
Genre: Thriller
Runtime: 125 minutes