We always look forward to meet our friends or near and dear ones. But on October 15, 2011, I was super excited to meet… a big group of strangers. It was the yearly Indiblogger meet at Mumbai's R K Studios where bloggers from all over the city had assembled. The meet was organized by the food television show MasterChef India 2, which goes on air from October 22.
I use the word strangers since before the meet; I hadn't interacted with a single blogger from Indiblogger, although many of them regularly vote for my posts and vice versa.
As I entered the venue, I felt similar to what a child feels when he visits an amusement park for the first time. Although I was seated alone, I still felt entertained due to the occasion. I was in awe of the magnificent interiors of the sets.
One of the organizers then asked me to join a group of bloggers as he was disheartened to see me sitting alone. Few minutes of interaction with fellow bloggers was enough for me to realize that people around me aren't strangers at all!
(Article continued after the picture)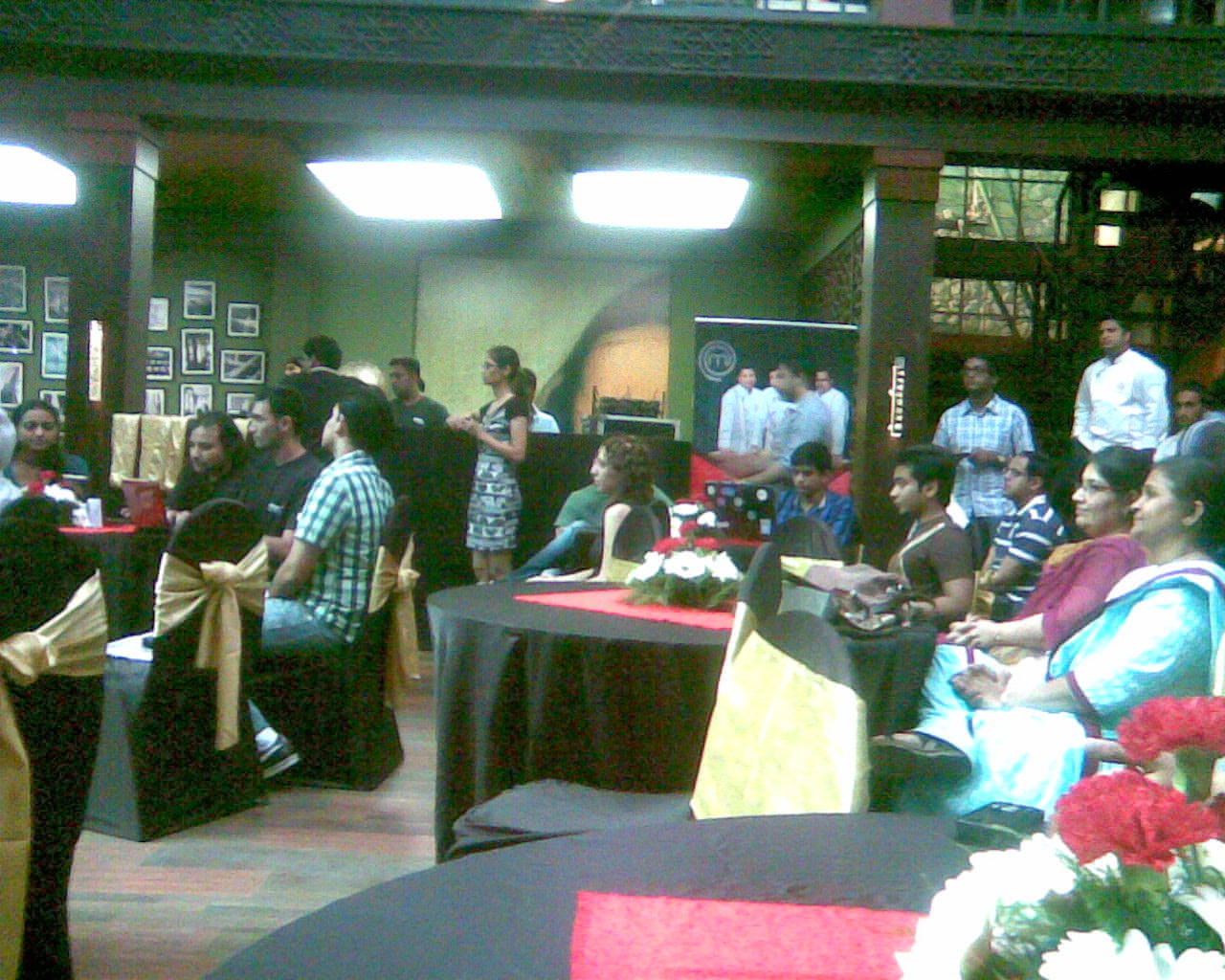 Soon, the event got under way. The host started distributing prizes (aprons) as wholeheartedly as throwing grams to pigeons (pun intended). This was followed by the introductory round where each one of us had to speak about themselves and their blog. This produced plenty of butterflies in my stomach as I am pathetic in public speaking. I just lack the confidence.
It was heartwarming to hear people speak about their blog and their reason for blogging. I suddenly started feeling bloggers are some special species which also includes me! Finally, my turn came and I somehow managed to speak. I tried to sound like a revolutionary when I stressed on the concept and the power of the Common Man (not sure whether it worked).
The three chefs and judges of MasterChef India 2 Kunal Kapoor, Ajay Chopra and Vikas Khanna took over to promote their show. It wasn't like those over- desperate attempts used like our filmstars to promote their movies. It was more like an interesting interaction about food which was appreciated by the audience as it touched their emotional chord. The cooking-related games added the perfect icing on the cake.
In the end, we were given a large banner where other bloggers can mention their names and blog URL and we can do the same on their banners. I was pleasantly surprised when two bloggers came to me asking for my blog link saying they were impressed by the concept of the Common Man. Wow! So my under-confident speech did work! Later on, few others asked me the same!
Judging by the memorable time people had at the occasion, I appeal to Indiblogger to organize at least three meets in the city every year. After all, as Indiblogger's tagline says – We Blog, Therefore we Are!
More pictures from the event: –