Anti-corruption crusader Anna Hazare apologized to the media after the Broadcast Editors' Association (BEA) demanded an apology after few incidents of violence and abuse by Anna supporters. Anna did the right thing as such acts are uncalled for in a peaceful movement. However, the way the BEA went up in arms against Anna and the movement, shows the media body's filthy double standards.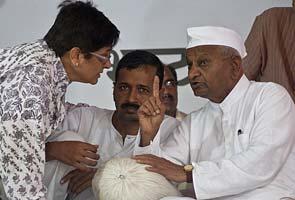 Over the years, there have been numerous incidents where goons of rowdy political parties have smashed offices of various news channels. Apart from the huge monetary losses, their acts also caused injuries to the people working with the channel. Despite such criminal or even terrorizing acts, BEA has never ever till date demanded an apology from any of the political parties. A shining example of their double standards or bias towards a movement, which is trying to save India from corruption.
Just because we (team Anna) are harmless, they condemn our minor acts and demand an apology but when it comes to dealing with the powerful political outfits, they become scary bones! In this way, BEA is indirectly stating that you can't misbehave or abuse the media but it is perfectly fine if you walk into a media office, destroy its property and injure its employees. Worse, the BEA doesn't even blink an eyelid when the heads of these political parties laud their acts of violence!
I am sure anyone from the BEA doesn't have an answer to this.
And this is what we get by apologizing to the media – From the live coverage of Jantar Mantar (on the internet); it was noticeable that the venue was flocked with thousands of supporters. However, when 'The' Arnab Goswami saw the same scene, he announced on his channel that there are hardly 400-500 people at Jantar Mantar! Need more examples of how media is trying to sabotage the movement? Watch these news channels continuously. Coming back to Arnab, the pictures below reveal the truth.
Excerpts from this article have been sent to the BEA. I know this will not have any effect on their attitude but at least they would know that the people of India won't take anything lying down! You can mail them too on – broadcast.editors@gmail.com