Let me get this straight. The motto of this article is not to defend Hardik Pandya or the comments made by him on Koffee With Karan. I personally found them not only disgusting but also worrying; thinking how many more people would be out there with such cheap mindset towards women.
But there are few things that I find too weird, which hardly have been pointed out ever since the controversy erupted.
1. K L Rahul is needlessly punished for no fault of his. It was Pandya who made all the misogynistic comments on the show. Rahul is no way responsible for what his partner on the show said. On a lighter note, he has become the Fardeen Khan of No Entry (2005).
2. If it is bad to make such comments, it should also be equally offensive to laugh and enjoy them. This is exactly what Karan Johar did as a host. But nobody is lashing out against him. How enjoying such comments is not offensive but just being a co-guest is?
3. Most importantly, some of our politicians and people from the government have openly verbally attacked women through the most disgusting statements you can come across. However, they are spared of such 24/7 hatred and innumerable articles.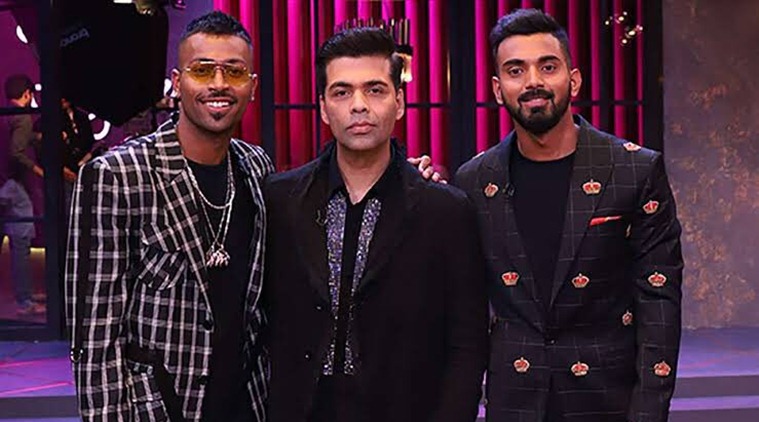 Actually, they should receive more backslash since they have been given the responsibility to govern and protect us. How people don't get so offended or worried when an elected representative makes such statements is beyond me.
Have a look at the following statements and decide for yourself:
"I am also a goonda. I will shoot you guys if a Trinamool Congress worker is ever attacked. If you have the guts, then stop me. If you insult the mothers and daughters of Trinamool workers, I won't spare you. I will let loose my boys in your homes and they will commit rape." – TMC leader Tapas Pal slamming the CPI.
"If they (girls) want freedom, why don't they just roam around naked?" – Haryana Chief Minister from BJP Manohar Lal Khattar
"Boys are boys. Mistakes happen." – Samajwadi Party Chief Mulayam Singh Yadav on increasing number of rapes
"She is 100% 'tunch maal.'" – Congress leader Digvijay Singh on a female party member
"Have you ever seen a girlfriend worth Rs 50 crore?"- India's Prime Minister, Narendra Modi while describing the late Sunanda Pushkar
"These days it has become a fashion to have a girlfriend or boyfriend. A girl should go out only with her brother or husband." – Samajwadi Party leader Abu Azmi
Ask yourself, was there even 20% of outrage for any of these comments like it has been for Pandya's? Are a cricketer's comments more worrying or the ones made by people who are responsible for women safety?
By: Keyur Seta