By: Keyur Seta
Director: Vishal Bhardwaj
Producers: UTV Motion Pictures and Vishal Bhardwaj Pictures
Writers: Vishal Bhardwaj
Cast: Shahid Kapoor, Tabu, Kay Kay Menon, Shraddha Kapoor, Irrfan Khan
Music: Vishal Bhardwaj
Genre: Drama
Rating: * * * *
Storyline: The film is based on Shakespeare's classic tragedy Hamlet. The story starts in the year 1995 in Kashmir, where a doctor (Narendra Jha) goes missing after an army crackdown. His unmarried brother Khurram (Kay Kay Menon) uses this opportunity to get close to the doctor's wife and his sister-in-law Ghazala (Tabu).
The doctor and Ghazala's son Haider (Shahid Kapoor) returns home after completing his education in Aligarh Muslim University. He is on a quest to find his father with the help of his lady love Arshia (Shraddha Kapoor), a journalist. Will his father return? Is he alive?
Review: Let's face it: mainstream Hindi cinema has been throwing poor or mediocre films towards us majority of the times since recent years. So when a film turns out to be satisfactory, it feels like a pleasant surprise.
And in case if we come across a film excelling in every department, the feeling is nothing short of a festive occasion. One gets this rare feeling after coming out of Vishal Bhardwaj's Haider, which is an example of skillful high quality cinema having the maker's stamp all over it. It is also helped by Shahid Kapoor, who deserves a salute for this act.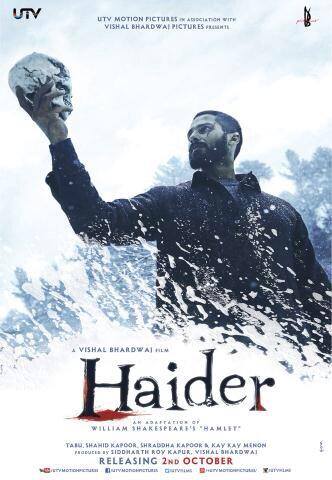 Shakespeare's tales are not bound by time or country. But adapting them into a film in the current period is a very difficult task. But Bhardwaj's challenge was herculean since he had to adapt Hamlet in the disturbing and sensitive political scenario of Jammu and Kashmir without taking sides and at the same time retain the original flavor.
He overcomes this challenge and how! He has narrated his take on Hamlet with some high degree of creativity in the screenplay, dialogues and the manner of shooting. What results is an intensely thrilling treat where you just lose count of scenes that ooze cinematic brilliance. In fact, it won't be an overstatement that almost every frame will give you some satisfaction. Plus, the climax deserves special mention for the surprise element that gives an overwhelming feeling.
However, Haider does have its share of minus points, although minor ones. Few events in the second half appear complicated. The pace also drops a bit in the second half. But thankfully, the second point doesn't hurt you much since the high length of 161 minutes is never felt.
The technical department can also boast of being brilliant due to Pankaj Kumar's excellent camerawork, Bhardwaj's terrific background score, especially for scenes featuring Irrfan, and clever editing. Bhardwaj's music too is impressive with the tracks 'Bismil' and 'Aao Na' being the best. But it is very difficult to understand the reason for not using the fast version of 'Aao Na'. That would have added on to the effect.
Like all Bhardwaj films, Haider too is very high on performances. Shahid Kapoor's act in this film will go down as one of his best, no matter how many more films he does after this one. The manner in which he plays two starkly different characters and that too with such perfection forces you to stand up and applaud. His performance can be summed up with his act in the song 'Bismil'.
Tabu once again shows why she is one of the most talented actors of our times. Kay Kay Menon too is outstanding in a negative role. One of the finest actors in the country, Irrfan Khan once again shows that an actor can leave a terrific impact even in an extended cameo. Narendra Jha, as Haider's father, is perfect. Ashish Vidyarthi and Kulbhushan Kharbanda are impressive in cameos. The rest of the actors too play their parts very well.
Overall: Haider is one of the best films to have come from mainstream Hindi cinema in the last few years. It's a cinematic treat for the lovers of new-age, daring cinema. Its greatness will be reflected in its box office collections.