Rating: * * * * ½
By: Keyur Seta
It is very difficult to commence the review of a film like PK. However, I have no problems with it at all because this writer's block is an outcome of the greatness of the film. This is exactly how the Rajkumar Hirani film can be described – one of the greatest movies ever by a master filmmaker!
PK tells the story of Jagat Jananai (Anushka Sharma) aka Jaggu, who is studying in Belgium. Her chance encounter with Sarfaraz (Sushant Singh Rajput) blossoms into love but all doesn't go well for them. Sometime later, she meets a weird man, who calls himself PK (Aamir Khan). Just like his appearance and talks, PK has a weird mission. What is it? And who exactly is PK?
Although the subjects of Hirani's previous three films were entirely different from one another, they had a common link in the content, which was a work of excellence. The same is repeated here too in a novel concept. The entire film is a pleasurable mixture of delightful, thought-provoking, emotional and hilarious situations. And like his previous films, here too Hirani and co-writer Abhijat Joshi have put forth their message in a brilliantly creative and entertaining manner.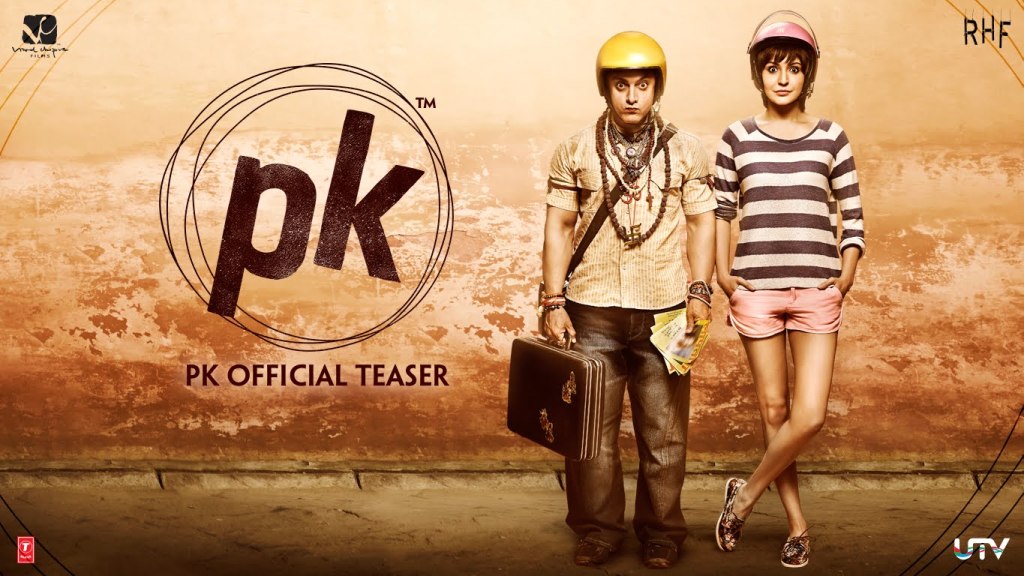 But the biggest overwhelming factor here is the manner in which the film gives complete thumbs down to the so-called Godmen and, more so, to those who constantly divide us on the basis of religion for their own shoddy benefit. In fact, it gives a fantastic slap to the political class and so-called religious organizations spreading venom these days. It is a huge co-incidence that it has released exactly at a time when there are continuous efforts being made to divide us.
Like Hirani's previous efforts, this one too has glaring errors. The biggest one is the base of the most important plot twist. But, again, like his previous film, it hardly bothers you for the experience it provides in return. The subject makes you recall Umesh Shukla's Oh My God, but the main story is nowhere similar to it.
When I have already labeled the film as one of the greatest ever, it is needless to say that it scores high in the technical department too. Murlidharan Raja has done a fine work as the cinematographer. The special effects, background score and editing deserve praise too. The music also falls in the impressive category. Songs like 'Chaar Kadam', 'Bhagwan Hai Kahan Re Tu', 'Love Is A Waste Of Time' and 'Tharki Chokro' stay with you long after the film.
Like all brilliant films, the performances in PK too are highly praiseworthy. Aamir Khan keeps getting better with every film. He continues it with PK too and how! Only an actor with such high caliber of talent and dedication can pull off a character as novel, difficult and complicated as this one. His Bhojpuri talks are simply a delight!
Anushka Sharma too joins in with a mature performance. Saurabh Shukla is outstanding as a fake Godman. Sushant Singh Rajput has a cameo but he leaves behind a mark. Sanjay Dutt and Boman Irani, in extended cameos, are lovable. Parikshit Sahni provides decent support.
Overall: PK is not only Hirani's best effort, it is a masterpiece. It provides a spiritual experience worth indulging into more than once. With such content and massive excitement, it is sure to break box office records with its enormous collections.
Director: Rajkumar Hirani
Producers: Vinod Chopra Productions, Rajkumar Hirani Films and UTV Motion Pictures
Writers: Rajkumar Hirani and Abhijat Joshi
Cast: Aamir Khan, Anushka Sharma, Saurabh Shukla, Sushant Singh Rajput, Sanjay Dutt
Music: Shantanu Moitra and Ajay-Atul
Genre: Drama