By: Keyur Seta with valuable inputs from Padmanabh Subramanian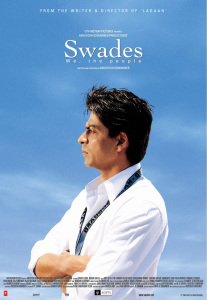 Whenever a list of most memorable films from a particular country or film industry is made, it is obvious that it will only contain names of box office successes. However, there are quite a few films, at least in Hindi cinema, which have become cult classics over the years despite the fact that they didn't succeed at the ticket window when they released.
Films like Jane Bhi Do Yaaro and Andaz Apna Apna are classic examples of such films. But they slowly started gaining huge appreciation in the following years after they were screened on television and cable channels, so much so that now they are labeled as 'classics'. Over the last decade or so, yet another Hindi film has achieved this status in spite of its box office fate.
Ashutosh Gowariker's Shah Rukh Khan starrer, Swades found a lot of takers when it released in December 2004, especially the lovers of meaningful cinema, despite its strictly average box office performance. Like the aforementioned two films, its appreciators kept on increasing over the last decade at a rapid pace and the film gained a respectful status of Gowariker and Shah Rukh's one of the best works.
Today, Swades completes exactly 10 years of its release. The film is known for striking an emotional chord with the viewer without or hardly saying much. It is this simple visual narration that is largely responsible for the film gaining such applause.
So let's have a look at the film's most memorable scenes, which say a lot without saying much:
– The first one that comes to our mind is the one where Mohan Bhargav buys a glass of water from a child vendor. In fact, this can even go down as one of the most memorable scenes from Bollywood. By just showing the character purchase and consume the water, the writer and director have portrayed Mohan's massive change of heart, or hriday parivartan, since, before this scene, he strictly drank only packaged water. Of course, SRK's brilliant expressions also say it all.
– The climax sees Mohan returning to Charanpur, India forever after quitting his lucrative job at NASA. But such major story development is shown without any rona dhona and by just a sweet Kushti scene. In spite of this, it succeeds in moving you.
– The village of Charanpur strictly followed caste system, wherein the members of the 'upper caste' stay away from the ones of a 'lower caste'. In the song 'Yeh Tara Woh Tara', the protagonist gives an overwhelming message against this division by making the kids, sitting at the area reserved for 'lower castes', pass over and sit in the area reserved for 'upper castes'. Once again, a strong message without dramebazi.
– The film also speaks about Indian culture. This was seen the most in the pre-climax as Geeta (Gayatri Joshi) gives a teary farewell to Mohan. But as per the intelligent narration in the rest of the film, there is no gyan giving on Bharatiya Sanskriti. Geeta makes her point about the same by just presenting a box to Mohan with few items that would enable him recall India.
– In this particular scene, Melaram wants to point it out to Mohan that there is no point going away from our near and dear ones in our country and serving some other country. But all he says is, "Apni chaukhat ka diya and giving light to neighbor's house." It says all!
– Kaveri Amma hands over Mohan the task of recovering money from Haridas, who stays far away from Charanpur. Mohan is deeply hurt to see the abject poverty Haridas is facing. However, he hardly expresses this and lets his expressions speak. Even while he is returning, he keeps the same expression throughout the journey.