By: Keyur Seta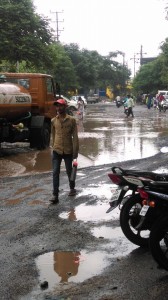 It's the season of festivals in India. But along with festivals like Diwali, the citizens of Mumbai's Ulhasnagar locality are celebrating a one-of-its-kind carnival. It's called Ulhasnagar Potholes Festival (UPF). Yes, you read it right. It's a festival 'celebrating' the menace of potholes in Ulhasnagar in a sarcastic manner.
The movement is started by two residents of Ulhasnagar, Bhavna Chhabria Nainani and Professor Rekha Thakur as, like numerous others, they too are fed up with the problems faced due to the potholes and the innumerable false promises by the Ulhasnagar Municipal Corporation (UMC). The movement is initiated under Manch TV, a local TV channel.
The whole idea is to ask people to send photographs of potholes in Ulhasnagar, which would be posted on the Facebook page – Ulhasnagar Potholes Festival (visit it here). Following this, a team from Manch TV will worship the pothole and give it a name. This will, obviously, put the authorities to shame and they will be compelled to fill them.
The residents have instantly started sending in pictures of the potholes they came across and things have gone as per planned. In fact, the UMC has already started the temporary repairing of potholes on Bhatia Chowk Road, Nataji Road, Ulhas Flyover and Hira Ghat Road (as seen in the pictures below).
Says Rekha, who is also the local corporator, "The roads of our city are in pathetic condition and in spite of the numerous complaints sent to the concerned authorities, nothing was being done to resolve the issue. Fed up of all this, we decided to do something unusual to get the attention of media, authorities and citizens and it has really worked!"
Bhavna adds, "Frequent major accidents took place in Ulhasnagar due to the worst condition of roads. As nothing worked, we finally decided to do a mockery of system through our Ulhasnagar Potholes Festival and within few days maximum roads of the city were repaired."
Although the movement has already started achieving favorable results, it is certainly not the end. Change, after all, is a never-ending process.
Pictures after the roads were repaired: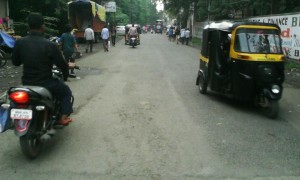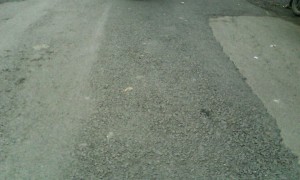 All pictures sourced from Ulhasnagar Potholes Festival Facebook page.