By: Keyur Seta
The Uri attacks in Jammu and Kashmir by Pakistan-based terrorists, which saw 19 Indian soldiers achieving martyrdom, saddened the nation. It also united the people of India above religion, region, caste and what not. However, the incident has also given rise to some intense hatred that is only making things worse.
The biggest example of this is the ban on Karan Johar's Ae Dil Hai Mushkil by Cinema Owners and Exhibitors Association of India (COWAI) just because it stars Pakistani actor Fawad Khan. This means that the film won't release in single screens and few multiplexes in India.
Here are 5 reasons why hatred towards the film is senseless:-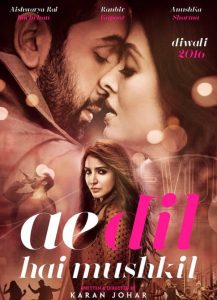 1. Ae Dil Hai Mushkil was shot much before the Uri attacks. In fact, the film had even completed its post-production by then. Fawad worked in the film through legal means and was given proper work visa by us. Films with Pakistani actors that released before the Uri attacks didn't face any issue. Happy Bhag Jayegi, which released on August 26, saw Pakistani actress Momal Sheikh playing one of the important characters. There was no uproar and the film was appreciated. So, will you punish ADHM for its release date? Is it Rocket Science to understand that it takes months for a film to release after the completion of shoot?
When I spoke with Nitin Datar, president of COWAI, and asked as to why ADHM should suffer because of its release date, he had no clear answer to it. Read the news HERE.
2. Last year, Narendra Modi, the Prime Minister of India, gave a birthday surprise to Pakistan Prime Minister, Nawaz Sharif, in order to develop friendly ties between both countries. This was also the time when Johar was shooting ADHM with Fawad. If you feel what the filmmaker did was wrong, what do they have to say about our PM's gesture? You can be friendly with their PM but can't work with their artists? I personally have nothing against Modi's act. I found it worth appreciating. But this is clear double standard by those portraying Johar as a villain for signing Fawad in his film.
3. Ajay Devgn had signed Pakistani actor Ali Kazmi for Shivaay, which is releasing alongside ADHM on October 28 (read the news HERE). But things didn't work out due to date issues. Nobody is having any problems with Devgn. After all, he too signed one. It is only Kazmi's refusal that has turned Devgn into a hero.
4. A section of people and few political parties are justifying the ban since Fawad didn't condemn the Uri attacks. Even if we assume it was wrong on his part, why make Johar suffer huge loses because of it? Fawad has already received his fee by the way.
5. For those who believe paying Pakistani actors amounts to funding terrorists, the same logic should apply to the money we pay to Pakistan through trade. Why nobody is speaking against banning trade between India and Pakistan? Why art and sports are made scapegoats always?
The issue is not just limited to a film. If Ae Dil Hai Mushkil is indeed banned, it will become an example of senselessness being given more importance than logic and the law of the land.